Video: Alpine BassLine Subwoofers
Meet Zak Billmeier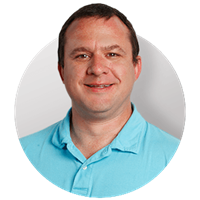 I'll do my best to make videos that are helpful and interesting.
I've been a camera nut since I was a kid. I got really into it around age 12, when I got hold of a Pentax K1000 35mm camera. My father is a photo nut also, and we had access to a darkroom. Ever since then I have delighted in trying out new cameras, lenses, and photo techniques. Working here at Crutchfield, I get to handle all the new and cool camera gear I can get my hands on.
I'm also into audio, from car audio to home audio to headphones. I'm a music lover, and an eye-opening moment for me was discovering just how much more there is to musical recordings when you listen using high-quality gear. It's an experience I try to pass along to others as often as possible. I truly believe that having good quality gear in your car or home can really enrich your life.
I started getting into the video side of things early on in my Crutchfield career while I was a copywriter for car audio products. In those days our video program was just getting started, and many of us pitched in when our writing and editing duties allowed. Today, we have a dedicated team that makes hundreds of videos a year, including spotlights on products and product lines, how-to videos, videos that shine a light on our company, end everything in between. I am proud to be a part of that team and of the work we do.
My job is a lot of fun because I get to play around with all the cool stuff you see on our website while I'm making videos. Getting hands-on with the gear helps me see what I should show you about a product, and I look at our videos as a way of having a conversation with you when you are considering a purchase. If I do my job well, you should come away from a Crutchfield video understanding why you do — or don't — want that product. In the end, it's gotta be something you enjoy.
More about Zak
Started at Crutchfield in 2007
Began as a copywriter for Crutchfield.com before taking on the role of video production coordinator, which involves a rotating mix of pre-production work, acting as a backup producer during shoots, publishing, SEO research, and long-term planning
Attends dozens of vendor training events each year
As of 2019, has attended eight CES conventions as a Crutchfield reprentative
Attended the NAB Post-Production World conference for video professionals
Photographer, bass player, gardener, and he makes his own hot sauce
Alpine's BassLine subwoofers will add some serious rumble to your vehicle's sound system, but they won't break your budget. These subs also live up to Alpine's reputation for making subs that bass lovers want.