In a nutshell: Crutchfield video producer Ken Nail has created over 500 demo videos for car stereos. I asked him a few questions about his creative process and how these videos help our customers.
One of the cool things about selling car stereos online is the amount of information we can provide to our customers. One of the drawbacks is that, unlike in a retail store, our customers can't get hands-on with a new car stereo.
A few years ago, Crutchfield writer and video producer, Ken came up with the idea of using videos to give our customers a closer look at the receivers we sell by creating demo videos of individual models. Recently I took the opportunity to ask him some questions about these videos.
What gave you the idea to create these demo videos?
Ken: If you walk into a car audio store, one of the first things you'll see is a wall of car stereos, usually set to their "demo" mode, displaying their features and color schemes. While we can provide photos and in-depth info about the stereos we sell, we didn't have a way to replicate that car stereo wall on our website. It occurred to me that a video seemed to be the best way to showcase a stereo's look and feel.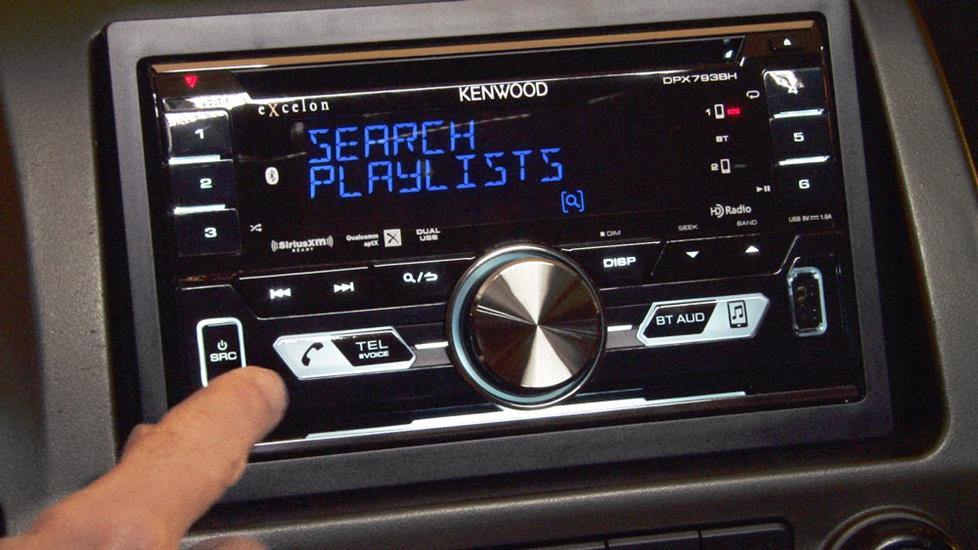 Ken puts a Kenwood receiver through its paces.
What do you want to show customers with these videos?
Ken: The biggest challenge I had was deciding what to show, and what not to show. Over time I decided to concentrate on demonstrating how the interfaces of the car stereo respond to the user and the visual aesthetics of the receiver.
To give a taste of the interfaces, I'll usually show the receiver in operation, searching for songs from an iPod® or iPhone®, or using the menus from an online streaming service like Spotify or Pandora®. Showing the audio controls or EQ in action is a nice demo feature as well.
For the aesthetics of the receiver, I make sure to show different illumination colors and display options when applicable, and I put the receiver into a dash mockup so viewers get an idea of how it will look in a typical dashboard setting. I really want people to imagine what a stereo will look like in their car.
What's the most challenging part of creating these videos?
Ken: In two words, "time management." I took on this task in addition to my usual copywriting responsibilities, so I've had to work hard to create an efficient system for shooting and editing the videos. It's a challenge because we carry over 250 different car stereos, and it's not uncommon for models to change — with new features or cosmetics — once or twice a year.
To keep up, I've developed a system of templates that make it easy for me to determine what features I want to show, the order I'll show them in, and the order in which I'll shoot the individual clips that I use to create the video. On a good day, it only takes a couple of hours to set up and shoot a receiver. But with models that have a lot of new features, it'll take longer. After all, I've got to learn how to use it before I can shoot it!
How many demo videos have you made?
Ken: I usually produce about two to three videos a week. The receiver line up we carry is constantly changing as our vendors bring out new models, so there's always plenty to do! To date, I've created over 500 demo videos.
Do customers like them?
Ken: The feedback we get has been mostly positive. Some customers want a more in-depth look — more like a review. I totally understand what they're looking for, but that's just not our goal with these videos. We're happy with the niche that they cover — this is our Internet version of that car stereo wall.
Where can people find these videos?
Ken: You can see them on the car stereo's web page with the other photos and videos we have for that receiver. You can also find them all on our Crutchfield YouTube channel. We have lots of great stuff there!
About Ken
Ken has been a Crutchfield employee for over 15 years. He started out (just like I did) as one of our amazing advisors, helping customers choose their gear. He currently writes about new car stereos and creates these videos for our website.
We hope these demo videos help you get a feel for how the stereo will look and behave in your car, and what it will be like to use the stereo day in and day out. If you have any questions or want some help choosing your new stereo, contact one of our advisors.