Why won't a double-DIN receiver fit in my car?
Looks can be deceiving — that's why we measure everything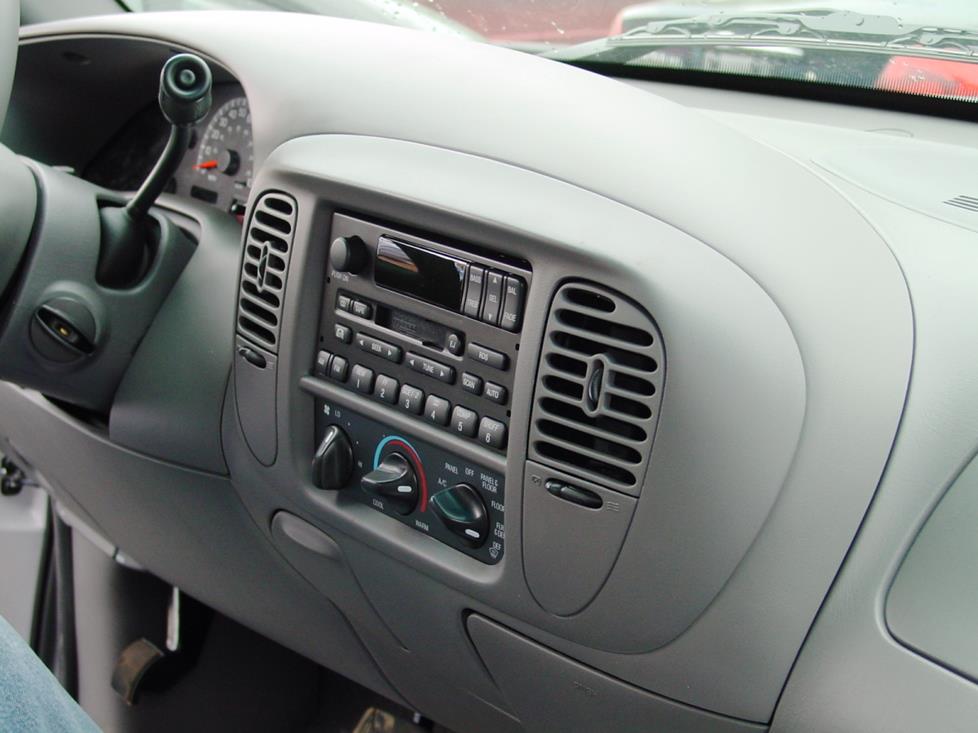 You'd think a nav receiver would fit here.... (Crutchfield Research Photo)
Your eyes deceive you
When you're buying a set of tires for your car or truck, you don't just pop into your local big box store and grab the first set of round, treaded black things you see when you walk in the door. Eyeballing works fine for some purchases, but when it comes to cars, it's best to make sure you're buying something that fits.
When you're looking at a good-sized receiver nestled in an expansive dashboard, it's only natural to assume that a touchscreen DVD/nav receiver will fit right in. Alas, that's not always the case. Some of the most popular vehicles on the road may seem like excellent candidates for a double-DIN (4" tall) receiver, but, thanks to a variety of factors, they really aren't. Let's take a look at a couple of examples: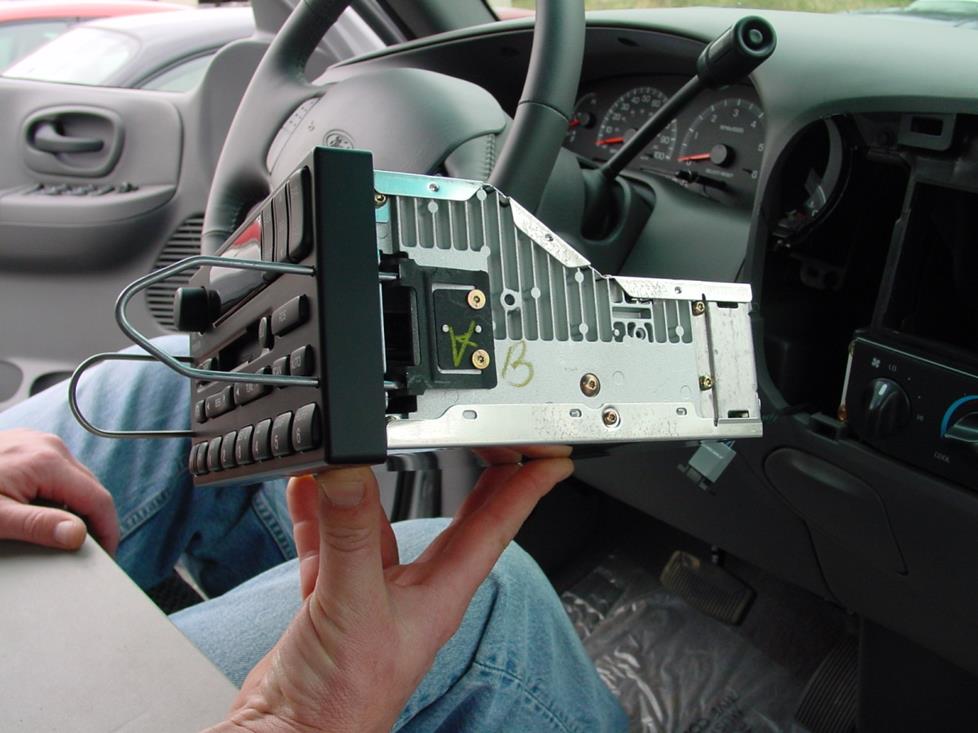 That sharp slope dips underneath a dash support (Crutchfield Research Photo)
Ford's tough
Let's say you want to replace the factory receiver in a 2003 Ford F150, for example. Your truck is equipped with Ford's corporate (or "OEM") head unit, variations of which appeared in trucks and other Blue Oval products for years. It does a nice job of filling the dash opening, but if you want better sound, it's the absolute first thing you need to replace.
The radio cavity's plenty spacious, but there's a metal rear support brace in the dash that that gets in the way. In the F-150, the stock receiver actually slopes down to single-DIN (2" tall) size in the rear, which helps it fit underneath the brace. You could widen the opening and remove the support brace to get a double-DIN in there, but that sort of modification isn't easy and is beyond the scope of most car audio enthusiasts. At that point, you're not just installing a stereo; you're customizing your truck. (Custom work, by the way, is totally cool, so if you do something like that, send some pics and info to our Custom Car Showroom.)
If you just want to install a new receiver in your F-150, you do have options. Thankfully, there are a lot of great single-DIN receivers out there with tons of great features. We offer great-looking dash kits that will fit right into your Ford and even give you a bonus storage cubby. If you still need nav, you can rely on your phone or a portable GPS navigator. You'll get the directions you need in a package that fits in your pocket when you reach your destination.
Find the audio gear that fits your car or truck
Visit our Outfit My Car page and enter your vehicle information to see stereos, speakers, subs, and other audio accessories that will work in your vehicle.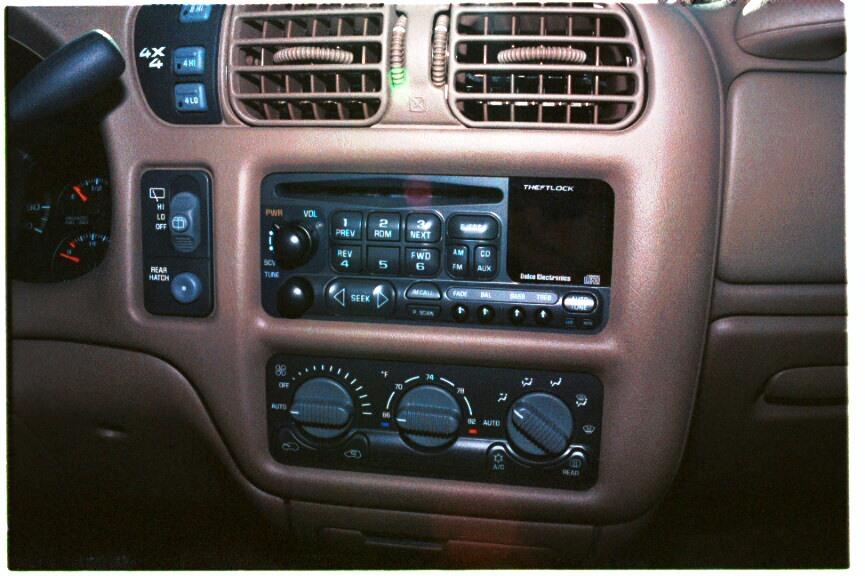 GM's traditional 1.5-DIN radio (Crutchfield Research Photo)
GM's 1.5-DIN radio
General Motors had a standard OEM radio of its own for years, and while the shape was nice and normal, the radio was a non-standard "1.5-DIN" size. It's tempting to call this odd, but 1.5-DIN radios were installed in hundreds of thousands of GM products over the years, so maybe everything else is odd and this is totally normal. Whatever it is, it looks like it's the same size as the double-DIN receiver you're checking out at Crutchfield, but it's actually smaller.
As a result, your shopping choice comes down to a limited number of single-DIN receivers with flip-up faces (which don't work in all vehicles) and a good number of regular single-DIN models. As with the Ford truck above, you'll get a free (or deeply discounted) dash kit with your radio purchase. The kit will do a nice job of trimming out the smaller, 2" tall radio and make it look right at home in your dash.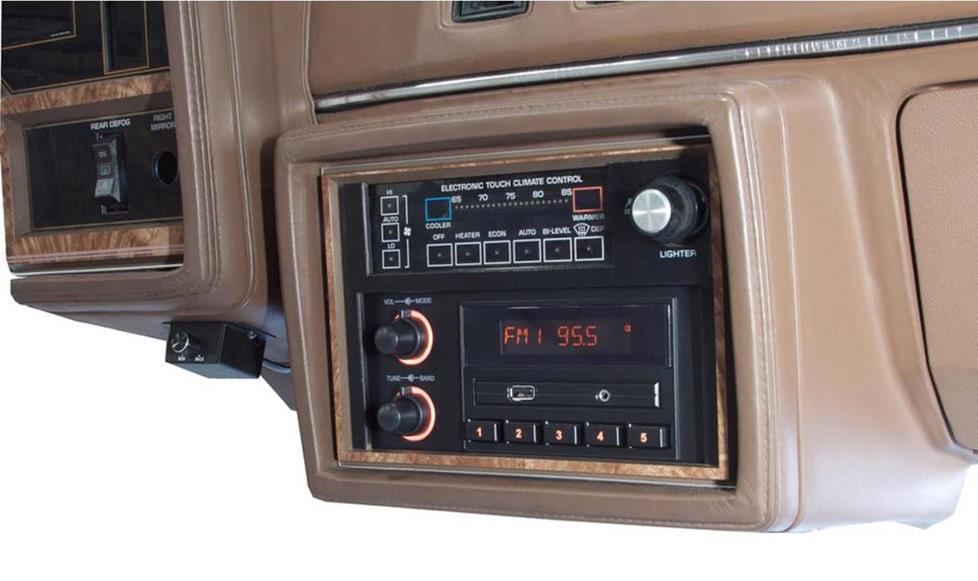 RetroSound Newport digital media receiver
If you really want something that fits perfectly, there is an option. The RetroSound Newport digital media receiver is a perfect fit for a wide variety of older vehicles equipped with 1.5-DIN radios. It offers all the high-tech features you need to bring your car's audio system into the 21st century, including a dedicated iPod® interface, built-in Bluetooth® connectivity, dual USB ports (one on the front, one on the rear), and two auxiliary inputs. The subtle styling is remarkably era-appropriate, with a black plastic face and actual control knobs, so the Newport blends right into any dash.
Ford, Chrysler, and Jeep offered 1.5-DIN receivers of their own in various models over the years, so if you have a "vehicle of a certain age," be sure to measure the stock radio.
A fitting finish
The moral of the story is that fit isn't a matter of perception, it's a matter of reality. That's why our vehicle research team spends hours taking apart car interiors and measuring everything that relates to the stereo system. We know how big the receiver opening is, we know what might get in the way, and we know how hard (or easy) it is to get into the dashboard and replace the stereo.
When we say something fits your car, it fits your car. And if we say it won't fit, we'll tell you why and we'll help you find a solution that gives you the sound you want. Visit our Outfit My Car page, enter your vehicle information, and start shopping for your new car stereo. If you have any questions, our advisors are really smart and available by phone or chat.