About the Bose QuietComfort® Earbuds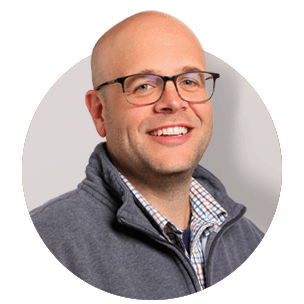 The first wire-free earbuds with legendary Bose noise cancellation
The Bose QuietComfort Earbuds cancel noise better than any other in-ears I've ever tried. I'm not surprised Bose is the best — after all, they pioneered and popularized the very idea of noise-cancelling headphones. But frankly I am surprised that a pair of earbuds are capable of knocking out noise this well.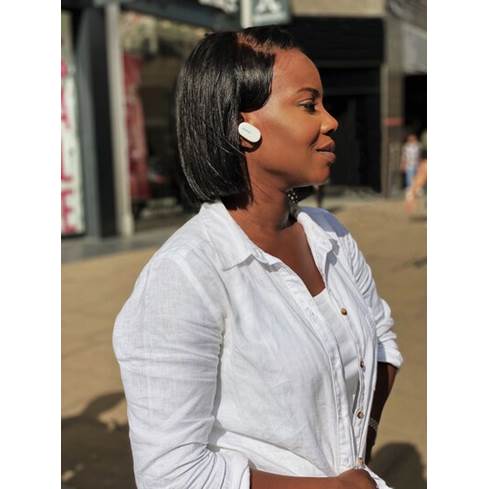 The Bose QuietComfort Earbuds conform to your ears for a secure fit that avoids painful pressure points.
The first wire-free earbuds with legendary Bose noise cancellation
The Bose QuietComfort Earbuds cancel noise better than any other in-ears I've ever tried. I'm not surprised Bose is the best — after all, they pioneered and popularized the very idea of noise-cancelling headphones. But frankly I am surprised that a pair of earbuds are capable of knocking out noise this well.
Music plays wirelessly via Bluetooth® 5.1 — the latest and most reliable version of the popular wireless technology. And there's no cord connecting the two sweatproof earbuds, making them a convenient choice for work, exercise, or listening on the go. Bose's famous super-comfortable fit and relaxed sound make them a pleasure to use.
Dial in the perfect amount of noise cancellation
You have precise control over how much external noise these earbuds block out. Just tap the left earbud twice to select between a high or low level of noise cancellation. Or choose a third option, transparency mode, which uses the built-in mics to pick up external sounds and voices.
The free, downloadable Bose Music app for Apple® and Android™ offers even more control. You can step through 11 discrete levels of the noise cancellation, based on how loud it is around you.
My first impression: noise-cancelling delivers serious "wow" factor
In the past, I've used a handful of earbuds that I'd say were "very good" at hushing external distractions — in most cases it's more like "good enough." If I play music, the noise cancellation allows me to tune out the noise around me. But these Bose earbuds were the first in-ears that I'd say could rival the noise cancellation in over-ear headphones.
Here's what I mean: To test noise-cancelling earbuds, I'll often listen to podcasts while mowing the grass. About the best I can usually expect is to keep the volume at safe listening levels and still understand what the host and guests are saying. With the QuietComfort Earbuds, things were markedly different.
I popped the earbuds in, started the mower, and tapped the right earbud twice to activate the strongest level of noise cancellation. After some brief "WHOOSHing" noises, the loud engine drone was reduced to a few faint high-frequency grinding sounds. And I hadn't even hit play on the podcast! When I did, I found I could make out conversations, even at very low levels — less than 25% on my phone's volume slider.
Renowned Bose comfort
"In-ears for people who don't like in-ears": That's how I usually describe Bose earbuds to folks who haven't tried them, thanks to their famous StayHear® ear tips. They don't go in as deeply as some earbuds, but instead rest securely and comfortably, just inside your ears. Yet they still manage to passively block out external sound even before Bose's top-rate circuitry kicks in.
With the QuietComfort Earbuds, Bose includes three sizes of StayHear® Max tips — the latest and greatest incarnation. Bose has tweaked the design of the flexible wing tip that stabilizes the earbuds. I found that they better conformed to my ears and stayed in place securely as I moved my head.
Spacious sound with deep, hard-hitting bass
The StayHear Max tips also avoided sensitive parts of my ear and created a tight seal. This is crucial for noise cancellation, of course, but also provides sonic advantages. Most notably, I got the full effect of the bass response — which punches hard for a set of true wireless buds.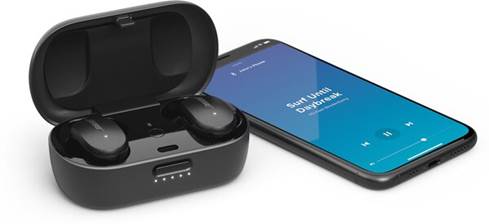 Snap the earbuds into the charging case to quickly sync them to your phone.
When listening in my home office, what struck me most was the outside-the-head soundstage. Within the wide-open space, the instruments and vocals all have their distinct place. It was evident in the aforementioned podcasts, where conversations sounded natural, as if the voices were in front of me rather than one ear or the other. But it also played well in everything from James Taylor acoustic tracks, with the true-to-life reverb around every guitar pluck, to a Griselda playlist, where the deep bass and clear percussion helped punctuate the hip-hop group's moody production.
Solid battery life with charging case
These headphones offer six hours of listening and noise cancellation on a single charge. When they need more juice, just snap the earbuds into the included charging case. I can palm this small case in my hand, but it packs enough power to recharge the earbuds twice.
And just 15 minutes inside the case gives you two hours of playback with noise cancellation.
READ LESS
Product highlights:
100% wire-free headphones

no connecting cord between left and right earbuds

built-in Bluetooth 5.1 for wireless music listening and phone calls with compatible smartphones
clear, spacious sound with deep bass
active noise cancellation uses internal circuitry to block out external distractions

earbud controls let you select high or low levels of cancellation, or "transparency mode" to hear external sounds
11 discrete noise cancellation levels available via the mobile app

IPX4 sweat- and weather-resistant
Controls and mobile app
touch controls on each earbud let you answer calls and control music, noise cancellation, and volume

access Siri or Google Assistant voice controls assistants from your phone

built-in microphone array for taking calls

mic system designed to better capture your voice in noisy or windy conditions

free, optional Bose® Music app for Apple and Android offers seamless toggling between multiple Bluetooth devices

customize your sound settings and noise cancellation
General information and accessories:
three sizes of soft silicone StayHear™ Max tips provide a stable, comfortable fit

flexible wings keep earbuds secure during exercise
extended wing redesign for better contact distribution that avoids pressure points

built-in rechargeable batteries offer up to 6 hours of listening with noise cancellation
voice prompts provide information on battery life, device connection, and caller ID
included carrying case banks up to 12 hours of power to wirelessly recharge headphones

15 minutes inside case provides enough power for 2 hours of listening with noise cancellation

USB-A to USB-C cable included for charging case
warranty: 1 year
MFR # 831262-0020
What's in the box:
Bose QuietComfort® Earbuds owner's manual
Left and right true wireless earbuds (Soapstone)
Charging case
Large eartips
Medium eartips (mounted to earbuds)
Small eartips
12" USB charging cable (Type A USB on one end and USB-C on other end)
Quick Start Guide
Safety Instructions
Customer reviews for Bose QuietComfort® Earbuds
Average review:
4.5 out of 5 stars
Customer photos
This review was collected as part of a promotion
More details on the Bose QuietComfort® Earbuds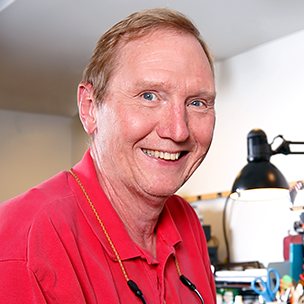 Researched by Crutchfield's

Mark G.
Features & specs
General
Fit Style
True Wireless
Earcup Type
Closed
Earcup Width x Height
1.336" x 0.786"
Noise-canceling
Yes
Bluetooth
Yes
Bluetooth Version
5.1
Single-earbud Operation
Yes
Mic For Taking Calls
Yes
Voice Assistant Access
Amazon Alexa
Yes
Google Assistant
Yes
Siri
Yes
Connectors
3.5mm
No
1/4"
No
Lightning
No
4.4mm balanced
No
XLR4 balanced
No
2.5mm
No
Other
None
Specs
Frequency Response
Not Given
Sensitivity
N/A dB
Impedance
N/A
Weight
0.6 ounces
Cord Length
N/A
Parts Warranty
1 Year
Labor Warranty
1 Year
Product Research
Features
Overview: The Bose QuietComfort® Earbuds puts the world's most effective noise-cancelling technology into a pair of true wireless earbuds. The individual left and right wireless earbuds come with new StayHear® Max silicone eartips for all day comfort. The QuietComfort Earbuds come with a sleek, Qi-certified wireless charging case, USB-C charging cable, and three pairs of StayHear Max eartips.
Bluetooth 5.1: The QuietComfort Earbuds feature Bluetooth version 5.1 and operate at a range of up to 30 feet. They support SBC and AAC codecs.
Single Earbud Operation: For the best sound quality and noise cancelling, you should use both earbuds simultaneously. If you wish to listen to music or calls using just one earbud, you must use the right one. The Bluetooth connection between your phone, tablet, or laptop and the earbuds occurs in the right earbud. In addition, the microphone system that picks up your voice is in the right earbud. When the right earbud has been out of the charging case or out of your ear for 20 minutes, it will enter sleep mode and the Bluetooth connection to the left and right earbuds will be lost.
StayHear Max: The QuietComfort Earbuds come with three pairs of Bose StayHear Max silicone ear tips. The ear tips have an umbrella shape, which seals the entrance to the ear canal for optimal noise cancelling and audio performance. The wings on the ear tips are supposed to interact with the upper ridge of your outer ear to prevent them from falling out. The sizes are numbered as 1 (small), 2 (medium), and 3 (large), and the medium ear tips are installed on the Earbuds at the factory. An ear tip sizing tutorial in the Bose Music App helps you to find the correct size of ear tip.
Water/Sweat Resistance: The Bose QuietComfort Earbuds have an IPX4 rating for their resistance to sweat and splashing water from any angle. The inside cavity of the Charging Case is also resistant to water and sweat that may remain on the earbuds after use. The earbuds and charging are not waterproof, and should not be submerged.
Acoustic Noise Cancelling: Bose QuietComfort Earbuds have the same noise-cancelling performance of their best over-ear headphones. It starts with a high degree of passive noise reduction from the soft silicone ear tips that conforms to the contours of your ear canal for a gentle seal. A strong airtight seal not only blocks outside noise, it enhances the bass so your music is more full and vibrant. Four microphones (two outside and two inside) pick up ambient sounds in your environment and inside your ear canal. An equal, but opposite signal is produced in the earbud to cancel out this unwanted noise, leaving only your music content or phone call. You can control the level of Noise Cancelling in the Bose Music App. Three favorite noise cancelling levels are offered: Full Noise Cancellation, Some Noise Cancellation but with a measure of awareness of your surroundings, and Full Transparency (no noise cancelling). You can customize the Noise Cancelling presets in the Bose Music app. If desired, you can turn off the Bluetooth connection to your mobile device, and use noise cancellation only to eliminate noisy distractions.
Active EQ: The QuietComfort Earbuds are equipped with a volume-optimized Active EQ feature, which automatically boosts the lows and highs as the volume is lowered. This helps the sound to remain consistently balanced, so your music, videos, and voices are clear and strong, no matter the volume.
Bose Music App: The Bose Music App helps you to enjoy your Quiet Comfort Earbuds even more. The app aids you in setting up and controlling your earbuds from any smartphone or tablet. In the app, you can select an action, such as checking the battery level or skipping a track, and save it as a Shortcut. The Bose Music app makes pairing easier and faster, lets you choose your voice prompt language, and manage your earbud settings. You can use the app to easily browse your favorite music sources. The app is available from the App Store for iPhone, iPad, and iPod touch running iOS 14.1 or later, and from Google Play for Android devices (version varies with device).
Touch Controls: Each earbud has a large touch surface area for controlling music playback and phone calls. The right earbud features touch controls for media playback, phone calls, and mobile device voice control. The left earbud controls noise cancellation and your Shortcut.
In-ear Detection: Sensors in each earbud identifies when you're wearing them. In-ear Detection is used for automatically triggered actions:
Auto Play/Pause: During music playback, the audio pauses when an earbud is removed. Reinserting the earbud resumes music playback.
Auto Answer Call: You can answer an incoming phone call by inserting the right earbud. This feature is enabled/disabled in the Bose Music App.
Auto Transparency: When listening with Noise Cancelling enabled, removing an earbud causes the remaining earbud to adjust to full transparency. When the earbud is reinserted, both earbuds return to the previous noise cancelling level.
Voice Assistant: The QuietComfort Earbuds support your device's built-in voice assistant, including Siri and Google Assistant. The microphone on the right earbud acts as an extension of the microphone in your mobile device. With a touch and hold on the right earbud, the voice assistant tone will sound, allowing you to make your voice request.
Power Options: The Bose QuietComfort Earbuds are equipped with Lithium-ion rechargeable batteries which provide up to 6 hours of playback time on a full charge. The Charging Case also has a Lithium-ion rechargeable battery that can recharge the earbuds an additional two times for a total of 18 hours. The earbuds charge in the Charging Case in approximately 2 hours. A 15-minute Quick Charge provides up to 2 hours of playback time. The Charging Case battery charges in about 3 hours when plugged into a USB power source via the included USB-C cable. The Charging Case is also compatible with Qi Wireless charging on a Qi-certified charging pad. LED status lights on the front of the Charging Case indicates the charge status and battery level of the case. You should only charge the earbuds and case when they are at room temperature (46°F-102°F).
4 questions already asked