About the Parasound Halo HINT 6
A high-powered integrated amplifier
Parasound's HINT 6 integrated amplifier is loaded with features and design perks that make it an excellent centerpiece of a high-performance two-channel audio system. It offers plenty of digital and analog connections for music sources and delivers 160 watts of clean power per channel. And this amp is stable at low impedances, so it's compatible with a wide range of speakers. All that power comes from a large toroidal transformer and the amp's high-bias Class A/AB amplifier design (more on that later.)
A high-powered integrated amplifier
Parasound's HINT 6 integrated amplifier is loaded with features and design perks that make it an excellent centerpiece of a high-performance two-channel audio system. It offers plenty of digital and analog connections for music sources and delivers 160 watts of clean power per channel. And this amp is stable at low impedances, so it's compatible with a wide range of speakers. All that power comes from a large toroidal transformer and the amp's high-bias Class A/AB amplifier design (more on that later.)
My hands-on experience with the Parasound Halo HINT 6
We like to set up sound system demonstrations here at Crutchfield, so we can really get a sense of how different components perform under real-world conditions. Sometimes we assemble a system that's all made by the same manufacturer. Other times we mix and match, like we did when I auditioned this muscular integrated amplifier in our training room at Crutchfield HQ.
I chose this amp specifically because it offers 160 watts per channel, and I wanted to see how that kind of power would drive a couple of pairs of audiophile-quality bookshelf speakers. I had the opportunity to audition Wharfedale EVO4.1s and ELAC Uni-Fi Reference UBR62s — each seated atop solid stands to reduce vibration and get them at ideal ear level. And I gave them a little help with the low end by adding a GoldenEar ForceField 3 subwoofer.
In my opinion, the absolute best way to gauge subtle differences in performance between two sets of rock star speakers is to put them in the same room, give them each the same amount of power, and put them through their paces with the same playlist, so that's what I did.
The HINT 6's Class A/AB amplifier delivered power smoothly and efficiently, allowing the Wharfedales to showcase the extreme fidelity afforded by their Kevlar cone and AMT tweeter, while revealing a slightly warmer, fuller sound from ELAC's three-way design with soft-dome tweeter. As I expected, each pair sounded great in its own way, and I was able to identify characteristics of each signature sound that I could use when recommending them to customers with different tastes.
The upshot: I would choose an amp like the Halo HINT 6 as the centerpiece of a sound system because of its proven ability to get the best out of any gear I might choose to connect. Throughout the next decade, I may replace my turntable, get new speakers, or even upgrade my CD player. It's nice to know that an excellent integrated amp like this one can be the heart of any system, no matter what my fickle heart and ears might fancy next.
Home theater bypass
This is a great amp for music listening, but Parasound hasn't forgotten about home theater lovers. There's a section of inputs for home theater bypass, so you can use the HINT 6's superior power to drive the front left/right speakers in your surround sound system. Just connect the preamp outputs from a home theater receiver/processor to the dedicated home theater bypass inputs to gain superior power and clarity for those all-important front speakers.
Convenient connections
You get five unassigned RCA inputs for connecting analog sources, plus a dedicated phono stage for moving magnet and high- and low-output moving coil cartridges. And there's a balanced XLR input for making an audiophile-grade analog connection, too. Digital sources benefit from the HINT 6's high-resolution DAC — there are two digital optical inputs and a single digital coaxial input, plus a USB Type-B port for playing hi-res files from your computer.
Versatile subwoofer setup options
One mono XLR output and two mono RCA outputs accommodate one- or two-sub setups. And here's a detail we love: a handy subwoofer level knob on the front panel lets you easily adjust the balance with your stereo speakers on the fly. And using the HINT 6's crossover controls, you can dial in high- and low-pass filtering for optimum performance from your whole system.
Class A/AB operation for smoother sound
The HINT 6 uses a Class A/AB power circuit. You don't see an amplifier described that way every day, so let's break down the benefits.
Engineers and audiophiles generally agree that Class A designs offer the purest sound, but they tend to run hot and take up a lot of space. As a result, home audio amplifiers often use a compromise known as Class AB, which hands off part of the audio signal to a different set of output transistors at high power levels. AB can sacrifice a bit of signal purity, but it lets the amp run cooler and more efficiently.
So this Class A/AB amp operates in pure Class A mode up to a higher power level than most other amplifiers in its price category, before the second set of transistors kick in. The result is a sound that's smoother, less fatiguing, and more natural.
READ LESS
Product highlights:
160 watts x 2 channels into 8 ohms (20-20,000 Hz) at 0.05% THD
240 watts x 2 channels into 4 ohms (20-20,000 Hz)
4-ohm capability allows use with a wide range of speakers
ESS Sabre32 Reference (ES9018K2M) 32-bit/384kHz digital-to-analog converter for high-performance playback of digital sources
high-bias Class A/AB amplifier design
large toroidal transformer
home theater bypass input for surround sound integration
switchable high-pass crossover with variable settings (20-140 Hz) affects speaker-level outputs and RCA and XLR preamp outputs
switchable low-pass crossover with variable settings (20-140 Hz) affects subwoofer outputs
front-panel subwoofer level control
frequency response 10-100,000 Hz (+0/-3dB)
signal-to-noise ratio: 103dB (line); 106dB (digital)
handles very low impedances for use with virtually any speakers
thermal and short circuit relay protection
remote control included
rack mountable with the optional RMK 33 kit
detachable power cord
Connections:
2 optical and 1 coaxial digital audio inputs (accept stereo PCM signals up to 24-bit/192kHz resolution)
USB Type-B input for connecting a computer (cable included)

accepts stereo PCM signal up to 32-bit/384kHz resolution
handles native DSD files up to up to 11.2 MHz and DoP (DSD over PCM)

5 unassigned unbalanced stereo RCA audio inputs
phono input for use with moving magnet and moving coil cartridges

three-position load/cartridge selector switch: MM (47k ohm); MC (47k ohm); MC (100k ohm)

balanced stereo XLR input
unbalanced stereo RCA input for home theater bypass:

bypasses preamp section and allows HINT 6 amplifier to power front left/right speakers in a surround sound system
connected preamp/processor must have a volume control
dual mono RCA subwoofer inputs route processor's subwoofer signal to HINT 6 subwoofer outputs

front-panel 3.5mm auxiliary input for connecting a portable audio player
built-in headphone amplifier with front-panel 3.5mm jack
fixed stereo RCA record out
balanced stereo XLR preamp output
balanced mono XLR subwoofer output
stereo RCA preamp output
dual mono RCA subwoofer outputs
heavy-duty gold-plated speaker terminals
12-volt trigger output
IR remote input and loop output
Dimensions and warranty:
17-1/4"W x 5-7/8"H x 17-1/4"D (3U rack spaces)
weight: 33 lbs.
warranty: 5 years
MFR # HINT 6 BLACK
Parasound Halo HINT 6 reviews
Average review:
Customer photos
More details on the Parasound Halo HINT 6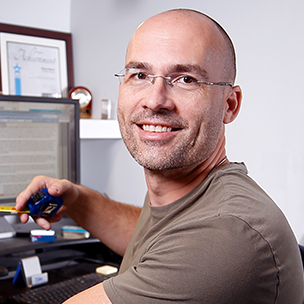 Researched by Crutchfield's

Stacey B.
Product Research
Features
Connections
Controls
Features
Class A/AB Amplifier Design: Pure class A operation provides the purest sound. However, an amplifier operating entirely in class A would be enormous, highly inefficient, and generate far too much heat. Class A/B combines the main advantage of Class A with the efficiency of Class B operation. It is a compromise that reduces the heat generated in pure class A operation and the higher-order odd harmonic distortions created in class B. In class AB, the driver and output stages are always partially turned on, which provides a nominal amount of pure class A operation. At higher power levels, when the musical waveform swings from positive to negative and vice versa, each bank of transistors is allowed to rest momentarily. This resting makes it possible to deliver high amounts of power without overheating. It also makes possible the use of passive cooling and avoid fans, whose noise can be heard over the music. The result is less fatiguing, more natural sound.
8-Ohm: 160 watts x 2 @ 20-20kHz with 0.05% THD (both channels driven)
4-Ohm: 240 watts x 2 @ 20-20kHz with 0.05% THD (both channels driven)
Toroid Power Transformer: The heart of the HINT 6's power supply is a massive 1.1 kVA toroid power transformer. It is custom designed for well-contained radiated hum, high efficiency, and high power. Encapsulating this massive power transformer in an epoxy-filled steel canister assures ultra-quiet performance. The transformer has independent secondary windings and this provides more than ample voltage to each channel's power supply under the most strenuous operating conditions. Separate windings for each channel improves stereo imaging by reducing inter-channel crosstalk. The HINT 6 uses a total of 40,000uF of Lelon electrolytic filter capacitors to provide a reserve of massive power sufficient to reproduce unrestricted bass. Highly-coveted Toshiba J-FETs are deployed in the input stage of the power amplifier section to achieve stunningly low noise and maximize its dynamic range.
ESS Sabre32 Reference DAC: The Parasound HALO Series HINT 6's built-in 32 Bit DAC (Digital to Analog Converter) uses a very high resolution 384kHz ESS Sabre32 Reference DAC (ES9018K2M). Since the HINT 6's DAC is superior to the DACs in most digital source components, they will sound better if you connect one of their digital outputs to the HINT 6's DAC instead of connecting their analog output jacks.
Electronically-Controlled Analog Volume: The Hint 6 uses a Burr-Brown high-performance, electronically-controlled analog volume control IC with high dynamic range. It functions as an analog switched resistor ladder array so analog audio is never converted to digital as with most IC volume controls. Parasound engineers bypass the onboard gain stage, using an external, high performance operational amplifier with a dedicated power supply. This approach achieves the lowest noise and the lowest distortion resulting in superior sound quality.
Volume Knob with Display: The solid machined aluminum volume control knob, polished on the front and textured around the perimeter, rotates on ball-bearings giving it rock-solid and silky smooth operation. The volume control features a new, dimmable display showing the exact volume setting. Other features include: user defined turn on volume, and favorite volume setting.
Home Theater Bypass: The Home Theater Bypass function is used to incorporate the HINT 6 into a surround sound system. The Bypass input works by passing the incoming Front Left/Right and Sub 1/2 channels directly through to the Front Left/Right and Sub 1/2 output jacks. None of the HINT 6 circuits or controls has any effect on the bypassed signals. The HINT 6 is thus transparent to the Left, Right and Subwoofer outputs from your surround sound processor or receiver and passes them on to your amplifier and Subwoofer. In order to use the HINT 6 Bypass function your surround sound receiver must have RCA line-level preamp output jacks.
Dedicated High Current Headphone Amp: The HINT 6 is equipped with a dedicated high quality current-feedback headphone amplifier based on the top-grade Texas Instruments TPA6120A. This superior design allows for an extremely high slew rate preventing odd order distortions which are responsible for listening fatigue. The virtually instantaneous response to musical dynamics doesn't raise the noise floor or degrade the S/N ratio like typical headphone amps. The headphone amp circuit was also designed with a low 10 ohms output impedance and high gain to drive headphones rated up to 600 ohms. The headphone jack accepts a 1/8" (3.5mm) stereo mini plug. The Main output jacks (RCA and XLR) are muted whenever a headphone plug is inserted into this jack. The Record out jacks are not muted.
Protection Circuitry: The HINT 6 protects itself from external fault conditions such as excessive heat, load impedance that is too low, or a short-circuited speaker connection or wire. Under such conditions the On/Off button will glow red. After you correct the fault, the HINT 6 will resume operation and the On/Off button will glow blue.
Current Overload: Specialized current sensors constantly monitor the current flow through the HINT 6's output stage transistors. If the current draw exceeds a predetermined safe level due to a load impedance below 1 ohm or a short circuit at the speaker terminals, the output protection relay will open immediately to prevent damage to the output transistors or other parts. This will cause the On/Off button to glow red. Immediately turn off the HINT 6 and disconnect the speakers from the Integrated's speaker terminals. Turn the unit back on to see if the On/Off button now glows blue, indicating the fault has been removed. Carefully check your speaker wires and speaker connections for a short circuit and correct the problem before attempting to resume listening.
Overheating Condition: If the unit overheats the On/Off button will glow red and the power amp section will shut down. If such a condition occurs you must provide better ventilation around the amplifier. The over-temperature protection can also be activated if you are trying to drive more than one pair of speakers for an extended time and/or at extremely high listening levels. If the protection circuit has been activated because of overheating, normal operation will resume after the unit has cooled down.
DC Servo Protection: The HINT 6 power amp stage is direct (DC) coupled from its input to its speaker terminals. Since direct current (DC) burns out speakers every power amplifier must have some way to ensure that DC never reaches the + or - speaker terminals. Parasound power amplifiers overcome this problem by incorporating ingenious and fast-acting DC servo circuits that monitor the audio signal (but are not actually in the audio signal path) to keep DC offset at the HINT 6 output close to zero, without using coupling and blocking capacitors. This advanced circuitry never needs adjustment or maintenance and the results are startling clarity, freedom from listening fatigue, and formidable bass response.
Optional Rack Mount: For mounting in a standard 19" equipment rack, you must use the Parasound HRA 3 rack mount kit (sold separately - see Accessories Tab). With its four feet removed, the HINT 6's front-panel height occupies 3U rack spaces:
Connections
Balanced & Unbalanced Line-Level Analog Inputs: The HINT 6 is outfitted with both balanced XLR and unbalanced RCA line-level analog inputs, as well as a front-panel 3.5mm Aux input. There are a total of six line-level inputs.
Stereo RCA: There are five stereo RCA line-level analog audio inputs on the rear-panel of the HINT 6.. These analog source inputs have the same input sensitivity and input impedance and are compatible with any typical analog line level source.
Balanced XLR: There is one balanced stereo XLR line-level analog audio source input. Use this input to connect an analog source which has balanced XLR outputs. A balanced line provides superior hum and noise cancellation, especially for long cable runs.
Front-Panel Aux: For added convenience there is a front-panel 3.5mm Aux input for connection of a portable audio player. The Aux input has an additional gain stage that boosts the input signal by 12 dB so that the volume level is comparable with your other audio sources. For the best result set your portable player's volume to at about 75% of its maximum level. If you connect a component other than a portable MP3 player or phone to the Aux Input jack, the volume level will probably be too high and likely distorted.
Note: One of the stereo RCA jacks shares the same source input (Input 5) as the balanced stereo XLR input; therefore the RCA and XLR jacks of Input 5 cannot be connected at the same time.
MM/MC Phono Input: The HINT 6 is equipped with a high-quality phono stage for connection of a turntable. The phono input consists of stereo RCA jacks and a ground terminal. Connect the ground terminal to prevent hum. The Phono input has a 3-position Load/Cartridge selector switch. Select the switch position that matches your turntable cartridge type.
MM: The MM setting is for moving magnet cartridges. It provides a 47k ohm load and the appropriate gain for all MM cartridges. This is the most common cartridge type.
MC 100-Ohm: The MC 100 ohm setting is for most moving coil cartridges. It provides the higher gain required for even very low output MC cartridges and a 100 ohm load that is ideal for most MC cartridges.
MC 47k Ohm: The MC 47k ohm provides the appropriate gain for MC cartridges with an alternative 47k ohm load. You can try both the 100 O and 47k O settings to see which sounds best in your system. The MC 47k ohm setting is also the load which Grado recommends for their MI (moving iron) cartridges.
Note: If your turntable won't reach adequate volume, or if it plays too loud, you have selected the incorrect cartridge type. If you use the MC setting with an MM cartridge the volume level will be very high and distorted.
Asynchronous USB-B Input: The asynchronous USB-B 2.0 input is used to connect the HINT 6 to your Windows PC (7-up) or Mac computer (OS X). This allows high quality playback of music files that are stored on your computer and streaming music services you access over the internet. The USB Input supports 2ch PCM (up to 32-bit/384khz), native DSD 64/128/256 (up to 11.2MHz), and DoP (DSD over PCM).
Mac computers do not require the installation of a separate driver to use the USB-B 2.0 input. Simply connect a USB cable from the P6 to your Mac computer and then turn on the HINT 6. Next you will need to ensure that the HINT 6 is selected as the computer's default audio output device (see Owner's Guide for further instructions).
Windows computers (7 and up) will require a separate USB 2.0 audio driver that can be found on the Parasound website. Once you have downloaded the USB driver onto your computer, you can connect the HINT 6 to your PC via a USB cable and select the HINT 6 as the computer's default audio output device (see Owner's Guide for further instructions).
Note: For the highest quality sound playback, leave the computer application's volume control at 100%. Then use the volume control on the HINT 6 to set the listening level.
Optical & Coax Digital Inputs: The Parasound P6 features two optical (toslink) digital audio inputs and one coaxial (RCA) digital audio input. The optical and coaxial digital inputs support 2ch PCM audio, up to 24-bit/129kHz.
Note: The optical and coaxial digital inputs do not support Dolby Digital, DTS, and other multichannel audio formats.
Binding Post Speaker Outputs: The binding posts speaker terminals accept a wide variety of speaker wire and connectors; including large spade connectors, banana connectors (single only), and bare wire as large as 8 gauge. The binding posts are spaced wider than traditional dual-banana plug connectors. This wider spacing is intentional so that larger spade lug connectors can be used without the risk of a short circuit.
Balanced & Unbalanced Outputs: Both balanced XLR and unbalanced RCA audio output connections are provided for the Preamp outputs and Subwoofer outputs. There is also a stereo RCA Record output. The balanced XLR outputs have a 6dB higher gain in comparison to the unbalanced RCA outputs.
Preamp Outputs: The Preamp Output jacks have the same preamp line level audio signal that goes to its power amp stage. The Preamp Output jacks are used for connecting an external power amplifier. An external amp could be used for bi-amping your speakers or for driving speakers in another room. Both RCA (unbalanced) and XLR (balanced) outputs are provided and both types may be used at the same time.
Subwoofer Outputs: The HINT 6 provides one XLR connector and two mono-RCA jacks for connecting up to three powered subwoofers. The two unbalanced RCA and one balanced XLR subwoofer outputs all carry the same mono signal. You can select whether the mono signal is full-range or crossed over according to the frequency you select for the Low Pass Filter (LPF). Both RCA 1 & 2 subwoofer outputs and the XLR subwoofer output can be connected at the same time.
Record Output: The stereo RCA Record Output connects to your analog audio recorder's record/input jacks. When you select an input the signal from the corresponding source component is available at the Record Out jacks whenever it is turned on. It is a fixed level signal that is unaffected by volume, balance, tone settings, audio mute or crossover settings. The fixed level Record Out jacks can also be useful to connect a power amplifier for speakers in another room that has a passive in-wall volume control.
Controls
Front-Panel & Remote Control: The Parasound HINT 6 offers front-panel controls and comes with an IR remote for wireless operation. Some control functions are only found on the front-panel, while others are only found on the remote, and some on both.
Crossover Setup: The HINT 6 is equipped with adjustable low-pass and high-pass crossovers. Crossovers are filters that allow certain frequencies to pass while blocking other frequencies. A low pass filter permits only low frequencies to pass and blocks high frequencies. A high pass filter permits only high frequencies to pass and blocks low frequencies. 80 Hz is the best starting frequency for both the High Pass and Low Pass crossovers if you are using a subwoofer and are not certain where to set the crossover frequency. If you are not using a subwoofer, set the HINT 6 Main Output Crossover switch to its Off position. The crossover settings affect both RCA and XLR Main Outputs.
Low Pass Crossover: The Low Pass crossover allows only low frequencies to be output from the HINT 6 Sub Output jacks. If your subwoofer has a built-in crossover that cannot be switched off, set it to its highest frequency to minimize the negative effects on bass response from filtering in the HINT 6 and again in the subwoofer.
High Pass Crossover: The HINT 6 High Pass Crossover for the Main Outputs (both XLR and RCA) allows you to block low frequencies from going to the main Left and Right speakers. This can be particularly useful if you are using small speakers and you have a subwoofer. The most common settings are between 50Hz and 80Hz. If you are not using a subwoofer you will get better results by turning the HINT 6 High Pass Crossover off or setting it below 40Hz. If you want your Left and Right speakers to operate full-range with no frequencies blocked, then set the High Pass crossover switch to its Off position
Tone Controls: The Parasound HALO Series HINT 6 offers Bass & Treble control, Balance, and Tone Bypass.
Bass & Treble: The HALO Series HINT 6 features front-panel Bass & Treble control to fine-tune the tonal balance of your music. You will find that very slight adjustments can add a degree of warmth, richness, and clarity. However, larger adjustments may obscure musical detail, and even risk overloading your speakers. The Bass and Treble controls affect both the Main Outputs and the Subwoofer Outputs.
Tone Bypass: You can turn off the Bass and Treble tone controls, thereby completely bypassing the tone control circuitry. This will improve sonic purity by eliminating the small amount of noise and distortion inherent in tone control circuits.
Balance: Adjusting left and right channel balance is helpful to compensate for speaker placement or room acoustics.
Level Controls: The Parasound HALO Series HINT 6 provides Turn-On Volume, Mute, and Sub Level control.
Turn-On Volume: You can set the HINT 6 to come on to the same volume setting every time it is turned on. This can be particularly useful if you sometimes listen at high volume levels and you want to avoid a blast of sound the next time you turn it on.
Mute: Pressing the Mute button once will mute the signal for all output jacks except the Record Out. Press the Mute button a second time to cancel mute. Mute is automatically canceled if you press the volume up or down buttons on the remote or if you change the volume from the front-panel.
Sub Level: The Sub Level control knob adjusts the subwoofer level. The sub level can be adjusted between -10dB and +10dB, relative to the Left and Right channels of the HINT 6. When you first setup your subwoofer you should set this control to 12 o'clock (0dB) and then play some music. Adjust the level control built into your subwoofer until it sounds balanced in your system. Now, whenever you want to fine-tune your subwoofer level you can simply use the HINT 6 front panel Sub Level control knob instead of walking over to your sub and bending over to adjust its level control.
12V Trigger Out: If an additional power amplifier is equipped with a 12V trigger input you may find it convenient for the HINT 6 to turn it on and off automatically. Connect a mono-minijack cable between the HINT 6's trigger output (3.5mm) and your external amplifier's trigger input. When the HINT 6 is powered on, 12 volts will be present at the 12V output jack and your amp will turn on automatically.
IR In/Out: The HINT 6 is compatible with most popular infrared repeater systems (sold separately - see Accessories Tab) for remote control operation from another room or when the HINT 6 is installed in a cabinet where its remote handset signals cannot reach its front panel remote control sensor. The IR Input is a standard 3.5mm mono-minijack connector. The IR Output (3.5mm) offers a convenient way to daisy-chain an IR signal to another component that is also equipped with an IR input jack. Whatever IR control signal is present at the HINT 6's IR Input jack is also present at its IR Output jack.