About the PSB SubSeries 350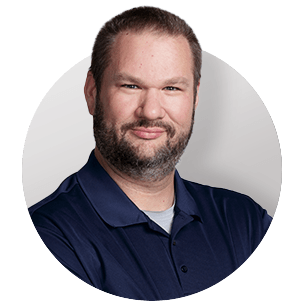 Finesse and power in a compact enclosure
I recently had the opportunity to get hands-on with PSB's new SubSeries 350. My initial impressions? It's small! Despite this being a 12" sub, its enclosure is relatively compact, making it an excellent choice for folks who don't have a ton of available floor space, but who want thunderous bass that makes you feel like you're part of the action.
Finesse and power in a compact enclosure
I recently had the opportunity to get hands-on with PSB's new SubSeries 350. My initial impressions? It's small! Despite this being a 12" sub, its enclosure is relatively compact, making it an excellent choice for folks who don't have a ton of available floor space, but who want thunderous bass that makes you feel like you're part of the action.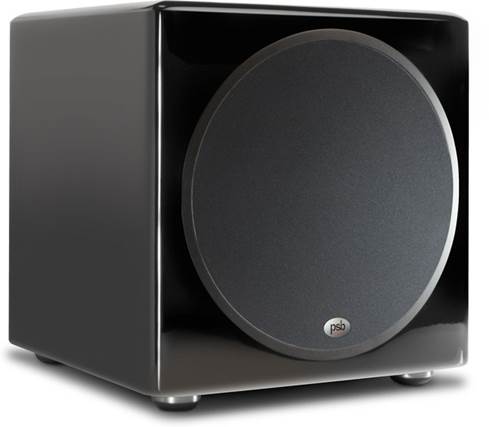 The PSB SubSeries 350 combines hard-hitting bass with an upscale fit and finish.
Great for music and for movies
In my book, a great subwoofer needs to be able to make the floor quake during dinosaur chases and superhero battle scenes, but also accurately reproduce nuanced low frequencies from bass guitars, kick drums, and cellos. The SubSeries 350 uses a 12" front-firing woofer and potent 300-watt RMS amplifier to do both with authority.
The icing on the cake? This sub's design was overseen by PSB founder Paul Barton himself to ensure the best performance possible. It reflects the considerable time and energy that PSB spends refining each speaker they make.
Superb fit and finish
The SubSeries 350 doesn't just sound good — it has an upscale look and feel to it as well. It sports a high-gloss black finish that really shines. And I like how the corners of the enclosure are rounded. For those of us with pets and little kids, this is always a plus.
Put a stop to shaking, rattling, and rolling
Quick story: my living room has glass bookshelf and fireplace doors, along with tall windows that line three of its walls. All of these used to rattle like crazy when bass hit during movies. It drove me nuts!
One day I decided that I'd had enough. I bought an isolation platform to decouple my sub from the floor. Voila! Just like magic, the rattling and vibrations instantly disappeared. I even had to dial the sub back because the bass was suddenly stronger. It is without a doubt the best money I've ever spent on my system.
READ LESS
Product highlights:
12" front-firing polypropylene woofer
300-watt RMS Class D MOSFET amplifier (900 watts peak power)
frequency response: 25-150 Hz (±3dB)
acoustic suspension (sealed) enclosure
variable low-pass crossover (50-350 Hz)
phase switch to help blend the subwoofer to your main speakers and room
gold-plated RCA line-level and LFE (low frequency effects) inputs and outputs
speaker-level inputs and outputs
USB power port (5 volts, 500mA) for optional wireless adapter
auto power on/off
vibration-absorbing feet
detachable 8-foot power cord
durable MDF cabinet with high-gloss finish
removable grille
15-3/8"W x 16"H x 16-1/2"D
weight: 51 lbs.
warranty: 5 years subwoofer, 1 year amplifier
MFR # SubSeries 350
Customer reviews for PSB SubSeries 350
Average review:
5.0 out of 5 stars
Customer photos
This review was collected as part of a promotion
More details on the PSB SubSeries 350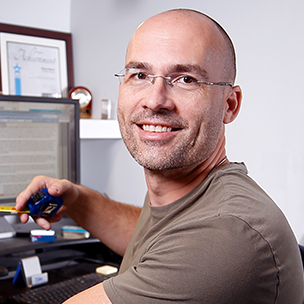 Researched by Crutchfield's

Stacey B.
Features & specs
The PSB SubSeries 350 replaces these items:
Product Research
Features
PSB SubSeries: The PSB SubSeries 350 powered subwoofer is designed to provide the flattest possible frequency response, full bass extension, low distortion, and high output. The PSB SubSeries powered subwoofer is perfect for music and movie soundtracks.
Class D Discrete MOSFET Amp: The PSB SubSeries 350 powered subwoofer employs a custom-designed Class D discrete MOSFET amplifier rated at 300W RMS/900W Peak. The built-in digital amplifier features an automatic varying switching frequency that maintains maximum efficiency and low THD under all conditions. The Class D amplifier also incorporates proprietary limiting circuitry preventing audible overload while remaining true to the dynamics of your music or movie sound track. This circuitry combines peak limiting circuits that hold amplifier signal swing to the point just short of the amplifier's clipping, with compression circuitry that will reduce the amplifier's gain.
12" Woofer: To compliment the powerful Class D amplifier, the SubSeries 350 uses a front-firing 12" polypropylene cone woofer with rubber surround, high-temperature voice coil and vented pole piece. The woofer is designed to reduce mechanical noise and prevent harsh sounds at extreme excursion.
Sealed MDF Cabinet: The PSB SubSeries 350 features an acoustic suspension (sealed) MDF cabinet that is ultra-rigid and acoustically inert. It also comes with an acoustically transparent detachable grille. In addition, four vibration absorbing feet isolate the cabinet from your floor. As a result, the SubSeries 350 delivers tight, accurate bass that is uncolored without distortion. The cabinet is finished in a high-gloss black.
Rear-Mounted Controls: Three rotary control knobs (Bass Level, Crossover, Phase) are provided on the rear-panel of the powered sub for setup.
Bass Level: The rotary Bass Level knob controls the output level of the powered subwoofer, relative to the volume of the other speakers in the system.
Crossover: The low-pass crossover adjusts the high-frequency roll-off of signals sent to the subwoofer. The control is continuously variable from 50 Hz to 150 Hz, and allows you to precisely match the subwoofer's bass production with your system's main left & right stereo speakers.
Phase: The phase dial allows for the adjustment of the phase of the subwoofer in relation to the speakers used in the system; from 0 to 180 degrees.
Low-Level & High-Level Connectivity: The PSB SubSeries 350 powered subwoofer offers multiple connection options - including LFE, Stereo RCA, and Speaker-Level inputs and outputs. Gold-plated terminals are used for the powered sub's inputs and outputs, providing excellent signal transfer.
LFE Input/Output: An LFE input is provided for connecting the powered subwoofer to your AV receiver's LFE output. Since the LFE output is filtered by most receivers/processors, the subwoofer's variable low-pass filter is not required and is bypassed. The powered subwoofer also has an LFE output for daisy-chaining additional subwoofers.
Stereo RCA Input/Output: If your receiver or integrated amplifier has preamp outputs, or if you are using a preamplifier without a designated subwoofer/LFE output, the preferred connection is to use the stereo RCA input of the powered subwoofer. In this setup, the subwoofer's internal crossover will used. The sub also has as stereo RCA low-level output, useful if your amp has pre-out/main-in jacks, or when using a separate preamp and amplifier. The low-level output is internally processed by the sub's active high-pass crossover at 80Hz.
Speaker-Level Input/Output: A set of speaker-level inputs are provided for connecting the powered sub to your receiver's left & right front speaker outputs, while a set of speaker-level outputs are provide to connect your front left & right loudspeakers to the powered sub. These 5-way binding-post terminals will accept bare wire (up to 10AWB), spade lugs, pin connectors, and banana plugs (single or dual). The powered subwoofer's low-pass crossover (50-150Hz) will send all low frequencies to the powered sub, while midrange and high frequencies are sent to your connected loudspeakers.
Optional Wireless Link: Two Bluesound RT100 wireless adapters (sold separately) can be used to wirelessly transmit audio from your AV receiver's LFE or subwoofer output to the PSB SubSeries 350's LFE/RCA input. The SubSeries 350 features a USB port that supplies power to the RT100. If your AV receiver is not equipped with a rear-panel USB port, you will also need a USB/AC adapter (sold separately) to power the RT100 at the AV receiver.
Auto On/Off: The powered subwoofer features a main power switch on the back panel. When switched to On, the subwoofer is initially in stand-by mode, awaiting the presence of an audio signal. When the signal is received, the subwoofer turns on automatically. When no signal is detected, the sub's amp will automatically turn off after approximately 15 minutes. In the Off position, the subwoofer will not power up. You can also setup the powered subwoofer to manually turn on and off with the main power switch.
The PSB SubSeries 350 replaces these items

Adding...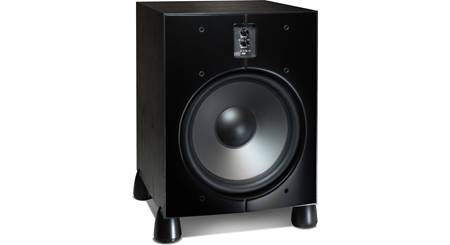 12" front-firing woofer with down-firing port
built-in NAD Electronics 300-watt RMS amplifier
frequency response 27-150 Hz