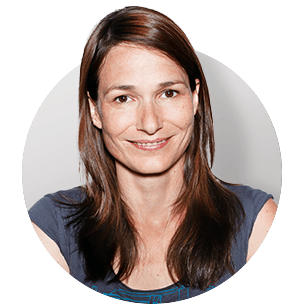 At home anywhere
Yamaha's feature-packed and budget-friendly RX-V385 is an excellent choice for anyone looking for an affordable home theatre setup. This five-channel receiver gives you solid surround sound performance, in spaces ranging from small apartments to large living rooms. It works with the latest 4K TVs and Blu-ray players for stunning picture quality. And built-in Bluetooth lets you stream music from any app on your compatible mobile device.
At home anywhere
Yamaha's feature-packed and budget-friendly RX-V385 is an excellent choice for anyone looking for an affordable home theatre setup. This five-channel receiver gives you solid surround sound performance, in spaces ranging from small apartments to large living rooms. It works with the latest 4K TVs and Blu-ray players for stunning picture quality. And built-in Bluetooth lets you stream music from any app on your compatible mobile device.
The RX-V385 gives you room to build your system over time. Specialized DSP modes let you get the best sound from any kind of setup, whether you connect a single pair of bookshelf speakers or a full five-channel surround sound system.
READ LESS
Product highlights:
Power and Processing:
5-channel amplifier
70 watts per channel into 8 ohms (20-20,000 Hz) at 0.09% THD, with 2 channels driven
Dolby® and DTS® surround sound decoding
upscales HD video signals to 4K Ultra HD
YPAO (Yamaha Parametric Room Acoustic Optimizer) for automatic speaker calibration and more precise surround sound (microphone included)
Cinema DSP modes add richness and depth to music and movie soundtracks
Adaptive Dynamic Range Control limits the volume level on sound effects and commercials for more discreet late-night listening
Digital Music Options:
built-in Bluetooth® for wireless music streaming
Audio Performance Features:
three 32-bit/384kHz Burr-Brown digital-to-analog converters
Extra Bass offers enhanced low-frequency response even with small speakers
Virtual Cinema Front simulates surround sound effects when five connected speakers are all placed in the front of the room
Ultra Low Jitter PLL circuitry reduces timing jitter from digital sources, for improved sound quality and imaging
Compressed Music Enhancer improves sound quality of MP3s and other digital music files
surround speaker channels re-assignable for bi-amping compatible front left and right speakers
Connections:
HDMI audio/video switching: 4 in, 1 out

HDCP 2.3 technology ensures compatibility with 4K Ultra HD sources and TVs (via free firmware update)
HDR-compatible for extended picture contrast and brightness with compatible 4K TVs and HDR-encoded content
supports HDR 10, Dolby Vision, and HLG

composite video switching: 3 in, 1 out
digital audio inputs: 1 optical and 2 coaxial
2 pairs of stereo RCA inputs
front-panel USB port for audio playback from USB flash drives
front-panel minijack (3.5mm) for connecting a mobile device or portable music player
preamp output for a powered subwoofer
no phono input — to connect a turntable you'll need to add a phono preamp
outputs for 5 speakers: Front L/R, Center, Surround L/R
1/4" headphone jack
General Features:
4K and 3D video pass-through
four SCENE presets for one-touch power-up, source selection and DSP recall
Audio Return Channel (ARC) function receives digital audio signals from a compatible HDTV's tuner or "smart" content via HDMI
AM/FM tuner
remote control
17-1/8"W x 6-3/8"H x 12-3/8"D
weight: 17 lbs.
warranty: 2 years
MFR # RX-V385BL
What's in the box:
5.1ch AV receiver
Wireless remote control (RAV561)
2 "AAA" batteries
YPAO microphone
AM loop antenna
FM wire antenna
Quick Start Guide
Warranty information
"Yamaha Worldwide Representative Offices" note
Customer reviews for Yamaha RX-V385
Loading...
Loading reviews...
Average review:
4.5 out of 5 stars
Customer photos
This review was collected as part of a promotion
More details on the Yamaha RX-V385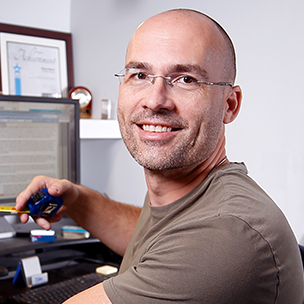 Researched by Crutchfield's

Stacey B.
Features & specs
The Yamaha RX-V385 replaces these items:
Product Research
Audio Section
Video Section
USB + Bluetooth Integration
Remote & Convenience Features
Audio Section
5-Channel Discrete Amplification: The Yamaha RX-V385 AV Receiver is equipped with a discrete 5-channel amplifier rated at 70 watts (into 8Ω, at 20-20kHz, with 0.09% THD, driving 2 channels) which provides high dynamic power with low-impedance drive capability for a high level of sound quality and clarity.
Bi-Amp Configuration: The RX-V385 offers the ability to bi-amp compatible front speakers, driving the high and low ranges with independent amplifiers for higher quality 2ch audio. The RX-V385 does this by using its front channel and surround channel amplifiers to power the front speakers (rear surround speakers are not available in this configuration). In addition to providing greater power, it also prevents interference between the high and low sounds, further improving the sound of the front speakers.
Burr Brown DACs + Low-Jitter PLL Circuitry: The Yamaha RX-V385 uses a total of high quality, audio-grade Burr-Brown 32-bit/384kHz digital-to-analog converters to maximize sound quality. The Yamaha AV receiver also utilizes low-jitter PLL circuitry to help optimize sound imaging. The result is a more dynamic sound with greater detail and less distortion.
YPAO Sound Optimization: This unit employs the YPAO (Yamaha Parametric Acoustic Optimizer), which automatically adjusts the output of the speakers based on placement, performance, and the room's acoustic characteristics. Yamaha's YPAO system uses a small microphone and sophisticated equalization to automatically set the best sound for any room, no matter where the speakers are. First it checks the speaker connections and phase of each speaker. Then it sends out tones which are captured by the microphone to analyze the room acoustics and sets a variety of parameters; such as the speaker size, the distance of the speakers, and even the volume level; until it achieves the best sound conditions for your room. Using the supplied Optimizer Microphone, YPAO performs the following checks and makes appropriate adjustments to give you the best possible sound from your system:
Speaker Check: YPAO checks which speakers are connected and the polarity of each, checks the frequency response of each speaker and sets the appropriate crossover frequency for each channel, checks the distance of each speaker from the listening position and adjusts the delay of each channel, as well as checks and adjusts the volume level of each speaker.
EQ: Choose between 3 YPAO EQ modes - Natural (adjusts all speakers to a natural sound; useful when the flat setting sounds too bright), Flat (use when all the speakers in the system have similar sound characteristics), or Front (EQs the center and rear speakers to sound like the front; useful when your front speakers are better than the others in the system)
DSP Effect Normalization: In addition, YPAO provides DSP Effect Normalization, which varies the Cinema DSP parameters according to the reflected sounds in the room.
Note: You can also choose to manually adjust the AV receiver's speaker, crossover, & EQ settings.
Compatible Digital Audio Formats: The AV receiver supports the following stereo & multichannel digital audio formats through its HDMI jacks and optical/coax digital inputs.
Digital Audio Connector
Audio Signal Type
Audio Signal Format
HDMI (4 Inputs/1 Output)
High Definition Audio Bitstream
Dolby Digital Plus,Dolby TrueHD,DTS-HD Master Audio,DTS-HD High Resolution,DTS Express
Bitstream
Dolby Digital,DTS, DTS 96/24
PCM
2ch to 8ch (32-192kHz, 16/20/24-bit)
DSD
2ch to 6ch (2.8MHz, 1-bit)
Optical/Coaxial (1 Optical Input/2 Coaxial Inputs)
Bitstream
Dolby Digital,DTS, DTS 96/24
PCM
2ch to 6ch, (32-96kHz, 16/20/24-bit)
Note: Even though the AV receiver will decode 7.1ch surround sound via HDMI, it will only output 5.1ch surround because it lacks Surround Back channel speaker outputs.
Post Decoding Formats: The Yamaha AV receiver supports Dolby Pro Logic, Dolby Pro Logic II (Movie/Music/Game), and DTS Neo: 6 (Music/Cinema) to enhance 2-channel and multichannel decoding formats. The receiver offers the additional Dolby Pro Logic II and DTS NEO:6 audio adjustments.
Dolby Pro Logic II Settings: You can adjust the following parameters in Pro Logic II Music modes: Panorama (sends stereo signals to the surround speakers as well as the front speakers for a wraparound effect), Dimension (adjusts the soundfield either towards the front or towards the rear of the room), and Center Width (moves the center channel output completely towards the center speaker or towards the front left and right speakers).
Center Image (DTS NEO: 6 Music): This parameter adjusts the front left and right channel output relative to the center channel to make the center channel more or less dominant as necessary.
Cinema DSP Soundfields: Conventional multichannel audio reproduction systems base their sound on Dolby Digital and DTS decoding, using matrix and steering technologies to create surround sound effects. Yamaha Cinema DSP is much more advanced, actually creating richly realized independent soundfields that envelop you in an unmatched surround sound experience. With dialog, music and effects ideally located in these separate soundfields, you will hear sound with accurate placement, smooth movement, exceptional clarity and richness, and realistic presence. It will seem as if the walls of your room have disappeared and you are in the middle of your own immense theater. The AV receiver offers a wide variety of Cinema DSP programs for movies, music, and games.
Movie Soundfields: Standard, Spectacle, Sci-Fi, Adventure, Drama, Mono Movie, Sports, Action Game, Role Playing Game
Music Soundfields: Hall in Munich, Hall in Vienna, Chamber, Cellar Club, The Roxy Theater, The Bottom Line, Music Video, 2ch Stereo, 5ch Stereo
Note: You can change the receiver's Cinema DSP effect level (level of the soundfield effect to be added). You can adjust the level of the soundfield effect from -6 dB to +3 dB.
Cinema DSP Modes: The Yamaha RX-V385 AV receiver offers proprietary Yamaha Cinema modes so you can enjoy your movies and music even more in your home; regardless if you are using 5.1 speaker setup, only have a two-channel speaker system, or listening through headphones.
Virtual Cinema DSP: Virtual Cinema DSP is an algorithm that allows you to enjoy DSP soundfield surround effects while using a minimal two-speaker system. Virtual Cinema DSP lets you enjoy the effects of Cinema DSP surround sound without using surround speakers (handy for use in custom installations where some rooms don't have surround speakers). It can be used with the front/center speakers or even with just the two front left and right speakers. This unit will switch to virtual Cinema DSP mode automatically when surround speakers are unavailable.
Virtual Cinema Front: With Virtual Cinema Front, you will enjoy virtual 5-channel surround sound with higher quality and resolution by installing surround speakers at the front. You get more flexibility to arrange your speakers inside the room, along with easy enjoyment of high quality surround sound.
Silent Cinema: Silent Cinema makes it possible to hear large-scale surround sound through ordinary headphones. This is a variation of Cinema DSP technology that Yamaha developed to let you listen in private to movies and other multi-channel sources for hours without listening fatigue.
HiFi Sound Modes: The Yamaha RX-V385 offers two HiFi audio modes which bypass the receiver's tone & DSP processing for higher sound quality performance. These HiFi sound modes lets you play back input sources without any soundfield effect processing. When either of these modes are enabled, each speaker produces its own channel audio signal (without soundfield processing). When playing back 2-channel sources, such as a CD player, stereo sound is heard from the front speakers. When playing back multichannel sources, the receiver produces unprocessed multichannel surround sound.
Straight: 2-channel stereo sources are output from only the front left and right speakers, while multi-channel sources are decoded straight into the appropriate channels without any additional tone or DSP processing.
Direct: Turns off the surround and tone circuitry, as well as deactivates the front-panel and on-screen display, allowing sources to bypass the decoders, DSP processors, and video circuitry of this unit so you can enjoy pure hi-fi sound from 2-channel or multi-channel sources.
Compressed Music Enhancer: Yamaha employs sophisticated digital signal processing with exclusive algorithms to enable playback that improves the performance of compressed music formats - including MP3, WMA, AAC, and Bluetooth (SBC). With the Compressed Music Enhancer, highs and especially lows are richer and smoother, bringing music back to life to be as close to the original as possible.
Dialogue Level: Dialogue Level Adjustment lets you control the volume of the vocal sound, so you hear movie dialog and music vocals at the ideal level for clear, comfortable listening.
Dynamic Range Control: The Yamaha RX-V385 employs two Dynamic Range Control functions.
Adaptive DRC: Adaptive DRC automatically adjusts the dynamic range of the sound according to the volume level. This ensures that you hear clear dialog, vocals, and all sound effects at comfortable levels. There is no need to adjust the volume level as you listen; everything from whispers to big explosions will be heard clearly and comfortably at the same volume setting. It also tones down loud TV commercials and is ideal for low-volume, late-night listening when you do not want to disturb others.
Dynamic Range: The amount of dynamic range compression applied to bitstream signals is adjustable; Min/Auto is suitable for low volume listening, Standard is typical for home use, and Max doesn't compress the dynamic range at all.
Bass Management: The Yamaha RX-V385 AV receiver provides the following Bass Management settings.
Bass & Treble: You can adjust the balance of the high-frequency range (Treble) and low-frequency range (Bass) of sounds output from the receiver' front left and right speakers to obtain a desired tone. You can independently adjust the bass (50Hz) and treble (20kHz) from -6dB to +6dB in 0.5 dB increments. The tone control of the speakers or headphones can be set separately.
Extra Bass: You can select whether to play front channel low-frequencies through either the front speakers or the subwoofer, or through both the subwoofer and front speakers.
Subwoofer Trim: The Subwoofer Trim control enhances the low frequencies by avoiding overlap with the front speaker output. This will result in a cleaner, more focused sound stage while providing a seamless frequency response. When subwoofer frequency overlap occurs in conventional systems, the overall sound is "pushed" toward the subwoofer. Subwoofer Trim takes care of this by separating the low subwoofer frequencies cleanly, thus stabilizing the front stage while providing a well-balanced enhanced bass sound.
Volume Setup: The Yamaha RX-V385 allows you to customize the receiver's volume levels.
Volume Scale: You can choose to display the "Relative" volume scale (-80 to +16.5dB) or an "Absolute" volume scale (0 to 97).
Max Volume Adjustment: Use this feature to set the receiver's maximum volume level. This feature is useful to avoid turning the volume too loud by mistake. You can set the Max Volume from -60dB to +15dB in 5dB steps, to +16.5dB, or to 20 to 95 in 5.0 increments.
Initial Volume Setting: Use this feature to set the volume level when the power is turned on. You can choose between Off (same as the volume when the unit was turned off), Mute, and -80dB to + 16.5dB in increments of 0.5dB.
Volume Trim: Use this feature to adjust the volume level of each input. This is useful to balance the level of each input to avoid sudden changes in volume when switching between input sources. The range is from -6dB to +6dB in 0.5dB increments.
Audio Outputs: The Yamaha RX-V385 AV receiver is fitted with binding post and spring terminals for the speaker outputs, along with a mono-Sub/LFE output and a front-panel headphone jack.
Speaker Terminals: The receiver has binding post terminals for all of it speaker connections (Front Left, Front Right, Center, Surround Left, and Surround Right). The binding posts can accept bare wire (up to 12AWG), pin connectors, and banana plugs (single only). The receiver supports 6Ω to 8Ω speakers.
Sub Out: The receiver features a mono-RCA subwoofer/LFE output.
Headphone Jack: The Yamaha RX-V385 is equipped with a front-panel 1/4" headphone jack for connecting a set of headphones, so you can listen to your music privately. Connecting a set of headphones automatically mutes the receiver's speaker outputs. Sound effects applied during playback can also be heard through the headphones.
Front-Panel Aux Input: The RX-V385 features a front-panel Aux input (3.5mm) for connecting your portable audio player with a headphone output.
AM/FM Tuner: The Yamaha RX-V385 AV receiver features a built-in AM/FM tuner with manual, seek, and preset tuning. The RX-V385 lets you store up to 40 AM/FM station presets. This can be done manually or automatically (auto-preset tuning). You can set this receiver to automatically match FM broadcast frequencies in stereo, or convert the frequency to monaural for weaker stations.
Video Section
HDMI 2.0b: The Yamaha RX-V385 AV receiver is fitted with four HDMI 2.0b inputs and one HDMI 2.0b output that support the latest HDMI standards; such as 4K/60Hz, HDCP 2.3, 4:4:4 color subsampling, HDR (High Dynamic Range), and Wide Color Gamut (BT.2020) for full support of today's 4K content from Ultra HD Blu-ray, online video services (like Amazon & Netflix), and future TV broadcast services.
4K/60Hz: The RX-V385 supports up to 4K (3840x2160 pixels) video @ 60 frames per second on all of its HDMI inputs and output. It also supports a 480i, 480p, 720p, 1080i, or 1080p video signal.
HDCP 2.3: All of the receiver's HDMI jacks support HDCP 2.3 (available firmware update), which fully complies with the latest copyright protection standard for 4K video transmission.
4:4:4 Color Subsampling: The receiver also supports RGB, YCbCr 4:4:4, YCbCr 4:2:2, and YCbCr 4:2:0 color subsampling (@ 60Hz or 50Hz). With 4:4:4 color subsampling, luminance (brightness) and chroma (color) are sampled at the same rate; resulting in an RGB color palette as big as the video sampling rate for a video image with more colors, plus greater color accuracy and detail.
Wide Color Gamut (BT.2020): The BT.2020 color standard delivers a much wider color gamut and represents about 75% of the total visual color spectrum, while the current Rec. 709 color standard selected as the color space for HDTVs and early generation 4K Ultra HDTVs covers only 35% of the total visual color spectrum.
Note: Use a premium high-speed 18Gbps HDMI cable for the best 4K/HDR performance.
HDR (High Dynamic Range): The Yamaha RX-V385 supports HDR (high dynamic range) Video - including HDR 10, Dolby Vision, and Hybrid Log-Gamma. HDR (High Dynamic Range Video) provides enhanced picture quality by simultaneously enabling greater detail for both the dark and bright parts of an image. HDR reproduces a greater dynamic range of luminosity or brightness levels, creating greater contrast. This increased contrast reveals the subtle nuances of the image, from detailed blacks and shadows to the brightest whites and colors, plus greater depth.
HDR 10: HDR 10 is an open standard and currently the most popular HDR format on the market. It uses static metadata at the start of a movie to tell the receiver and your TV that the video content is encoded using HDR.
Hybrid-Log Gamma: HLG (Hybrid-Log Gamma) is primarily designed for live video feed and over-the-air broadcasts. It uses no pre-encoded metadata and is backwards compatible with SDR. HLG's native compatibility allows much of today's existing SDR infrastructure to be re-used for HDR in the future.
Dolby Vision: Unlike HDR 10 which contains static metadata and HLG which uses no metadata, Dolby Vision uses dynamic metadata technology which sets individual color and brightness levels for each and every scene. Dolby works directly with filmmakers at major Hollywood studios to create superior HDR video masters of blockbuster movies.
HDMI Video Upscaling (up to 4K): The Yamaha AV receiver's video processor provides upscaling of 1080p HDMI video sources to 4K Ultra HD (3840x2160 pixels). The receiver does not offer analog-to-HDMI upconversion.
Other HDMI Features: The Yamaha RX-V385 AV receiver's HDMI connectivity also offers 3D video pass-through, ARC (Audio Return Channel), Deep Color & x.v.Color support, as well as an auto LipSync function and Standby Through Mode.
3D Ready: The Yamaha RX-V385 AV receiver supports 3D video pass-through (720p/1080p only) from connected 3D-compatible Blu-ray, games and broadcast devices to 3D-compatible HDTVs (all 3D components must be connected via HDMI). Special eyewear will be required for viewing 3D content.
ARC: The ARC feature of the RX-V385's HDMI monitor output allows audio to be sent from your compatible HDTV to the receiver through the same HDMI cable already being used to send audio and video to your HDTV. This eliminates the need for extra cables connected to your television.
Deep Color & x.v.Color Support: The AV receiver supports Deep Color and x.v.Color content, which can display a larger color range than standard-definition schemes. The result is a more lifelike, vibrant picture
LipSync: This function adjusts the delay between audio and video output. You can do this manually or have the receiver set the LipSync function automatically. When connected to a TV via HDMI the receiver automatically adjusts audio output timing (0-500ms) if the TV supports an automatic LipSync function. You can also manually delay the sound output up to 500ms to synchronize it with the video image.
Standby Through Mode: When the RX-V385 is in standby mode (power off), the Standby Through feature allows HDMI source signals to pass through the receiver to the TV. The HDMI input can be changed using the remote control. So, there's no need to turn on the AV receiver in order to switch HDMI sources.
Composite Video: The receiver features three composite video inputs and one composite video monitor output. These composite video jacks only support 480i video. The composite video inputs must be output via the composite video monitor output (there is no HDMI upconversion)
Background Audio/Video: The Background Audio/Video feature allows you to watch a video source while listening to a different audio source. With the RX-V385, you can select any video input (HDMI or analog) and listen to audio via the receiver's AM/FM tuner, Aux input, or Bluetooth
USB + Bluetooth Integration
Front-Panel USB Port: This AV receiver is equipped with a front-panel USB (type-A) port that allows you to enjoy MP3, WMA, AAC, & WAV (up to 48kHz/16-bit) music files stored on a USB mass storage class memory device, such as a USB thumbdrive or portable digital audio player (not compatible with USB HDDs). Your USB mass storage class device must be formatted in FAT 16 or FAT32.You can use the receiver's on-screen menu (via HDMI) and remote control to navigate your stored music files on your connected USB memory device. USB portable audio devices that can be charged via USB will be charged when plugged into the AV receiver's USB port (5V/1A); even in standby mode.
Note: The receiver's USB port does not support Apple iPod/iPhone/iPad or Android smartphones/tablets.
Built-in Bluetooth: The Yamaha RX-V385 is equipped with built-in Bluetooth 2.1+EDR for wireless communication between Bluetooth-enabled audio source devices, headphones, and speakers. The AV receiver can act as a Bluetooth receiver in order to wirelessly stream music from an audio device, or a Bluetooth transmitter in order to wirelessly stream music to a set of BT-enabled headphones/speakers. The receiver's Bluetooth wireless range is approximately 33'.
Wireless Audio Streaming (BT Receiver): Enjoy wireless audio playback of stored music and music apps from your smartphone, tablet, computer, laptop, and other Bluetooth source devices through the Yamaha AV receiver. You'll still use your Bluetooth-enabled device to control music playback and to view song/artist information. You can even set the receiver to turn on when you start to stream audio via Bluetooth from your source device.
Wireless Headphones/Speakers (BT Transmitter): The Yamaha AV receiver can also act as a Bluetooth transmitter and stream its non-Bluetooth audio sources (HDMI, Network, USB/iPod, Analog, Optical/Coax Digital, & AM/FM tuner) out to most any Bluetooth headphone or speaker. You can only pair and stream audio to one Bluetooth headphone or speaker (pair of speakers) at a time. You can even have the same source playing from the main speakers and a Bluetooth speaker/headphone simultaneously (there is a slight audio delay). Volume control of the Bluetooth speaker/headphone will be controlled via the Bluetooth device and not the receiver.
Note: Sound cannot be transmitted to Bluetooth devices that do not support SCMS-T standard.
Remote & Convenience Features
IR Remote + HDMI-CEC: The receiver comes with an IR remote control for wireless operation of this receiver and other HDMI-connected sources (via HDMI CEC). This newly designed remote control features large buttons for enhanced ease of use. The Yamaha AV receiver supports HDMI-CEC, which synchronizes the operation of this unit with other HDMI-CEC devices when connected via HDMI.
When the AV receiver is connected to a HDMI-CEC compatible TV, they will turn On/Off together and you can use the TV remote to control the volume of the receiver. You can disable the Turn On/Off function.
HDMI-CEC also provides playback functionality with other components, such as your Blu-ray player. For example, you can use the receiver's remote control to operate player functions like Play/Pause, Fast Forward/Rewind, Previous/Next Track, or Stop.
Note: Not all HDMI-CEC compatible components and functions are guaranteed to work.
On-Screen Menu: The RX-V385 offers an on-screen menu system via its HDMI output. This clean and simple interface makes setup and other operations extremely easy. If your TV is connected to the composite video monitor output, you will need to use the AV receiver's front-panel display when changing settings. You can set the receiver's on-screen menu language to English, French, Spanish, German, Italian, Russian, or Chinese. The front-panel display only offers English.
Scene (for One-Touch Start): The RX-V385 features four Scene buttons on the front-panel and remote to make operating the receiver easier. Pressing a Scene button will automatically launch a number of operations that initiate play of the source controlled by that button; such as powering on the receiver, switching to the appropriate source input, and recalling the selected DSP surround mode.
Input Rename & Skip: The receiver automatically creates an input source name that is displayed on the front-panel screen for connected HDMI-compatible sources. You can also manually rename each input so the display reflects the actual source. If an input isn't being used, you can hide it from the display so you don't have to scroll past it when you change sources.
Display Dimmer: You can set the brightness of the front-panel display from -4 to 0.
ECO Mode: When the ECO Mode is enabled, you can reduce the receiver' power consumption by keeping the maximum volume, maximum output power, and front display's brightness low. ECO mode reduces power consumption by approximately 20%.
Timers: The receiver offers a programmable Sleep Timer and Auto Power Down function.
Sleep Timer: The receiver's Sleep Timer function can be set turn the unit automatically off after 30, 60, 90, or 120 minutes.
Auto Power Down: If you don't operate the receiver or use the remote for an extended period of time, the unit will automatically go into standby mode (Auto Power Down function). The Auto Power Down feature is selectable from 2, 4, 8 or 12 hours. The unit can also be set to power down if it does not detect an input signal for 5 or 20 minutes.
Memory Guard: This feature is used to prevent accidental changes to the DSP program parameter values and other system settings.
The Yamaha RX-V385 replaces these items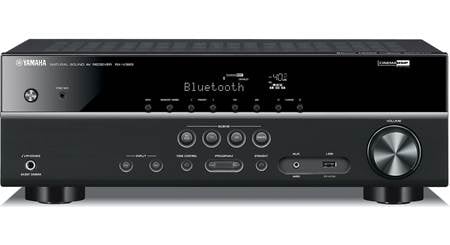 5.1-channel home theatre receiver with Bluetooth®
5-channel amplifier; 70 watts per channel with 2 channels driven
built-in Bluetooth for wireless music streaming from a compatible phone, tablet, or computer
24-bit/192kHz Burr-Brown digital-to-analog converters for all channels
Loading...
Loading accessories...
Loading...
Loading articles...