Free shipping on all orders C$35 and up
For orders under C$35, our shipping charge is only C$7.99. Merchandise total must be over C$35 for free shipping offer.
Most orders received by 2:30PM ET (M-F) ship the same day. Most orders ship from Ontario with delivery time between 1-7 business days.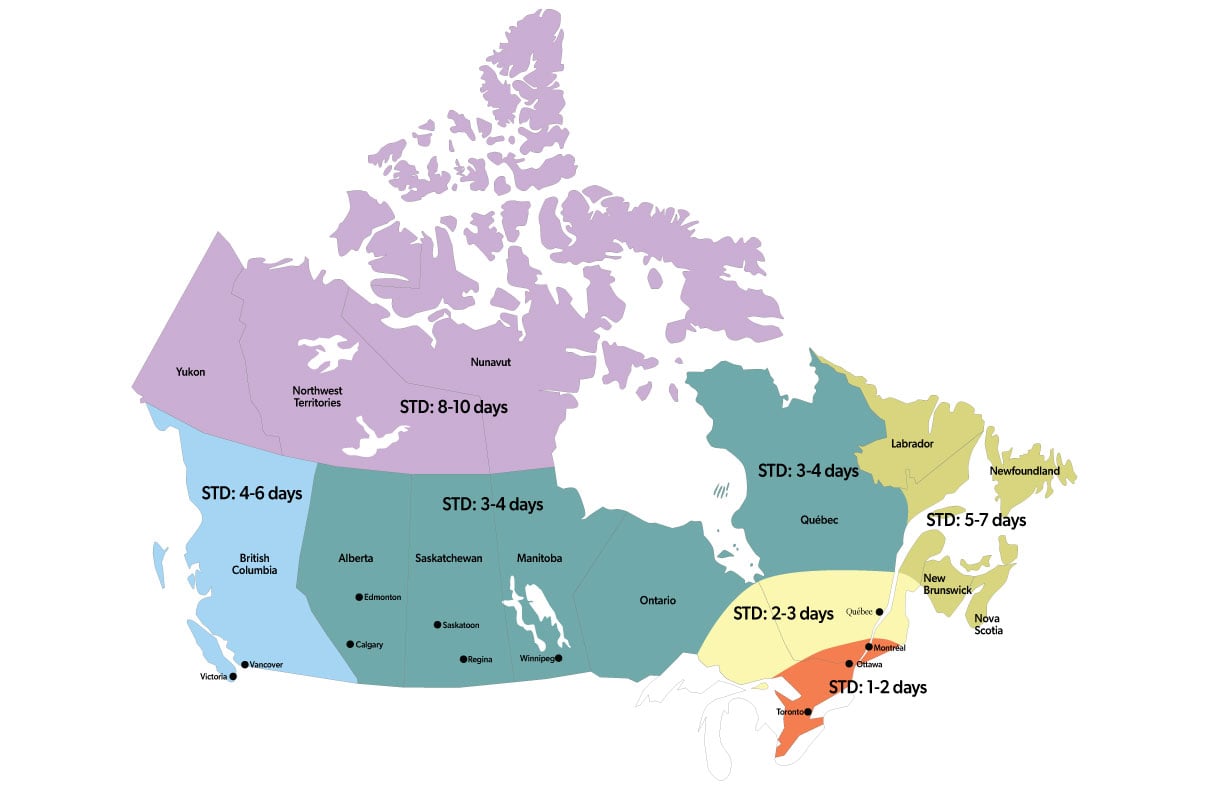 Standard time of delivery (STD) to southeastern Ontario (including Toronto & Ottawa), as well as parts of southern Québec (including Montréal) and New Brunswick, is 1-2 days.
STD to southern Québec (including Québec City), eastern Ontario, and parts of New Brunswick is 2-3 days.
STD to Alberta, Saskatchewan, and Manitoba (including Edmonton, Calgary, Saskatoon, Regina, and Winnipeg), as well as most of Québec, Ontario, is 3-4 days.
STD to Nova Scotia, Newfoundland and Labrador, and most of New Brunswick, is 5-7 days.
STD to British Columbia (including Vancouver and Victoria) is 4-6 days.
STD to Yukon, Northwest Territories, and Nunavut is 8-10 days.
Business days include Monday through Friday, and exclude national holidays. Please provide a physical address for delivery whenever possible, as postal boxes may lead to delays. For questions regarding shipping, call 1.800.297.9469.
Allow extra time for:
Large or heavy items requiring freight shipping.
Items shipped directly from the distributor (such as home furniture and custom-fit subs)
Out-of-stock items
Orders shipped to remote addresses
We may not be able to ship large items to certain very remote addresses. Please call for details. Crutchfield.ca does not ship outside of Canada. If you need a product delivered to a U.S. address, please see our U.S. shipping page.
60-day returns
You may return items that are complete and like new for any reason within 60 days.