About the JL Audio Slash v2 Series 500/1v2
Consistent power for performance you can count on
The 500/1v2 mono amplifier puts out 500 watts RMS of clean power to your subwoofer system, and JL Audio's patented Class-D amp circuitry keeps a tight rein on cone movement. The cast aluminum heatsinks dissipate heat quickly, giving these amps long lifespans and reliable operation. You'll find all controls, inputs, and outputs on the front panel, for easy access and a neat installation.
Consistent power for performance you can count on

JL Audio's Slash v2 amplifiers aren't just powerful, they're smart. As your battery voltage fluctuates while you drive, the Regulated, Intelligent Power Supply™ system maintains steady, consistent power at any impedance between 1.5 and 4 ohms and at any voltage between 11 and 14.4 volts. You'll get all the power, all the time, even with a wide range of speaker combinations.
---
Rock solid power for your sub
The 500/1v2 mono amplifier puts out 500 watts RMS of clean power to your subwoofer system, and JL Audio's patented Class-D amp circuitry keeps a tight rein on cone movement. The cast aluminum heatsinks dissipate heat quickly, giving these amps long lifespans and reliable operation. You'll find all controls, inputs, and outputs on the front panel, for easy access and a neat installation.
---
Minimize external noise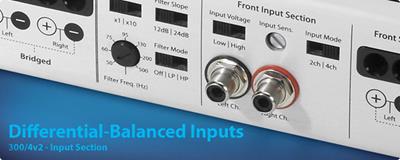 JL Audio amps use "differential-balanced inputs" to isolate the signal's ground from the chassis ground, reducing noise and making Slash v2 amplifiers compatible with almost any system, including most factory radios.
---
Fingertip control
Tunable frequency filters and a parametric EQ bass boost give you precise control over your bass sound, and the optional RBC-1 wired remote lets you dial in the right amount of thump from the front seat.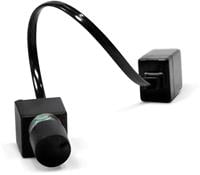 READ LESS
Product highlights:
mono subwoofer amplifier
500 watts RMS x 1 at 1.5 to 4 ohms
Regulated, Intelligent Power Supply system
differential-balanced inputs
variable low-pass filter (40-200 Hz, 12 or 24 dB/octave)
parametric EQ bass boost (0-15 dB at 20-80 Hz)
variable infrasonic filter (-24 dB/octave at 15-60 Hz)
optional wired remote bass boost
Class-D amplifier design
MOSFET power and output stages
speaker- and preamp-level inputs (speaker-level input requires an optional adapter)
preamp outputs
4-gauge power and ground leads and a 50-amp fuse recommended — wiring and hardware not included with amplifier
no onboard fuses — when installing multiple amps in a system, an additional 50-amp in-line fuse between the distribution block and the amplifier is recommended
13-7/16"W x 2-5/16"H x 10-1/16"D
warranty: 2 years
MFR # 98080
JL Audio Slash v2 Series 500/1v2 reviews
Average review:
Customer photos
More details on the JL Audio Slash v2 Series 500/1v2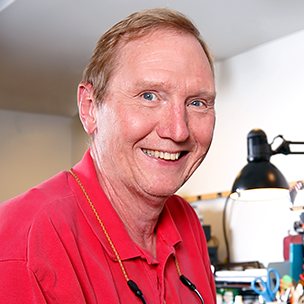 Researched by Crutchfield's

Mark G.
Product Research
Features
Mono-Channel Subwoofer Amplifier: The JL Audio 500/1v2 is a class D monoblock subwoofer amplifier that is rated at 500 Watts RMS x 1-channel in 1.5 to 4-ohm at 20 to 250Hz with a signal-to-noise-ratio of 95 dB and a total harmonic distortion of 0.05% while receiving 11 to14.5 Volts. The JL Audio subwoofer amplifier's frequency response is limited to the range of 5-250Hz and is not designed for driving midrange speakers or tweeters. Every aspect of the amplifier's operation has been optimized for low-frequency amplification.
R.I.P.S. (Regulated, Intelligent Power Supply): R.I.P.S. stands for "Regulated, Intelligent Power Supply" and is a central feature of the JL Audio's Slash v2 amplifier. The JL Audio R.I.P.S. System ensures consistent power delivery over a wide range of battery voltages and load impedances. This technology provides optimum power at any impedance level between 1.5 ohm to 4 ohm per channel and at any vehicle voltage level between 11V and 14.5V.
Regulated Power Supply: "Regulated" means that the power supply adjusts its operation so as to maintain the amplifier's rated power output and low distortion operation over a wide range of vehicle voltages (11V-14.5 V). This allows the JL Audio Slash v2 amplifier's the rail voltage and clean power output to remain stable in real-world car-audio systems, resulting in superior fidelity and stability.
Intelligent Power Supply: The "Intelligent" portion of the R.I.P.S. System is a circuit that actually monitors output current to optimize the amplifier's output power over a wide range of load impedances (1.5 ohm to 4 ohm per channel). The R.I.P.S. System detects the actual impedance being driven and adjusts output rail voltages to deliver optimum output. The entire process is seamless, automatic, and results in incredible dynamics for satellite channels and consistent power output for a wide range of subwoofer configurations. It also takes into account the real impedance of your car-audio system, rather than relying on often inaccurate assumptions based on a speaker's rated impedance.
Monolithic RealSink Plus Advanced Heat Management: This Slash v2 amplifier features a real cast-aluminum heat sink with vertically-oriented fins that are highly effective at dissipating heat from the amplifier via convection and radiation. The design of this heat sink is achieved through extensive finite-element analysis, resulting in an amplifier that keeps cool under the most demanding conditions. If a Slash v2 amplifier should ever reach an unsafe temperature, our unique Advanced Rollback Protection circuit also adjusts power until the amplifier cools down, without ever shutting your music down. As an added cosmetic benefit, the cast-aluminum end-caps of the Slash v2 amplifier replicate one-half of a full heat sink fin so that when two or more amplifiers are mounted end-to-end, you get a totally seamless custom look.
Class D Circuitry: This JL Audio Class D subwoofer amplifier utilizes a proprietary Class D circuit. JL Audio's Patented Class D output circuit utilizes a discrete control section and a unique feedback loop design that results in outstanding power regulation and a damping factor greater than 500 at 4 ohms (>250 at 2 ohms). This is vastly higher than other Class D designs and also higher than most Class A/B amplifiers. The benefit of this exclusive JL Audio technology is tight, clean bass reproduction with the efficiency advantage of Class D amplification.
Differential-Balance Inputs: The JL Audio amplifier features differential-balanced input architecture to effectively control noise and ensure compatibility with a wide variety of source units, including many OEM systems. Without resorting to line output converters, you can directly connect most OEM source units to the JL Audio amplifier without creating any noise or compatibility issues. Unlike conventional single-ended inputs, the differential-balanced design does not connect one side of the audio signal to chassis ground. This eliminates any voltage sensitivity between one input terminal and ground and greatly reduces the incidence of alternator whine in a typical car audio installation. The Slash v2 amplifier provides range switching on each of its inputs via the "Input Voltage" switch. This permits connection to a wide range of source voltages while retaining excellent sensitivity setting precision.
Note: You will need a speaker wire to RCA adaptor (136XDCLR2S, sold separately) to connect this amplifier to your headunit via speaker-level.
Flexible Preamp Outputs: The Slash v2 amplifier features flexible preamp outputs that make interconnecting multiple amplifiers simple. The 500/1v2 subwoofer amplifier features fully-independent preamp output filters with independent frequency (40-200 Hz), mode (LP or HP) and slope-selection controls (12 or 24 dB). The preamp outputs can also be configured to track the amplifier's low-pass filter directly or as full-range outputs.
Protection Circuitry With Status Indicator Lights: There are three status indicator lights on the top of the amplifier.
Power (Green): This LED lights green to indicate that the amplifier is turned on and operating normally.
Thermal (Red): This Red LED lights to indicate that the amplifier has exceeded its safe operating temperature, putting the amplifier into a shelf-protection mode, which reduces the power output of the amplifier. The red light will shut off and the amplifier will return to normal, full-power operating mode if the heat sink temperature drops back to a safe level.
Low Ohm (Amber): This amber LED lights to indicate that the impedance of the speaker load connected to the amplifier is lower than the optimum impedance load range for the amplifier. When this light is on, a protection circuit engages and reduces the power output of the amplifier. The amber indicator will also light when a short-circuit is detected in the speaker wiring.
Note: There is only one condition that will shut down the 500/1v2 completely and that is if the battery voltage of your vehicle drops below 10 volts.
Controls
Simplified Gain Setting: The amplifier's R.I.P.S. feature also allows for easy gain setup. Because the amplifier will always deliver the same amount of power within its operational range of impedances and supply voltages, the maximum, unclipped output is very predictable. This makes setting the gain level of the amplifier via the input sensitivity control very simple. All you need is Digital AC Voltmeter (142TK12V, sold separately) and a Test CD Disc (503CD104, sold separately) with a sine-wave test-tone recorded at 0 dB reference level in the frequency range to be amplified for that set of channels (50 Hz for subwoofer channels).
Active Crossover: The Slash v2 amplifiers provide a comprehensive crossover network to fine tune your system effectively and accurately. The variable filter design employed in the Slash v2 amplifier crossover sections allow you to seamlessly switch slopes, easily change filter frequencies and address what frequencies the preamp outputs will pass. The 500/1v2 offers the following crossover adjustments.
Filter/Slope Mode: The amplifier features low-pass 12dB/octave Butterworth or 24dB/octave Linkwitz-Riley alignments allowing for more precise integration of subwoofer. You can also turn the amplifier's filter mode off.
Variable Frequency: The amplifier offers fully-variable frequency selection from 40-200 Hz on subwoofer channel filters with a detented frequency selection potentiometer for precise adjustment by sight or feel.
Bass Controls: The bass control functions on the JL Audio subwoofer amplifier include the following.
Variable Bass Boost: The amplifier's variable bass boost features a single, parametric band of equalization with variable "Q" (0.5 - 4.3), center frequency (20 - 80 Hz), and boost (0 to +15dB).
Infrasonic Filter: This filter is a defeatable, fully-variable 24dB/octave infrasonic filter with adjustable cutoff frequencies from 15-60 Hz. Ultra-low frequencies that cannot be reproduced by a subwoofer do not become sound but become unnecessary oscillations, which affect sound by causing distortion. These frequencies also waste amplifier power and can cause damage to speakers. Setting the Infrasonic filter switch between 15-60Hz cuts the frequencies below the respective frequency to improve the reproduction performance of the speakers by eliminating harmful distortion.
Remote Bass Port: The amplifier is equipped with a connection for a wired Remote Bass Control (136RBC1, sold separately) that allows fully variable boost control from the front of your vehicle.
Connections
Power and Ground: The JL Audio amplifier's set-screw Power and Ground connections are designed to accept 8 to 4 AWG power wire.
Remote Turn-On: The Slash v2 amplifier's set-screw turn-on lead will accept 18 to 8 AWG wire.
Speaker Outputs: The 500/1v2 amplifier's set-screw speaker terminals will accept 16 to 8 AWG speaker wire.
Note: If your headunit does not have a dedicated remote turn-on output, the amplifier's turn-on lead can be connected to a +12V via a switch that drives power from an ignition-switched circuit. To use this method, select "off" on the "signal sensing" switch of the amplifier's input section.
Preamp Inputs: The amplifier features one set of differential-balanced RCA jack inputs. The amplifier's input level can be set to Low (200mV-2V RMS) when connecting the amplifier to a low-level preamp signal or set to High (800mV-8V RMS) when connecting the amplifier to a high-level speaker signal.
Preamp Outputs: The amplifier also features one set of preamp outputs so you can send audio to another amplifier in your system. The preamp output is switchable and can be set to a Full-Range, Amp Filter or Out Filter.
Note: All inputs, outputs and controls are located on the front side of the amplifier to make installation of the amplifier simple and neat.