About the Logitech® Harmony® Companion
Control for A/V devices and much more
The Logitech Harmony Companion gives you one-touch control over your home entertainment system — and many types of home automation systems, too. So you can control your Lutron dimmers, Nest Learning Thermostat, August smart locks and more all from your smartphone or tablet.
Control for A/V devices and much more
The Logitech Harmony Companion gives you one-touch control over your home entertainment system — and many types of home automation systems, too. So you can control your Lutron dimmers, Nest Learning Thermostat, August smart locks and more all from your smartphone or tablet.
This Harmony system lets your mobile device control up to eight different home theater components. It comes with everything you need — a free downloadable app for your smartphone, a wireless hub to forward commands from your phone to your A/V components, and a powerful remote for others to use.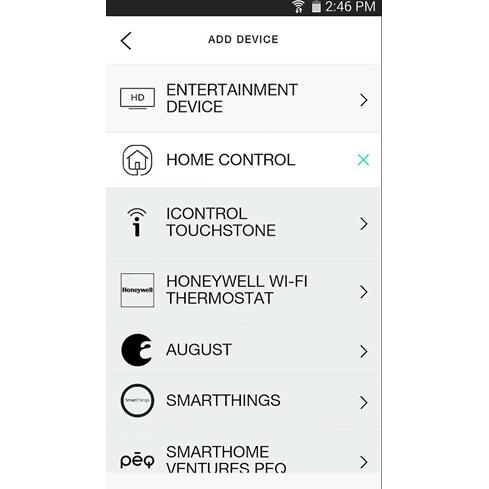 Control both home entertainment components and home automation devices using your smartphone.
Intuitive control through the Harmony App
Harmony's free app is available to both iPhone® and Android™ users. Swipe your phone's touchscreen to change from one component's control panel to the next. You can also group commands together under one-touch activity icons for both entertainment and home automation control.
Tap "Watch Movie" for example, and the app automatically turns on your TV, receiver, and Blu-ray player — whatever combination is required to make it work in your system. Select "Good Morning," and your Lutron-controlled blinds open and lights turns on, and your bedroom stereo system starts playing music.
Control devices behind closed doors
The hub connects to your home Wi-Fi® network and converts signals from your smartphone into infrared (IR) signals your components can understand. This handy low-profile hub comes with an infrared mini-blaster so you can control components stored behind closed cabinet doors.
All this and a hand-held remote, too
The Harmony Companion system comes with a backup remote, for times when you're not carrying your phone in your pocket. It features one-touch buttons for the most common activities — like listening to music, watching TV, or watching a movie. It's a perfect way for houseguests, babysitters, parents, children, and others to use your home theater system.
Easy setup
Simple, guided setup has always been a big part of Harmony's success. To get started, just download the free MyHarmony software to your Mac or PC. Then connect the hub to it via the provided USB cable. MyHarmony will help you program your remote by asking some simple questions about your system and how you use it. It then downloads the commands and command sequences and sends them wirelessly to your remote. And you can use MyHarmony to update your remote whenever you upgrade your system with new gear.
READ LESS
Product highlights:
free downloadable Harmony control app

for Apple® and Android™ smartphones and tablets
compatible with Amazon Echo (Alexa) and Google Home
easy step-by-step setup
swipe and tap touchscreen control app
one-touch activity icons for entertainment (such as "Watch TV") and home automation (such as "Dinner Party")
up to 50 one-touch TV channel icons
controls up to 8 devices
available from iTunes® and Google Play

Harmony Hub

connects to Wi-Fi® network
1 IR mini-blaster for controlling a device inside a cabinet
Bluetooth for control of PS3 and Wii game consoles
IR control for Xbox 360 and Xbox One
personalized favorites and settings
USB port for downloading commands from Logitech's website (USB cable included)

Home Control remote

one-touch TV, movie, and music activity buttons
customizable buttons
2 "AAA" batteries (included)
controls up to 8 devices
comfortable, ergonomic design
not an IR remote

warranty: 1 year
System requirements:
Mobile

Apple&reg: iPhone® 4S or later, iPad® (3rd generation or later), iPad mini®, iPod touch® (5th generation or later)
Android: Wi-Fi enabled smartphone with Android 4.0 or later

Computer

USB port
Apple: Mac OS X 10.6 or later

MFR # 915-000239
What's in the box:
Logitech® Harmony® Companion owner's manual
Remote control
Hub
AC power adapter (w/ attached 6' DC cord)
CR2032 3V battery (installed in remote)
IR mini-blaster (w/ attached 8' cable)
23" microUSB-to-USB cable
Setup Guide
Important Information
Logitech® Harmony® Companion reviews
Average review:
Customer photos
More details on the Logitech® Harmony® Companion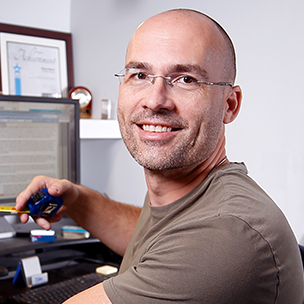 Researched by Crutchfield's

Stacey B.
Product Research
Features
Harmony Companion: The Harmony Companion remote system provides maximum flexibility for controlling your home entertainment and automation gear. Choose to control your home entertainment or automation system from the included remote or from the Harmony App on your Apple iOS or Android device. You can control up to 8 different devices from the Harmony Companion system.
Note: The Harmony database has over 270,000 electronic devices (and growing) from over 6,000 manufacturers. Click here to check compatibility with specfic devices.
App Based Setup: The first time you set up the Harmony Smart Control system, the Harmony App for Apple iOS 8.0+ or Android OS 4.0+ walks you through the setup process on your smartphone or tablet and stores your settings in your personal account. Your settings can then be wirelessly transmitted to your Harmony Hub, your Harmony Smart Control remote, or any other supported mobile device. If anything ever happens to your smartphone, Harmony Hub, or remote control, you can use these saved settings to set up a replacement system with ease.
Note: Harmony Smart Control supports 2.4GHz 802.11 b/g/n wireless networks with WPA, WPA2-AES, and 64/128 bit WEP encryption.
Hub: The Hub is at the center of the Harmony Companion remote system. Whether you use the Harmony App on your compatible mobile device or the included remote control, the Hub stores your setup information and communicates between the remote control or app and your entertainment system devices. Placed near your television, set top box, game console and other equipment, it uses Infrared (IR), Bluetooth (RF), and WiFi to control your various devices.
Bluetooth (RF): The included remote control doesn't control devices directly, but communicates with the Hub using radio frequency (RF), which then relays the command to your devices using IR.
Infrared (IR): IR signals are sent from the Hub and reflect off of walls and other surfaces before reaching your devices. Direct line of sight is generally not required. An IR mini blaster is included to extend the range of the Hub allowing you to control devices that are on other shelves or outside your cabinet, such as a television.
WiFi Connection: Connecting the Hub to your WiFi network has multiple advantages, such as enabling use of the Harmony app on your smartphone/tablet, providing Philips hue lighting control, and wirelessly syncing settings between your remote and your MyHarmony account. The Harmony Hub supports 802.11g/n with WPA Personal, WPA2-AES, or 64/128-bit WEP encryption.
RF Remote Control: This universal RF remote control combines up to 8 remotes into 1 simple controller. The remote control offers an ergonomic feel and intuitive design. The remote fits comfortably in your hand with buttons that are grouped by how you use them and shaped so you can feel your way around them without looking at the remote. The remote is powered by a single CR2032 3V lithium battery.
Harmony Control App: In addition to the remote control that comes with the Harmony Companion remote system, you can use select Apple iOS and Android mobile devices with the Harmony Control App as a remote control. Your smartphone will communicate with the Hub over WiFi allowing your smartphone/tablet to control your entertainment and automation devices. You can use swipe or tap gestures to adjust volume, change channels, fast forward, rewind, and more. Plus you get access to one-touch Activity controls and Favorite channels. From the app you can also enter model numbers and brands to add devices.
Apple iOS: Download the Harmony Control App from the Apple App store onto your Apple iOS (8.0+) device.
Android: Download the Harmony Control app from the Google Play store onto your Android (OS 4.0+) device.
Note: Your Apple iOS or Android device must be connected to the same WiFi network as the Hub.
One-Touch Controls: The Harmony Companion remote system uses Activity-based controls to give you one-touch operation of your home entertainment & automation system.
Entertainment Activities: You can create Activities that manage how you use your devices together. For example, if you have a TV, AV receiver, and cable or satellite box, you will want to control all of these devices when you watch TV. To control all of these devices together, create a Watch TV Activity. When you have completed adding your Watch TV Activity, you can add the other Activities. Types of Activities will depend on the types of devices you have in your entertainment system. You can add multiple Activities based on each type of Activity offered, such as Watch TV, Watch Movie, or Play Game.
Custom Activities: Most Activities should fit into one of the Activity types offered. The Custom Activity type is recommended only for home appliances such as light controllers, fans, climate control devices, etc. These may be configured manually from the MyHarmony website or the Harmony Control app.
One Touch System Off: The Off button on either the Harmony Companion remote or the app powers off all of the devices for an Activity with one touch. For example, in a Watch TV Activity that uses a TV, Cable Box, and AV Receiver, pressing the Off button will power off all three devices at the same time.
Note: The Harmony Companion system knows the current state of the devices it controls by remembering the last Activity you selected. For example, if you switch from watching cable TV to watching a DVD, the Harmony Companion knows that it doesn't need to power the TV off and back on; it just leaves the TV turned on. It also it knows that it needs to power off the cable box and power on the DVD player.
Favorites: Using the MyHarmony desktop software or the Harmony Control app on your smartphone/tablet you can select up to 50 Favorite channels for easier access through the Harmony Control app on your Apple iOS or Android mobile device. Selecting a Favorite Channel will start your "Watch TV" Activity, if it's not already started, and tune directly to that channel.
Note: The Favorites feature is not available on the included remote control.
Command Customization: The Harmony Companion remote system allows you to customize the commands that each button sends, or what commands appear in your Activity list. These button mappings may be unique for each of your Activities. This allows each button or screen to have different functions based on context. For example, in your Watch a DVD Activity, the yellow button may perform the eject command, while in your Listen to Music Activity this same yellow button may be used to pull up your Favorite preset.
Other Controls: With the Harmony Companion remote system you can easily access guides, menus, and recorded programs; as well as control playback, with dedicated buttons.
Home Automation: The Harmony Companion remote system lets you integrate home automation with home entertainment control to create a personalized home experience.
Philips Hue Lighting: The Harmony Companion remote system is able to communicate with Philips hue wireless lighting systems when the Hub is configured to use your home's WiFi network. Once paired to hue, you are able to configure light, color, and brightness settings from the remote and app for each Activity. For example, you could turn on lights and turn them blue when you watch TV, and dim the lights and turn them yellow for a movie. These settings can be programmed as part of an Activity so that optimal lighting will always be set for each Activity.
Other Smart Home Automation: Using the Harmony Companion system you'll also be able to control smart home automation devices from Nest, Lutron, August, and PEQ from the included remote or the Harmony Control app on your smartphone/tablet.
Alexa Compatible: Connect any Logitech Harmony hub-based remote with an Amazon Alexa enabled product (including the Amazon Echo, Echo Dot, Tap and Echo Show - all sold separately) and you can start or stop Harmony Activities with just your voice. In addition to Activities (like "Watch TV"), you can also control playback functions such as Play, Pause, & Resume, as well as raise or lower the volume. When Logitech Harmony and Amazon Alexa work together, you bring the power of voice to your home entertainment center.
Notes:

Amazon Alexa and the Logitech Harmony skill is currently only able to support a single Harmony Hub. If you have more than one Harmony Hub you will be asked to select one during the skill linking process.
Some Harmony Activity or Favorite TV channel names conflict with things Amazon Alexa would like to do natively. For example, Activities with the word "Music", "Pandora", or "Spotify" will often not trigger through Harmony and will instead begin playing music through Alexa. You may want to consider, "Alexa, tell Harmony to turn on the tunes" as a friendly name to trigger a Harmony music-based Activity.
Interference Warning: Avoid operating your devices using the original manufacturer's remote control or by powering it on and off using the buttons on the device itself, as doing so will cause Harmony to become out of sync with your devices. For example, if you select the Watch TV Activity and then use your TV remote to turn off the TV, the next time you want to select an Activity, the Harmony Companion system will think that your TV is already powered on and will not turn it on. Other things that can confuse the Harmony Companion system include inter-device communication that turns devices on or off, such as HDMI-CEC.
Dimensions: Dimension for the Remote, Hub, and IR mini-blaster.
Remote: 2.1875" (w) x 0.9375" (h) x 7.3125"
Hub: 4.9375" (w) x 1.0625" (h) x 4.6875" (d)
IR Mini-Blaster: 1.4375" (w) x 0.5" (h) x 1.0" (d); 8' cable length