About the ELAC Uni-Fi Reference UBR62
Luxurious sound and looks
We love what speaker designer Andrew Jones did with the
Uni-Fi 2.0 UB52
bookshelf speaker, and the UBR62 takes that performance up a notch — or two. This Uni-Fi Reference pair will deliver refined, spacious, articulate sound — and look great doing it.
Luxurious sound and looks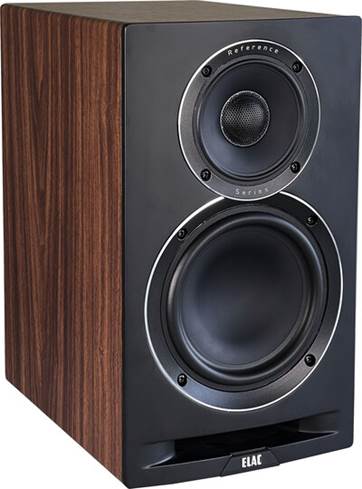 The UBR62 features new wood-grain vinyl back and sides, satin-finished front baffles, and re-designed drivers.
We love what speaker designer Andrew Jones did with the Uni-Fi 2.0 UB52 bookshelf speaker, and the UBR62 takes that performance up a notch — or two. This Uni-Fi Reference pair will deliver refined, spacious, articulate sound — and look great doing it.
You get newly designed cast-chassis drivers, improved crossovers, and attractive wood-grain finish options. And the UBR62's improved internal bracing — plus its larger woofer — help deliver better low-frequency response than previous Uni-Fi iterations.
A concentric midrange/tweeter array provides clarity
ELAC has kept much of what made the original Uni-Fi Series so cool, including the signature concentric driver array that places the tweeter in the middle of the midrange driver. This precise alignment creates a "unified source," with all frequencies reaching your ears at the same instant, so you hear more coherent and accurate sound.
What's new with the Reference?
The Uni-Fi Reference Series features all-new drivers. The UBR62's 1" soft-dome tweeter produces better high- and low-frequency extension than the previous series, for improved blending with the newly designed 4" cast-basket midrange. And the bigger 6-1/2" aluminum woofer works with the new dual front-firing ports in the cabinet — and the larger-diameter voice coil in the midrange — to deliver a smoother handoff between frequencies, with accurate bass and lifelike dynamics.
Refined crossovers help lighten the load on your amp
ELAC has fine-tuned the crossovers make the Uni-Fi Reference Series easier for your amplifier to drive than their predecessors. And like the Uni-Fi 2.0 bookshelf speakers, the Reference version has a nominal impedance rating of 6 ohms instead of 4 ohms, which means it should work better with a wider range of receivers and amps.
Got wire?
Most speakers don't include any. Read our article about choosing and installing speaker wire.
Shop our selection of speaker wire.
READ LESS
Product highlights:
true 3-way bookshelf speaker design
custom-designed concentric driver with 4" aluminum cone midrange and 1" soft dome tweeter for clear, accurate mids and highs
custom-designed 6-1/2" aluminum cone woofer
frequency response: 41-35,000 Hz
sensitivity: 85 dB
impedance: 6 ohms
maximum power input: 140 watts
sophisticated multi-element crossover with high-grade components to ensure smooth transition between drivers
bass-reflex cabinet design with dual-flared front-firing slot port
heavy-duty MDF cabinet
internal bracing reduces cabinet vibration that causes unwanted sonic coloration
dual binding post speaker terminals for bi-amping or bi-wiring
magnetically attached cloth grilles
satin black speaker baffle with walnut vinyl sides and back
8-1/4"W x 14-1/8"H x 13-1/16"D
23.54 lbs. each
warranty: 3 years
MFR # UBR62-BK
ELAC Uni-Fi Reference UBR62 reviews
Average review:
Customer photos
More details on the ELAC Uni-Fi Reference UBR62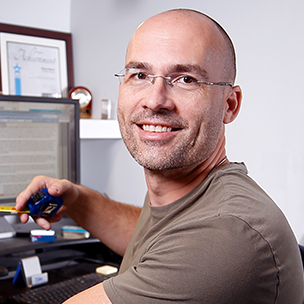 Researched by Crutchfield's

Stacey B.
Product Research
Features
3-Way Speaker Design: The Elac Uni-Fi Reference Series UBR62 bookshelf loudspeaker employs a 3-way design with an improved in-house developed concentric driver. A 3-way speaker offers many advantages in the design of a full-range system. By assigning dedicated drivers to high, midrange, and bass frequencies, each is optimized for the frequency range for which its design and material composition is best suited. The UBR62 bookshelf speaker consists of a concentric midrange-tweeter driver for high and midrange frequencies, while one aluminum-cone woofer handles lower-frequency midbass and bass. At the same time, a 3-way speaker allows for a more straightforward crossover and cabinet design.
Custom-Designed Concentric Driver: The Uni-Fi UBR62 bookshelf loudspeaker employs a concentric driver design, combining the 1" soft-dome tweeter and 4" midrange cone diaphragm within a single voice coil. Because of its ideal time-domain characteristics, a concentric driver design delivers the most coherent and accurate reproduction across the treble and midrange frequency spectrums. Positioning the tweeter concentrically within the midrange voice coil achieves a uniform directivity pattern, for flat frequency response and formidable power handling, along with enhanced imaging for both on- and off-axis listening positions.
6.5" Aluminum Woofer: In addition to the concentric midrange-tweeter driver, the Uni-Fi UBR62 features one 6.5" aluminum cone woofer. Through the use of aluminum, resonances that affect the linearity of common paper cones can be placed beyond the driver's operating frequency range. With a single-piece compound curvature aluminum cone and a large rear vented magnet, this new 6.5" woofer with cast chassis delivers improved linearity, greater power handling, and accurate reproduction of bass frequencies that are clean, clear and powerful.
Sophisticated Crossover: One secret to the great sound of the Uni-Fi Reference Series loudspeaker is the high quality, audio-grade components specified in the manufacture of each custom, 3-way crossover. This careful 3-way crossover design provides a smooth transition between the high, mid, and bass drivers.
Robust MDF Cabinet: The Elac Uni-Fi Reference Series speaker enclosure is engineered for the long run with thick MDF outer walls and a luxurious wood veneer finish. The Uni-Fi Reference cabinet incorporates specially designed perimeter bracing around the interior of the cabinet to add stiffness and strength to the cabinet's outer walls. This bracing greatly reduces cabinet vibration, which causes unwanted coloration to the sound. ELAC believes that the only parts of a speaker that should be moving are the speaker drivers themselves.
Front-Firing Slot Vent: The Elac UBR62 bookshelf loudspeaker utilizes a bass reflex enclosure with one front-firing slot vent for greater efficiency and bigger bass response. Utilizing both internal and external flares, the Uni-Fi Reference series slot vent allows for lower noise and higher bass output for improved low frequency dynamics. The front-firing slot vent also offers greater flexbility when positioning and mounting the speaker, when compared to a rear-firing port.
Magnetic Grille: The Elac UBR62 comes with a magnetic cloth grille that is grey in color. When the protective grille is removed, hidden magnets beneath the surface of the cabinet keeps the front-baffle free of attachment holes, for a clean appearance.
Note: The Elac UBR62 bookshelf loudspeaker is available in a walnut or oak wood-grain finish.
Dual Binding Posts: The Elac Uni-Fi Reference Series UBR62 is outfitted with two sets of heavy-duty binding posts allowing to bi-amp or bi-wire the bookshelf loudspeaker. These binding posts ensure a secure connection to many types of cable and connectors. The binding post terminals will accept banana plugs (single only), pin-connectors, spade-lugs and bare wire (up to 10AWG).
Bi-Wiring: Bi-wiring can provide noticeable improvements in the overall transparency of your loudspeakers. Run separate speaker wires to the low & high frequency drivers from a single amplifier (the upper set of binding posts are for the high frequency drivers; the lower set of binding posts are for the low frequency drivers).
Bi-Amping: Bi-amping allows you to use separate amplifiers for the high & low frequency sections of your loudspeaker for greater dynamic range & lower distortion. We recommend that your separate amplifiers have identical gain to preserve the speaker's voicing balance.
Note: If you decide to bi-wire or bi-amp, you must remove the jumpers between the terminal posts (failure to do this could result in damage to your amplifier and loudspeakers).
Mounting Options: The Elac UBR62 bookshelf loudspeaker can simply be placed on a flat surface; like a table-top, stand, or shelf. The speaker should be placed 1' to 2' away from boundaries such as wall and corners. Close proximity to a side or rear wall will enhance bass performance, but being too close may result in bass that is unnatural (particularly in a corner). If corner placement is unavoidable, try to position the loudspeaker so that the distance to the rear wall is not equal to the distance to the side wall.
Note: The bookshelf speaker does not offer any wall-mount options.
Applications: The Elac Uni-Fi Reference Series UBR62 bookshelf loudspeaker can be used in a 2ch stereo application, or used as your front speakers and/or rear surround speakers in a multichannel home theater application.
2Ch Stereo or Front Speaker Application:  For optimum stereo imaging, place the speakers so that an equilateral triangle is created between the speakers your main listening position. You can also angle ("toe in") the speakers towards the listening position to gain a more focused central image. The tweeter should be positioned at ear level in your main seated listening position.
Rear Surround Application: In a 5.1-channel surround setup, avoid placing the speakers forward of your listening position. The speakers should be spread apart wider than the front speakers. In addition, try to elevate the speakers to the same height or slightly higher as the front speakers for the most enveloping soundfield.
Elac Uni-Fi Reference Series: The Elac Uni-Fi Reference series family of loudspeakers consists of a floorstanding loudspeaker (UFR52), a bookshelf loudspeaker (UBR62), and a center-channel speaker (UCR52) - all sold separately. All of the Uni-Fi Reference series of speakers feature concentric driver technology. The Uni-Fi Reference series can be the basis of an outstanding two-channel system, or used to build an awe-inspiring multi-channel surround-sound system.
Optional Powered Subwoofer: Add an ELAC powered subwoofer (sold separately) to the Uni-Fi Reference Series speaker to bring more bass to your movie and music soundtracks.