In this article: I'll hook up a few key gaming headphone recommendations, based common gaming scenarios.
As we start our journey, I'll discuss some of the many benefits of a quality pair of gaming headphones.
A lot of people ask us if a gaming headset is really worth the expense. "Can't I just stick to my TV or computer audio? How much of a difference could it make? It's just beeps, boops, and pows anyway, right?" Oof. Be still, my breaking heart. Few things could be further from the truth.
If you're looking for the best experience possible, you need to think about your sound, too. Video games are about way more than just the visuals, and they've come a long way as a form of media. A game can be a fully-fledged piece of interactive art that challenges our perceptions or a competitive sporting event watched by thousands of people at a time. In all of these cases, sound fulfills a fundamental role for our gaming experience.
A rocking pair of gaming headphones is a budget-friendly way to get a hold of high-quality audio and keep up with the competition. The audio feedback you get from a game is a big deal. Sound cues inform reaction speed, timing, and situational awareness in-game. Our ability to react to auditory stimuli is actually faster than our ability to do the same with visuals. In other words, you're able to respond to what you hear before what you see.
A lot of games these days also have banging soundtracks that match the emotional content of the story. This draws you in further and invests you in the fate of the characters (I'm looking at you, Witcher 3.) A good gaming headset can give you the full experience of both the game world and the joy of music.
So, how do you find the right pair of gaming headphones? Let's get specific.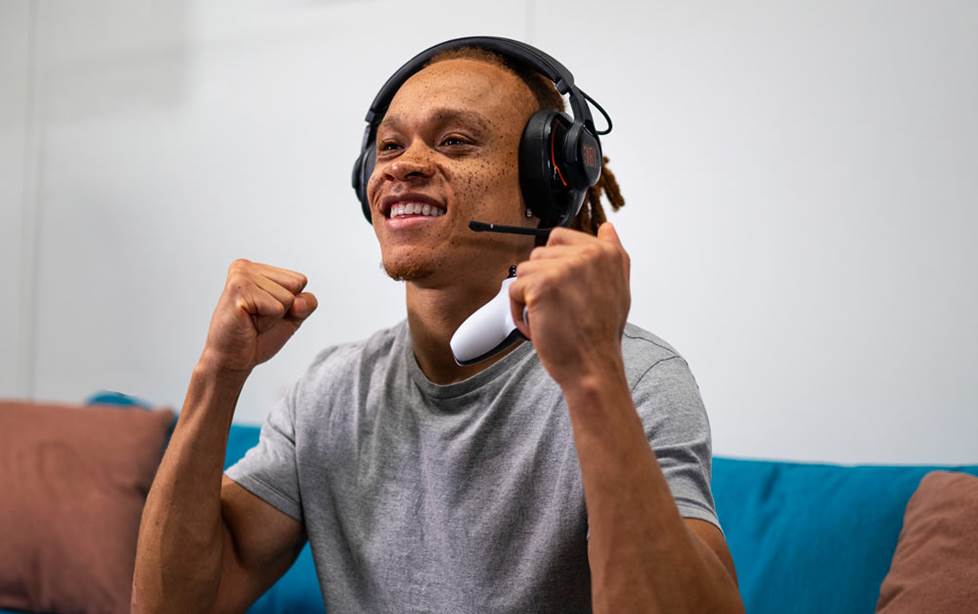 A pair of high-quality gaming headphones can sharpen your competitive edge with crisp, dynamic directional sound.
How to choose a gaming headset
We aim to provide all the information you need to make an informed decision on our product pages. As you're looking over these details, you'll want to think about how you plan to use your gaming headphones.
Are you looking for an immersive single-player experience or digging into competitive multiplayer games? Do you play casually, maybe an hour or two a day, or are video games a full-time hobby? Let's chat about some key the elements of a good gaming headset to help you pick out the right one for you.
Comfort
It's not uncommon for gamers to play for hours at a time. Little details like weight, clamping force, and earcup material become more important the longer you wear your gaming headphones at a time.
Softer, plushier materials on both the earcups and headband tend to be better for gaming, as well as lighter clamping. You want your headset to be secure, but if it's too tight it'll wear on you and quickly become distracting.
Surround sound
A full surround sound system can be expensive and often means filling your room with speakers. Headphones with virtual surround sound can provide a similar experience at a fraction of the cost.
Surround sound is a big consideration for immersive single-player games. Few things put you right into the middle of the action like the feeling of sound enveloping you from all sides. If you're playing Resident Evil 2, hearing a zombie shamble towards you from behind will send a shiver straight up your spine.
Detailed environmental cues are vital to keeping your competitive edge sharp, too. When I play The Hunt: Showdown, every gentle tap of a nearby enemy's footsteps or crinkle over broken glass can tip us off to a hidden attacker. Being able to pinpoint a gunshot echoing in the distance also tells us where to go hunting, so we can creep up and lay down our own ambush.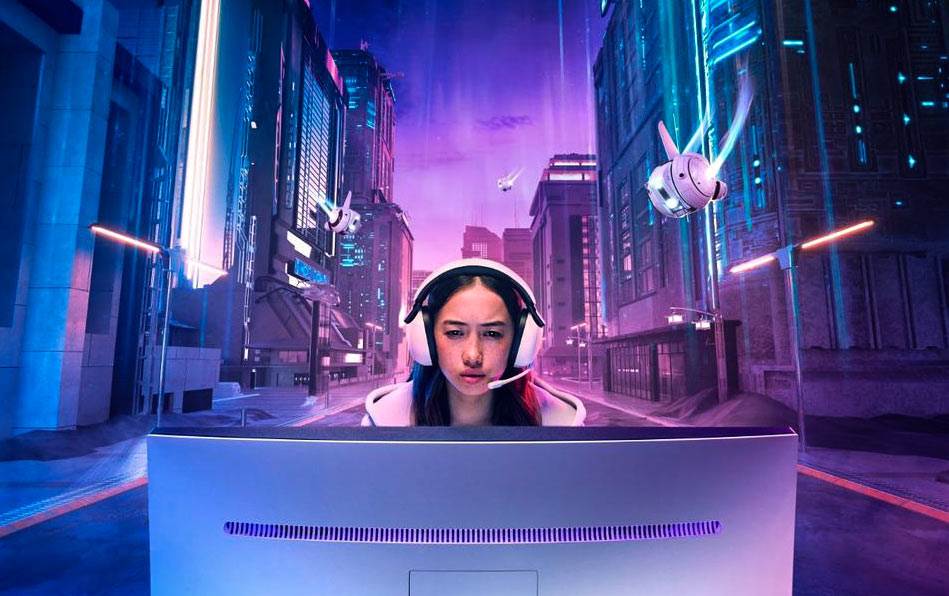 Immerse yourself and get drawn into the action with gaming headphones that provide sound that comes from all angles.
Noise isolation
A good pair of gaming headphones will provide noise isolation, cutting ambient sound out of the picture. You'll want to hear the game's soundtrack, not the air conditioning kicking on. Cutting out distracting noise helps you maintain immersion for single-player games and helps you catch audio cues like footsteps when you're playing competitively.
Over-the-ear gaming headphones tend to provide the best noise isolation, creating a physical barrier between your ears and other sounds in the environment. And some even feature active noise cancellation, which senses and blocks out external noises by emitting inverted sound signals to make your environment seem totally silent.
Microphone
Team communication is vital to competitive gaming and absolutely requires a gaming headset with a microphone. Team-based games like an FPS (first-person shooter) or MOBA (multiplayer online battle arena) benefit the most from a good built-in or attachable microphone.
Coordinated teamwork beats a disorganized group of individuals. Your team needs to be able to hear you over the game track or any environmental noises around you. In a close game, split-second decisions can end up giving you the win or leaving you feeling salty.
The best headsets have a mic that isolates your voice from other sounds in your environment. This both makes it easier for your friends to hear you and prevents distracting noises from leaking into your game chat. It's hard to focus on the game if all you can hear is the rustling of your teammate's bag of chips.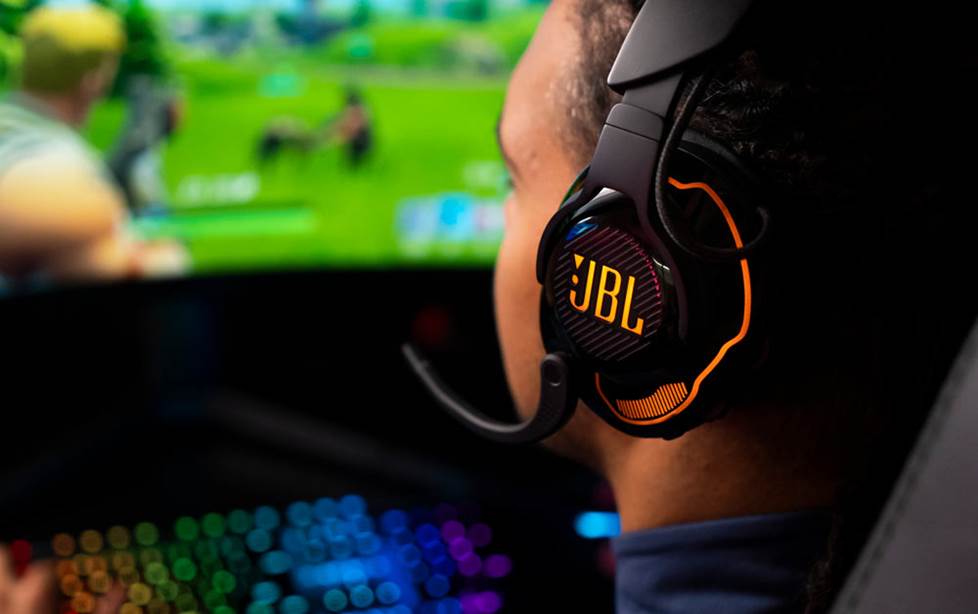 Dedicated gaming headsets feature mics specially designed for crystal-clear communication with your fellow players.
Wired vs wireless gaming headsets
Wired gaming headphones offer a secure, reliable connection. They also tend to be budget-friendly, netting you a sound upgrade without putting too much strain on your wallet. Most wired headsets connect directly to your controller, but some might require an additional cable connected directly to your PC or console. Whenever that's the case, you need to consider how far away you plan on sitting.
On the flipside, wireless headphones give you a greater range of freedom, letting you move around without worrying about unplugging yourself accidentally. This is helpful especially between matches or when the game is paused. You can set down your controller and take a break without taking your headphones off. Bluetooth headphones have become the go-to solution for many gamers because of how easy and flexible they are to use.
Our top gaming headphones for 2024
We carry a solid range of gaming headsets. I've highlighted a few of our best below, along with the features that help them stand out of the crowd. This should help guide your search so you can pinpoint a headset that will fit your application.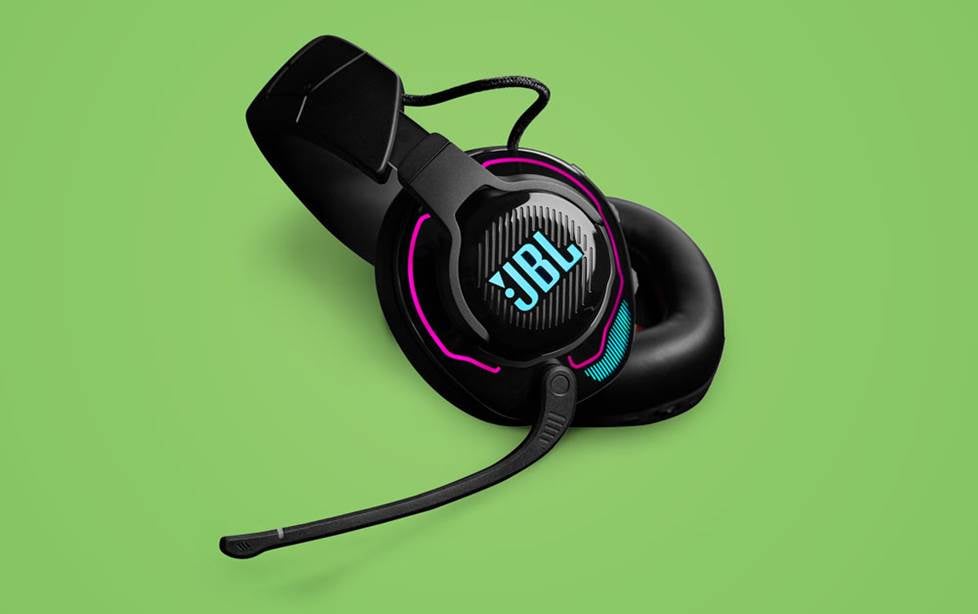 Best gaming headset for streaming — JBL Quantum 910
The eye-catching Quantum 910 is the flagship model of JBL's impressive Quantum line of gaming headphones. This wireless headset delivers deep, detailed 3D sound with high-fidelity 50mm drivers tuned specifically for gaming by JBL's team of expert audio engineers.
This wireless headset features high-quality spatial sound that tracks your head as it moves, for heightened situational awareness and immersion. And active noise cancellation ensures outside distractions don't pull you out of the experience.
These professional-quality gaming 'phones are also durable and comfy for long sessions. They boast a hefty 39-hour battery life and only take 3.5 hours to charge once depleted. Even then, you can continue to play while charging with the included USB cable for the occasional marathon session.
Details
high-res certified 50mm neodymium drivers deliver precise, detailed sound with deep bass emphasis
JBL's QuantumSOUND signature tuned for immersive gaming sound with hard-hitting effects
active noise cancellation senses and blocks out external distractions
integrated head-tracking and sound localization for immersive 3D surround sound
LED earcup logos and linings with RGB lighting effects
frequency response: 20-20,000 Hz (wireless); 20-40,000 Hz (wired)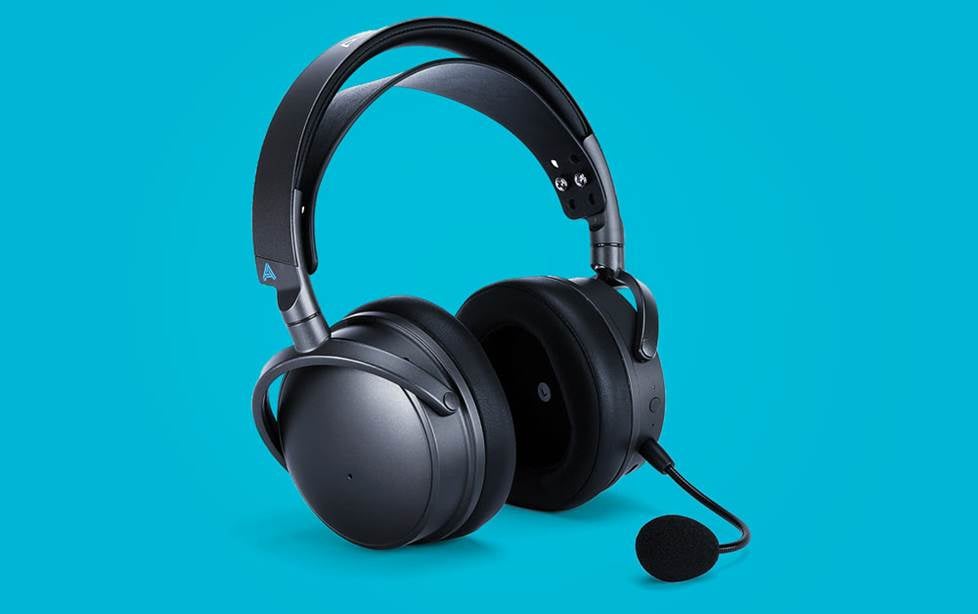 Best gaming headset for audiophiles — Audeze Maxwell
The Audeze Maxwell gaming headsphones feature uncompromised wireless sound quality that immerses you in rich, nuanched detail. There are dedicated versions for the PlayStation and Xbox, and both will work with PCs. These headphones were designed from the ground up for accurate gaming, with quick response times and impressive directionality that makes every gaming session smooth as butter.
I had the opportunity to run the Maxwells through their paces over the course of a couple weeks, playing a variety of games almost nightly on my PS5. To make a long story short, the Audeze Maxwells sound straight-up awesome and really brought my gaming sessions to life.
Because of the Maxwell's wildly long battery life of 80+ hours, I didn't need to charge them over that testing period. They have the longest battery life of any pair of headphones I've ever used — a significant plus.
Details
award-winning 90mm planar-magnetic drivers offer detailed, dynamic sound optimized for gaming
Fazor™ driver technology offers improved phase response, three-dimensional imaging, and extended frequency response
detachable mic with FILTER™ AI-powered noise suppression technology for clear communication
supports 24-bit/96kHz high-res playback
battery life: 80 hours
frequency response: 10-50,000 Hz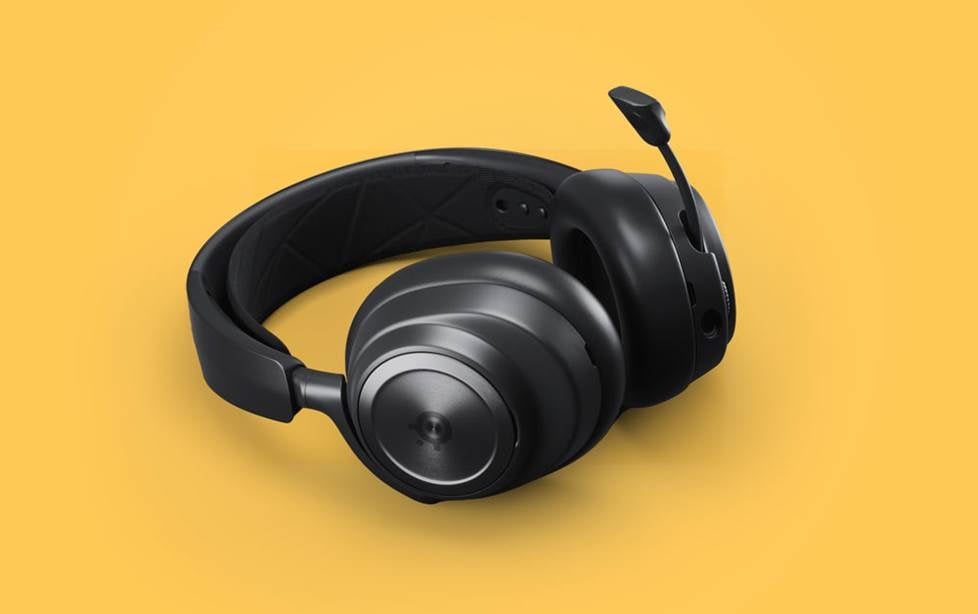 Best gaming headset for multiple consoles (and PC) — SteelSeries Arctis Nova Pro Wireless
The Nova Pro Wireless is the flagship model of SteelSeries's popular Arctis line of gaming headphones. They come in two flavors, one for PlayStation and the other for Xbox. These pro-grade 'phones boast seriously immersive sound with powerful bass extension backed up by active noise cancellation so you can focus on the game and not your laundry spinning in the other room.
The unique wireless base station is one of the coolest features of the Nova Pro Wireless. This station lets you connect to two different sources at the same time. So you can hook up your main PlayStation or Xbox console, then also connect a PC or second gaming console, like a Nintendo Switch. You can easily switch betwen the two sources and keep using the same headphones when you switch over to a different platform.
The base station also allows you to adjust your audio settings with a 10-band parametic equalizer and features line-in and line-out minijack connections for additional flexibility. Even cooler, the base station also acts as a charger for the headset's detachable batteries. Two batteries come in the box, so you can charge your spare while you're playing, then quickly swap them out to get back into the game immediately. They call it the "Infinity Power System" for a reason.
Details
40mm high-fidelity drivers with neodymium magnets deliver powerful, detailed sound
active noise cancellation with ClearCast AI algorithm and quad microphones intelligently senses and blocks out external distractions
wireless base station can connect to two sources and switch between them with a pair of USB-C outputs
frequency response: 10-22,000 Hz (wireless), 10-40,000 Hz (wired)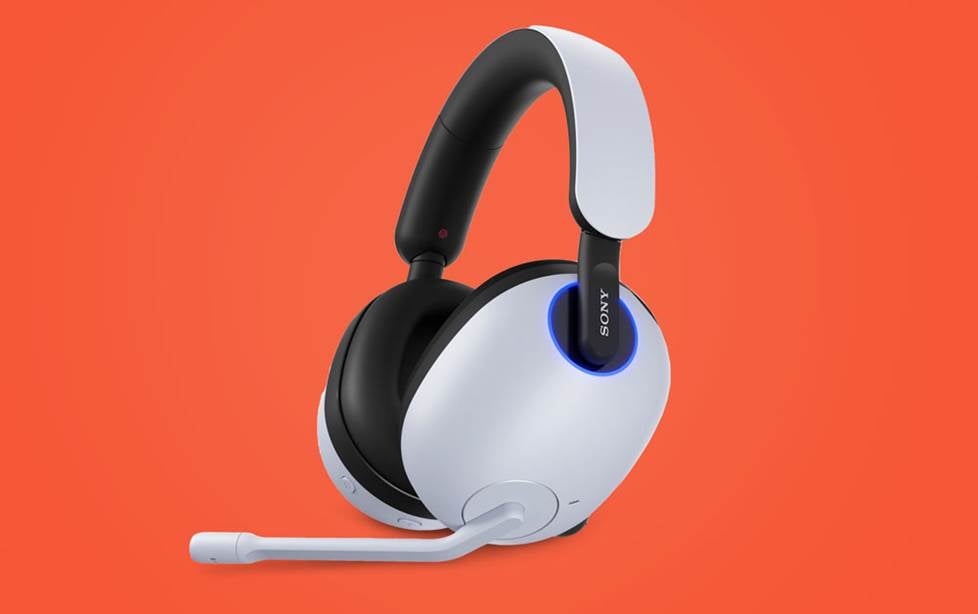 Best gaming headset for PS5 — Sony INZONE H9
The Sony INZONE H9 is the flagship model in Sony's impressive new line of gaming headphones. Its large 40mm drivers have a unique diaphragm that gives you accurate highs and lows, with extended bass impact provided by ducts built into the earcups.
The H9 has an over-ear, closed back design that provides passive noise isolation, but you can turn on active noise cancellation with the press of a button. This feature lets you enjoy clear sound from your game without environmental noises distracting you, but you can also switch over to Ambient Sound Mode to let in important sounds like a ringing phone or the voices of folks around you.
This headset is designed to work seamlessly with the PlayStation 5, with support for the console's impressive Tempest 3D audio technology and nifty bonuses like integrated audio settings. You can make adjustments using the controls on the earcups and see them reflected live on-screen in the PS5 Control Center.
Support for Sony's 360 Spatial Sound Personalizer app also lets you analyze the shape of your ears to let the headset create a unique three-dimensional soundscape. "Phantom" speakers are projected all around you for immersive sound tailored just for you.
Details
40mm dome drivers with neodymium magnets deliver detailed, high-quality sound
oval-shaped vented earcups offer a secure fit and powerful bass extension
active noise cancellation with dual microphones to sense noise and block out external distractions
Perfect for PlayStation 5 — works seamlessly with the PS5's Tempest 3D technology for immersive spatial audio
360 Spatial Sound Personalizer smartphone app analyzes your ears to optimize your sound and create phantom speakers all around you
frequency response: 5-20,000 Hz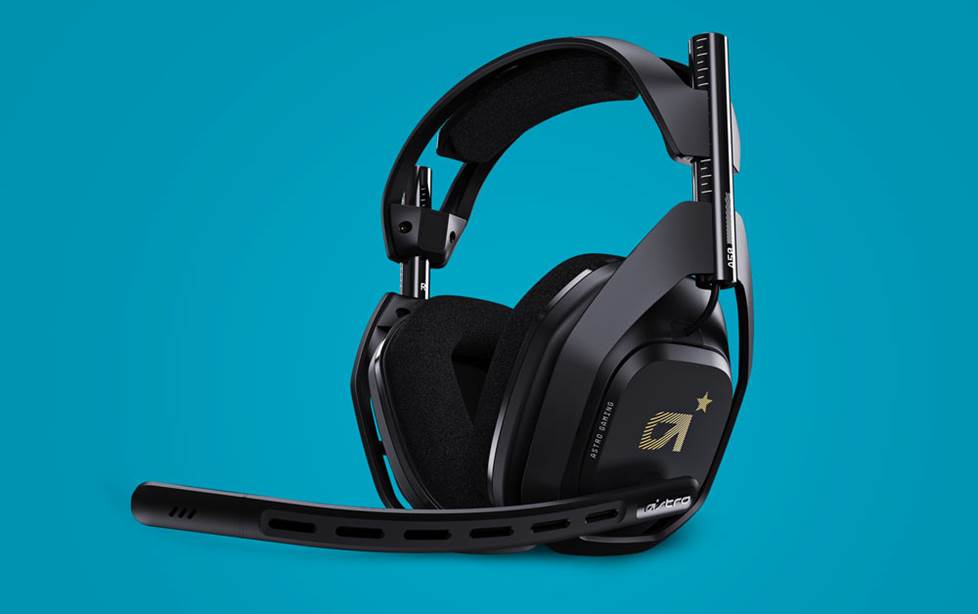 Most comfortable gaming headset — Astro A50
The Astro A50 is one of the most popular headsets worn by gaming professionals today. They regularly rank in the Top 10. Next time you're watching an eSports event like EVO or the League of Legends World Championship, take a gander at what folks are wearing. You'll notice an Astro logo on a lot of those headphones, and for good reason.
First off, these are probably the most comfortable headphones I've ever worn. The earcups are super soft and almost disappear on your head, making them great for long playing sessions. They've also been tuned for smooth, lifelike sound with detailed localization that makes tracking the position of sound cues easy. With 3D and Dolby Audio support, the A50s help you maintain situational awareness for a competitive edge.
With a built-in MixAmp, the mix of chat and game audio is optimized to make sure you don't miss key communication from your team. Easy buttons on the side of the headphones let you adjust the volume of your game sound versus your chat. Astro's original MixAmp was so successful at improving team communication in the early 2000s it was banned at some tournaments because it provided what was considered an unfair advantage at the time.
The A50 has PlayStation and Xbox versions that cover the PS4/PS5 and Xbox One/Xbox Series X, respectively (as well as PC/Mac). If you're looking for an awesome set of professional-quality headphones that work for both current and next-gen consoles, you should definitely consider snagging the A50s.
Details
40mm drivers with neodymium magnets deliver crisp, powerful audio
support for Dolby and 3D audio provides up to 7.1-channel surround sound
Base Station provides convenient charging and low-latency 2.4 GHz wireless connection
frequency response: 20-20,000 Hz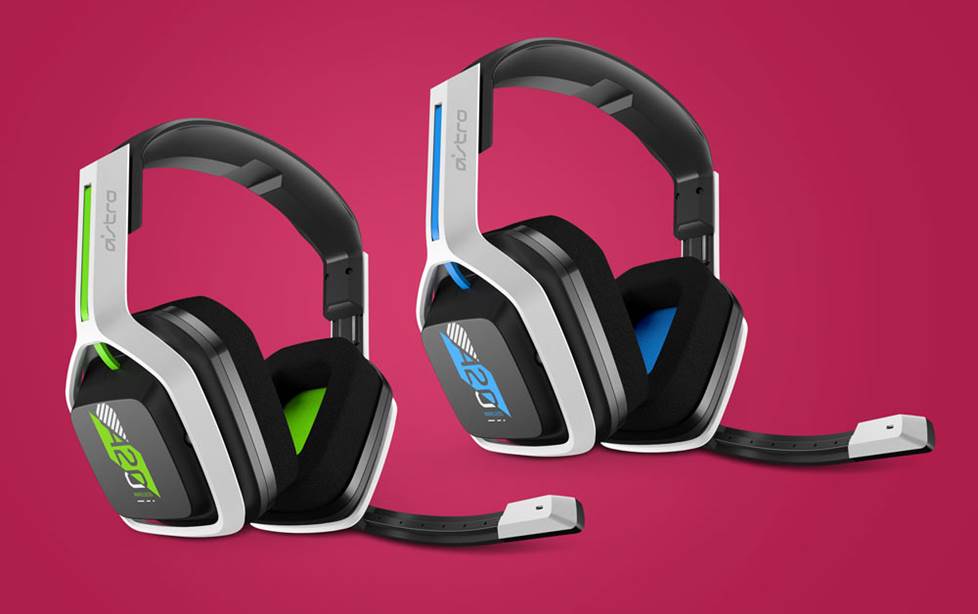 Best budget gaming headset — Astro A20
The Astro A20 gaming headphones pack a lot of punch, but keep it simple so you can get the most for your money. These wireless headphones are lightweight with soft, breathable earcups. They're nearly as comfortable as their big brother the A50s. And they offer surprisingly deep bass and impressive detail.
As the least expensive of Astro's wireless headphones, the A20s provide a low barrier of entry to the dynamic sound Astro is known for. PC players can even utilize the Astro Command Center downloadable software to optimize their EQ settings.
There are two versions of the A20s: one designed for PlayStation and the other for Xbox. Both versions work with PC and use a simple low-latency USB wireless transmitter. Just plug in the transmitter and you're good to go.
Details
40mm drivers deliver powerful, detailed sound
earpads and headband are light and soft for maximum comfort during long play sessions
USB wireless transmitter with with low-latency 2.4 GHz frequency signals
frequency response: 20-20,000 Hz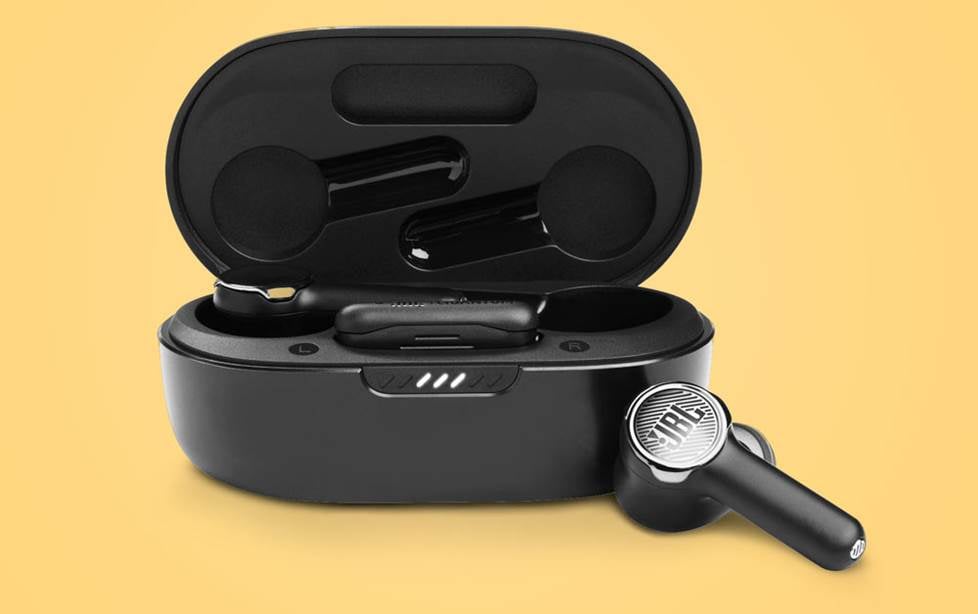 Best earbuds for gaming — JBL Quantum TWS
The Quantum TWS are JBL's first true wireless gaming headphones. The award-winning Quantum TWS are 100% wire-free earbuds with a super-convenient charging case and touch controls that makes it easy to take high-quality gaming sound on the go. And built-in noise-cancellation lets you kills background noise so you can enjoy clear sound from your game without ambient noises distracting you.
These gaming earbuds are lightweight and durable for long playing or listening sessions, with a sweat-resistant design and an eight-hour battery life. The charging case banks up to 16 more hours, so when you're done listening just pop the buds in the case and they'll automatically recharge.
With built-in Bluetooth you can also jam to music or take hands-free calls when paired up to a mobile device. With a "multipoint connection" you can even pair two devices at once with Bluetooth, like your smartphone and a tablet, letting you switch back and forth at will. All that without a single wire connecting the earbuds to each other or your devices.
Details
100% wire-free — no connecting cord between left and right earbuds
10mm dynamic drivers tuned for clear sound with strong bass
"True Adaptive" noise-canceling circuitry automatically adjusts to the level of external sound
IPX4 sweat-resistant design
frequency response: 20-20,000 Hz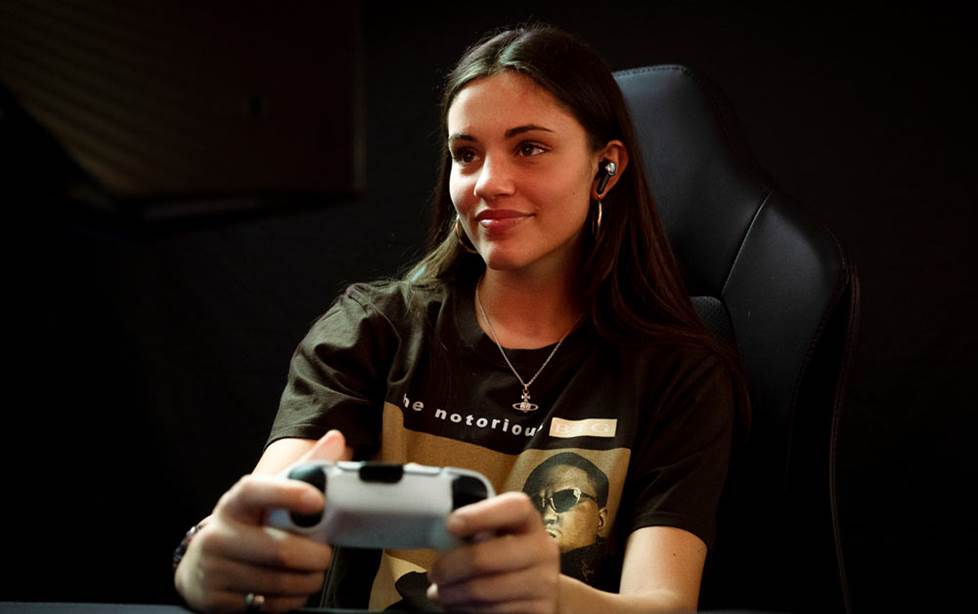 There are gaming headsets for a wide range of needs and price ranges and our Advisors can help find the one for you.
Get started today!
Our website has a solid selection of gaming headsets. If you need help finding exactly what you're looking for, don't hesitate to get in touch with one of our friendly Advisors.
Free lifetime tech support is included with your Crutchfield purchase.
Popular questions customers ask
A lot of gaming headsets support surround sound decoding up to either 5.1 or 7.1 channels. Headsets that can decode 7.1 channels are naturally more immersive.
Communicating intelligibly with your teammates is paramount in an intense game. Some headsets will use a directional boom mic that picks up your voice while rejecting ambient noise, while others have built-in noise filters to keep ambient sounds from coming through your mic.
Regular headphones and earbuds are great, but they're designed specifically for music reproduction. You can use a pair for gaming, but headsets designed for gaming will provide better performance. Gaming headsets have better microphones and offer features like voice mixing and native surround sound decoding.