In this article: I'll recommend a few smart lighting solutions that stand out from the crowd...
...along with some budget-friendly alternate picks. We'll also take a look at different smart light features and talk about how they work, to help you get started shopping.
I've worked with smart lighting systems for years. I have Philips Hue bulbs in almost every room in my apartment. I appreciate the added convenience smart lighting brings to the table. When I was a Sales Advisor, one of the most common smart home questions fielded to me was, "How will smart lighting benefit me?"
How do smart lights work?
Smart lighting is nice to have, even if the rest of your place isn't "smart." There are lots of color-changing lights and white lights out there. We carry smart lights of all types from C by GE, Philips Hue, Satco Starfish, and LIFX.
We also have some versatile outdoor Ring smart lights if you're looking to expand on an existing Ring ecosystem. They can be integrated into your existing system by using Ring's Smart Lighting Bridge.
Smart bulbs usually rely on an app for control, negating the need for switches. Some smart light bulbs connect to Wi-Fi so you can control them from anywhere. You can turn your lights on before you get home from work or the grocery store. No more having to walk into a dark home and fumble for the light switch.
Smart Bluetooth light bulbs are also available. Although the control isn't as robust as their Wi-Fi counterparts (for example, light group sizes are often limited), they're still a great entry into smart lighting. In general, LED smart bulbs also tend to be more energy-efficient than traditional incandescent bulbs.
Smart lights come with a centralized app for control from your phone or tablet. You can have them work within your daily hustle and bustle by scheduling them to come on and turn off at certain times. The intuitive app interfaces make changing the color of your lights or turning them on or off as simple as one or two taps. Most smart lights are also voice controllable through Google Assistant, Amazon Alexa, and in some cases, Siri.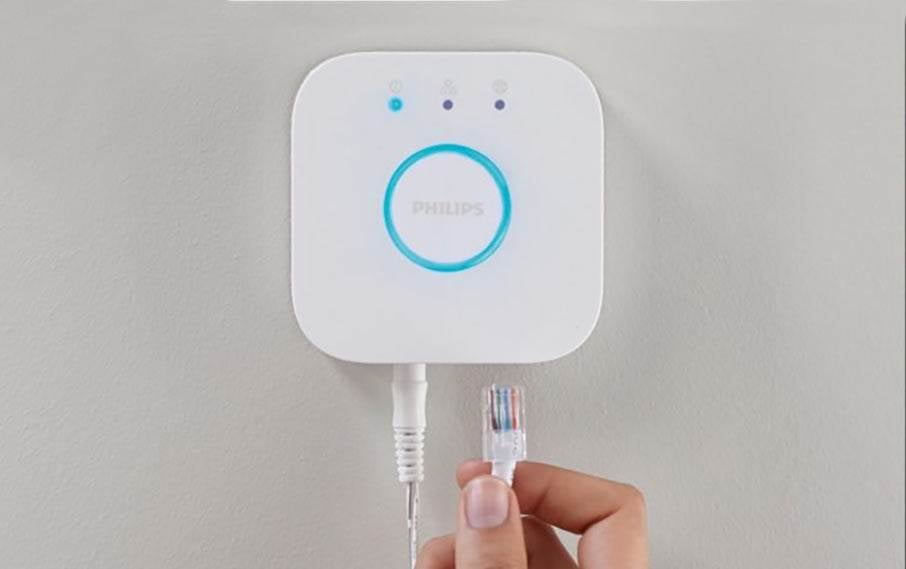 Philips Hue's Bridge is a compact companion for your Philips Hue lights that adds extra functionalities to them, like scheduling and increasing group sizes.
Do you need a hub for smart lights?
Yes and no. Some smart lights do require a hub for internet connectivity and app control, while others operate off Bluetooth or connect to your Wi-Fi network directly. In the case of those that don't require a hub, there's often an optional one available that expands the functionalities of the light (for example, scheduling light cycles and routines.)
I strongly recommend grabbing a hub if you're committing to a system like Philips Hue. The hub gives you a lot more functions to play with, like setting up lighting schedules, increasing group sizes, and out-of-home control. If you're just testing the waters and seeing what smart lighting can do for you, I'd recommend holding off on a hub until you've got a concrete idea of where you want your system to go.
Other ways to control smart lights
You aren't limited to just an app for control. There are smart switches that pair up to smart lights through either Bluetooth or Wi-Fi and let you manually control your lighting with a button or switch. Some smart switches are dimmable, and some are even battery operated so they don't need to be hardwired into your home's electrical system.
Smart motion sensors turn lights on and off if the sensor is tripped. On top of that, it also has an integrated daylight sensor that detects the amount of ambient light in a room. It turns connected lights on and off based on how bright the room is, ensuring those lights are only on when needed.
Some specialty controllers, like Philips Hue's HDMI Sync Box, sync your lights up to video content.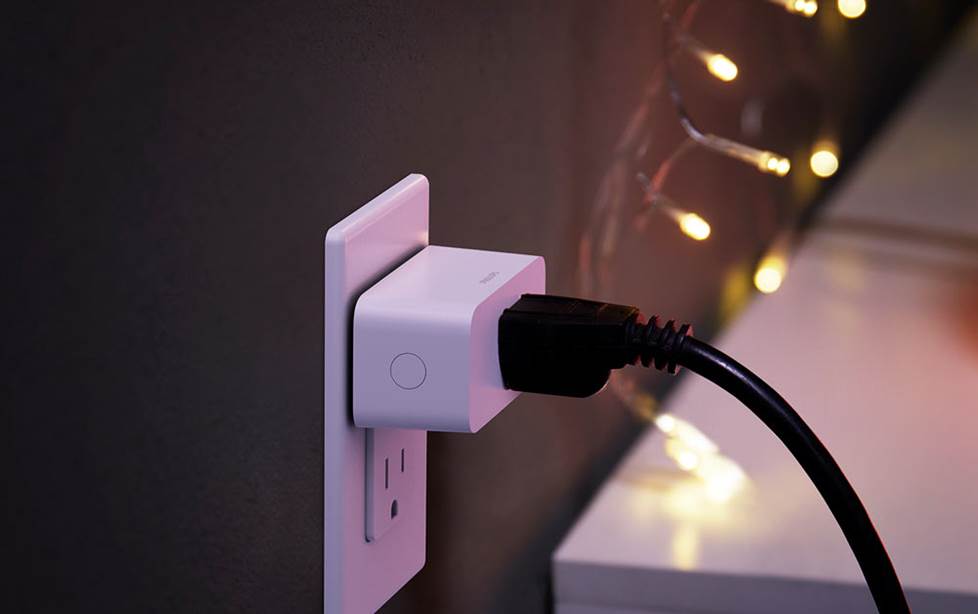 Turn normal lamps into smart ones with the Philips Hue Smart Plug.
Turn normal lights into smart lights
You probably already have lamps you're using with normal bulbs. Why not make them smarter? Smart plugs and hardwired smart switches are nifty if you don't want to jump into full-blown smart bulbs right off the bat or if you want to add your regular lights into your smart lighting ecosystem. They turn normal lamps and lights into smart ones, and ensure a seamless integration between existing regular lights and smart lights.
My top picks for 2023
With all that explained, it's time to move onto my top picks. It's worth noting that Philips Hue smart lights are some of our most popular, and for good reason: not only do their lights give you gobs of control, but they also integrate with a lot of different products — even some non-smart ones.
I do a lot of PC gaming and own some Razer Chroma equipment (not sold by Crutchfield). The cool thing about Razer Chroma peripherals is that they can all sync with both games and Philips Hue lights to deliver a more immersive gaming experience.
Philips Hue can also integrate with Yale and August smart locks, Samsung SmartThings products, and more. If you're curious whether a product works with Philips Hue, just look for the "Friends of Hue" logo on its box.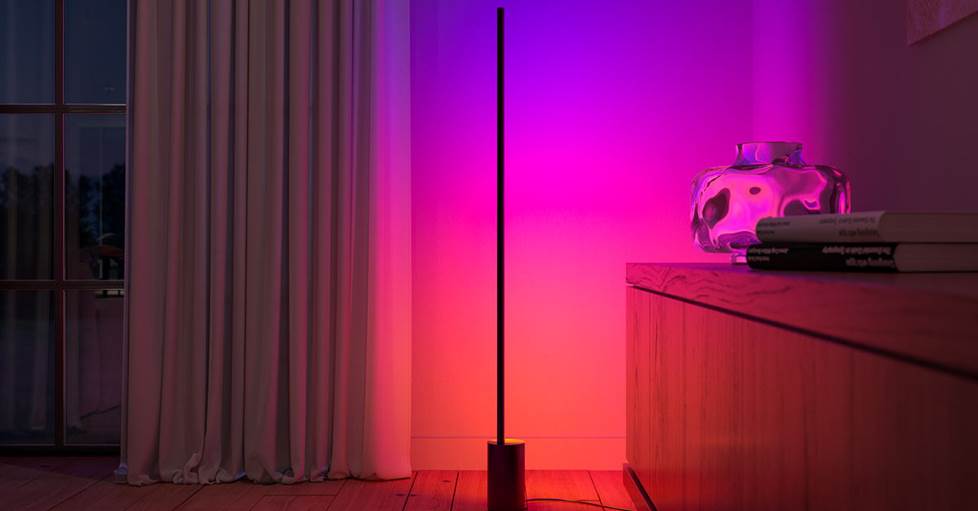 Best smart floor lamp/accent light — Philips Hue Gradient Signe Floor Lamp
The Signe Gradient from Philips Hue is a great way to light up corners in your home. It plugs into any regular wall outlet. Its sleek, modern design helps it blend into most décor. The Signe Gradient works off Bluetooth and is controlled through the Hue Bluetooth app (available for Android™ and iOS®.)
You'll have 16 million colors and 50,000 shades of cool-to-warm light to play around with in the app, so you can dial in the perfect mood lighting for your room. If you want to connect it to Wi-Fi and have more features to play with (like scheduling and routines), you can grab the optional Philips Hue Bridge.
Details:
16 million colors and 50,000 shades of warm-to-cool light to pick from
plug-and-play; easy to change its location in your home
control up to 10 bulbs in one room via Bluetooth
control up to 50 bulbs in different rooms with Hue Bridge
voice controllable using Alexa and Google Assistant
adjustable brightness up to 2,550 lumens
Budget-friendly alternative
My runner-up for this pick is Philips Hue's Play White and Color Ambiance Light Bar. It can be wall-mounted or placed on the floor and provides excellent accent lighting anywhere in your home. It even comes with a mounting clip that attaches it to the back of your TV. It requires the Philips Hue Bridge to work. It's fully voice controllable through Google, Alexa, and Siri.
What our customers say about the Signe Gradient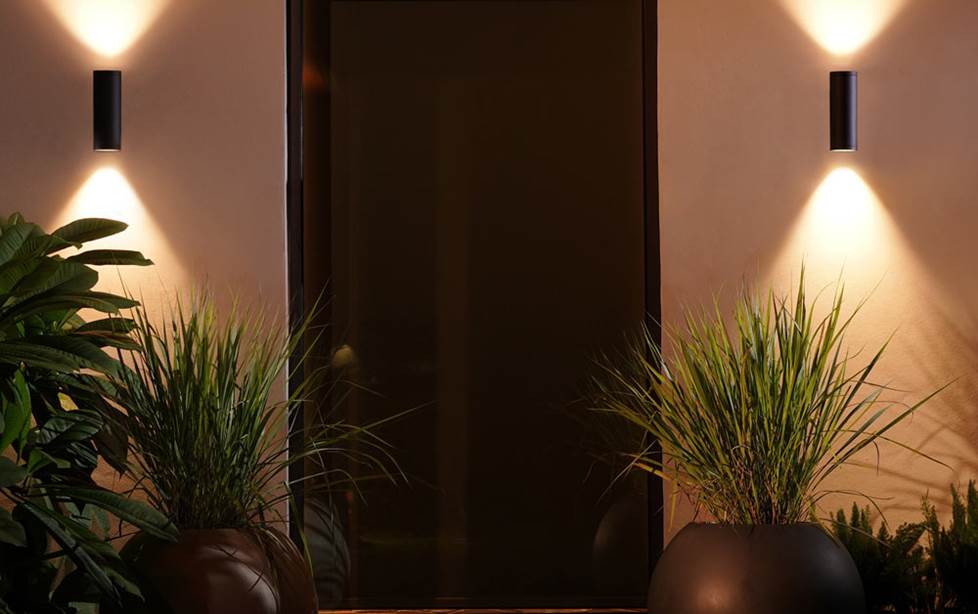 Best outdoor smart light — Philips Hue Appear Outdoor Wall Light
Perhaps one of the fanciest ways to light the exterior of your home is the Appear from Philips Hue. Light emits from the top and bottom of its cylindrical body. As usual with Philips Hue smart lighting products, you have a ton of colors to choose from. You can match the light's color to the colors of the season, or you can just have fun with it and light your house a shade of blue or green.
It's also perfect for patios and the like, as you can use it to set the mood for outdoor gatherings. It requires the Philips Hue Bridge to operate. Once the light is connected to the Bridge, you can set up lighting routines through the app.
Details:
weatherproof
wires directly into home AC power
requires Philips Hue Bridge and Wi-Fi
adjustable brightness up to 1200 lumens
works with Google Assistant, Apple HomeKit, and Amazon Alexa
Budget-friendly alternative
My number two pick for outdoor smart lighting is the Satco Starfish RGB and Warm White String Lights. String lights are just homey feeling and they let you create interesting lighting setups. String them across your patio or porch (or anywhere else) and set the mood for your next get-together. There are millions of colors to choose from and the lights are dimmable. They're also voice controllable through Alexa and Google.
What our writer says about the Appear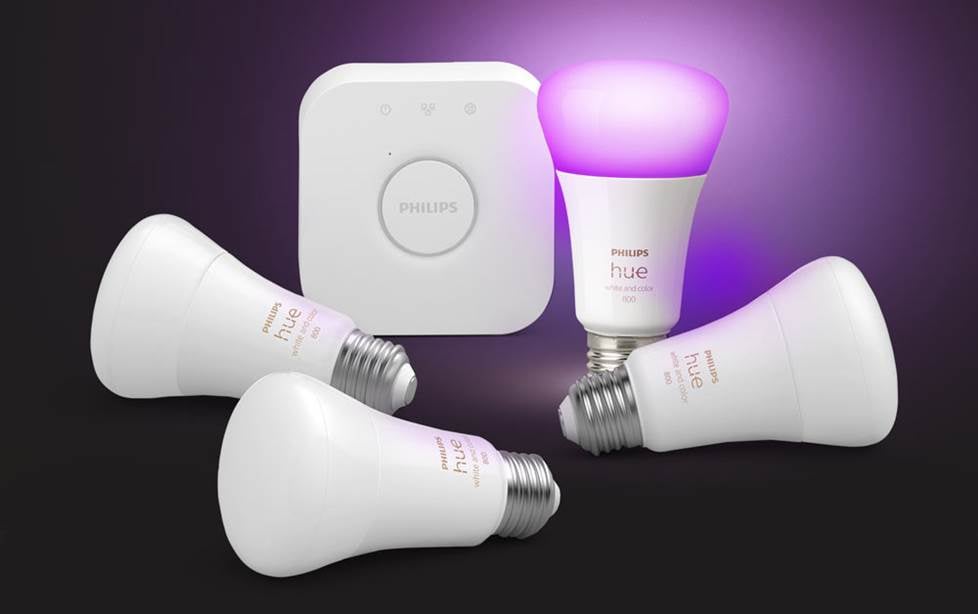 Best all-around — Philips Hue White and Color Ambiance Starter Kit
This is the kit that sparked my smart home addiction. This versatile kit includes four color-changing smart bulbs and the Philips Hue Bridge. It's a great entry into the smart lighting world because it gives you everything you need.
The lights are straightforward to set up thanks to the easy-to-use Philips Hue app. The app has loads of colors and lighting presets to pick from, plus you can also schedule lights to come on and off at different times. The bulbs will fit into any standard E26 light fixture. You'll get roughly 25,000 hours of use with each bulb, so they'll keep your home lit for years to come.
Details:
A19 bulb fits standard E26 fixtures
16 million colors to choose from
Philips Hue Bridge included
compatible with Amazon Alexa, Google Home, and Apple Homekit voice controllers
lights are remotely controlled through the free Hue app (for iOS and Android)
adjustable brightness up to 1100 lumens
Budget-friendly alternative
While Philips Hue may have my heart, the Nanoleaf Essentials Matter A19 bulbs are another versatile alternative. There are millions of colors to pick from and each light is roughly equivalent to a 60-watt incandescent bulb. They're voice controllable through Google or Siri. Best of all — you don't need a hub to work them.
What our customers say about the Philips Hue White and Color Ambiance Starter Kit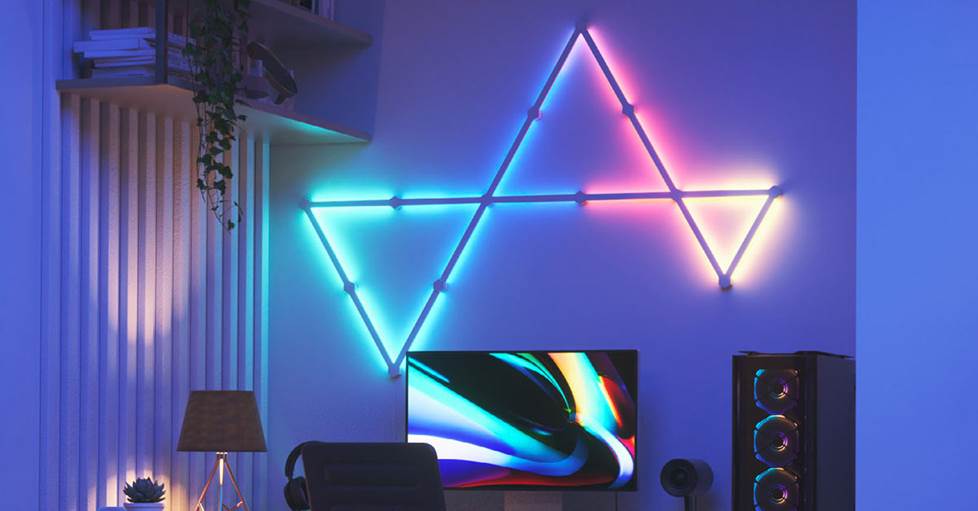 Most unique smart lights — Nanoleaf Lines Smarter Kit
Nanoleaf offers some of the most interesting smart lights on the market. Their Lines Smarter Kit gives you nine bars of lighting to work with. Even cooler, you can arrange the light bars in any shape or pattern you'd like by using the included connectors.
Each light bar has two independent color zones, and you can set each zone to one of the 16 million available colors by using the free Nanoleaf app (available for Android™ and iOS®). The app also lets you adjust the brightness of each bar by up to 20 lumens each for dialing in the right mood.
These lights are also great for gaming setups. You can choose from 19 different RGB animations, or you can create your own for some unique and cool effects. There's even a desktop app (available on Windows and Mac®) that lets you sync the lights to your display and add extra immersion to your next gaming session. The program also makes it easier to manage larger Nanoleaf lighting systems.
Details:
modular light bar set with 9 straight beam pieces and 9 connectors
connectors can be arranged in any pattern you like for a unique light display
choose from 16 million colors
compatible with Amazon Alexa, Google Home, and Apple HomeKit
adjustable brightness up to 200 lumens per light bar
works with your Wi-Fi — no hub required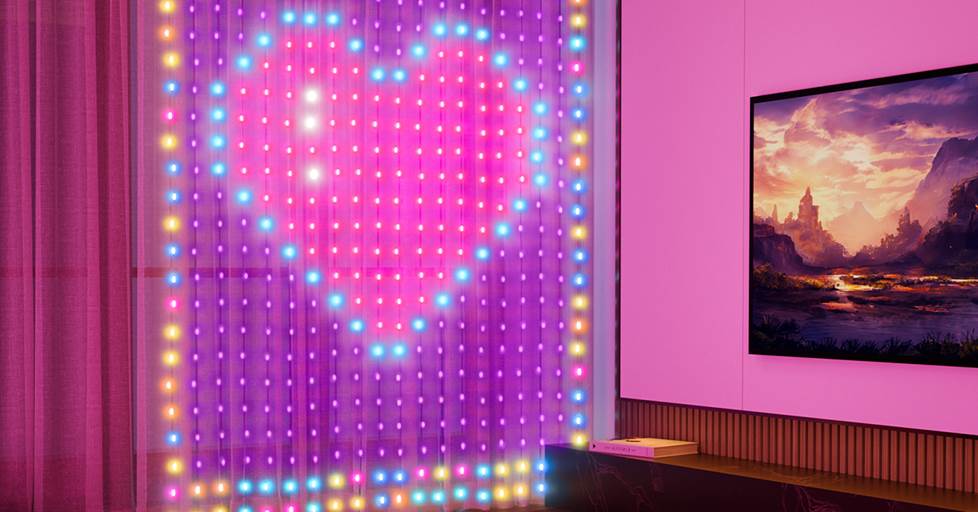 Most customizable smart lights — Govee Curtain Lights
In my years of playing with smart home gear, I've never come across something as neat as Govee's Curtain Lights. This smart light curtain features 520 individually controllable LED lights that can create almost any pattern your creative mind can conceive. If you're extra imaginative and have a killer design or pattern in mind, you can pick up two additional Light Curtains to create an even larger picture.
The user-friendly Govee Home app (free for iOS® and Android™) lets you customize the curtain's light pattern, set up lighting schedules, and even has 86 built-in scenes for you to choose from. The Light Curtain is also voice-controllable through Amazon Alexa and Google Assistant devices.
And if you'd rather display your lights outside, the Light Curtain is water-resistant and dust-tight thanks to its IP65 rating.
Details:
customizable light curtain with 520 individually controllable LEDs to create a unique and dynamic display
connect up to three light curtains to create larger pictures (sold separately)
controllable through the Govee Home app, as well as Amazon Alexa and Google Assistant
water-resistant and dust-tight for outdoor use (IP65-rated); power adapter is IP44-rated
sync your lights with music
includes hooks, adhesive tape, and seamless nails to provide multiple installation options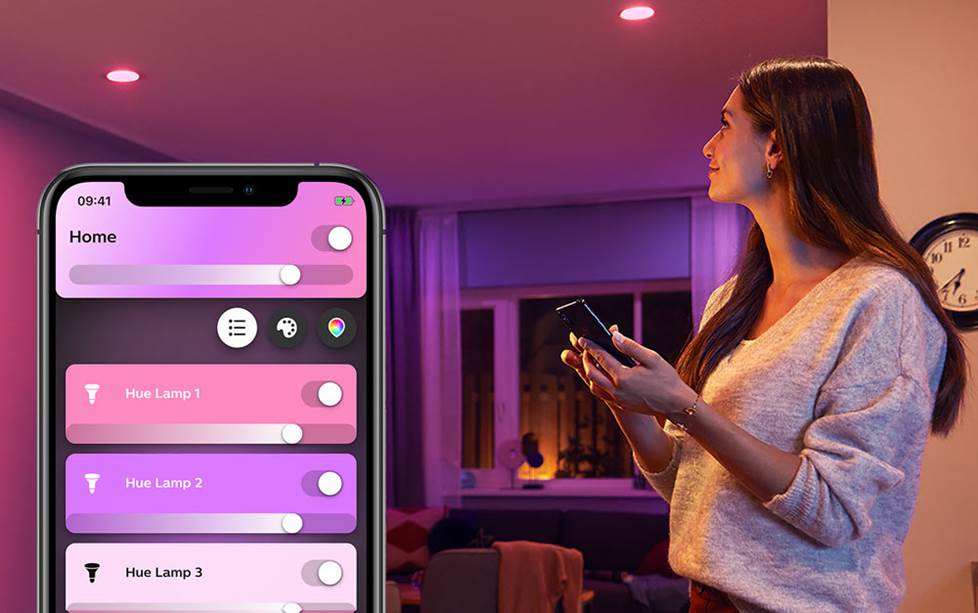 Best ceiling light — Philips Hue White and Color Ambiance Downlight
If your home has recessed lights and you're looking for a smart lighting solution, look no further. Philips Hue created the White and Color Ambiance Downlight just for that scenario. There's also a 4" version, so you're covered no matter which size your home uses.
The light installs easily into existing cans and is compatible with standard E26 sockets. It works over Bluetooth, but you can pick up a Philips Hue Bridge if you'd like to control it when you're away from home. The Bridge also lets you schedule and group the light with up to fifty other non-Bluetooth Hue lights in your home.
The mounting flange sits flush against the ceiling, ensuring a clean fit and finish. This light also works with Philips Hue's Dimmer Switch for convenient manual control that doesn't involve pulling out your phone.
Details:
screws into any E26 socket; pigtail included
control up to 10 bulbs in one room via Bluetooth
control up to 50 bulbs in different rooms with Hue Bridge
choose from 16 million colors to set the right mood for your room
mounting flange sits flush against ceiling
rated for 35,000 hours of use
adjustable brightness up to 1,100 lumens
Budget-friendly alternative
The Satco Starfish T20/T24 is a solid alternative to the more expensive Hue Downlight. It works over Wi-Fi and doesn't require a hub. It's controllable through the Starfish Smart Lighting app.
What our customers say about the Philips Hue White and Color Ambiance Downlight
Any questions?
Smart lighting is cool, but there's a lot to factor in. If you'd like some tips on picking out the right smart home gear for you, check out our smart home buying guide. It covers different smart home components, how they work, and what factors you need to consider before pulling the trigger on a system.
For more personalized, one-on-one help, reach out to one of our advisors. They get hands-on with a lot of the gear we carry and they'd be happy to help!
Popular questions customers ask
Smart lights aren't like your normal light bulbs and accent lights. Smart lights are tunable through an app and give you loads of colors, color temperatures, and brightness options to choose from. Most require either a Wi-Fi or Bluetooth connection.
It depends on which smart lights you get. Most of the smart lights we carry work via Wi-Fi. We also carry models that use both Bluetooth and Wi-Fi for connectivity. Using a Wi-Fi connection tends to give you more control and more consistent connectivity.
Yes. The smart lights we offer can be controlled by either Apple HomeKit, Amazon Alexa, or Google Assistant.
There are a lot of ways to control your smart lights. Free control apps let you select from a wide variety of colors, temperatures, and light intensities. You can also use a voice assistant or wall-mounted dimmer switches to control them.