Items installed:
Panasonic MXE CQ-DFX700U CD receiver
Infinity Kappa 52.1i 2-way 5-1/4" speakers — front doors
Infinity Kappa 693.1i 3-way 6"x9" speakers — rear deck
Infinity Kappa Perfect 12.1 12" subwoofer
Q-Logic QLH-CS12 sealed 12" enclosure
Infinity Kappa 102a amplifier — 100 watts RMS x 2
Infinity Kappa 202a amplifier — 200 watts RMS x 2
Stinger power cable and speaker wire
MTX Pro Competition Twisted Wire Interconnects
Peripheral PESWI GM steering wheel controls interface
Jess Hardessen had one goal — to put together an audio system that would do justice to his fine-looking 1997 Chevrolet Monte Carlo LS. For his head unit, he picked the Panasonic MXE Series CG-DFX700U, a high-performance CD receiver that features three sets of 5-volt low-impedance preamp outputs, auxiliary inputs, striking cosmetics (the Day & Night Metal Finish faceplate), and hefty internal power (23 watts RMS/45 peak x 4). Adjustable 3-DSB processing (3-Dimensional Surround and Super Bass) combines 3-dimensional sound from the front speakers with a rear-channel bass boost (Super Bass) for a powerful front soundstage.
Jess chose Infinity Kappa products to trick out the rest of his ride. He installed the Kappa 52.1i 5-1/4" speakers in the front doors and Kappa 693.1i 3-way 6"x9"s on the rear deck. A trunk-mounted Infinity Kappa 102a amplifier pushes 100 watts RMS to each of the 6"x9"s, while the 5-1/4"s in the doors are powered by the Panasonic's internal amp. An Infinity Kappa Perfect 12.1 12" subwoofer generates powerful bass from its Q-Logic sealed enclosure, courtesy of 600 watts RMS from an Infinity Kappa 202a amplifier bridged to mono operation.
In order to avoid potential noise problems, Jess ran the Stinger power cable down the left side of the Monte Carlo, and the MTX Pro Competition interconnects down the right side. He also installed a Peripheral interface module for GM steering wheel controls (not available from Crutchfield), mounting the module's remote sensor on the trim piece of his automatic gear selector. With a touch on his steering wheel, he can fire infrared commands directly to the Panasonic receiver. Very cool.
Jess Hardessen has another goal — to own his own car audio installation business. And, judging from the nice work on this installation, that's one store we'd like to check out. Thanks for the look at your primo Monte Carlo!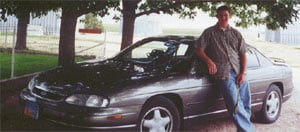 Jess Hardessen and his 1997 Chevrolet Monte Carlo LS.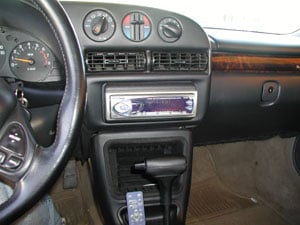 A remote sensor mounted on the gear shift fires commands from the factory steering wheel controls to the Panasonic MXE CQ-DFX700U CD receiver.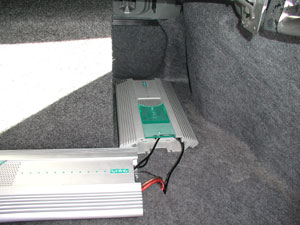 Infinity Kappa Central: the 102a and 202a amplifiers bring high performance and killer looks to the Monte Carlo's trunk installation.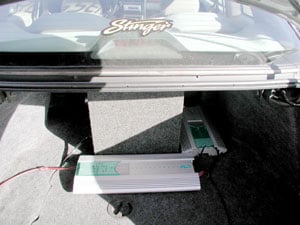 This trunk photo shows off the Kappa amps wrapped around the Q-Logic sub enclosure. Infinity Kappa 693.1i 6"x9" speakers are mounted on the rear deck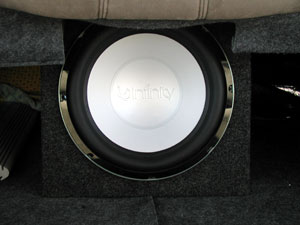 With the seat cushion removed, the Infinity Kappa Perfect 12.1 fires some bodacious bass directly into the cab.