Eddy J's 2007 Subaru Impreza WRX STi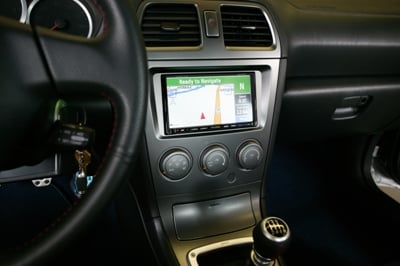 Eddy's system at a glance:
Kenwood DNX7100 in-dash DVD/navigation receiver
Polk Audio Signature Reference SR5250 5-1/4" component speaker system (front)
JBL Power P552 5-1/4" 2-way car speakers (rear)
Alpine PLV-7 LAT Subwoofer System powered hatchback subwoofer
Alpine PDX-4.150 4-channel car amplifier (150 watts RMS x 4)
Kenwood KCA-iP300V iPod® connecting cable
Kenwood KTC-HR100TR HD Radio™ tuner
SIRIUS Satellite Radio tuner for Kenwood receivers
StreetWires Ultra Flow 1/0-gauge power cable
Tsunami Lite Wave 2.0-farad capacitor
Building a fantastic sound system
When Eddy needed a new sound system for his 2007 Subaru Impreza WRX STi, he came to Crutchfield. Eddy's on the road a lot for work, and he's a participant in the North American Subaru Impreza Owners Club, so lots of entertainment is essential when it comes to making long road trips fun and interesting. Furthermore, he's modified his car extensively, including high-performance engine enhancements and racing tires. While they look fantastic, and help his Subaru run like a top, they can generate lots of music-killing road noise.
We worked with him to build the ideal system for his car — one that not only plays loud and clear over the sounds of the road, but that would turn heads at car shows. We outfitted him with a set of components that look great, deliver sterling sound, and offer him a range of entertainment options. Eddy was so happy with his experience with his Advisor, he drove from his home in Florida to our Charlottesville, VA retail store to have our expert installers put it all in for him.
One receiver, many options
A Kenwood DNX7100 in-dash navigation receiver acts as the heart of Eddy's system. It gives him turn-by-turn guidance and entertainment galore — he can control his iPod, listen to HD Radio, and enjoy SIRIUS Satellite Radio. When he's parked, he can play DVDs, which is great for the car shows he attends.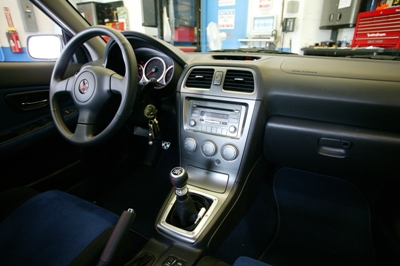 Eddy's factory stereo simply wasn't cutting it on those long road trips, so it had to go.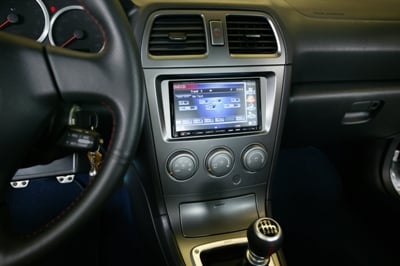 Eddy's Kenwood DNX7100 DVD/navigation receiver offers turn-by-turn navigation, iPod control, satellite radio, and more.
Beautiful music from the speakers, amp, and sub
A set of Polk Audio Reference component speakers in the front provides an excellent soundstage, while full-range JBL speakers offer fantastic rear fill. A potent 150-watt Alpine PDX digital amplifier drives the speakers. Its remarkably efficient digital design lets Alpine put the amp in a compact housing, which left our installers plenty of options for mounting it. Eddy's bass comes from a powered Alpine LAT sub system. To make sure his amps always have enough juice to deliver the great sound Eddy craves, our installers integrated a Tsunami capacitor into the system.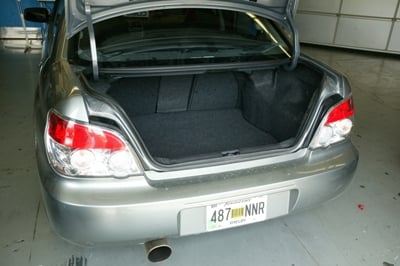 Eddy's trunk before the installation.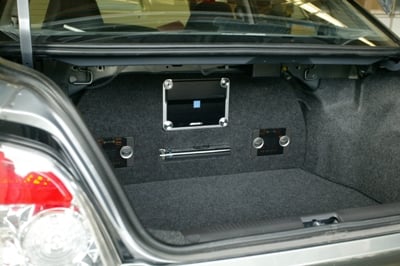 Our installers custom-mounted Eddy's PDX amplifier, Polk Audio component speaker crossovers, and Tsunami capacitor.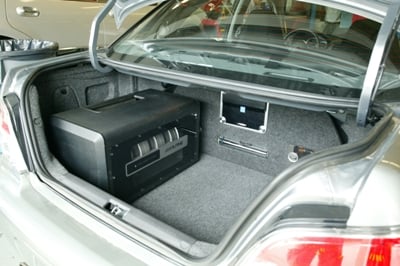 An Alpine LAT system delivers more than enough bass to defeat the road noise Eddy's tricked-out Subaru sometimes generates.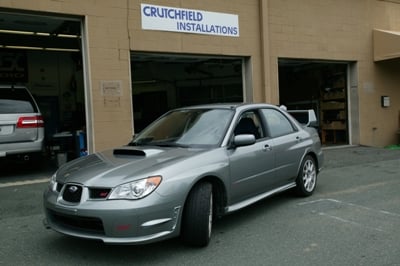 After the installation, Eddy's Subaru is ready to roll...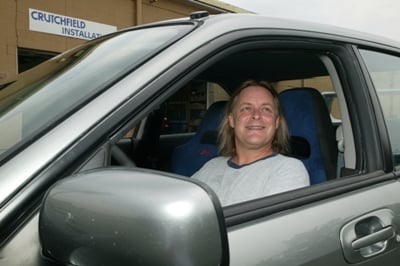 ...and so is Eddy.