Mighty Rome's 2000 Volkswagen Beetle
Items installed:
Blaupunkt Alaska II CD receiver
Blaupunkt CDC-A08 10-disc CD changer
2 Soundstream Reference 500s amplifiers (75 watts RMS x 2)
Soundstream Reference 700sx amplifier (125 watts RMS x 2)
Polk Audio dB 3000 1" tweeters — sail panels
Infinity Kappa 60M 6-1/2" midrange speakers — doors
Infinity Kappa 62.1i 6-1/2" 2-way speakers — rear side panels
Infinity Kappa Perfect 10.1 Aluminum Subwoofer in custom-made box — trunk
Wiring: StreetWires power and ground cable, battery terminator, fuse holder, and power distribution block; Soundquest interconnects and 14-gauge speaker wire; MCM Gold Line passive crossovers with audiophile-grade capacitors (2-way, 3500 Hz)
Mighty Rome (yes, that's his name — just think Sting or Prince) chose the Blaupunkt Alaska II CD receiver to command the self-installed system in his 2000 Volkswagen Beetle — its distinctive look and blue illumination are a great match for the VW's dash. He can access ten more discs with the trunk-mounted Blaupunkt CDC-A08 CD changer.
The low frequencies (below 80 Hz) are routed through the Soundstream Reference 700sx amplifier (bridged to mono operation), which pumps 500 watts RMS into the Infinity Kappa Perfect 10.1 aluminum-cone subwoofer. The 1-1/2" thick, custom-built sub enclosure was hand-made with 52 hex drive bolts for a high-tech, industrial look (matching the steering wheel and shift boot).
One Soundstream 500s amp powers the front Infinity Kappa midrange/ Polk tweeter combo — the MCM passive 2-way crossovers split the signal at 3500 Hz. The second Soundstream 500s takes good care of the Kappa coaxials in the rear side panels.
StreetWires 4-gauge power cable (with a 150-amp fuse assembly) runs from the engine compartment back to the 3-fuse StreetWires power distribution block in the trunk. The three Soundstream amplifiers, two MCM passive crossovers, Blaupunkt CD changer, and Infinity subwoofer enclosure form an impressive array in the trunk.
Rome reports that the car itself is so well-constructed that no sound-deadening materials were needed. It's an awe-inspiring system in a beautiful car — and anyone checking out the photos can see that Rome didn't build this in a day!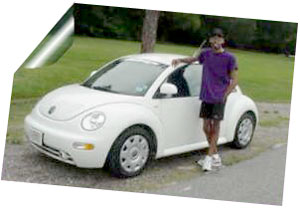 The Mighty Rome with his Mighty Beetle.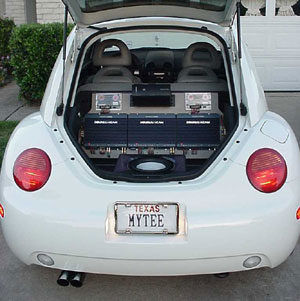 The trunk installation in all its glory.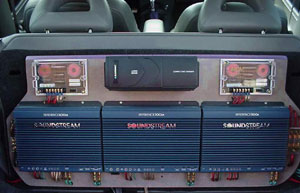 The amplifiers, crossovers, and CD changer look as though they were shipped directly from the Volkswagen factory like this.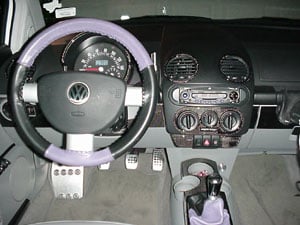 The Blaupunkt Alaska II resides in the dash.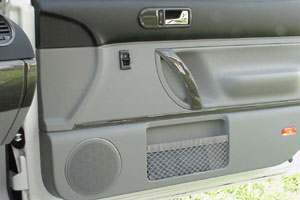 The door houses the Infinity Kappa midrange speaker.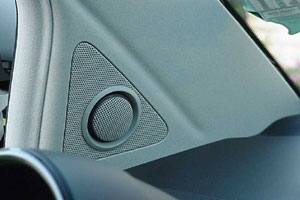 The Polk dB tweeters are mounted in the sail panels for strong imaging and exceptional detail.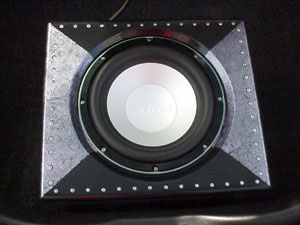 Looks brutal, sounds brutal — the Infinity Kappa Perfect 10.1 in its handmade, industrial-style enclosure.