Spencer Olson's 1997 F-150
Spencer Olson has done some audio installs before, but, by his own admission, never anything as complicated as this. After viewing the results, we'd be happy to let Spencer work on our cars anytime he wants!Spencer has gone all out with his 1997 Ford F-150, installing a great sound system and adding the exterior and interior touches that really make this beauty stand out. Ford owners, get ready to be jealous!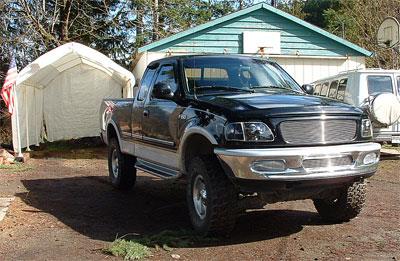 Spencer Olson's sharp-looking Ford.
The gear
Spencer wanted a truck that sounds great and looks great too. To make his truck stand out, he's added billet grilles to the upper and lower grilles, a black bug guard and vent visors, plus clear corner lights. For a higher ride, he added a 3" lift kit. To improve performance, the engine breathes easier with the addition of a K&N air filter. The interior is tricked out with blue LED lighting and blue LED lights behind the gauges, plus a brushed aluminum gauge bezel. It's one sharp-looking ride, without a doubt!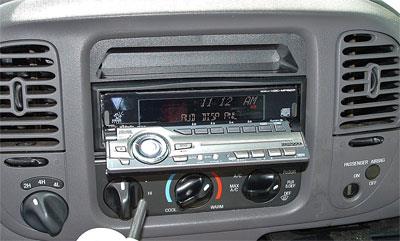 The heart of the audio system — the Kenwood KDC-MP822.
The heart of the audio system is a Kenwood KDC-MP822 CD/MP3 receiver. This slick Kenwood has a motorized fold-down display that reveals a vibrant, dot-matrix full-motion display. Spencer can choose from four different viewing angles for the face, and the rotary knob makes system control a breeze. For sound control, there are six preset tone curves and a built-in 3-band equalizer.
While the MP822 produces a solid 22 watts RMS per channel, Spencer wanted some more "kick" in his system. Enter the Kicker KX700.5 five-channel amplifier. This monster amp puts over 500 watts of power — plenty to fuel each of the four full-range speakers in the system, plus two subs. The KDC-MP822's front, rear, and subwoofer preamp outputs made sending signal to the KX700.5 (via Rockford Fosgate Gold RCA cables) easy. The amp's variable crossover networks allow Spencer to fine-tune the sound to his heart's content.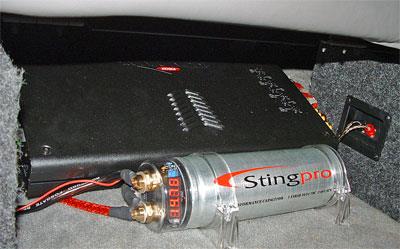 A 1-farad cap keeps the power flowing to the Kicker KX700.5 amp.
To ensure consistent performance from the amp, Spencer took the smart step of adding a 1-farad StingPro capacitor into the power chain. He used high-quality 4-gauge Rockford Fosgate power and ground cables throughout the installation, and added a 100-amp circuit breaker at the battery for extra protection.
The mids and highs in Spencer's system are handled by two sets of Pioneer TS-A6880R speakers. These 4-way 6" x 8" speakers fit neatly into the factory speaker locations and give plenty of detailed mids and highs. To ensure excellent signal transfer from the amp, they're hooked up with Rockford Fosgate 15-gauge speaker wire, run under the carpet and through the door boots. You won't see a wire sticking out anywhere in this super clean install!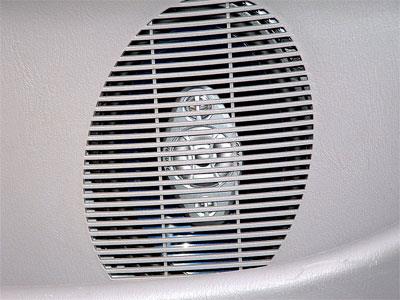 Stock locations, but vastly improved performance! Pioneer TS-A6880R 4-ways nestle behind the door panel.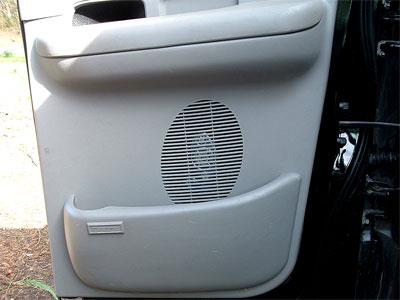 A look at the rear door speakers.
Custom sub install
The coolest part of this installation has to be the subs. Spencer built two identical, sealed enclosures out of 3/4" MDF to house a pair of Kicker Solo-Baric S8L5 8" subwoofers. To fit the boxes under the rear seat, Spencer raised the rear seat 3"! With the lift, the boxes fit neatly underneath, and the kids enjoy a better view when riding in the back. To raise the seat, Spencer purchased urethane spring spacers, drilled holes through them, and then reinstalled the seat using longer bolts. Now that's an original solution!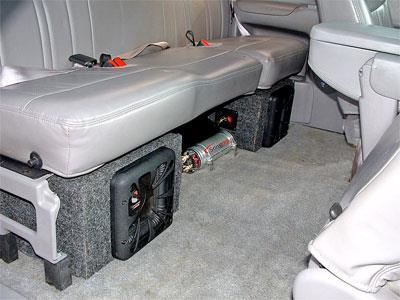 When there's a will, there's a way! Notice the spacer blocks (on the left) that raise the seat so the sub boxes can fit underneath.
The truck sure looks great now, but Spencer isn't done yet. He plans to get a new black paint job this summer, and to install stainless steel rocker skirts for the finishing touch. Spencer also is considering adding some Dynamat to lower the noise level and get a few more dBs of pure sonic satisfaction out of the system.

Spencer Olson's 1997 F-150 is a great example of how some original thinking can lead to a great install. Now he's got a truck that looks great, with a sound system to match. Way to go, and thanks for letting us check out your ride, Spencer!
Shop for gear that fits your car.