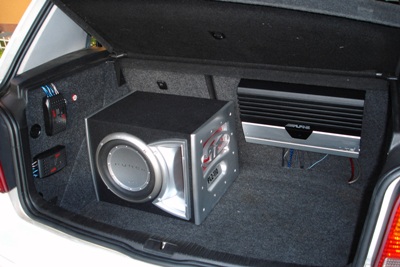 Items installed:
Installation Description
I started by replacing the factory head unit with an Alpine CDA-9883 receiver. I connected the iPod interface cable to the back and ran it through to the glove compartment. I also ran RCA line outs for the fronts, rears, and sub from the head unit down the right side of the car to the rear. For the Subwoofers, I drilled out the rivets to remove the factory speakers, put the new adapter brackets in place, and installed the new Polks. I used a Dremmel to widen the hole in the sail panels for the front tweeters. I also cut a hole in the grill of the sail panels to accommodate the tweeters' mounting cups. Once it was sized correctly, I drilled a hole in the door for the screw on the mounting bracket, and attached the tweeter in the mounting cup. I installed the rear tweeters in the factory position in the door panels. This required modifying the hole to attain a proper fit. I secured the tweeters in place with black silicone adhesive.The rear crossovers are mounted in the rear door panels, but due to space restrictions I had to mount the front crossovers in the back. It has not produced any undesirable effects.Since I had the factory Monsoon system, I had to uninstall the Monsoon amp in the back of the car. It was as simple as unplugging two wiring harnesses and removing the amp. In order to route the amp signal to the correct speakers, I referred to a factory wiring diagram which labeled each wire in the harness. I connected the RCA's, speaker outs, sub, and power to the amp, then mounted it on the back of the seat. The last thing was power it up and see how it sounded. I couldn't be happier!
Q&A Section
Why did you decide to upgrade your A/V system?
I wanted more power and clarity, and a better system to integrate my iPod.
What's the first thing you show people about your installation?
I let them hear it, then they ask questions.
Why did you choose these products?
A good balance of reputation, quality, and price.
What was the most difficult part of the installation?
Modifying the tweeter holes.
What plans, if any, do you have for future upgrades?
I would like to have fiberglass shapes made to integrate the front tweeters more smoothly.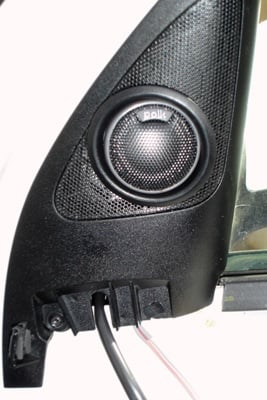 Sail Panel Tweeter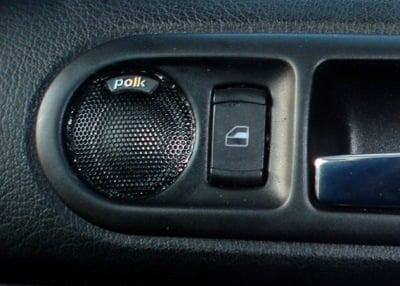 Rear Door Tweeter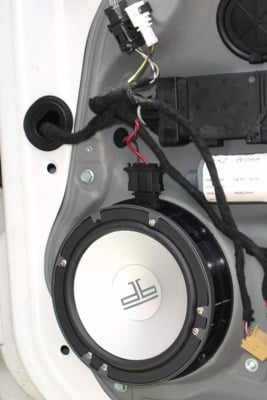 Rear Door Woofer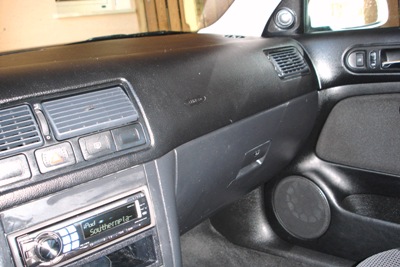 Final Look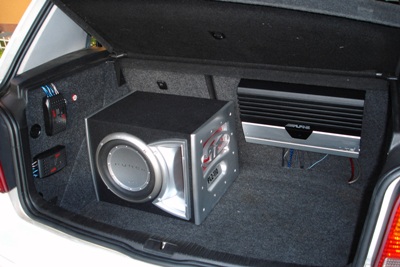 Junk in the Trunk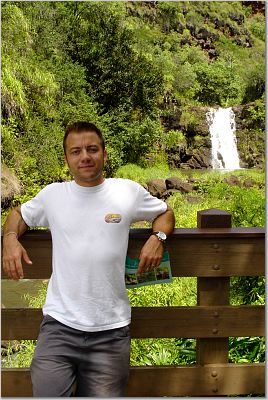 Me!