Mercedes Wright's 2006 Yamaha Rhino
Items installed:
Installation Description
This was a very easy install. First of all, I did not want to have to run a head unit due to the sand and moisture. Since I had already done an iPod to amp direct install in my 2005 Amplified Performance Long Travel Sand Rail, I knew this type of set up would work. No, you do not have to run a head unit to run your iPod, you can run it directly out of the head phone jack with the Monster mini to Dual RCA cable. You control the volume, iPod Built in EQ and song selection directly from the ipod. You do have to turn up the gain on the amp due to the low voltage supplied by the head phone jack to RCA cables, but it works PERFECT! I took special care to run the amp, RCA and speaker wires so they would not get pinched or vibrate loose due to the off road nature of the vehicle. I also wanted the dump feature on the bed to still be used.
Q&A Section
Why did you decide to upgrade your A/V system?
Who can cruise through Glamis Dunes without tunes?
What's the first thing you show people about your installation?
The Polk Momo 6x9's.
Why did you choose these products?
Certified marine use and the Carbon Fiber woofer material. I think this type of woofer material will last good in the sun and sand.
What was the most difficult part of the installation?
Running the speaker wires so I could still use the dump function on the bed of the Rhino without taking a chance on pinching the wires.
What plans, if any, do you have for future upgrades?
I plan on adding a 12" sub, a custom box for all the speakers and a subwoofer amp. But not until I upgrade the Stator(alternator) so I have enough power to supply the amp.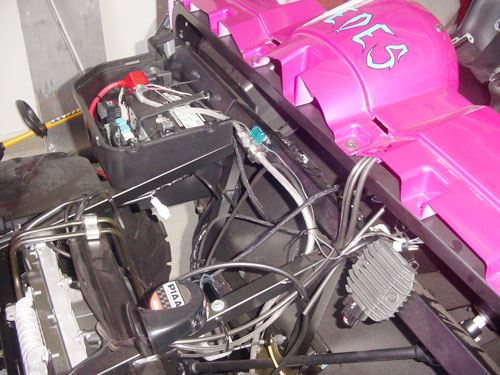 Rockford Fosgate 4-gauge amp kit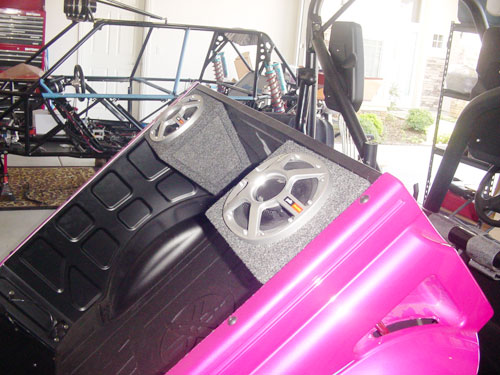 Polk Momo MMC 690 6x9's in Q-Logic QL69WD enclosures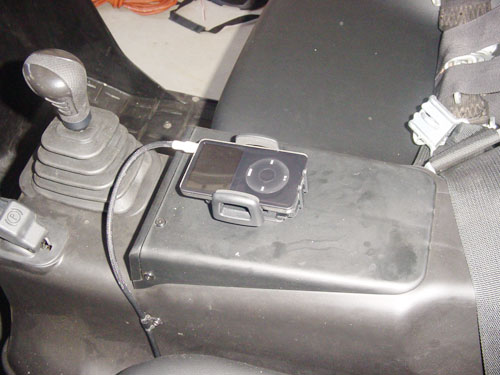 Monster Mini to Dual RCA with iPod and Pro.Fit Universal Mini iPod mount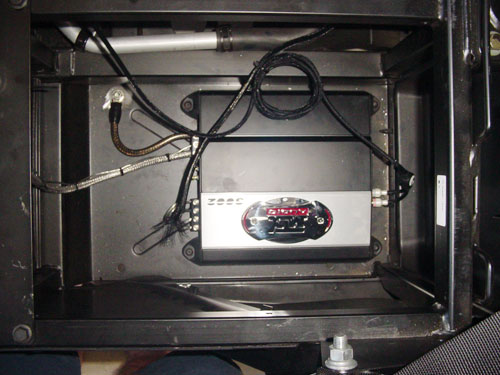 MTX MXA 3002 75x2 watts @ 4-ohm load in stereo mounted under driver's seat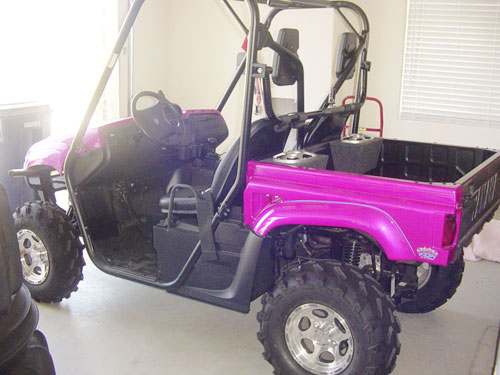 My PINK 2006 Yamaha Rhino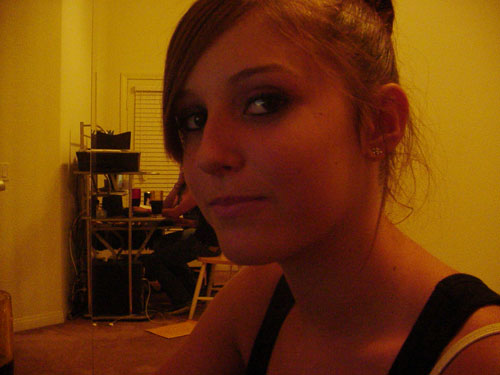 GIRLS ROCK!!!!!!