Radar detectors offer peace of mind. Understanding how radar detectors work is important when picking out the right model. We'll discuss the newest features and technologies to help you choose.
he freedom to relax and drive with confidence — that's what an investment in a radar detector can give you. Today's models combine simple, ergonomic design with up-to-the-minute technology, including GPS, Bluetooth® compatibility, and smartphone integration. They can offer you affordable, convenient protection, not only from speeding tickets but often from driving hazards as well.
The key to choosing the right detector is understanding how they work and what the different options do. Then you'll be able to determine which one best meets your needs.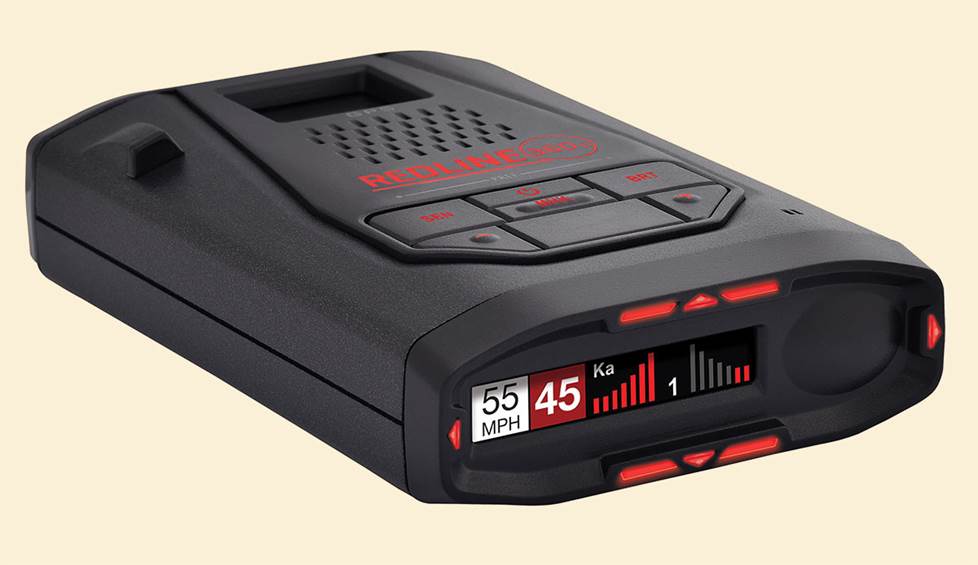 Escort's RedLine 360c detector combines many features, including Wi-Fi, GPS, and Spectre immunity.
Types of radar detectors
There are three types of radar detector: corded, cordless, and remote-mount.
Corded detectors

usually mount on the windshield via suction cups, and provide the best range of detection.

Cordless detectors

are transported easily between vehicles, and provide a cleaner installation than corded models.

Remote-mount detectors

are permanently mounted to your vehicle, providing a clutter-free installation that's virtually undetectable by thieves.
Common features of radar detectors
Now let's examine some features to consider when choosing a detector.
Laser detection
A detector with one laser sensor can detect laser beams in front of you, but not behind you or off to the sides. 360-degree laser detection uses two sensors to also look for laser pulses to the sides and behind you. Models with 360-degree laser detection tend to be more reliable, but more costly.
Highway and city modes (sensitivity and selectivity)
Sensitivity is a measurement of how well a radar detector can pick up radar signals. The more sensitive the detector, the more likely it is to give you a timely warning. "Highway mode" is the default level of sensitivity for most radar detectors. "City mode" reduces the range or sensitivity so that you get fewer false alerts from sources of signals similar to radar guns, such as automatic door openers. This feature is helpful for urban driving. Some detectors with built-in GPS offer speed-based sensitivity, which automatically changes mode according to how fast you're going.
Selectivity refers to a detector's ability to detect police radar while ignoring such devices as automatic garage door openers and microwaves, which may operate on closely neighboring frequencies. A detector with high selectivity can differentiate between bands of radar and laser, plus signals from emergency vehicles or roadside signs. Most radar detectors which can do this will display the signal type and strength on its display.
A good radar detector offers an optimal balance between high selectivity and high sensitivity.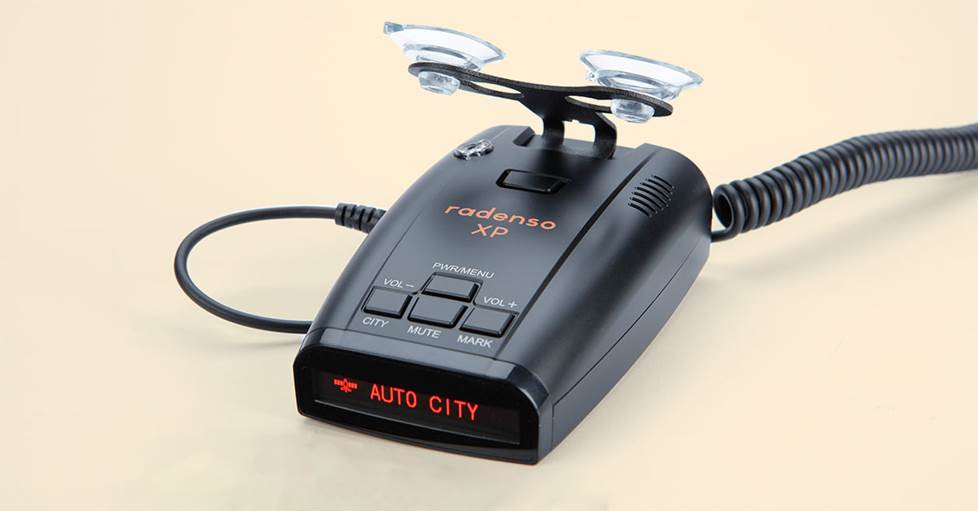 The Radenso XP detector with GPS features three different sensitivity modes, including speed-based mode that changes automatically.
Radar detector detection
In some localities, it's illegal to use a radar detector, and many areas have regulations against using detectors in commercial vehicles. Therefore, police have developed "radar detector detectors," referred to as RDD. These devices pick up oscillations emitted by the receivers in radar detectors, and inform police that a radar detector is being used. Many detector manufacturers now have models that are specially shielded to eliminate most of these emissions, or will shut down when they detect a RDD system in use.
VG-2
VG-2 is a once-common type of RDD technology, and it works by detecting the oscillations on a single frequency band. Most detectors today are built to protect themselves from VG-2 detection, but it is an older standard and is being gradually phased out of use.
Spectre
A more sophisticated type of RDD technology, known as Spectre, has proven more difficult to circumvent. This is because Spectre operates on several frequency bands and can pick up more emissions from a radar detector. There are detectors on the market now which do offer Spectre invisibility, but Spectre's an evolving technology so only a handful of detectors will be able to defeat all levels of Spectre.
VG-2 and Spectre shielding
Some detectors offer stealth protection, which warns you and then shuts down the detector, while more expensive detectors offer invisibility protection — they may be shielded from VG-2, Spectre, or both, so they can continue operating without being discovered.
Voice and visual alerts
A voice alert tells you what your radar detector has picked up. You don't have to take your eyes off the road to look at the detector's display. Visual alerts such as flashing lights let you know a signal has been detected so you can keep the detector quiet if you have sleeping passengers.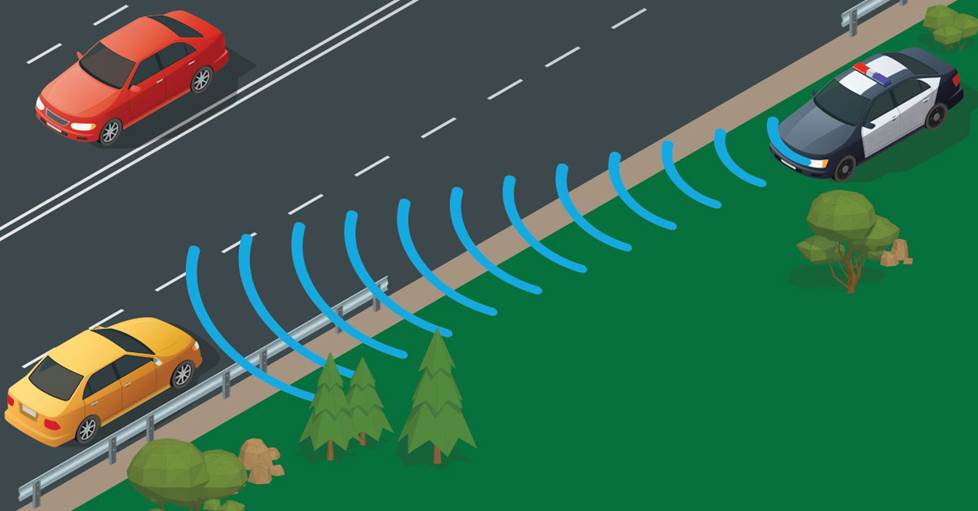 "Instant-On" radar protection can alert you even when intermittent radar signals are being used up ahead.
"Instant-On" protection
Practically speaking, you can't really defend yourself against Instant-On radar. If it's been aimed at you, your speed has been measured by the time your detector gives an alert. However, if the radar was targeted on a car ahead of you, a detector with sensitive K-band reception will alert you. High K-band sensitivity is what allows manufacturers to promote a detector as giving Instant-On protection.
Radar detectors with GPS
Developments in GPS technology have empowered radar detectors with more functionality than ever before. GPS devices in cars communicate with satellites while moving. These devices measure speed, direction, and location down to a few feet. They can often also store location information to mark important points on the map.
GPS radar detectors can calculate where they are and how fast they're going at any time while they are communicating with the GPS network. This is a powerful advantage over normal radar detectors because even though they can tell you when radar is in use around you, they have no way of knowing how fast your vehicle is traveling.
Some GPS-equipped detectors can adjust their sensitivity depending on how fast the vehicle is going, which reduces the need to manually switch between city and highway modes. They can also alert you when you are traveling over a set speed limit for your own safety.
One of the big advantages of a radar detector with GPS is that many of them can be programmed to "remember" areas that you drive past and alert you the next time you're approaching that area. If you drive past an area with a sudden steep drop in the speed limit, the detector can warn you ahead of time so you can adjust your driving accordingly. Or you can program it to remind you of areas where there are red-light or speed cameras or frequent speed traps.
Some detectors even offer access to a downloadable database of known camera and enforcement locations. You can then program the detector to alert you when you approach one of those locations.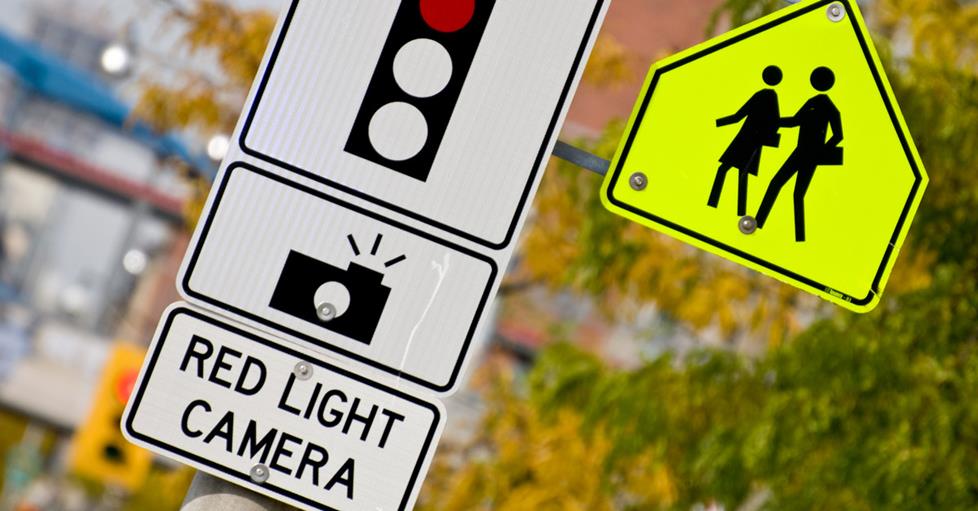 A radar detector with GPS can "remember" locations for speed and red light cameras and alert you when you're near one.
Smartphone compatible radar detectors
As with most other technologies, there are now ways to integrate your radar detector with your smartphone. Apps are available for iOS and Android™ platforms that let detectors work in conjunction with your smartphone, allowing users to mark enforcement area locations which can provide alerts for other drivers in the vicinity.
There are also radar detectors that transmit alerts directly to your smartphone via Bluetooth® connection, allowing the detectors to have an even smaller footprint because they don't have a display themselves.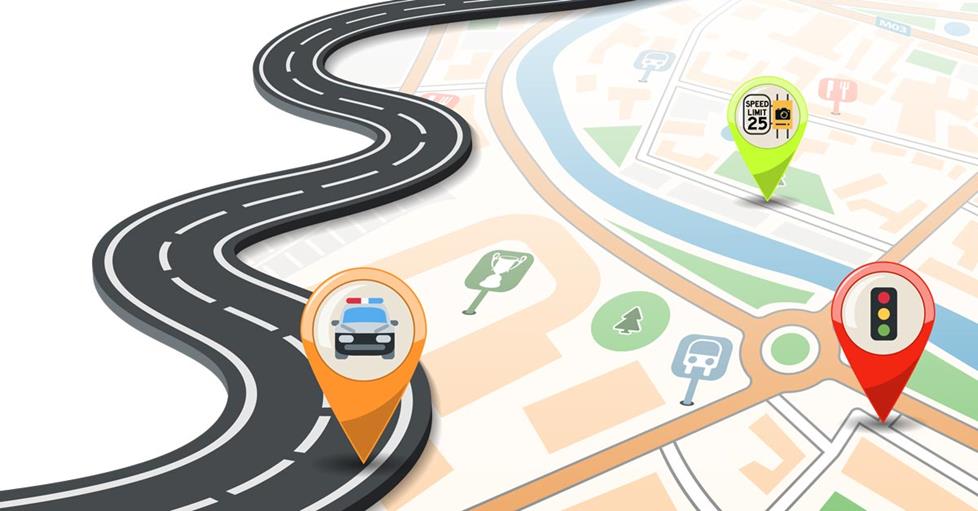 Radar smartphone apps use GPS locations to warn you when you're near speed cameras, traffic light cameras, and known enforcement areas.
Driver-assistance technology
Modern automotive features that help drivers stay on the road — including but not limited to automatic braking, blind-spot and lane-departure warnings, and adaptive cruise control — depend on radar-like signals which allow the vehicle to interpret its surroundings. These signals can often trigger radar detectors into false alerts, and they're becoming quite common on the road. Some newer radar detectors can differentiate between these driver-assistance signals and actual radar, reducing false alerts.
How do radar detectors work?
Time to switch gears now and go under the hood of a radar detector. Think of a radar signal as a beam of light from a flashlight. When you shine a flashlight at an object, your eyes perceive the light reflected from the object.
Police radar guns "see" a vehicle by transmitting a microwave pulse. Then they make use of the Doppler Effect: the frequency of the transmitted pulse is compared to the frequency of the reflection, and speed is calculated by using the difference between them.
Now imagine yourself as the object being illuminated. You can see the light from the flashlight from a much farther distance than the person with the flashlight could ever hope to see you. That's because the beam loses energy over distance. So while the beam has enough energy to reach you, the reflected light doesn't have enough energy to travel all the way back to where it started.
That's the idea behind radar detectors. They look for radar "beams" and find them before they can return a strong enough reflection to "illuminate" you. Detectors use something called superheterodyne reception to accomplish this. Radar detectors are essentially microwave radio receivers that make noise or flash lights when they sense an incoming signal on specific frequencies. Superheterodyne reception allows detection of radar around curves or over hills, and it extends detection range straight ahead.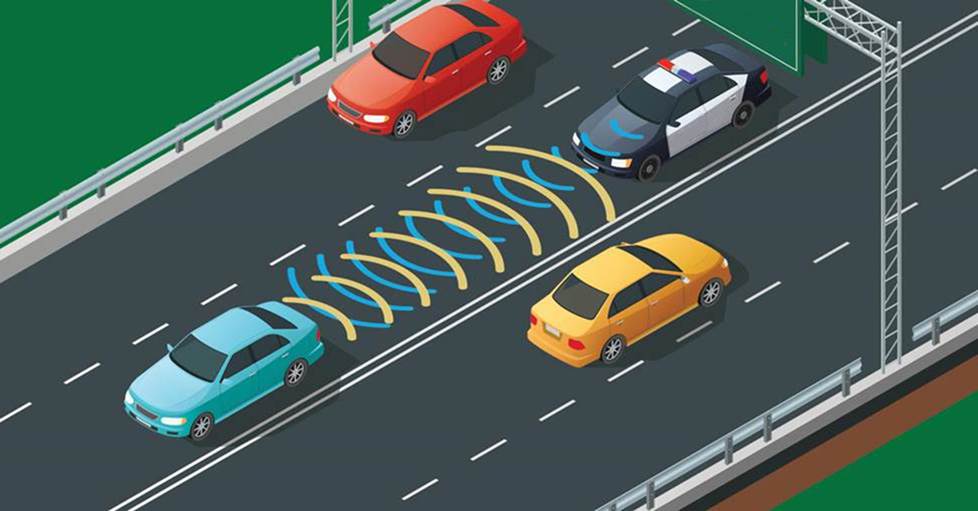 Radar guns calculate your speed by measuring the reflection of a radar signal to your vehicle back to the source, which can be from a moving or stationary source.
Different types of police radar
The Federal Communications Commission has dictated that police radar must operate on specific frequency bands: X-band, K-band, Ka-band, Ka wide-band, and Ka super wide-band. These bands range between 10.5 and 36 gigahertz. Some of these bands are more common than others, but you might encounter any of these at a given time. Some of these signals, such as X-band, use frequencies close to those of other devices you might come across near the road, such as garage door openers or microwave towers. These signals may be read as false alerts by radar detectors, depending on their sensitivity and selectivity.
Ku-band radar is used primarily in Europe and not often seen in the United States. Its frequency here is 13.45 GHz, as established by the FCC. Some companies do tout the ability of their detectors to track the Ku-band radar, despite its limited applications in America.
How do laser detectors work?
Laser speed guns determine speed differently than radar guns. A series of light pulses is transmitted, and the difference in time between pulses and reflections is used to calculate speed. This all takes place at the speed of light. A single pulse typically requires only a few nanoseconds to transmit and return.
The advantages of laser detection include more accurate pinpointing of a specific vehicle, and the total time needed for a speed reading is less than half a second versus 2 to 3 seconds for radar. However, laser guns are very expensive and they can't be used from a moving vehicle or from behind glass. They also require a steady hand or tripod for accuracy.
Despite initial claims to the contrary, a laser gun is detectable. And as the laser beam moves away from the laser gun, it widens and becomes even easier to detect. Vehicle speeds are typically measured at roughly 1,000 feet (1/5 mile); at that distance the laser beam is over 3 feet wide. Many of the laser detectors in use have a working distance of approximately 1.5 miles (at that distance a laser gun's beam covers two lanes of traffic).
How to get the best range from your radar detector
How far ahead of your vehicle a detector locates a radar signal can be affected by such factors as weather, terrain, and frequency selected. In general, test results reveal that radar detection from a half of a mile to one mile away is possible, but cannot be guaranteed.
A significant loss in detection range occurs when vehicles contain windshields with metallic film embedded, and when commercially available tint films are applied. Very few windshields still contain metallic film, but if you're thinking about tinting your side windows or rear windshield, be aware that darker tint can reduce detection sensitivity, especially that of laser signals.
False alerts
False alerts from radar detectors are doubly troublesome because not only are they annoying, but if they happen often enough drivers tend to tune out all alerts from the detector and let their guard down. Nearly every radar detector will emit a false alert at least once in a while, as it's nearly impossible to avoid devices which emit microwave signals along major roads.
Thanks to developments like GPS and other technologies for identifying and filtering out non-radar signal sources, advanced modern detectors can reduce false alerts drastically and help keep you focused on driving.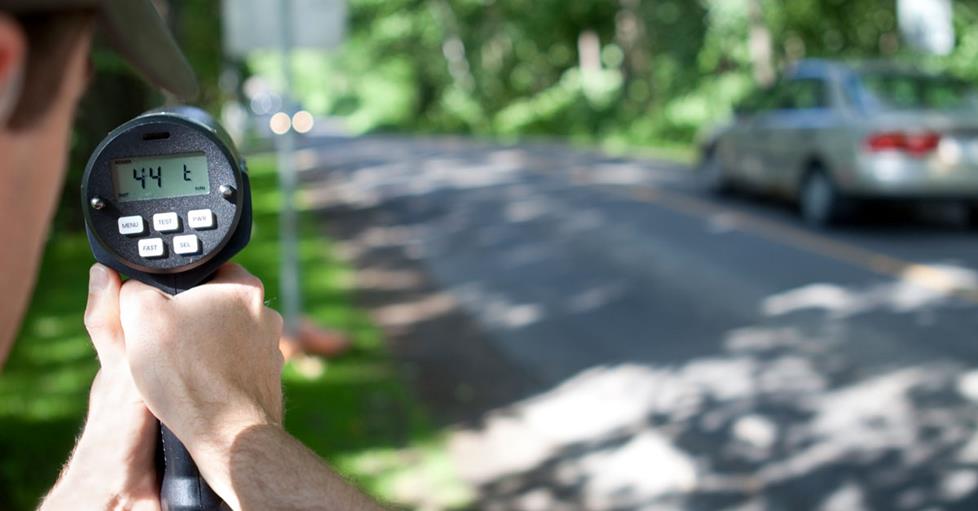 With the right radar detector in your vehicle, you'll know when radar enforcement is nearby before you're in their sights.
Still have questions about radar?
You can learn more about some of the terms discussed here by visiting our radar detectors glossary. For further advice about how to choose the best radar detector, contact one of our expert advisors via phone or web chat.