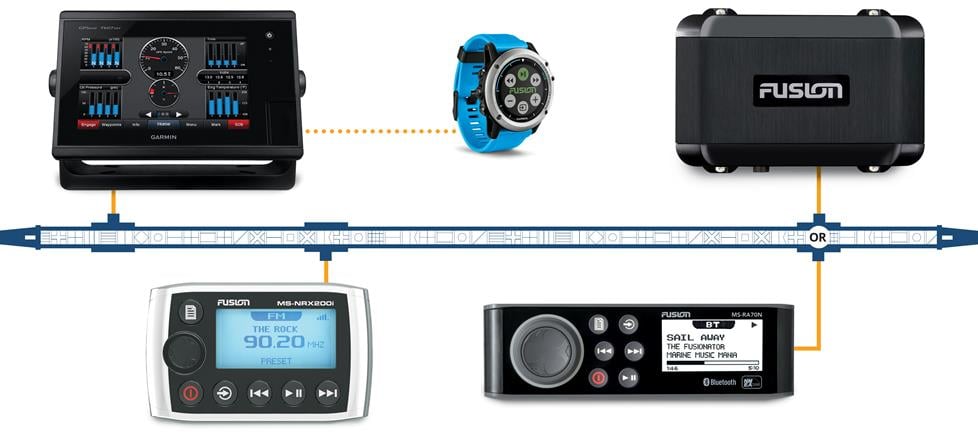 A complete marine electronics system used to resemble a dysfunctional office – each device did its job, but they really didn't talk to each other. Thanks to NMEA 2000 technology, though, today's marine gear can work together seamlessly to give you more information and entertainment than ever before.
What is NMEA 2000?
NMEA 2000 is a "plug and play" communications networking protocol that allows devices as varied as receivers, chartplotters, GPS units, wired remotes, and wind instruments to function as one complete system. Developed and maintained by the National Marine Electronics Association (NMEA – get it?), it's similar in concept to the CAN-Bus systems found in cars and trucks. It's a way to make all of your gear work together as a single system, and also makes it easy to incorporate new devices. NMEA 2000 replaced the old NMEA 0183 protocol, and in addition to offering vastly improved functionality, it has a much cooler name.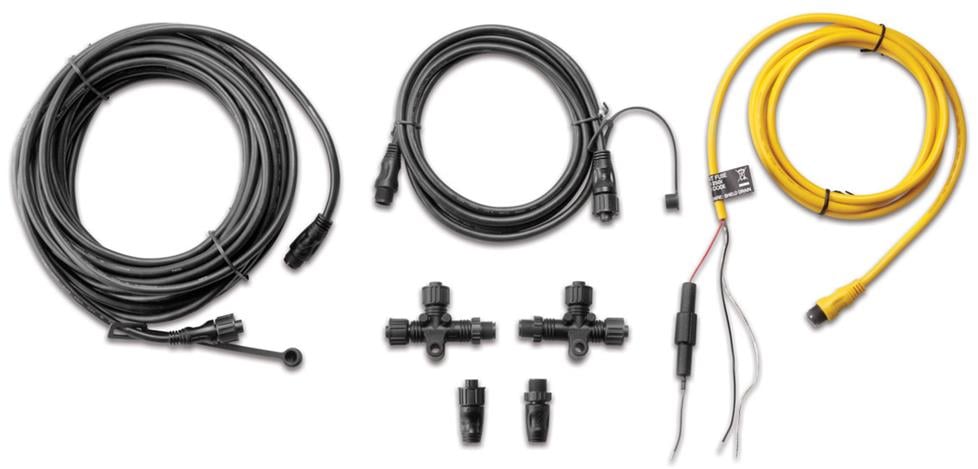 Garmin's NMEA 2000 Starter Kit will be the foundation of your new NMEA 2000 network.
It takes a backbone
The key to a NMEA 2000 network is the "backbone," (or "trunk") a central cable running throughout the vessel. The backbone is connected to the boat's power and ground, and your NMEA 2000 devices are connected to the backbone via special T-connectors, sometimes referred to as "drop tees." The beauty of this networking system is that it allows different devices (even ones from different manufacturers) to communicate with one another.
It's light-years ahead of the stacks of various devices found on so many boats, and it's a ton easier than wiring all this stuff in one by one. Our brilliant and talented (good-lookin', too…) tech advisors get very nervous when we use the phrase "plug and play," but that's a reasonably accurate description of the connection itself. The actual installation will probably involve some challenges, but that really depends on your boat and the network you're trying to build.
Several marine electronics manufacturers have networks of their own. Some of them work with NMEA 2000, while others are proprietary, and require adapters to plug into a backbone. When you see the phrase "NMEA 2000 Certified" on a piece of electronic gear, from, let's say, Fusion, you'll know that the device will work with your existing NMEA 2000 network.
So, how will NMEA 2000 work for me?
The size of the network you build will mostly depend on the size of the boat you have. On a smaller boat, a receiver and a chartplotter are probably all you need, but if you have a larger vessel or a frequent need to have remote controllers handy (like on a swim platform, for example), you can add more NMEA 2000-compatible devices. The limit is 50, which is a lot more than the average boater will ever need!
Everything starts with that backbone, so it's smart to buy a good one. Garmin's NMEA 2000 Starter Kit (above) has the essentials you need to install a communications network in your boat, including a drop cable, backbone cable, power cable, T-connectors, and terminator connectors.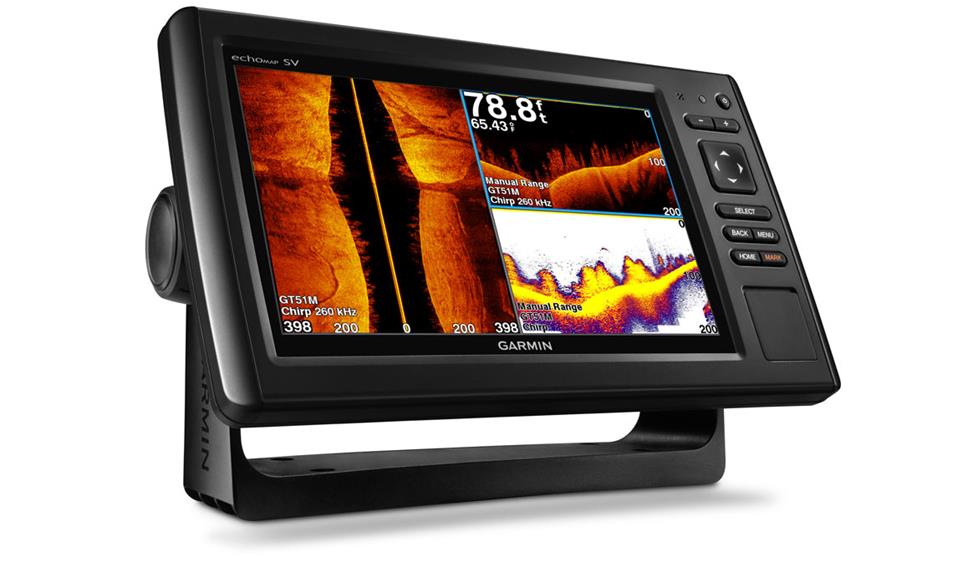 Many Garmin chartplotters are compatible with your NMEA 2000 network
Start building your NMEA 2000 network
There are a lot of NMEA 2000-compatible devices out there, and what you add to your system depends on what type of boater you are. Just because you can add 50 devices to your system doesn't mean you should – that's a limit, not a dare!
Most boaters will be totally okay with a marine receiver, a chartplotter, and/or a marine remote control. Other, more specialized, devices that will work include autopilots, depth finders, wind instruments, and compasses.
If you're ready to start putting your network together, our expert marine audio advisors are here to help. Give us a call or chat today!