Surveillance isn't just for TV cops on a stakeout. Cameras can also help keep our homes and businesses safe and secure.
One of the first things I did when I started here at Crutchfield was pick up a couple of cameras because I wanted to keep an eye on my dogs while I was gone during the day. I've since expanded to a video doorbell that covers my front porch and a floodlight cam to keep an eye on my backyard. Now I can see what's going on at my house — inside and out — from wherever I am. And I have peace of mind even beyond what I get from watching my dogs play and sleep.
Getting started
Businesses have been using cameras to keep watch for decades. And they no longer have to rely on grainy VCR footage to do it. If you are looking to upgrade your business with a modern surveillance system, our commercial design experts would be happy to help.
If you prefer to research and plan the system yourself, read on. Because now it's easier than ever to create your own DIY security camera system for your home or small business. Whatever your needs might be, this article will help you figure out which type of camera will accomplish the task.
Camera types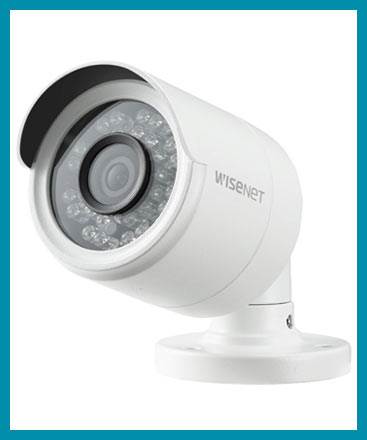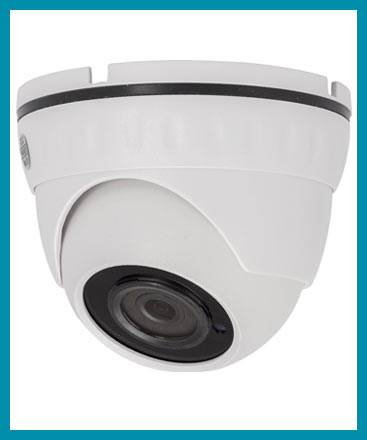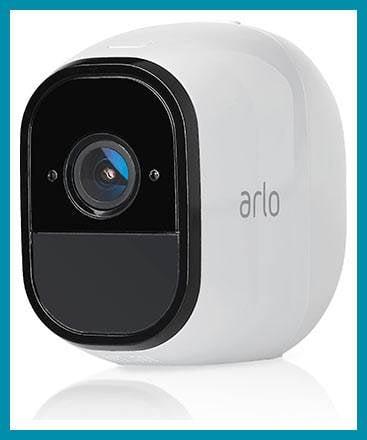 There are several types of security cameras to consider, depending on your application.
Bullet cameras: These are the familiar, cylindrical cameras that accompany many wired systems. These are great if you know exactly where you want camera coverage; they can be mounted and left to do their work.
Dome cameras: These are the ceiling-mounted "eye in the sky" type security cameras. Some are fixed in place, others can be remotely controlled to pan, tilt, and zoom for a closer look.
Wireless cameras: These plug-and-play Wi-Fi cameras have become very popular. A few are battery-powered, but most still require a corded power connection.
Features and specs
Once you've decided what style of camera will suit your needs, you'll want to determine which of the following features are important for your application.
App control
First and foremost — how's the app? The reason most of us want cameras is to keep an eye on our homes when we can't be in them. So you want to make sure the camera's app is feature-packed and easy to use. Here are some app features to look for.
Two-way talk: My favorite feature! I use it to converse with my dogs, but it could also be helpful in deterring package thieves.
Live view: Access the view through your camera. Some cameras allow you to turn this setting off to preserve battery life, but I think it's worth the slight cost in battery to be able to check in anytime.
Alerts: Most apps can notify you when motion — or sometimes sound — is detected. This can usually be adjusted in the app. I used to want to get notified about any movement, but it turns out my dogs are pretty active during the day and it's not always stuff I need to know about. Now I keep notification on only for certain areas and very vigorous activities.
Shared access: Some apps make it easy to add a user, which is especially handy for doorbell cameras.
Geofencing: I get tired of turning my cameras on when I leave and off when I get home. This feature can do that for you based on your phone's location.
Image quality
Most security cameras now can record at a very crisp 1080p Full HD resolution. Some fall below that at 720p, while a few can even record in 4K. Super high-quality video looks great, but keep in mind that it will also require more bandwidth.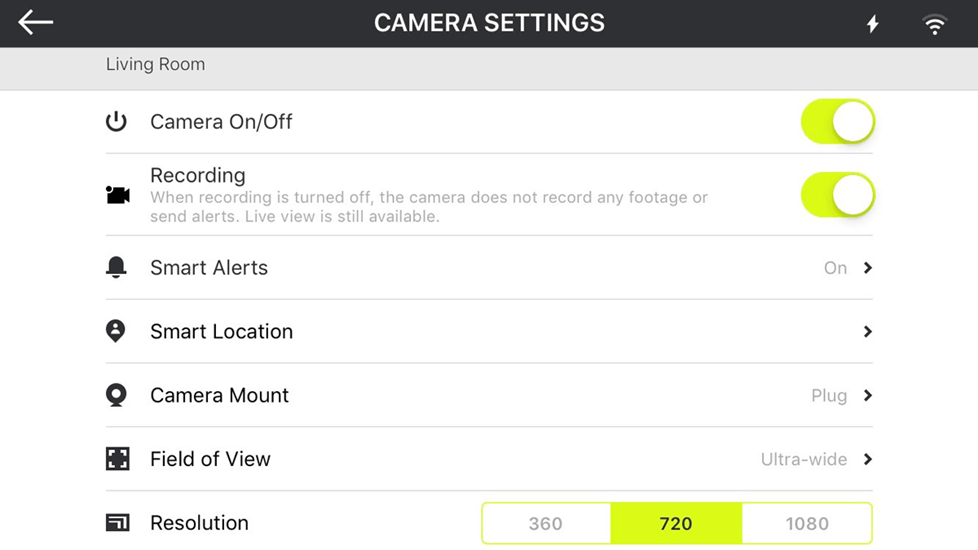 Some cameras give you the option to reduce image quality to lessen the strain on your Wi-Fi. For example, my Circle 2 cameras let me choose between 360, 720, and 1080p resolutions.
HDR
Cameras with HDR — or high dynamic range — can compensate for bright backgrounds so that you still get a clear image in scenes with a lot of contrast.
My Ring Video Doorbell has an option for HDR, but with the caveat that it reduces battery life.
Night vision
Most security cameras will have some level of night vision. This spec is usually listed in feet, sometimes with a distinction for total darkness vs. some ambient light. Most DIY Wi-Fi cameras have specs around 15 feet for night vision, with some reaching up to 25 feet.
Dome — and more often bullet — cameras, can sometimes reach nearly 200 feet with their night vision. Look closely at their utilitarian design and you'll see why — they have big banks of infrared LEDs.
Infrared light isn't great for recording during the day, though. Fortunately, many cameras also have an infrared cut filter that automatically blocks the IR light during the day so colors are more accurate. This feature is often called "true day/night."
Another thing to consider is if your camera will be facing a window at night. Those IR LEDs won't do much good if they are reflecting off the glass. In those cases, it would be more helpful to place the camera outside or use it in conjunction with an outdoor motion-sensor light.
Field of view
A camera's field of view is how much of an area it can see and record. Many wireless cameras offer very wide fields of view — sometimes up to 180°.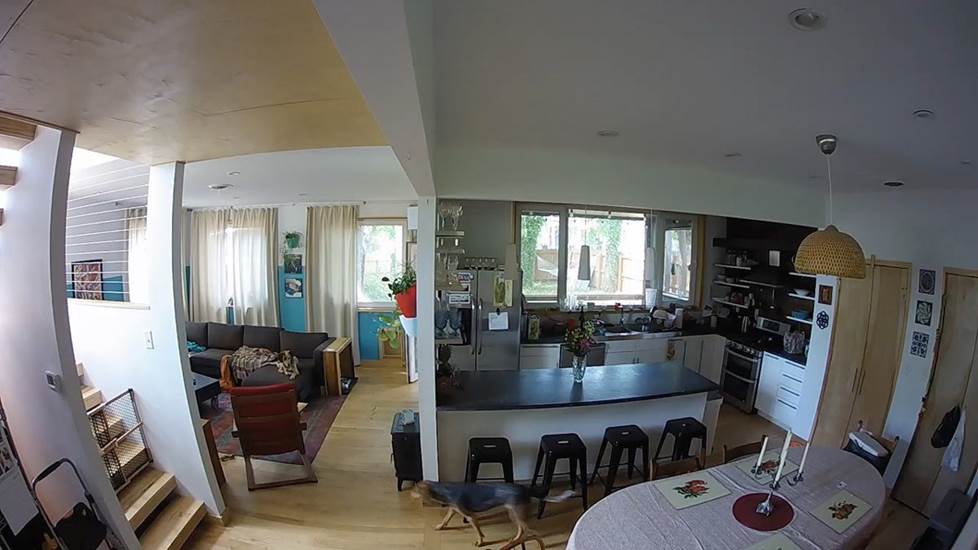 My camera's wide view lets me see most of my first floor.
Cameras with a narrower field of view are best used in tighter spots where you want to see greater detail, and don't necessarily need the big picture view. For example, my ultra-wide view camera might show me that my dogs are chewing on something, but I usually can't see what it is.

A narrower field of view (left) captures less of the scene, but shows you greater detail than the wider angle (right).
The field of view is largely dependent on the focal length of the camera's lens, and many bullet and dome cameras will list lens focal length instead of degrees in their specs. A common fixed lens focal length is 2.8mm, which is equivalent to a 90° horizontal field of view.
Some cameras let you zoom in for a narrower field of view.
Digital zoom: creates the impression of magnification by cropping the area outside where you've zoomed and enlarging or interpolating the pixels in your focus area, which can result in blurriness and loss of detail
Optical zoom: remote motorized adjustment of the lens lets you zoom in and out without compromising image quality
A "varifocal" lens also allows you to zoom without a loss of image quality, but this field-of-view adjustment is done ahead of time on the camera itself.
Range of motion
Most cameras are stationary, so the remote view will only show you the area right in front of where you placed it. If the subject goes out of the frame, you are out of luck.
PTZ (Pan/Tilt/Zoom) cameras can help with this. They cover a much wider area by allowing you to pan from side to side, tilt the lens up and down, and zoom in via remote control. These cameras are great at picking out important details in a crowded scene, but they often require a human operator to be on duty.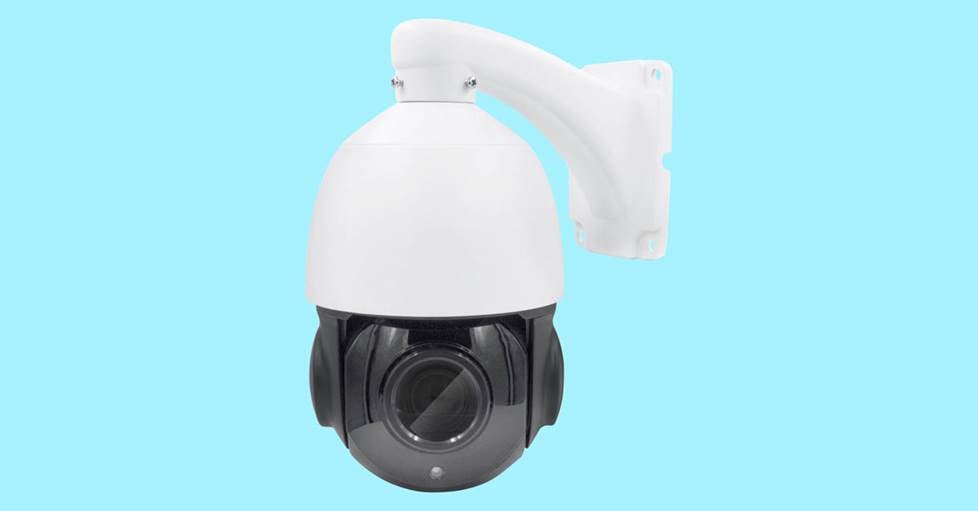 If your camera won't be monitored regularly, opt for a PTZ camera with the option to program "tours," where the camera moves through a series of preset points to patrol a larger area without someone having to control it.
Motion detection
Most security cameras offer some kind of motion detection. Unless you want to drive yourself crazy, look for a camera that offers adjustable motion zones. If you have leafy trees that move in the breeze, you don't want to get constant notifications about that. So it can be really helpful to be able to exclude some areas of your property from motion detection.
You can even fine-tune some cameras so motion is only triggered by people. That wouldn't work at all for me, because I want to know what my pets are up to at home (because it's probably no good).
And speaking of my pets, it's almost like they know where my cameras are and they do their mischief just out of frame. That's when a motion-tracking camera might come in handy — they can be set to automatically follow and record detected motion. Pets and villains, beware!
Rugged cameras can go outside
If you plan to place your camera outside in the elements, you'll want to make sure it's weatherproof.
When looking at outdoor cameras, you'll see something called an IP rating. This can be kind of confusing, because wireless cameras use this acronym to refer to Internet Protocol.
For an outdoor camera, IP stands for Ingress Protection, or how well the camera resists damage from dust and water. The first number is the camera's rating against solids, and the second describes its rating against liquids.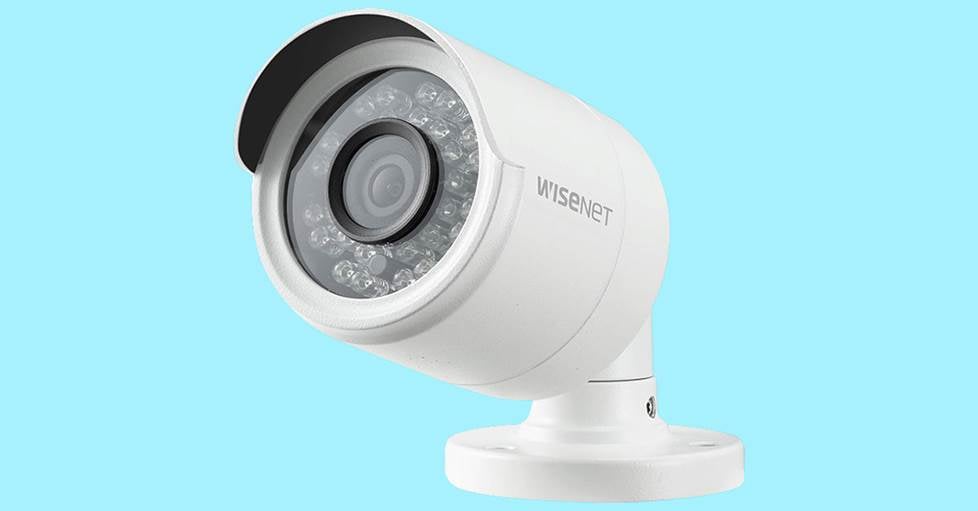 The Wisenet camera pictured here has an IP66 rating which means that it is completely dust-tight and can withstand powerful jets of water.
And most of those outdoor cameras work just fine inside the house, too. For example, the Ring Stick Up Cam is a great choice for keeping an eye on your dogs whether they are at play in the backyard or being couch potatoes in the living room.
Extra features
If you want a multi-tasking camera, I've got good news — many can double as smart lights and doorbells. And some even have sirens so you can startle uninvited guests if you ever need to (I hope you never need to!).
Many can also be integrated with other smart home devices like locks and lights. Voice control via Amazon Alexa or Google Assistant is also an option. Personally, I have my Ring cameras linked to my Brilliant smart home control. The wall-mounted screen makes it easy to see who's at the door. It also has a built-in camera of its own, so I can access the live view from the Brilliant app when I'm away from home.
Storage and connections
Whether you're recording footage continuously or just occasional clips triggered by motion, you'll need a place to safely store all that data. Keep in mind that your choice of storage will affect how your cameras connect to power and your network, too.
Cloud: Wireless cameras connect to your network via Wi-Fi, and most come with some kind of cloud storage option. Some cameras give you free access to your footage for a certain period of time — 24 hours, for example — while others won't let you look at a single motion event until you pay for an optional storage plan. This ongoing cost is something to consider when narrowing the field.
Note that many "wireless" cameras still require a power cord, though there are a growing number of 100% wire-free versions that are powered by rechargeable batteries. These are very handy when you need to place a camera somewhere that is not convenient to an outlet. One downside to battery-powered cameras is that they won't give you the instant live-view that wired cameras do.
Memory cards: Some security cameras record images to the same removable memory cards used by regular digital cameras. This is an affordable option, but requires you to remember to swap full cards for empty ones on a regular basis.
Hard drives: This can be your computer's built-in drive or an external drive packaged with a security system. These are called digital video recorders or network video recorders — DVRs and NVRs, respectively. This approach frees you from having to change out recording media, but it is still limited by the capacity of the drive being used.
These systems generally require a wired connection between your cameras and your recording device (a few systems, like this one, are wireless).
NVR systems connect to IP cameras using an Ethernet cable. This single cable can provide power and network connection for your cameras.
DVR systems connect to analog cameras using coaxial cables with BNC connectors. Each camera can be powered with its own plug-in power supply, or you can wire multiple cameras into a multi-camera power source.
"Hybrid" DVR systems can record footage from both analog and IP cameras.
Network considerations
Unless you're recording to local storage like an SD card or DVR with no desire for remote access, you'll need some kind of network. For most cameras, that's going to be Wi-Fi. And the more cameras you have, the more robust your Wi-Fi needs to be.
If you have a large home or businesses, and you want to place cameras far away from your router, you might want to consider a mesh network. These systems use multiple broadcast points that blanket your smart home with lightning-fast Wi-Fi, indoors and out.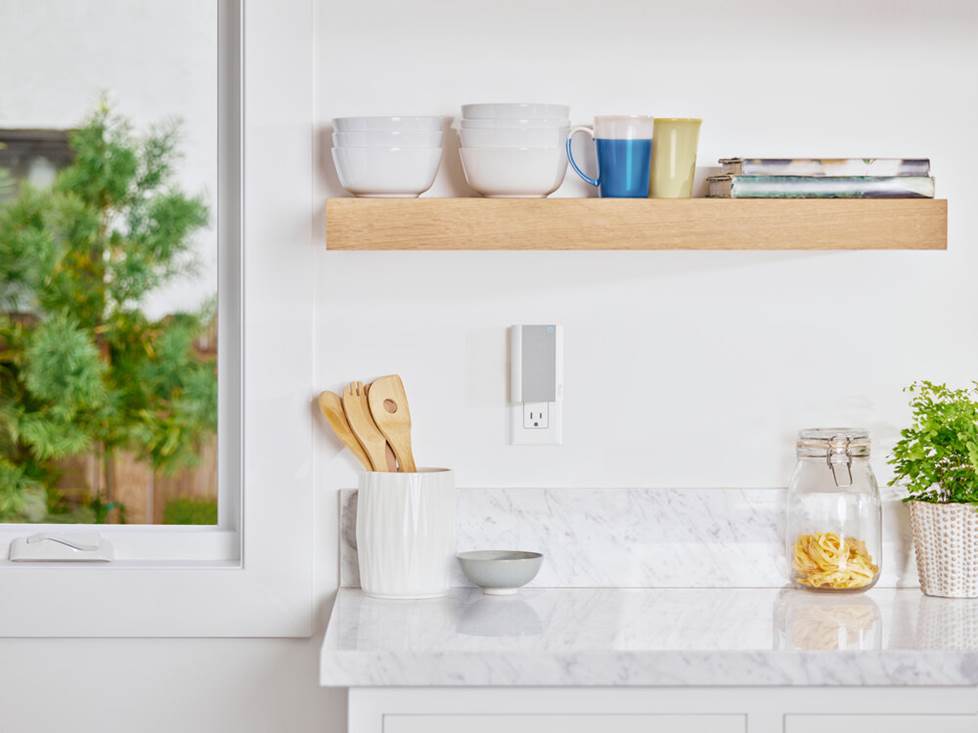 I have a Ring Chime Pro that acts as a Wi-Fi extender to my Ring cameras.
Security is another important consideration. Always use strong, unique passwords for your devices. And check to be sure you've changed the default password on your router. Name your Wi-Fi network something that doesn't give away personal details (don't use your address or name). And make sure to use a strong encryption method, like WPA2 when you set up your network. Don't want to share your complicated Wi-Fi password? Consider creating a separate guest network for friends' phones.
Privacy concerns
One person's security can be seen as a violation of privacy by another. Interpretations of the law vary from state to state, so make sure you know any statutes that apply to recording of images or conversations in your local law enforcement jurisdiction. In addition, rules for home use may differ from laws governing commercial property.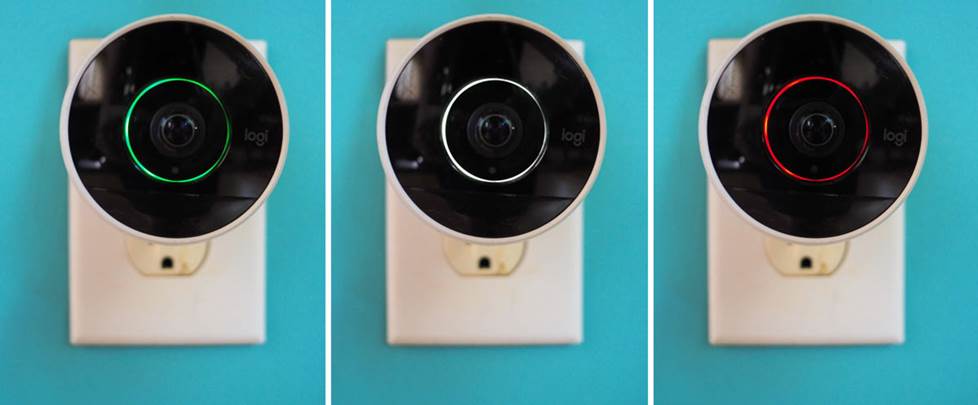 Most cameras make it clear with different LED colors when the camera is recording. My Logitech® Circle 2 indicator lights look like this. Green: Someone is remotely viewing. White: Camera is on, but not actively being viewed. Red: Camera is off and not recording or streaming.
Get an expert opinion
If you still need help deciding which system is going to be the best one for you, get in touch with a Crutchfield Advisor.