2004 Ford Ranger gets a surprise audio upgrade
A Marine's parents outfit his Ford Ranger while he's deployed
Carl and Tommie Edmison of Red Oak, TX, are proud parents of Tony, a U.S. Marine. Carl also served as a Marine, so that pride runs deep in the family. Tony asked his parents to replace the engine of his 2004 Ford Ranger while he was deployed overseas. But Carl and Tommie surprised him by also adding a sweet new audio system, new paint, and themed badges.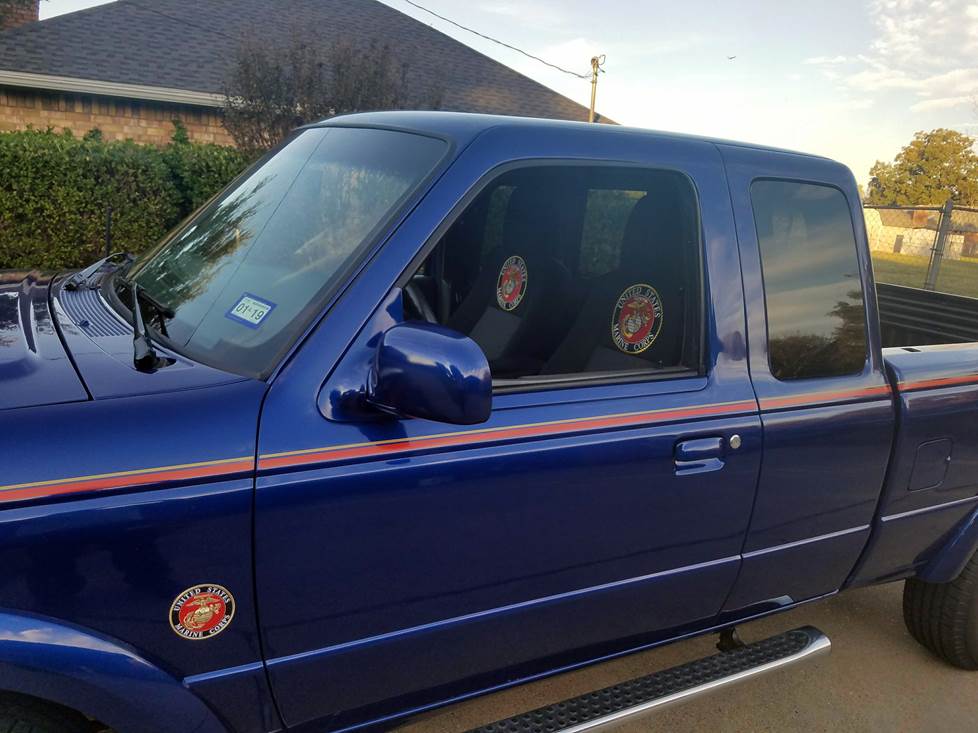 Operation: Surprise stereo upgrade
Carl introduced his story to us this way: "This was my truck that I gave to my youngest son upon his graduation from high school and entry into the Marine Corps. While he has been serving overseas, the truck really needed some work, his mom and I went ALL OUT to make it special for him!"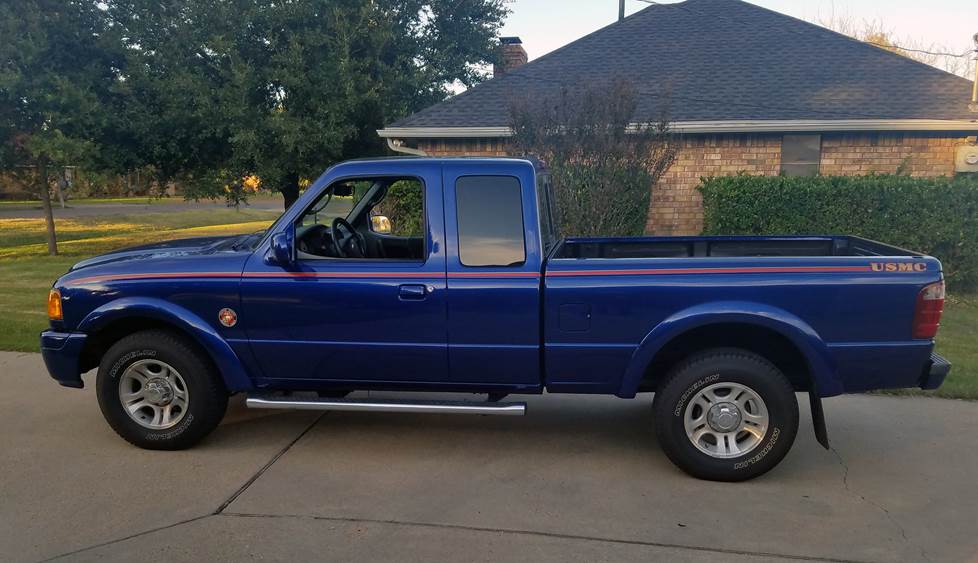 Carl and Tommie gave us a few more details:
"When Carl originally purchased the truck in 2008, he upgraded the factory stereo with a Jensen head unit, a Sony Xplod sub amp, a Kenwood 4-channel amp, Pioneer 10" shallow-mount subs in a custom fabricated enclosure, and four Pioneer 6"x8" door speakers. Tony and Carl built the enclosure together, and had removed the Ranger's rear jump seats to build a custom housing for the older subs and amp."
"Tony drove the truck during his senior year of high school before shipping out, having followed his dad's footsteps enlisting in U.S. Marine Corps. Tony always loved his dad's old truck, especially the sound system! While Tony was serving overseas, the truck really needed a new motor, and Tony did NOT want to part with it. He asked Carl to 'fix it up'."
Pioneer provisions
Carl told us he's "always been a Pioneer fan." As a Crutchfield customer since 2005, he knew we'd be able to help him outfit the Ranger with the right Pioneer gear. He chose all Pioneer gear for Tony's surprise upgrade, including a digital multimedia receiver with Apple CarPlay® and Android Auto™ capability, a trusty 5-channel amplifier, two pairs of 4-way speakers for the doors, and a new pair of 10" shallow-mount subwoofers for the enclosure. He also accessorized with a Pioneer tuning microphone and a SiriusXM satellite radio tuner so Tony can listen to satellite radio no matter where he's stationed stateside.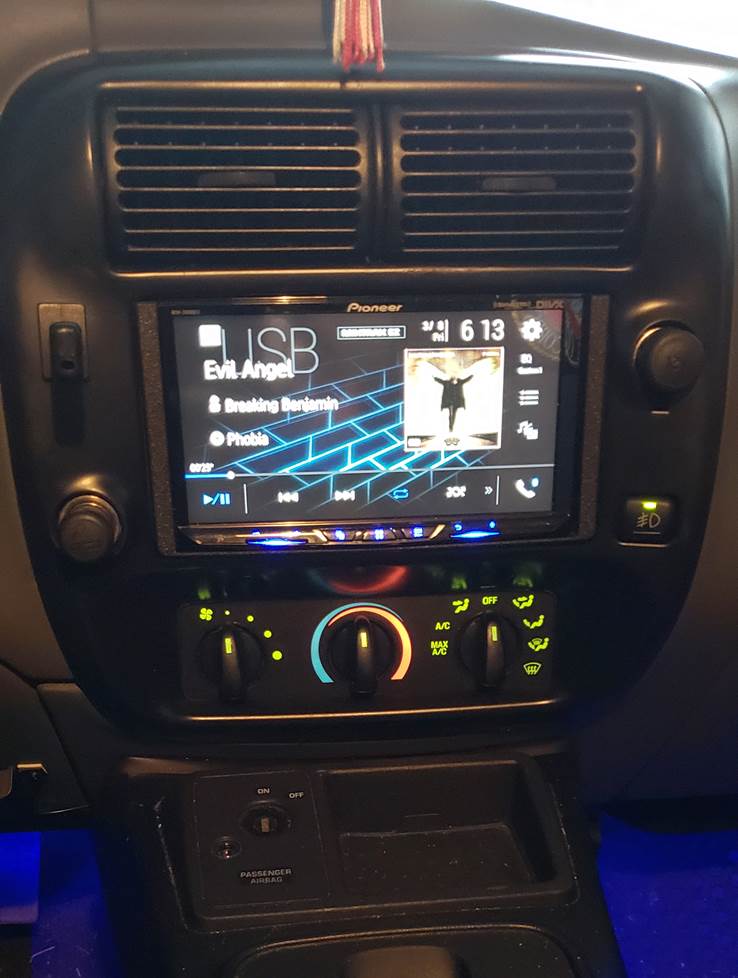 7" touchscreen media command center
Carl added the Pioneer MVH-2400NEX digital media receiver, which offers compatibiltity with both CarPlay® and Android Auto™, plus a big display so Tony can see the album artwork clearly. He did some custom fabrication to the original Ranger bezel to ensure a clean fit of the 7" screen; he also customized the dash kit bezel to mount the USB connection for Tony's portable devices.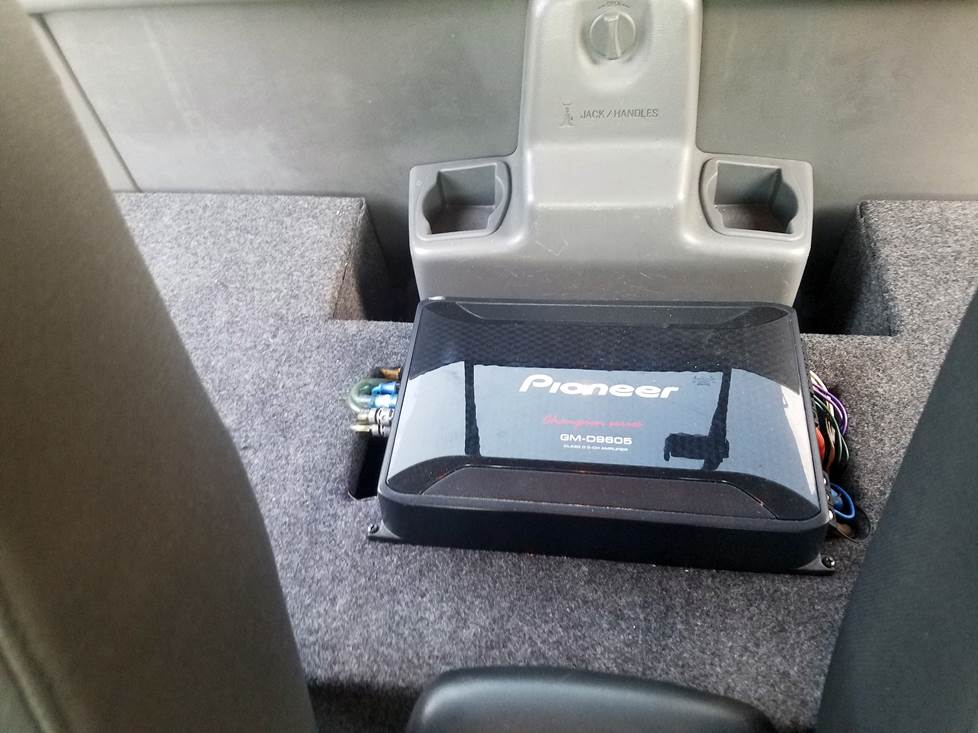 5-channel amplifier for all-in-one power
By adding the Pioneer GM-D9605 amp, not only was the truck going to get better sound all around, using one amp instead of two makes the installation even tidier. This amplifier supplies the speakers with plenty of power and by choosing dual voice coil subs, Carl gave himself plenty of flexibility for wiring up the system.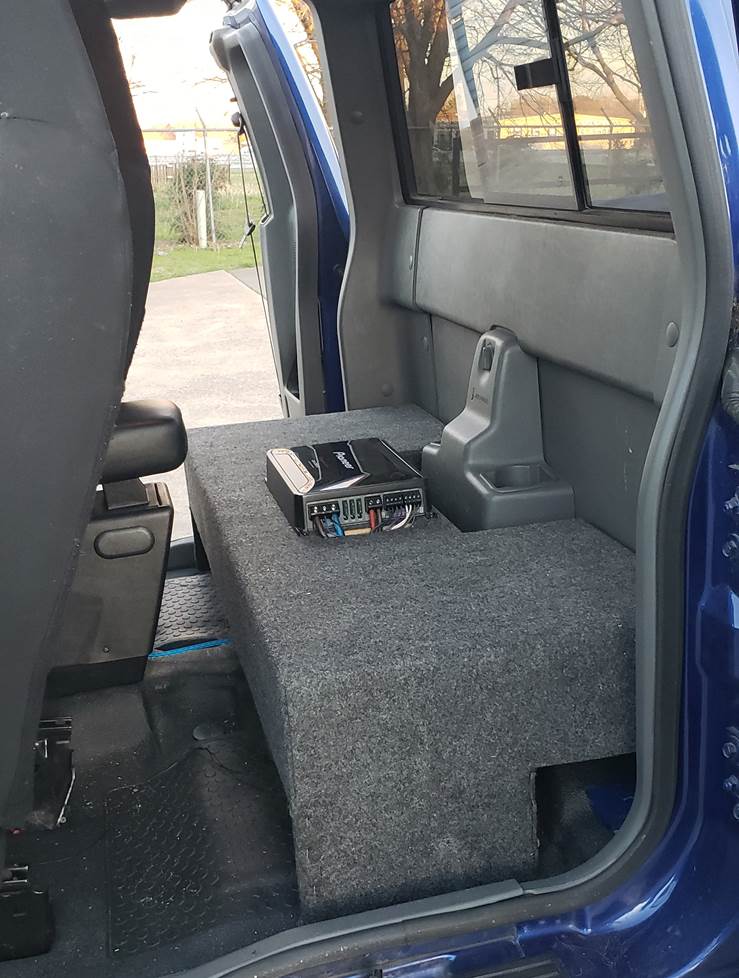 A pair of shallow-mount subs in a custom box
The custom sub enclosure was built with the idea of keeping all the wiring tucked away. Carl had already removed the Ranger's jump seats and built the box for his previous pair of subs, so adding the hard-hitting Pioneer TS-SW2502S4 10" subs was pretty much a no-brainer. They can handle up to 300 watts RMS each, and since they work well in a smaller enclosure, Tony can enjoy pounding bass and still take advantage of some cargo space in the rear of the cab.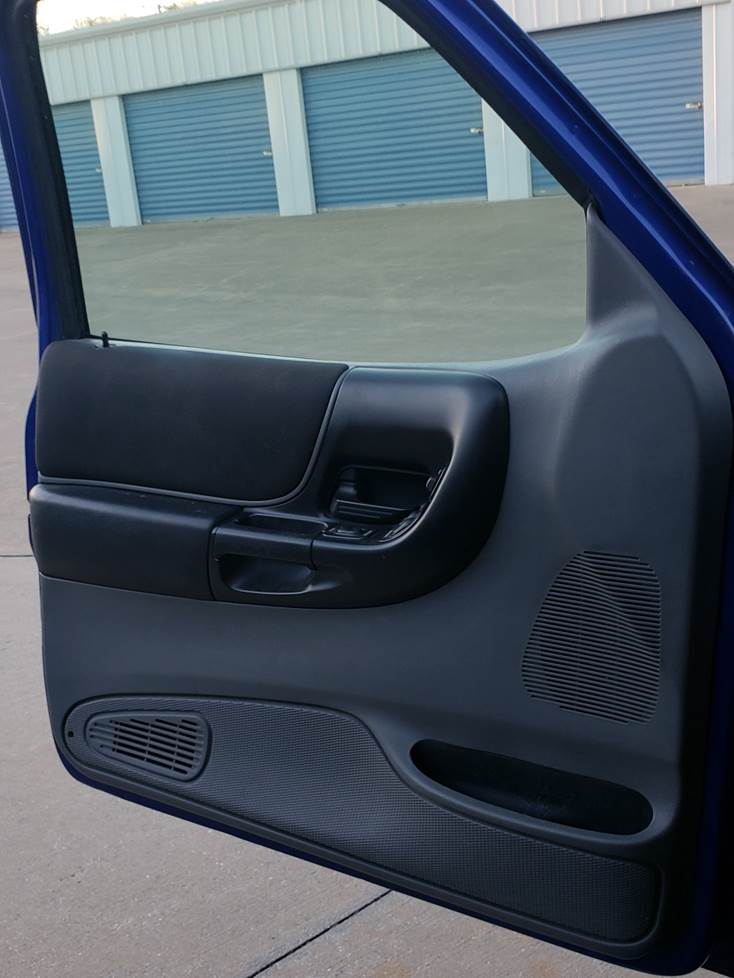 4-way speakers in each door
Carl's installation of two pairs of new Pioneer TS-A682F 6"x8" 4-way speakers let Tony really crank his music. They're not much to look at from behind the door panels, but the twin-dome tweeter design ensures Tony hears the high-frequency details of his tunes beautifully and seamlessly.
A whole new look
Tommie and Carl went all out on the Ranger's look and performance, adding a "new motor, custom paint and graphics, USMC badges to replace the "Ranger" emblems, plus interior bling all representing the family USMC heritage." Except for the motor improvement, Tony didn't know any of this was happening!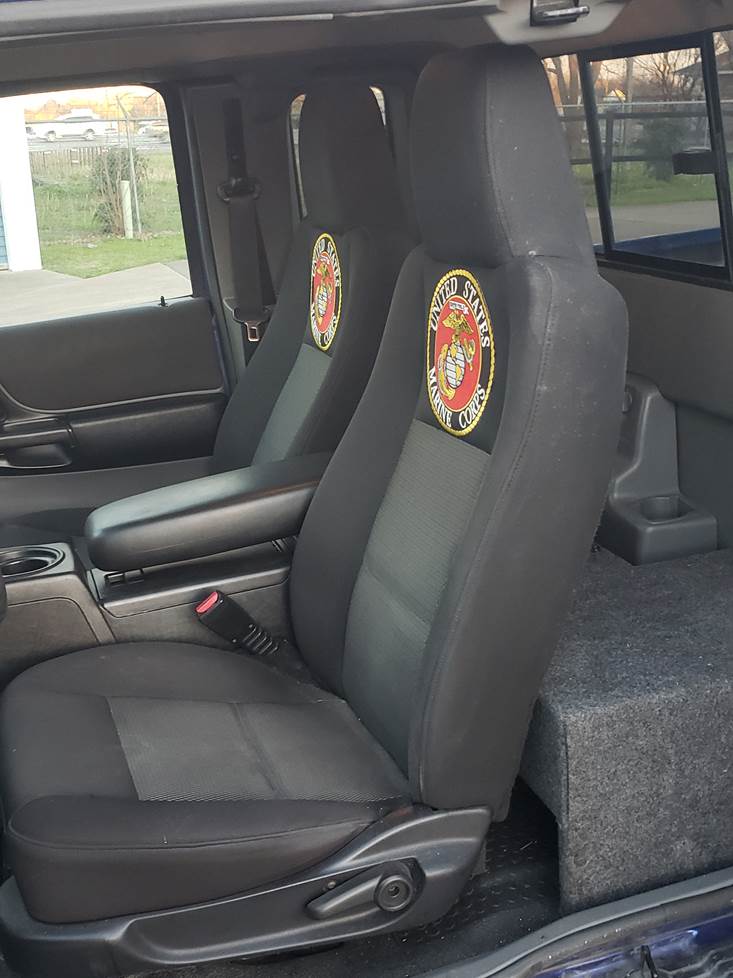 Tony's parents are especially proud of the USMC seats.
Tony's bowled over
Carl and Tommie told us: "Tony has visited home on leave from the Marines on a couple occasions, and is overwhelmed with what mom and dad did to the truck! He can't wait to get back stateside and travel in his beloved truck to wherever his duty calls!"
Items installed: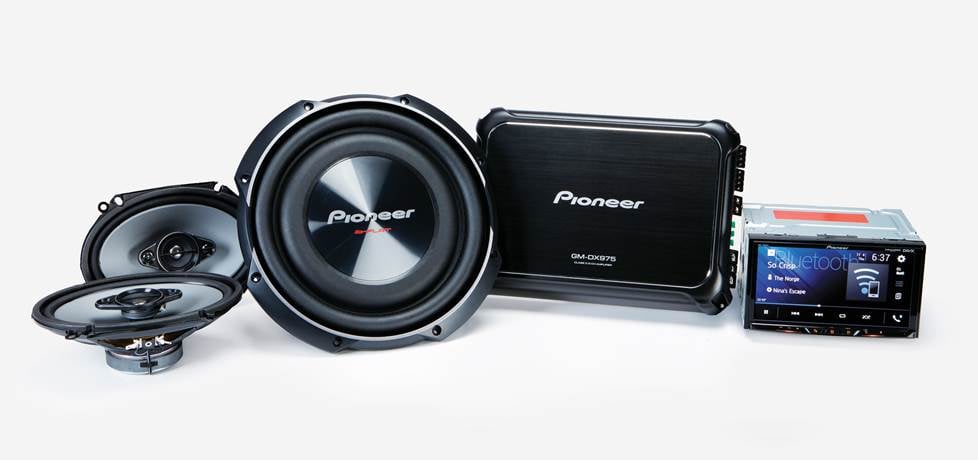 The speakers and sub shown are what Carl installed in Tony's truck, while the amplifier and receiver shown are the currently available replacement models for 2019.
Thanks so much for sharing your story, Carl and Tommie. And thanks to the whole Edmison family for your service and sacrifice. We look forward to helping you on your next car audio project — surprise or not.
---
Vehicles in the Custom Car Showroom are submitted by customers and fans, and edited by Crutchfield writing staff. You can find more of these articles on the Showroom main page.