In this article: 9 accessories every mirrorless or DSLR camera owner should have.
If you're reading this, it probably means you are the proud owner of a DSLR or mirrorless camera. Congratulations! The next step is to get the right accessories to maximize your photo-taking experience.
Why do I need camera accessories?
Some accessories, like memory cards and batteries, are vital to the digital camera experience. Others, like camera bags and UV filters, are must-haves for protecting your camera and lenses. Tripods and flashes help you take brighter, more stable photos.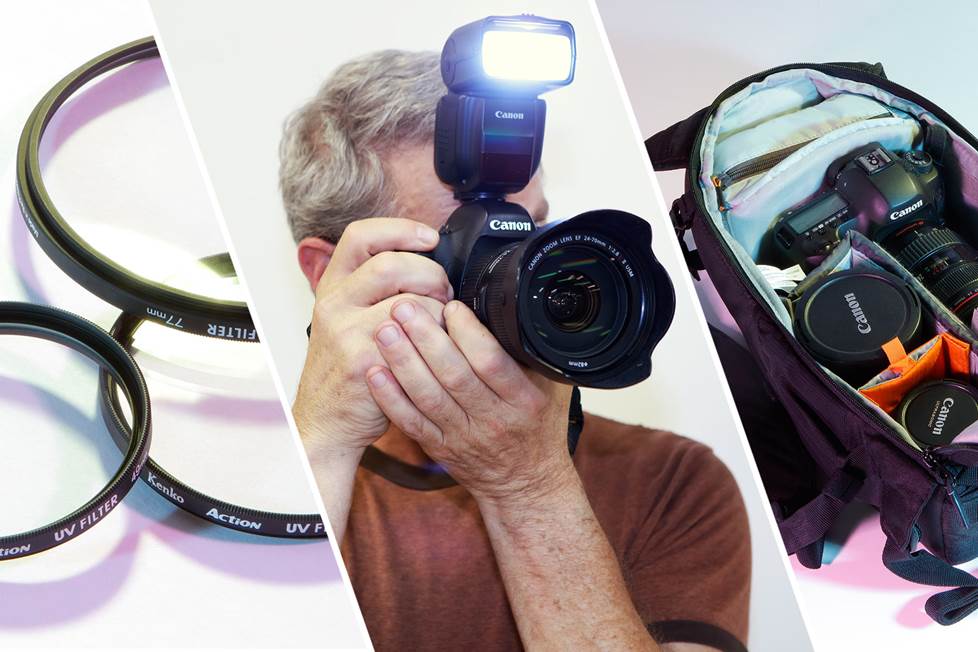 The right accessories help you get the most out of shooting with an interchangeable lens camera.
And then there are lenses, my personal favorite. Lenses are the most intimate camera accessory because they change the eye of the camera. Sometimes buying a new lens will make you feel like you're holding a whole new camera.
You can start to see why accessory shopping is not only necessary, but fun. Here's what you need to get the most out of your DSLR or mirrorless camera.
1. Memory cards
The memory card is the most crucial camera accessory. You need one to take and store photos. It's that simple.
Here is a handy guide to illustrate about how many photos you can store on different-sized memory cards.
| | | | | | |
| --- | --- | --- | --- | --- | --- |
| JPEG | 16GB | 32GB | 64GB | 128GB | 256GB |
| 12MP | 4,400 | 8,800 | 17,600 | 35,200 | 70,400 |
| 16MP | 3,300 | 6,600 | 13,300 | 26,600 | 53,200 |
| 24MP | 2,200 | 4,400 | 8,800 | 17,600 | 35,200 |
| RAW | 16GB | 32GB | 64GB | 128GB | 256GB |
| 12MP | 440 | 880 | 1,760 | 3,520 | 7,040 |
| 16MP | 330 | 660 | 1,320 | 2,640 | 5,280 |
| 24MP | 220 | 440 | 880 | 1,760 | 3,520 |
Higher-resolution RAW and JPEG images take up more space on a memory card, but these days memory is cheap so you can take advantage. Get two high-capacity memory cards and you can shoot all day, all week, all month!
Managing your photos is easy when you can plug a card into your computer rather than connecting your entire camera with a cable. Of course, you can usually just connect your camera directly to your computer via a USB cable if that's what you prefer.
2. Extra batteries to extend your sessions
The other key camera accessory is a spare battery. How long your camera lasts on a single charge depends on a number of different factors. How many photos are you taking? Are you shooting with the LCD screen? Using image stabilization? What's the weather like? Are you shooting video?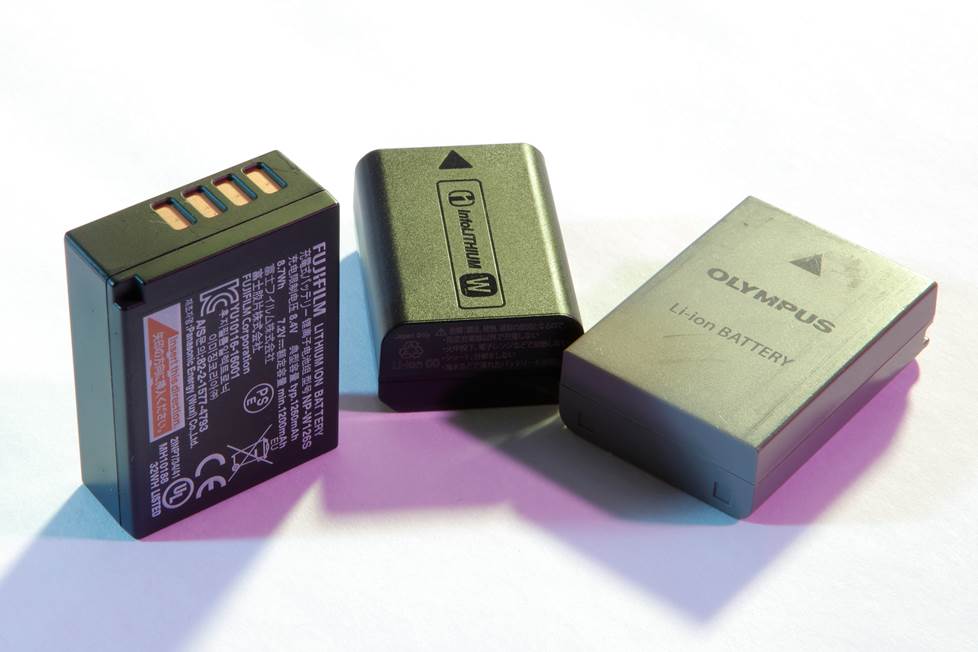 No one has ever regretted getting a spare battery for their camera.
Whatever the situation, your camera battery might not last as long as you expect. If you bring your camera on a nature hike, by the time you see that family of bears standing perfectly in the sunlight, you might be out of juice.
That's why it's important to always have a spare battery standing by.
Battery grips
Some cameras also have compatible battery grips (sometimes called "vertical grips"). These attach to the base of your camera body and give you a more comfortable handhold, plus extra controls for shooting in portrait orientation.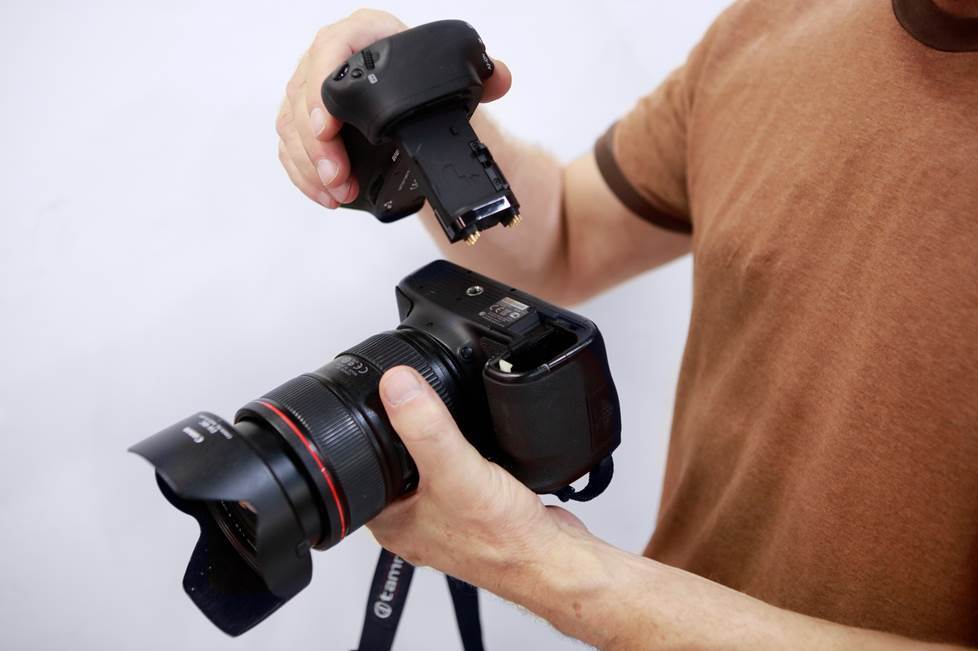 Battery grips provide a better grip, along with improved battery life and power for your DSLR or mirrorless camera.
They also provide additional power to your camera. They will hold extra batteries to extend your shooting time, and can improve your camera's performance with faster continuous shooting.
3. A flash to give you much-needed light
Experienced photographers know that good lighting is essential to getting the perfect shot. And when you think about it, pictures are just cameras capturing and interpreting available light.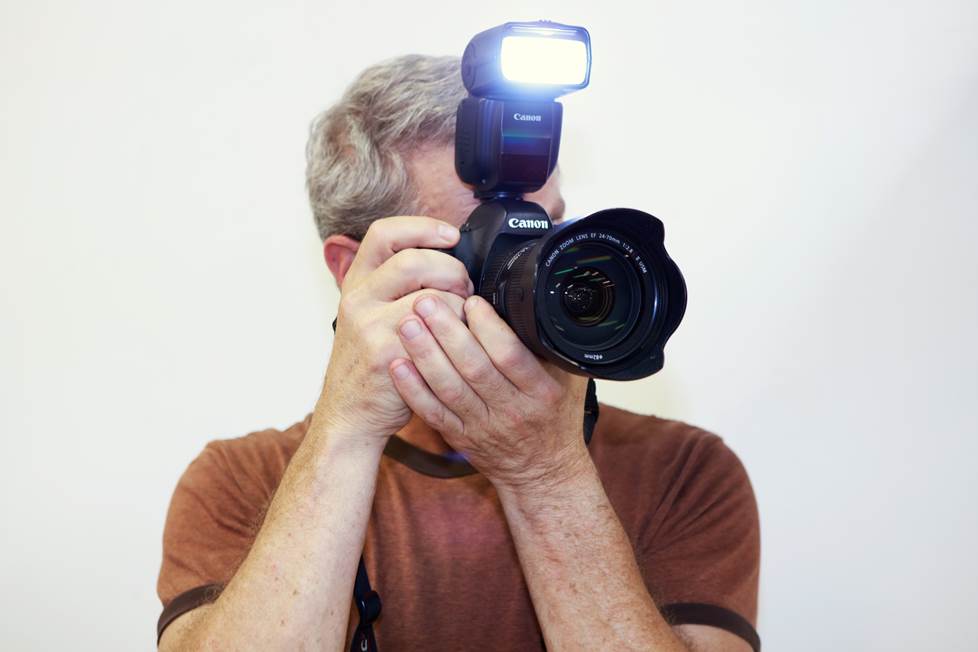 Flashes are great for evenly illuminating your subjects for natural-looking photos in less-than-perfect light.
Even if your camera has a built-in flash, you should consider adding a dedicated flash. Most built-in flashes are limited in terms of performance and how naturally they can light a subject or scene. For that reason, serious photographers tend to avoid them, and higher-end cameras sometimes do not even have them.
Add-on flashes provide a lot of flexible lighting options. You can fine-tune their output and use bounce flash for more natural, even illumination. Also note that flashes aren't just for low-light situations. You can use them to overpower the sun for more consistent outdoor light or just to give extra dramatic light to sunrise or sunset scenes.
4. A UV filter to protect your lens
UV filters used to be a necessity, back when cameras were ultra-sensitive to UV light. Too much would cause a hazy blue effect on the image. Modern digital cameras don't have this problem. So why do you need a UV filter? Protection.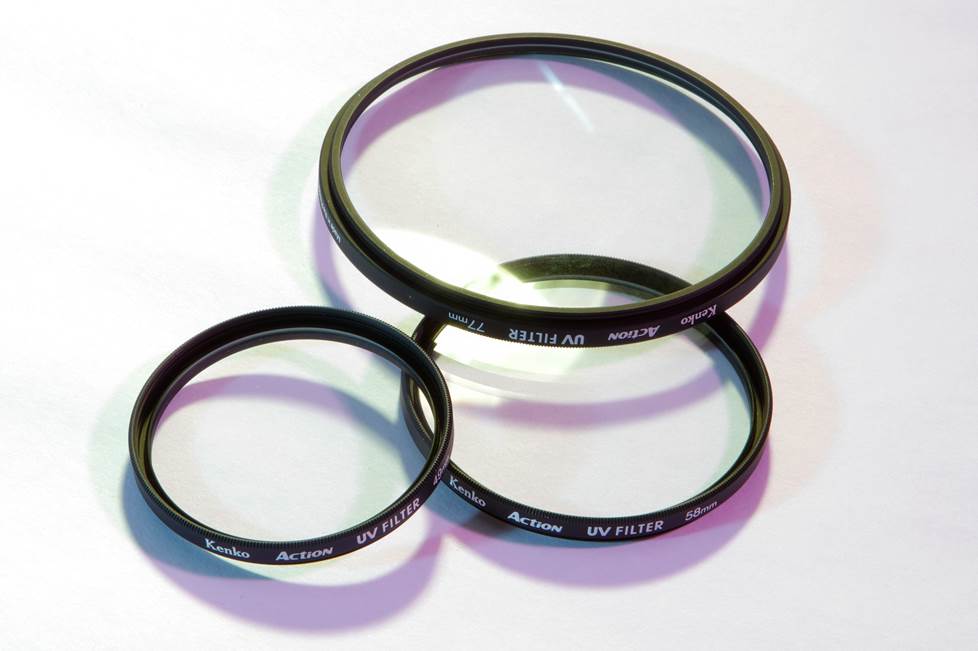 UV filters don't just filter UV light, they also protect your lens from scratches.
UV filters are great for protecting your expensive lenses from damage, like the way glasses protect your eyes. They will save your lenses from scratches and protect against environmental threats like dust and sand. Plus, they are inexpensive. Definitely worth picking one up. Just make sure it is the right size for your lens.
5. A tripod for greater possibilities
Personally, I think the tripod is the most underutilized tool when it comes to beginner photographers. They aren't just for setting up a family photo.
Most people —myself included — prefer a light, "run and gun" shooting style. So why should you add to your load with a tripod? Most tripods are actually pretty lightweight, and they can fold down to a travel-friendly size for easy transportation. A tripod can make the difference between a bad, blurry photo and a sharp image fit for framing.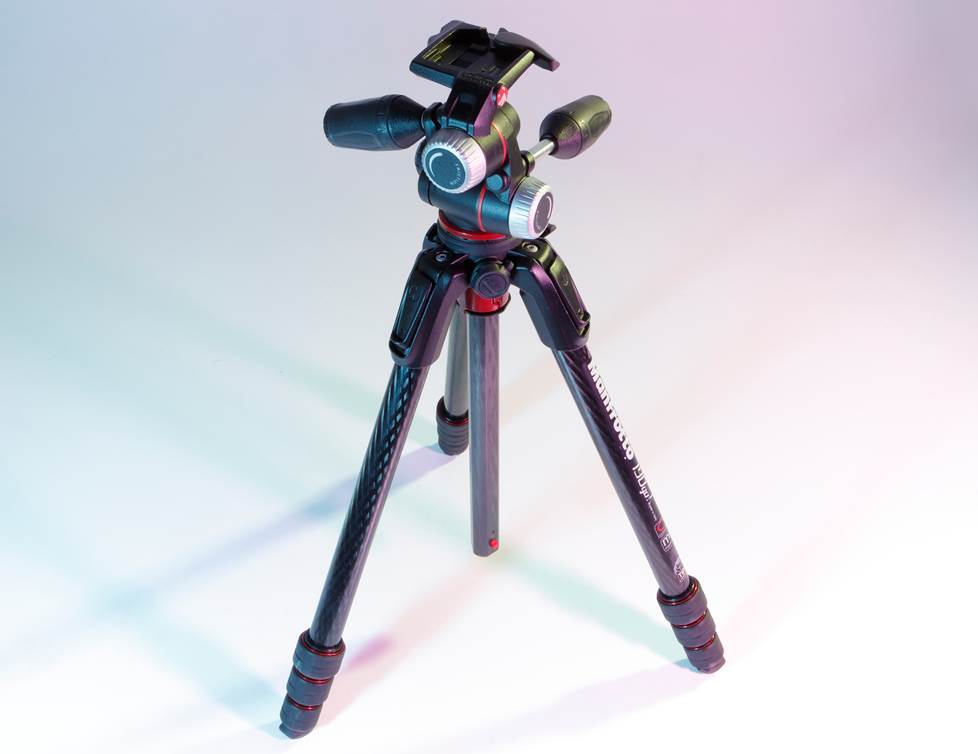 You never know when you'll need a tripod so you'll always be glad to have one — especially if you like taking long zoom photos or shooting video.
Consider a photo on the beach at sunset. A darker scene means you'll need to keep your shutter open longer to gather as much light as possible. If you are handholding a camera with a slow shutter speed, that sunset photo is likely to come out blurry.
Telephoto lenses have a longer focal length that exaggerates the slightest movement of your hands on the camera. If you're going for a slower shutter speed with a longer lens, taking your hands out of the equation will give you sharper results.
6. Lenses, the eye of your camera
Finally, it's time to talk about lenses.
I fell in love with lenses in film school. We always used prime lenses, which means they are at a fixed focal length — no zoom capabilities. Traditionally, movies would use a 25mm for wide shots, 50mm for standard view, and 75mm for close-ups. Deciding which lens to use greatly affects how the rest of the scene will be shot.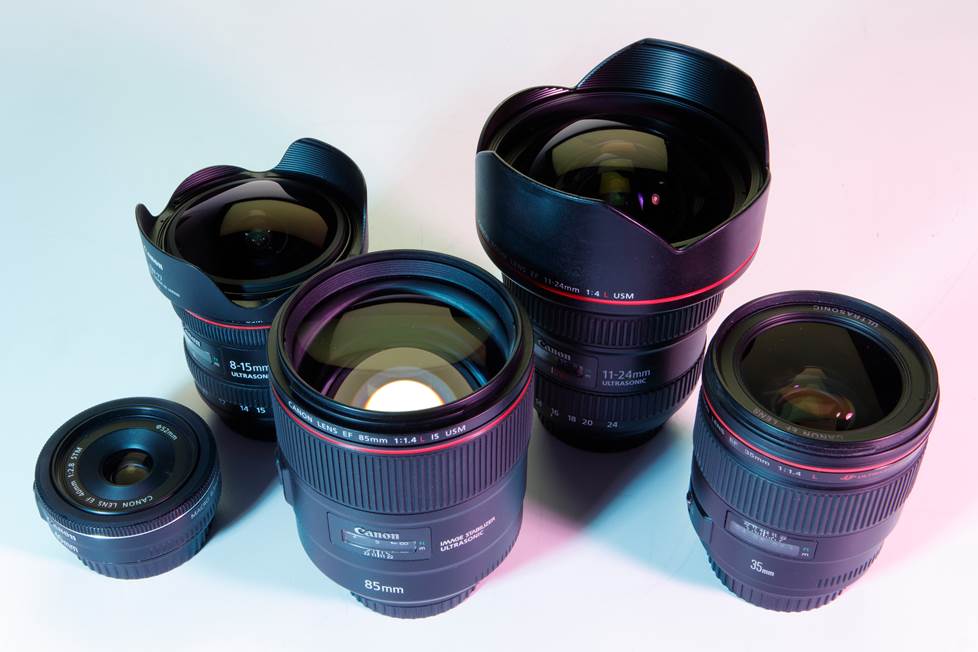 Every lens you buy gives your camera a whole new way to see the world.
The same thought process applies for photography. One of the skills of a photographer is being able to look at a subject or scene and decide which lens will serve them best. This skill is easily developed with practice and experimentation.
Most DSLR or mirrorless cameras come with a basic kit lens. Kit lenses are typically versatile zooms that span a range of wide-angle to medium telephoto focal lengths. If your camera didn't already come with one, I recommend starting with a zoom lens that goes from at least 24-70mm. You can add new lenses as your needs become more specific.
There is so much more to know about lenses. Crop factor, image stabilization, aperture, and more. Fortunately, we have an in-depth guide to lenses you can read here.
7. A camera bag to carry it all
A good carrying case can extend the life of your camera by protecting it against bumps, scratches, dust, and weather. It lets you stow and organize important items — like your battery charger, cables, memory cards, and a spare lens or two. And it provides safe storage when your camera is not in use.
Camera bags are perfect for organizing and protecting your camera accessories.
I would advise going for more space than you think you need. That way you can expand your accessory collection without having to upgrade. Backpack-style cases are an excellent choice. They help distribute the weight more evenly to provide greater comfort.
Some of the things to look for in a case are:
a carrying handle on top (or even a belt loop for smaller bags) for convenient toting

a padded, adjustable shoulder strap for comfort

adjustable interior compartment dividers that let you arrange and customize the case for your specific gear

zippered exterior pocket(s) to keep small, frequently used items handy

additional pockets for larger items and owner's manuals

enough room to comfortably accommodate your camera with a lens attached
8. A photo printer to print your photos at home
Digital cameras and the internet have led to fewer photo printing services, which is unfortunate. Printed photos bring your memories to life!
It doesn't cost too much to be able to print professional-quality photos at home.
Photo printers come in a variety of shapes and sizes, but they all do one thing: transform your digital pictures into high-quality photo prints. A good printer can give you results that rival a professional photo lab.
9. A backup hard drive to keep your photos safe
Because you'll likely be taking thousands of photos with your DSLR or mirrorless cameras, long-term storage and protection of all those images is a very important issue.
Storing them on your computer is not enough. They are vulnerable to failure. Plus they clutter up your hard drive faster than you think, slowing down the performance of your computer.
We recommend using a backup hard drive to store photos from day to day. These devices are very reliable, relatively inexpensive, and most can be set to automatically back up your images on a regular basis.
Another thing I learned in film school — always back up twice (trust me). Fortunately cloud storage has taken off in recent times. If your camera has Wi-Fi, you can often set it to automatically back up photos to a cloud storage system whenever it is in range.
Need help choosing?
Narrowing down the selection of accessories for your interchangeable lens camera can be complicated. Fortunately, we have camera experts standing by who can help you find what you need to achieve your personal photography goals.
Contact our Virginia-based experts today.
Free liftetime tech support is included with any Crutchfield purchase.