I grew up in the heyday of VHS rentals — a time when a trip to the local movie store was eagerly anticipated the entire week. A few decades later I still love watching movies at home, and the experience is so much better than my childhood self could have imagined.
Below are my top 4K Blu-ray disc recommendations — titles encoded with HDR (High Dynamic Range) and Dolby Atmos for the best picture and sound quality currently available. This isn't an exhaustive list of every movie worthy of a watch, of course. It's merely a glimpse into the vast variety of home theater experiences you can have.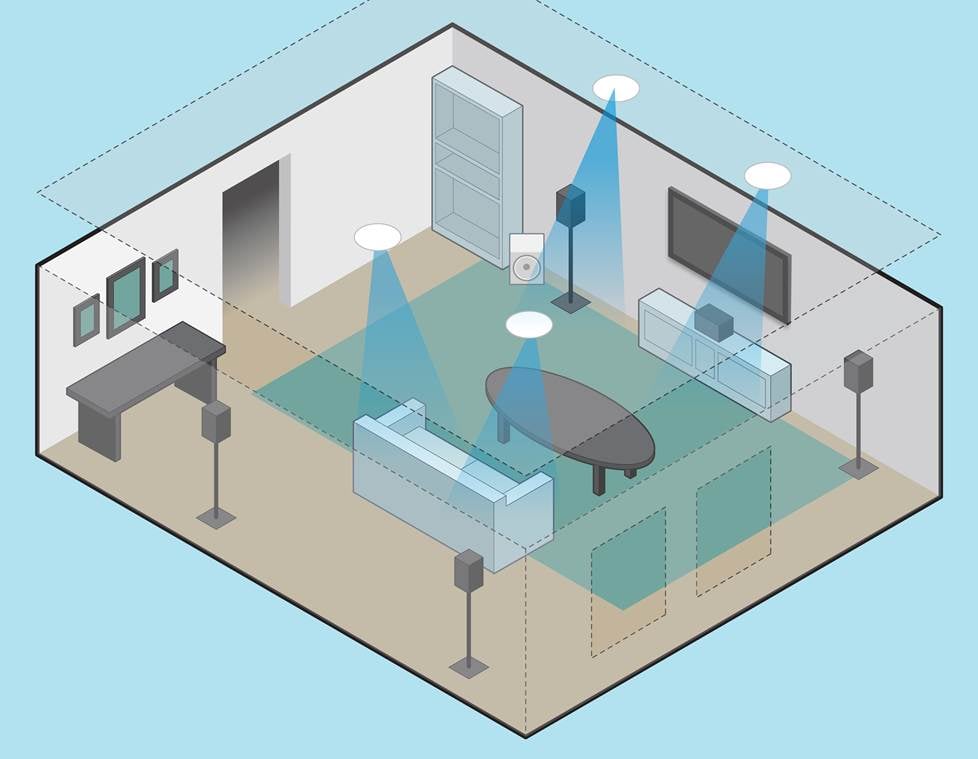 An Atmos surround system lets you hear a movie's score and special effects above, beside, in front of, and behind you — just like you would in a theater.
Avengers: Infinity War
I'm continually blown away by how good 4K Blu-rays look and sound. So much so, that I decided to build my own home movie library. Over the last few years I've added beloved favorites, along with interesting titles that I haven't yet seen.
If I could only keep one disc from my collection it would be Avengers: Infinity War. It has it all — from oodles of superhero star power to epic intergalactic space battles — each captured in exquisite 4K detail.
The CGI and action sequences of this film are astonishing. But the real magic lies in the audio. The Atmos soundtrack of Infinity War is the best that I've heard on my surround system, with high-energy special effects, and spectacular transition of sound from one area of the room to another. The "Wakanda Forever" scene at 1:38 will put your speakers to the test in the best possible way.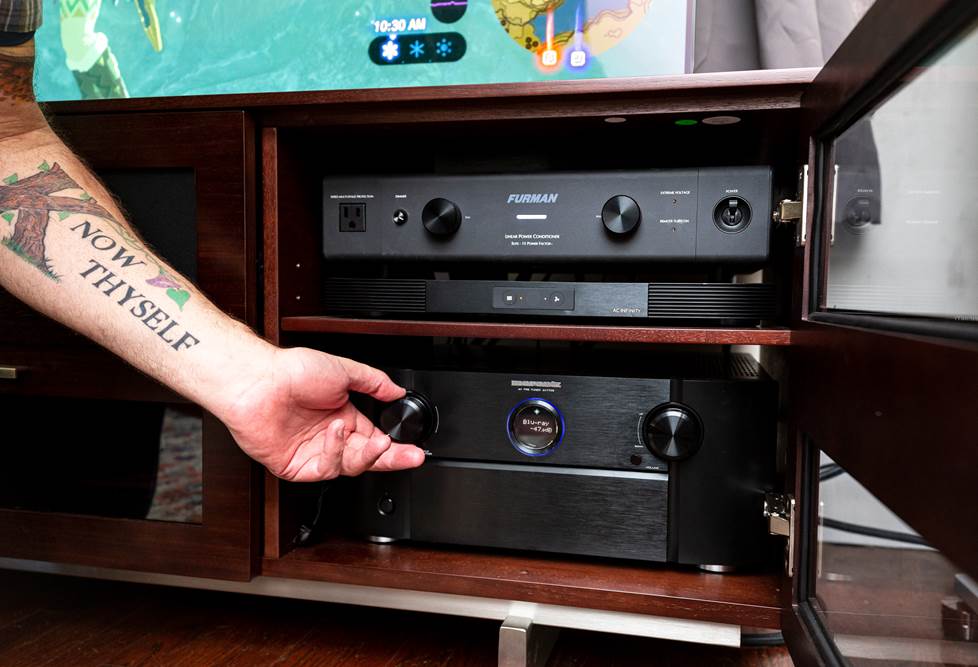 My system's pre/pro (the predecessor to Marantz's AV7706) feeds signal to a Marantz MM8077 power amp on the other side of the cabinet. A Panasonic DP-UB9000 Blu-ray player skillfully handles disc duty on movie nights.
Ready Player One
As a child of the '70s, Ernest Cline's sci-fi novel Ready Player One instantly resonated with my inner geek. The book was exceptional, and Steven Spielberg's movie adaptation is wildly imaginative and equally creative. The racing scene at 12:30 perfectly captures the spirit of this film. Just be mindful of your sub's output level — King Kong will put it through a bona fide torture test at the end.
If you enjoy the movie, may I suggest checking out Ready Player One (and its sequel, Ready Player Two) on audiobook. Wil Wheaton does a remarkable job with the narration, and I thoroughly enjoyed listening to both.
Rocky Mountain Express
The first 4K Blu-ray disc I ever purchased was Rocky Mountain Express. I love trains, and train lore, and this film provides a fascinating look into the world of steam locomotion. It's short (only about 45 minutes), and well worth a look to learn how the modern rail system slowly weaved its way through the once-unpassable Canadian Rockies.
Ghost in the Shell
Ghost in the Shell is one of those movies that I had to see to appreciate. It's about a futuristic dystopia set in Japan, where humans "enhance" their abilities through cybernetics — not normally my cup of tea, but I was intruiged enough to give it a try and I'm glad I did. Ghost in the Shell is a fun watch with an engaging storyline and a phenomenal soundtrack. The opening sequence's surround effects are particularly potent.
Parasite
There's a reason Parasite has garnered so many international accolades, including the Academy Award for Best Picture in 2020.
The film is brilliant, with breathtaking cinematography and striking architectural shots that leap off the screen. The Atmos-encoded score is masterful, as is the dramatic sonic tension that steadily builds over time. This is one of those movies worth watching more than once.
A quick note on subtitles: I find watching movies in English difficult when there are also English subtitles on the screen at the same time. But when I watch content in another language, in this case Korean, English subtitles are smooth and easy to follow since my brain isn't trying to "sync up" what I'm reading and hearing. It makes films that I wouldn't ordinarily think to seek out surprisingly enjoyable.
I added Definitive Technology A90 upward-firing Atmos modules to my BP-9060 tower speakers last year. The larger soundstage has been a treat, and the installation couldn't have been simpler.
Soul
Any movie that takes a crack at explaining our vast and mysterious existence will find an eventual spot on my watchlist. Soul is one of my favorites, because it delves into difficult topics like death and the unknown while also being funny and hopeful. It's family friendly, with an upbeat jazzy soundtrack and downright gorgeous colors.
Ford v Ferrari
There's something utterly marvelous about driving an old car down a windy country road. Ford v Ferrari is one of those movies that doesn't need CGI or special effects to steal your heart — the guttural roar of 1960s American muscle cars does that just fine, thank you.
Even if you aren't a car person, I think you'll enjoy Ford v Ferrari on your home theater — the Atmos mix made me legitimately feel like I was careening down a racetrack at breakneck speed.
Black Hawk Down
This powerful war film chronicles the events of a 1991 American military raid in Somalia. It has some of the most realistic sound effects I've ever heard, thanks in part to the overhead channels included in the 4K Blu-ray release.
Jupiter Ascending
I love getting a good deal on a 4K Blu-ray disc. As I'm apt do do, I took a flyer on Jupiter Ascending during a Black Friday sale and I'm so glad I did! I knew nothing about the plot, and didn't have a sense of what to expect other than a "cool space movie." But by the end of the film I had already added it to my coveted Rewatch List, enamored by its lively visual effects and ridiculously good soundtrack.
Jupiter Ascending is especially impactful if you use overhead or upward-firing speakers as part of your surround system.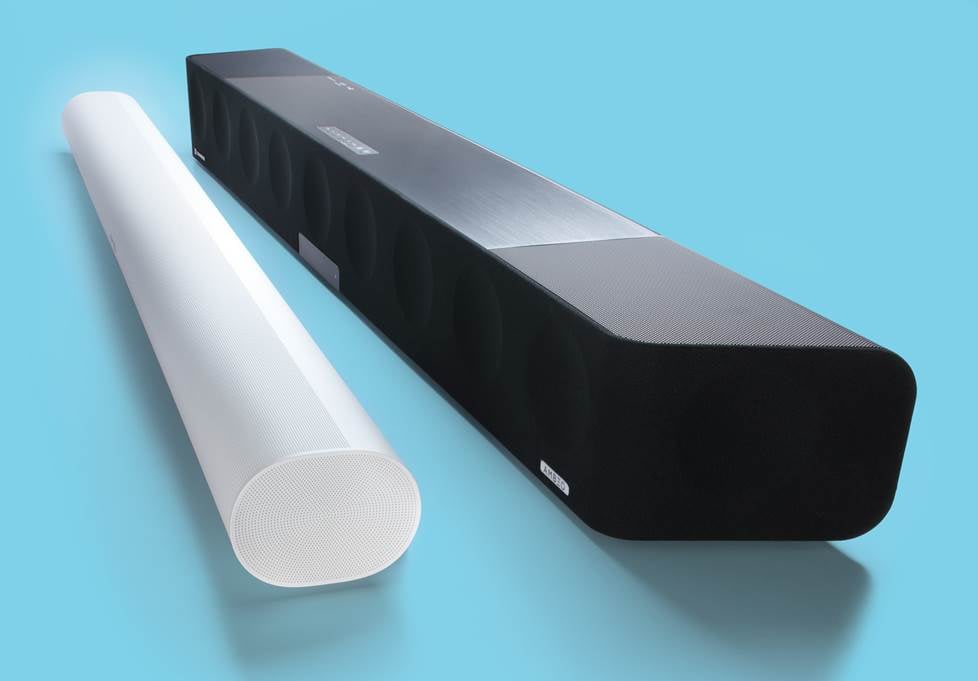 Want high-performance surround sound, but are limited on space? Atmos-enabled sound bars like the Sonos Arc (left) and the Sennheiser AMBEO use up- and side-firing drivers to bounce sound effects off of the ceiling and walls.
Bonus pick: Game of Thrones
Like many folks, I watched Game of Thrones one painfully slow week a time, streaming each episode alongside millions of other fans each Sunday evening. More than once I found myself wishing that the video quality was better, especially since I knew how much effort HBO put into the show's production.
I've now rewatched the series on 4K Blu-ray disc, where the audio and video fidelity is vastly superior to what I experienced streaming it live. There was no compression, no buffering, and no reduction in the resolution, which meant the entire world of Westeros leapt off the screen in high relief. The contrast between the bright and dark portions of room interiors was startling — an indication of just how good HDR-encoded content can look.
Equally as impressive as the 4K visuals is how good each Atmos-encoded Thrones disc sounds. There's simply nothing like a full-grown Drogon sweeping down from the sky while raging billows of fire erupt from his enormous jaws. In my book this is what the home theater experience is meant to be — complete emotional and imaginative immersion.
If you're a fan of Game of Thrones I highly recommend springing for the 4K box set, it's a real treat to watch.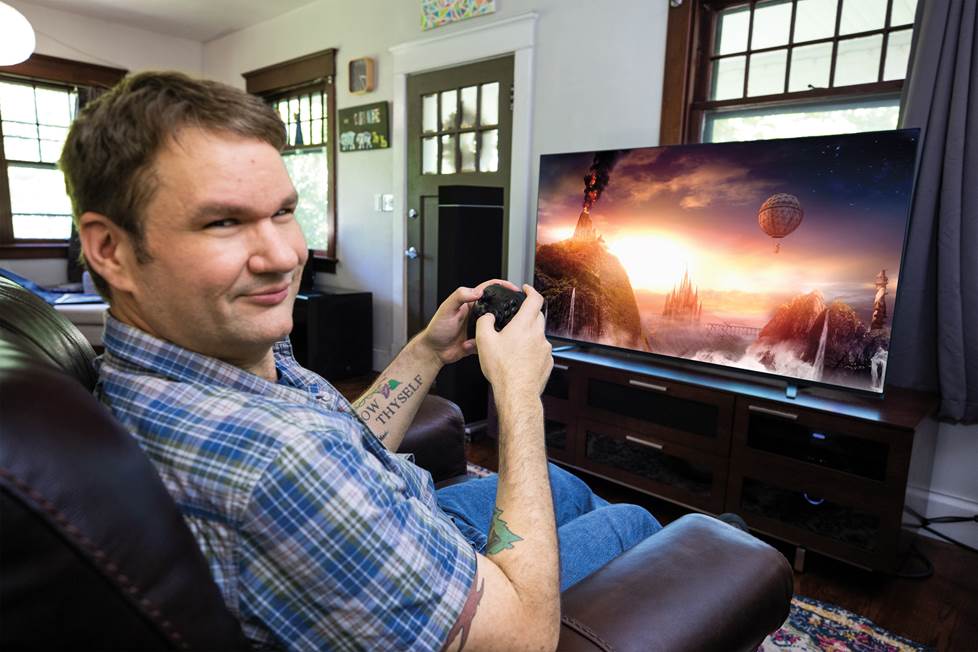 I love playing video games on my Atmos system! Even the Nintendo Switch™, which is limited to 5.1-channel output, sounds incredible thanks to the simulated overhead sound effects that automatically get added in.
Until next time!
So, here are some suggestions for what to watch if you find yourself with a few free hours to enjoy your home theater. Dim the lights, grab a snack, and settle in for a fun evening of surround sound. Until next time, friend!
Crutchfield can help
Want a hand putting together your own immersive home theater? Give one of our friendly advisors a shout for free, personalized advice.