earch the web for a TV stand, and you'll be overwhelmed with options. Do you want one that's sturdy, durable, and smartly designed to accommodate all your AV gear? Do you want the kind of fit and finish that matches the look and feel of your fine furniture? You're in the right place. Here are our top picks for 2023.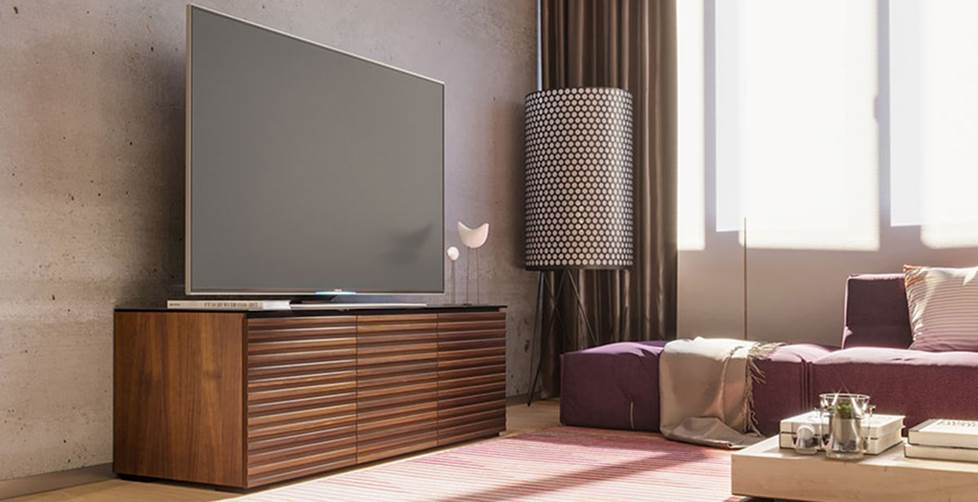 Most versatile — Salamander Designs Chameleon series
To fully understand the quality and value of the American-made Salamander Designs products, you should visit their website and read a bit about their company history and design philosophy. Or watch the following video.
Salamander and Crutchfield have developed a strong partnership, based on a shared dedication to customer service and lifetime satisfaction. We display a wide selection of their AV furniture, and we can special-order styles and configurations that aren't shown on our site.
All of the TV stands in Salamander's aptly-named Chameleon series are built on the "C-frame," a sturdy aluminum chassis. The frame supports many different styles of door and side panels, shelving options, feet or wheels, and accessories.
The video below shows a lot of those optional accessories, including remote control repeaters, cooling fans, a power conditioner, and a TV mount. You'll also see a wall-mount installation, which requires an optional hardware kit.
Chameleon stands include two or more shelving bays. Some include a single- or double-width speaker compartment for your sound bar or center channel speaker.
With many different styles to choose from, you're bound to find a finish that matches your decor. Check them out: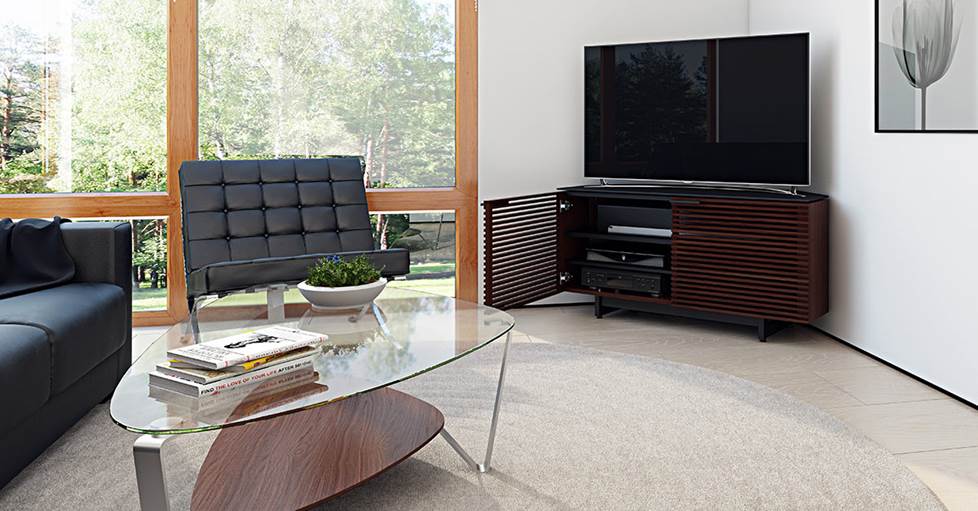 Best for corner placement — BDI Corridor 8175
Placing your TV in a corner is a good way to save space. It's also a good alternative to a wall-mount above the fireplace, which is never a great idea. But it's hard to find a high-quality TV stand that's designed to sit in a corner.
Enter the BDI Corridor 8175.
It supports a TV with a screen size of up to 55", and it can hold as many as eight AV components. The top compartment is a great spot for a sound bar or center channel speaker.
The soft-close louvered doors permit sound and remote control signals to pass. The removable back panel gives you easy access to your cable connections. Slots in the bottom panel, back panel, and shelves provide ample ventilation to keep your components from overheating. Cable management channels help you keep your connections nice and tidy.
If you like the look of the Corridor 8175, but aren't putting your TV in a corner, rectangular models are available. The larger Corridor stands accommodate much bigger TVs. The video below shows a range of Corridor models, some of which have hidden wheels built-in. The 8175 does not have wheels.
Highlights
for use with TVs up to 55"
real wood construction
removable, ventilated back panel
50-1/4"W x 25"H x 20"D
limited lifetime warranty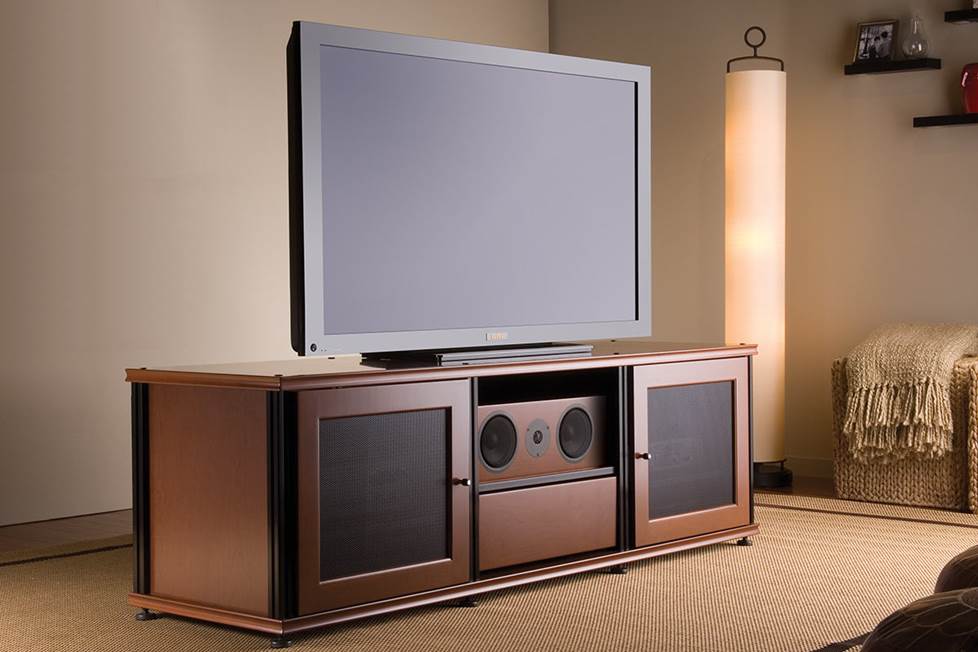 Best for home theater systems — Salamander Designs Synergy series
The Salamander Designs Synergy series doesn't come in as many different styles as the Chameleon series, but it's just as sturdy, and it shares much of the same functional versatility.
The Synergy series is slightly better for home theater systems, for a few reasons.
The Model 245 is a good example. It will accommodate TVs up to 90". The speaker shelf measures 41"W x 8-1/2"H x 18"D, enough space for a huge center channel speaker. And the perforated door panels let remote control signals pass through.
If you want to proudly display your AV components, you can leave the Model 245's doors off. Or better yet, buy the more affordable SL20B, which doesn't come with doors. It accommodates TVs up to 75".
Best swivel base — Sanus VSTV2
The Sanus VSTV2 solves a bunch of problems.
Suppose you want to place your TV on top of a cabinet you already own. But the distance between the TV's legs is greater than the width of your cabinet (or too close for comfort). The VSTV2 provides a stable base that fits comfortably on your furniture.
Say you want to place a sound bar or center channel speaker in front of your TV, but the speaker is taller than gap between your cabinet's top and the bottom of your TV screen. The VSTV2 lets you raise the TV up a few inches.
Or say you need to swivel your TV, either to face different seats at different times or to deflect the glare from a window that faces the screen. The stand that came with your TV can't do that.
Highlights
for TVs 40"-86"
weight capacity: 125 lbs.
swivel range: ±35°
base footprint: 23-5/16"W x 16-13/16"D
pillar height: 27-1/4" to 35-5/8"
accommodates VESA mounting hole patterns from 100 x 100 to 600 x 400
We can help you choose
Have questions about how to choose the right TV stand? Get in touch with one of our expert Advisors for personalized shopping help. Don't forget: free lifetime tech support is included with your Crutchfield purchase.