Installing a new stereo starts with connecting all the wires. There are good ways and bad ways to do the wiring. In this article, we'll show you how solder, tap, and crimp all the wires to ensure that your new stereo works right the first time.
The first step to installing a new car stereo is connecting the stereo's wiring harness to the adapter that will plug into your car. Making long-lasting, secure wire connections is of the utmost importance. By using one or more of the methods illustrated below, you can be sure that your connections will last for years to come—and that your new car stereo will work properly.
How to connect two wires
Most of your connections will require splicing the ends of two wires together. About a dozen times over. Below are what we consider to be the best ways to do this. Use the method that works best for you.
Soldering two wires
Soldering makes the most solid connection. Heat shrink tubing protects and insulates that connection. The task always starts with a wire stripper for removing insulation from the wire ends.
Using Posi-Products connectors
Posi-Products™ connectors are easy to attach and stay firmly in place. This is our favorite method because of the quality of the connectors and the simplicity of the technique.
Crimping wires
Crimping can create a reasonably solid connection. You'll need a crimping tool and crimp caps. The only potential drawback is that if the caps aren't crimped tight enough, they can shake loose. Give them a good tug before you install that stereo!
---
How to tap into existing wires
Sometimes you need to connect a new wire to the middle of an existing wire. This is called "tapping" the wire, and there are several different ways to safely and securely do it. Here are our three preferred methods. Your situation will help determine the best way to do it.
Tapping with Posi-Tap connectors
Just like their wire connectors, Posi-Tap connectors are easy to use to create a secure tap into another wire.
Tapping by soldering
Soldering is the old-school way to get the job done, and here's the trick for properly soldering a tapped connection.
Tapping with a T-splice (no solder)
T-splicing, also referred to as a "mechanical" splice, is the way to create a solid connection using only the wires themselves. Sometimes it's the only way to get the job done. It's also a good option to practice on a workbench.
---
Let us do it for you — Crutchfield ReadyHarness
For most cars, we offer the Crutchfield ReadyHarness™ service. We will take the harness from your new stereo and your vehicle specific adapter harness and professionally connect the two before we ship your new stereo. We'll let you know if this service is available for your car when you tell us what you drive and select a new stereo.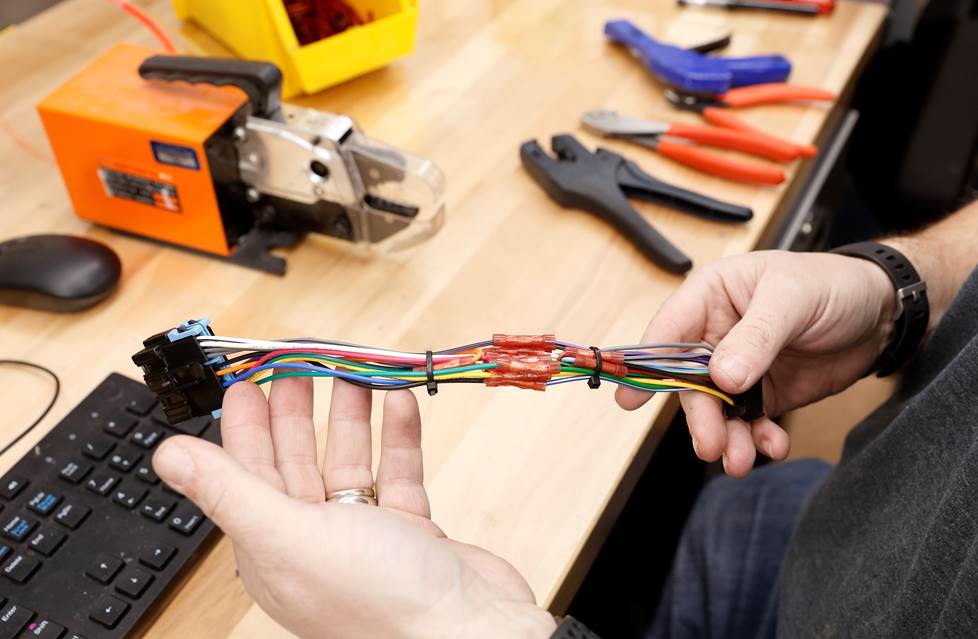 Meanwhile, you can learn more about the process in our ReadyHarness article. Keep in mind, you might still have to tap into a couple of wires in your car — we can't do that part in advance.
Install it like a pro
Facing those two bunches of wires can be intimidating, especially if this is your first installation. But the task really isn't that hard if you take your time and make your connections with care, one wire at a time. Before you know it, you'll have your new stereo installed and ready to rock.
If you run into a problem or get stuck – and if you purchased your gear from Crutchfield – give us a call and our tech support team will walk you through it.