Video: Car stereo installation tools
Get a look at some of our favorite toys. This video showcases some of the tools and accessories that are frequently needed when installing car stereo equipment. Unlike a pair of pliers, these tools aren't always easy to find at the store, and that's why we carry them. Here's a list of the specific items we used in this video: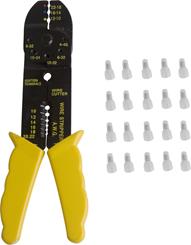 An inexpensive crimp tool set like this one makes it quick and easy to connect your new stereo's wiring harness to your car's harness.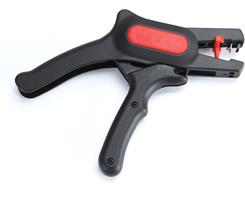 The S&G wire cutter and stripper is much easier and faster to use than a crimp tool. It's a must-have for hobbyists and professionals.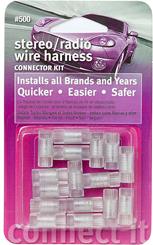 The Posi-Products line of wire connectors make it easy to get a secure connection without crimping or soldering. The Car Stereo Connector Kit contains enough connectors for most stereo installations.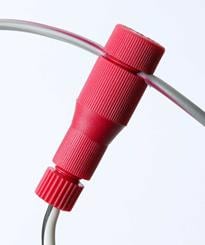 Posi-Tap™ connectors let you tap into existing wires without cutting or stripping them. You'll want to keep a few of these in your tool box.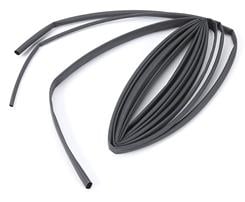 Most professional installers prefer to solder the wires together for a secure and permanent connection. If you choose that option, pick up a package of heat-shrink tubing to insulate and protect the wires.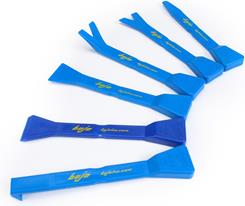 When it's time to remove dash or door panels, don't use a screwdriver. That's a nearly guaranteed way to scratch your dash panels or mess up the door panel's clips. Bojo's panel-removal tools are strong and wide enough for the prying, but coated with nylon so they won't scratch the finish.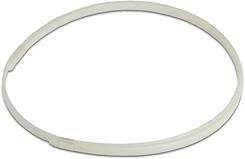 When it comes to pushing wires through door panels or under the dash or carpet, you just can't beat the Wire Worm from Pro.Fit. Secure the wire to the end of the "worm" with a piece of electrical tape, and you'll soon have it routed to its destination.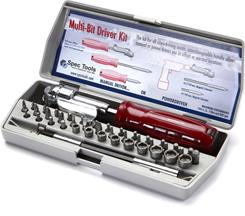 The Skewdriver Pro lets you get at those hard-to-reach screws. It's perfect for when you're trying to replace the 3-1/2" speakers on top of the dash. The ratcheting handle means you don't have to lift off of the screw before it's out. You can also use the Skewdriver with your drill.
Read video transcript
From the beginning, Crutchfield has always been about helping you save money by doing the work yourself, and that's especially the case when it comes to installing car stereo equipment. In this video we're gonna take a quick look at ten of the most popular tools we carry that'll help make your installations easier and less intimidating.
One of the most common tasks to do in a car stereo installation is connect the wires. For that you'll need a couple of tools. A traditional crimping tool can help you attach crimp caps to the wires. We carry an inexpensive crimp tool set that includes the crimping tool and twenty caps. But if you're the kind of person who loves to help friends do this sort of thing, I recommend the professional-style wire stripper. It makes the job much easier, letting you cut and strip wires with precision in half the time.
To connect the wires you can crimp them or solder them for an even better connection. If you do solder, use some heat shrink tubing to insulate the connection. Taping works short term but eventually it'll dry up and fall off. Heat shrink tubing won't budge.
We also carry a range of products from Posi-Products that make wire connections fast and easy and just as secure as soldering. Their Car Stereo Connector Kit is perfect for installing a stereo. The connectors hold tight without the need for any tools and they can be removed later if you get a different stereo. Posi-Products wire taps are one of the easiest ways to tap into a wire without cutting it. One end of the tap connects to your wire lead just like the connectors do. The other end slides over the wire you need to tap into. Then you just screw them together for a solid connection.
Once you've connected your wiring harness it's time to go out to the car. Don't forget to disconnect the negative battery cable before you begin.
No matter what you're installing you'll have to remove some trim panels. These panel removal tools from Bojo are strong and have a nylon coating so they won't scratch your car's finish the way a screwdriver will. And here the panel tool even helped me release these hard-to-reach plugs.
When it comes to running wires through your car you can't beat the Wire Worm. It's a stiff yet flexible piece of hard nylon plastic that'll help you push wires through your car where your hand can't reach. And our customers give this simple device a five star rating.
Those were the basic tools you need for car audio installations. Having just one of them can make the job a lot easier. Now these last three tools I want to show you are lifesavers when you need them but they're also really handy to have around the house.
The Skewdriver is a right-angle screwdriver that's perfect for getting at screws in hard-to-reach places. Its ratcheting action makes it easy to use, too, and the wing stabilizer arm helps you hold it steady. It includes a high-quality bit set and two extension arms to help you get at any screw. Plus you can attach it to your power drill.
When it comes to tapping into wires in your vehicle, a multimeter is indispensable. It helps you track down exactly which wire you need to connect to. For instance, you'll need one when installing a rear-view camera. This mulimeter comes in a car stereo tool kit from Scosche. This kit contains many of the tools we've already seen here and it's great for any one just getting into car stereo installation.
Every tool box needs a flashlight. The Bright Stick is a versatile and tough work light. You can hang it or secure it with the powerful magnetic base.
To see a complete listing of all the tools we used in this video go to crutchfield.com/cartools and remember when you have a job to do don't get caught in the dark. Call Crutchfield to get the specialty tools you need.