Portable player + aux jack = unwanted noise?
A story of poor grounds and alternator whine
I put in a dock-and-play satellite radio recently, connecting it to my head unit through its aux input. With channel guide in hand, I began flipping stations in earnest, ready to program in my favorites. But something was happening — I was hearing a high-pitched "whining" sound that got louder and faster as my engine speed increased. And it was only present when the engine was running.
First I disconnected everything, cleaned all my contacts, then reinstalled. No change. Tried turning the built-in FM modulator on/off. Still no change. Checked the antenna wire. Nothing. What was I going to say when everyone on my block found out that a guy that works at Crutchfield can't even hook up a portable satellite radio in his car?
I didn't have any luck finding a solution online, but I knew I couldn't be alone with this, and I took comfort in the fact that I'm lucky enough to work at a place full of experts who are trained to solve problems like this one. And my expert co-workers came through for me. "It's a ground loop," I was told. "You need to move the ground wire from your cigarette lighter to the same place as the one from your stereo." Which, I am certain, is the right way to do it.
But I found an easier way, right on Crutchfield's website: the PAC SNI-1/3.5 noise filter. It's a little black box with male/female 3.5mm miniplugs that you stick between your player and your stereo.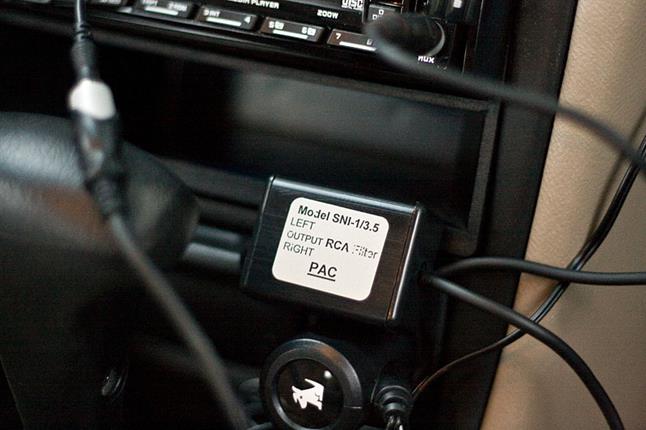 The SNI-1/3.5 goes between your player and your stereo's aux jack.
I don't know what's in that little box, but whatever's in there completely killed the noise I was experiencing. Problem solved, and installation took 10 seconds, maybe 13. So if you've plugged in a portable player to your new stereo's aux jack, and you're hearing a hiss, a whine, a hum, or a click, this little black box could be the answer to your problems. After gushing about it, I tested it with a co-worker who was having a similar problem, and he promptly ordered an RCA version.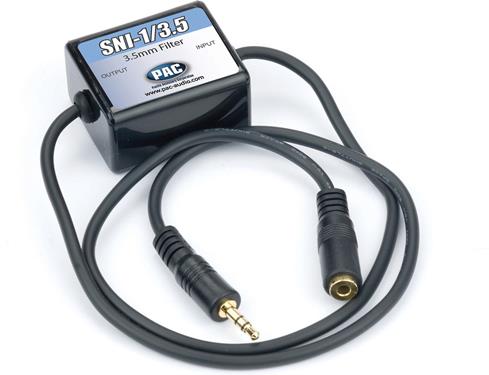 The PAC SNI-1/3 has 3.5mm connections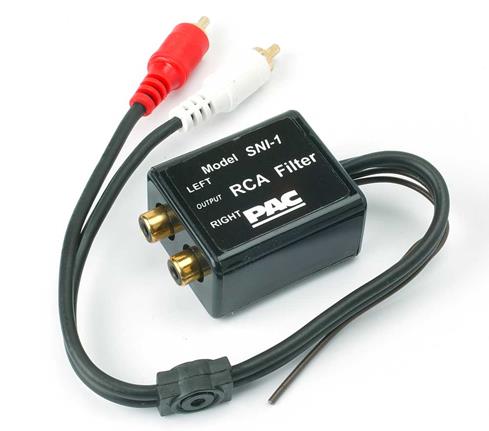 The PAC SNI-1 has RCA inupts and outputs
If you have a similar problem, give us a call. Our Advisors will be glad to help.