Best mono amplifiers for 2023
Our highest-rated best-selling amps for your subwoofers
irst of all, if you want bass, you have to get an amplifier. The physical nature of low-sounding notes is that they take a lot of power to produce. Whichever component subwoofer you choose, it'll sound best with an amplifier designed to play low frequencies without distortion, and provide enough clean power to fill your vehicle with the throbbing bass beats you want.
Why did we choose these subwoofer amps?
These are some of our best-selling mono amplifiers, which also earned an average Crutchfield customer review rating of four or more stars*. So, not only do our customers buy these amplifiers, they're so pleased with their purchase they take the time to provide some feedback once they've spent some time with it.
You can use this collection of amplifiers as a starting point in your search for your sub amp. After looking them over, if you want to dive deeper into what to look for when shopping for a mono subwoofer amplifier, check out our Car amplifier buying guide.
[Check out all of our best-selling and top-rated mono amplifiers]
---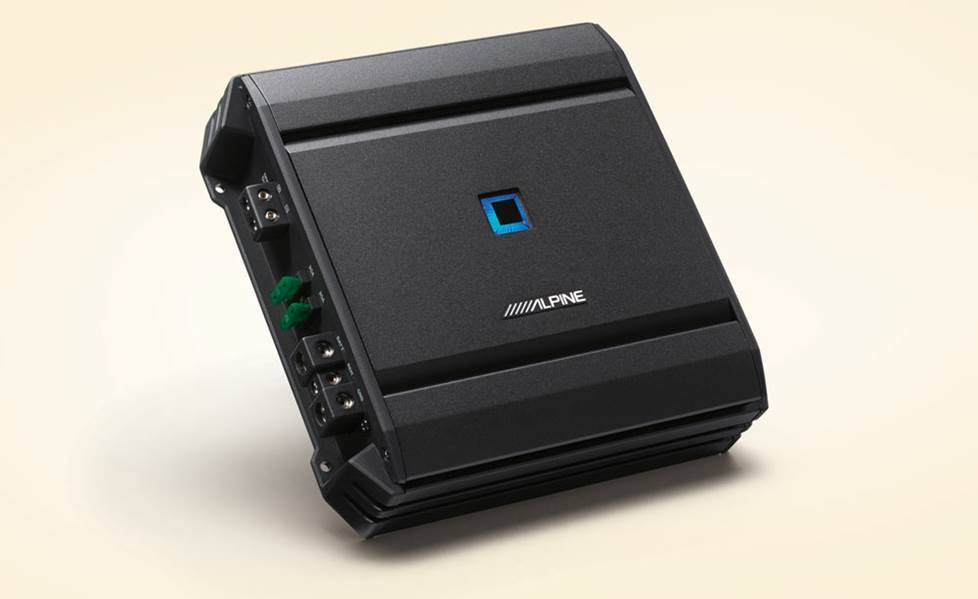 Alpine S-A60M — Compact 600-watt powerhouse
Basics: The popular Alpine S-A60M amp makes it a little easier to get great bass in your vehicle — it's so small it can fit almost anywhere, even under most passenger seats, and it delivers the power you want without breaking your bank account. The Alpine S-A60M mono subwoofer amplifier can send up to 600 watts RMS to a sub, filling most vehicle interiors with powerful bass goodness.
Extras: The amp employs Enhanced Shutdown Performance technology to keep the music playing reliably when you're pushing it loudly for a long time. The amp will work with a factory radio, using its speaker-level inputs to get signal from the factory system's speaker wiring. If you do decide to get an S-A60M, make sure you also get the RUX-KNOB.2 wired remote, so you'll be able to adjust the bass volume from your driver's seat.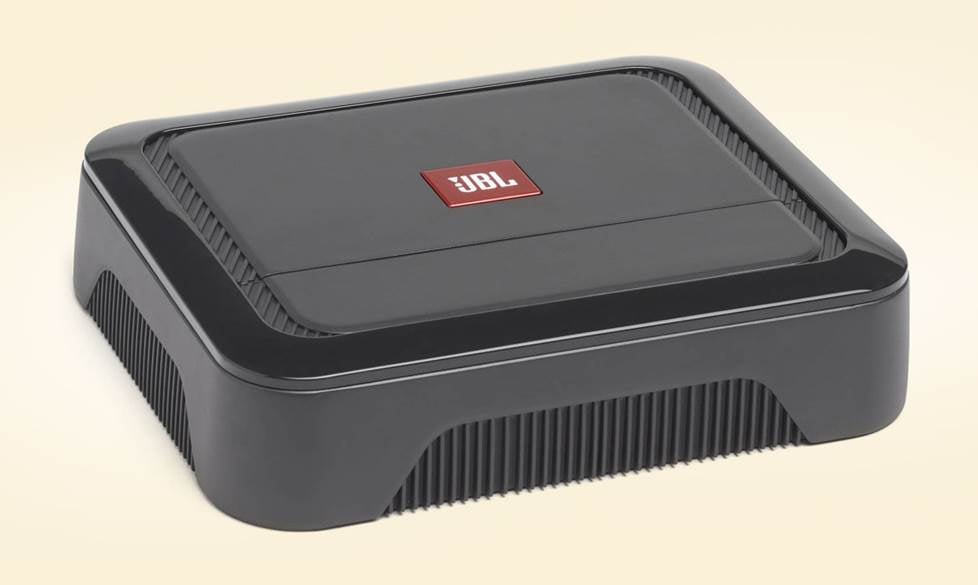 JBL Club A600 — Space-age power
Basics: This amp is the updated version of last year's very popular Club 5501 amplifier, with a smaller chassis and more powerful output. Although it looks like it was carved out of a block of steel, JBL's Club A600 mono sub amp will actually deliver up to 600 watts RMS to your subwoofer. The Class D amplifier design ensures the amp'll stay cool while playing loudly and that its high output won't put any strain on your vehicle's electrical system.
Extras: Speaker-level inputs allow this amplifier to integrate into almost any system, even one using your car's factory radio. You can use the low-pass filter and variable bass boost to maximize the performance of your subwoofer and enclosure, while a phase switch ensures that the bass will blend well with your full-range speakers.
AudioControl ACM-1.300 — Powerful bass from a compact chassis
Basics: AudioControl's ultra-compact ACM-1.300 mono amp delivers up to 300 watts RMS to your subwoofer. This tiny, hand-size amplifier will fit almost anywhere in almost any kind of vehicle, improving the bass and the power of your music. It also features high-level inputs with signal-sensing turn-on, so it'll work with almost any stereo system, even one using a factory radio.
Extras: This amp comes packed with high-tech features like a "Maximized" LED for optimizing the amp gain. There's also a tunable AccuBASS™ circuit that restores and enhances the low-frequency notes which factory radios often eliminate in order to protect flimsy stock speakers.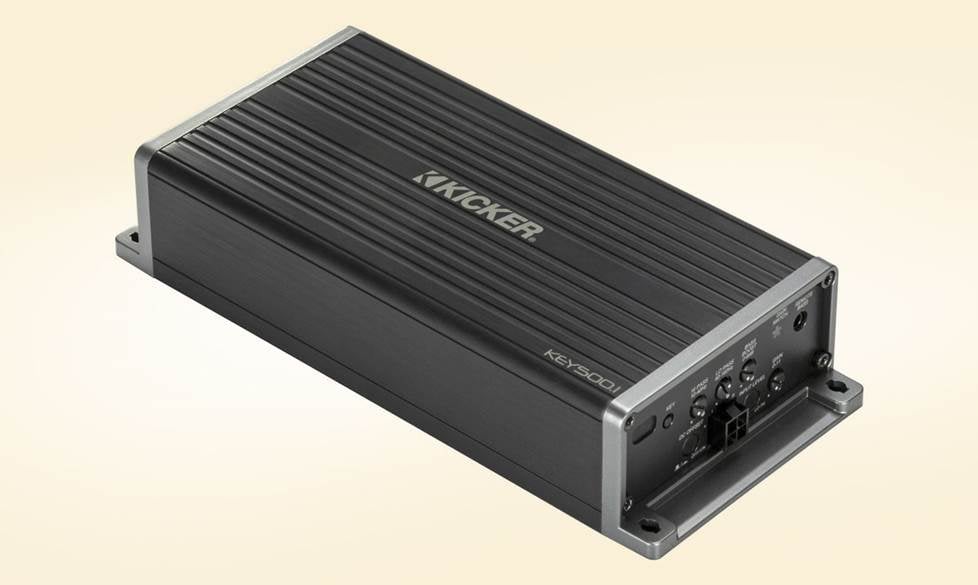 Kicker 47KEY500.1 — Automatic bass
Basics: Now you can get fantastic, powerful bass without shelling out a lot of money for a huge amp or spending too much time tuning the system after installation. Kicker's KEY500.1 compact subwoofer amplifier features automatic signal processing that tailors the sound to blend in perfectly with your specific stereo system. And this compact power pack can send up to 500 watts RMS to your sub.
Extras: After installation, you download test tones from Kicker and use the auto setup to analyze your system's response and apply the equalization and bass boost necessary to produce great bass. In addition, the KEY500.1 features an automatic limiter that protects your sub from any electrical dips or surges when an eco-friendly start-stop car starts up again.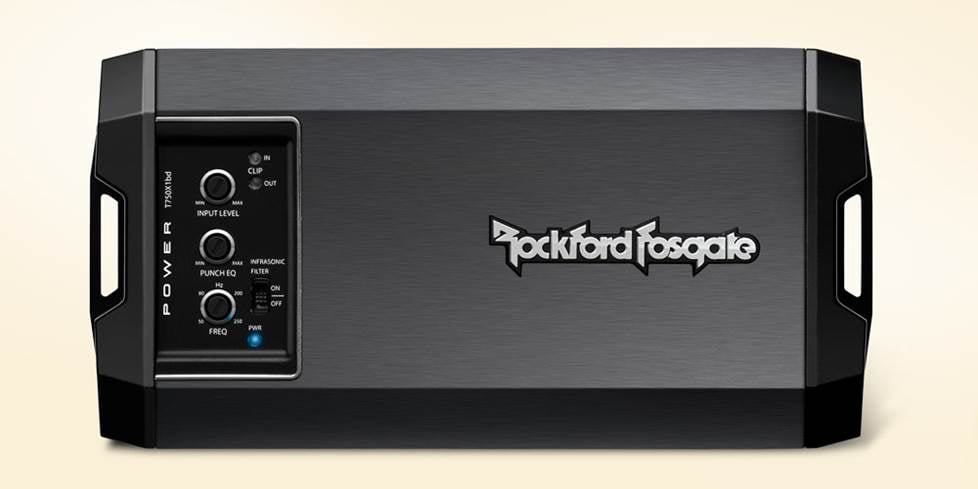 Rockford Fosgate Power T750X1bd — Super compact, bursting with power
Basics: Rockford Fosgate's Power Series T750X1bd mono amplifier can drive up to 750 watts RMS into a 1-ohm load, allowing you to power multiple subs for bigger and better bass. A dual-fan forced air cooling system keeps this sturdy little amp from overheating, so it can play hard for a long time.
Extras: The amp's controls feature input and output clip lights, to show you when the signal's good (blue) or too high (red). The optional wired remote has a clip light on it as well, so you can monitor and control the bass level from the front seat.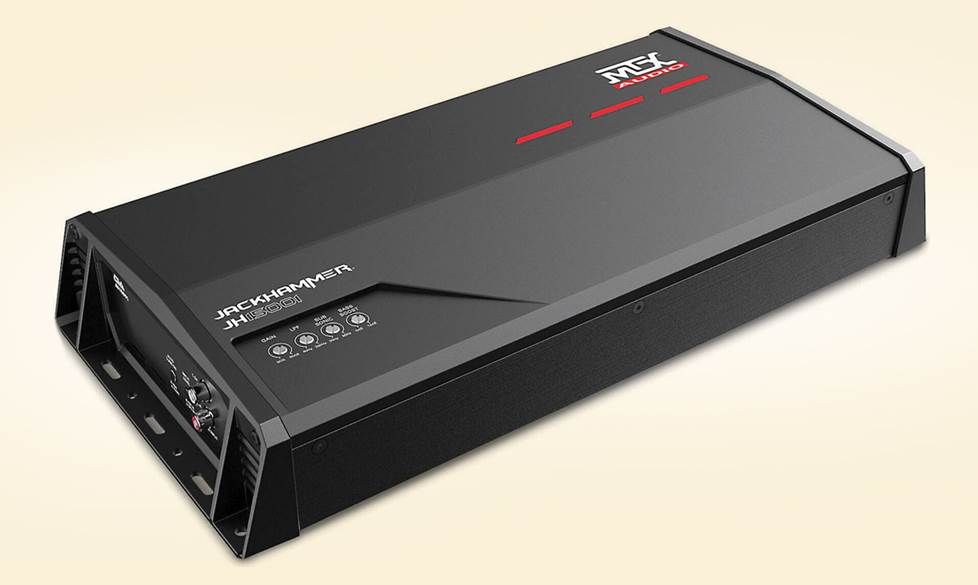 MTX JackHammer JH15001 — Loud
Basics: Nothing's louder than a jack hammer, right? MTX proves that with their JackHammer Series JH15001 mono subwoofer amp, which can put out up to 1,650 watts RMS. The amp can handle loads as low as one ohm, so it'll work well in a variety of multiple-sub setups. Speaker-level inputs let you integrate the amp into a system with a factory radio.
Extras: All the tuning controls are located on the amp's top panel, so you'll have easy access to them after installation. Low-pass and subsonic filters plus a bass boost let you optimize the bass to fit your particular sub, enclosure, and vehicle. A wired remote control lets you control the volume of your JackHammer from the front seat.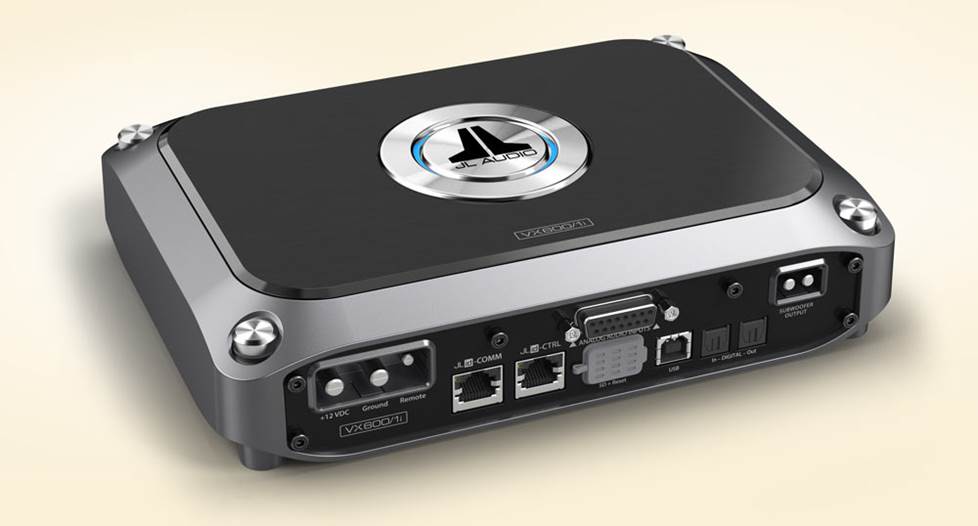 JL Audio VX600/1i — Subwoofer amp plus DSP
Basics: JL Audio teamed up with micro-device maker AKM™ to create this customized processor-amp hybrid. The JL Audio VX600/1i mono subwoofer amplifier can put out up to 600 watts RMS for your sub, and features 3 channels of digital signal processing. You could set up a system, for example, by routing the signal from the receiver to this sub amp first, and then sending a processed stereo signal on to a separate amplifier for your other speakers.
Extras: The digital processing for each channel includes signal routing and mixing, 10-band parametric EQ, time-alignment, and very precise output level control. You make all your settings and adjustments from your compatible device running JL Audio's TüN™ software. JL Audio designed this amp to work in a networked system, so there are a few accessories you may want to get along with it that facilitate wired and wireless remote control.
With the right subwoofer amp, every ride becomes a dance party
There are a few important things to keep in mind while shopping for a subwoofer amp. Namely, the mix of power and impedance.
Power (watts)
You want the bass to musically blend and be well-balanced with the rest of your system, so, here's a good rule-of-thumb guide to power:
How much subwoofer power do I need?
If you're using your car's factory stereo — 50 to 200 watts RMS for the bass will do nicely.
An aftermarket receiver — you might want up to 300 watts RMS of power for your sub.
Amplified speakers with around 50 watts RMS per channel — plan on around 500 watts RMS.
100 watts RMS or higher per channel system — you'll want at least 1,000 watts RMS for a sub.
Matching the amp to the subwoofer's impedance (ohms)
A subwoofer has impedance (measured in ohms) which represents the "load" an amplifier will sense on its output. An amplifier will put out different amounts of power (watts RMS) based on the impedance load it "sees."
Most subwoofer amps are optimized for pushing 2-ohm loads. The question becomes, at what impedance can the sub be wired? Here are some examples of the answer:
Wiring options for one subwoofer
One SVC (single voice coil) 2-ohm sub will always be 2 ohms.
One SVC 4-ohm sub will always be 4 ohms.
One DVC (dual voice coil) 2-ohm sub can be 1 ohm or 4 ohms.
One DVC 4-ohm sub can be 2 ohms or 8 ohms.
Wiring options for two subwoofers
Two SVC 2-ohm subs can be a 1-ohm or a 4-ohm load.
Two SVC 4-ohm subs can be a 2-ohm or an 8-ohm load.
Two DVC 2-ohm subs can be a half-ohm, a 2-ohm, or an 8-ohm load.
Two DVC 4-ohm subs can be a 1-ohm, a 4-ohm, or a 16-ohm load.
Check out our subwoofer wiring diagrams for more solutions.
Putting it all together
Getting the right sub for an amp, or the right amp for a sub, is like solving a puzzle where the amplifier's capabilities (X watts RMS into Y ohms) needs to match the subwoofer's specifications (Y ohms and can handle X watts RMS). Your goal is to get those two variables to match for both the amplifier and the subwoofer. For more information see our article about how to match subwoofers and amplifiers.
Let us help you shop
Don't forget to read our car amplifier buying guide, and then contact our advisors if you have any questions or to confirm what you need to install a new mono subwoofer amplifier in your car.
Popular questions customers ask
Subwoofers need a lot of power. That power comes from an amplifier. You probably know the difference in sound between your TV speakers and a home theater system. An amplifier in your vehicle can make that kind of difference, especially with aftermarket subwoofers. You'll hear a bigger, fuller bass, with greater impact. This is especially true if you've installed better speakers in your vehicle. The subwoofer and mono amp will complement their improved sound.
The first consideration is how many subs you'll be powering and how much power each one needs. Once you know that, you'll know how much amplifier power you'll want. Read our amplifier buying guide for more details.
Yes, you can, as long as you have a basic knowledge of electronics and you're handy with tools. You'll have to run a power wire from your vehicle's battery back to your amp's location, and then a ground wire from the amp to your vehicle's chassis. It's important to do the job correctly so you don't damage your vehicle. Our Tech Support people can help you if any issues come up. Read our Amplifier Installation Guide for the whole story.
Check your subs to see how much power they can handle in terms of "watts RMS." For a subwoofer, you should select an amplifier that produces approximately that much RMS power. Speakers are more forgiving, so you don't always have to max them out, although more power always sounds better.
Last updated 7/8/2022