Bass is important for good sound. In this article, we'll look at six of our best-selling and most popular 8" subwoofers:
Whatever type of music you prefer, to hear the full range of sound you'll need a good subwoofer. There's nothing like the experience of deep bass to make your favorite music come to life, and 8" subs give you the low, tight bass you're looking for in a compact, easy-to-fit package. But with so many subs to choose from it can be hard to make a decision, so we put together this handy list of some of our most popular 8" subs.
How to choose your subwoofers
There are a few specs you'll want to keep in mind. Power and sensitivity ratings tell you how well the sub handles your signal, its frequency range shows how low it can go, and impedance matches the sub to the power produced by the amp. For detailed information, read our Car Subwoofer Buying Guide.
The subwoofer enclosure is important, too
The woofer is only part of your bass system. The box you install it in has a direct impact on how your bass will sound:
A sealed box provides tighter bass that's more accurate; smaller footprint.
A ported box delivers bass that's louder and boomier; tends to be larger than sealed boxes.
Check out our article, How to Choose a Subwoofer Box for more information.
Our most popular 8" component subs
We've compiled some of our best 8" subwoofers here. These best-selling subs have proved themselves to our customers, earning a minimum of four out of five stars, and we think you'll find what you're looking for in this article. Bear in mind, though, that here at Crutchfield we carry a wide variety of subs to satisfy your ears and your wallet. Our helpful advisors can also assist you in the selection process.
So let's take a look at the subs.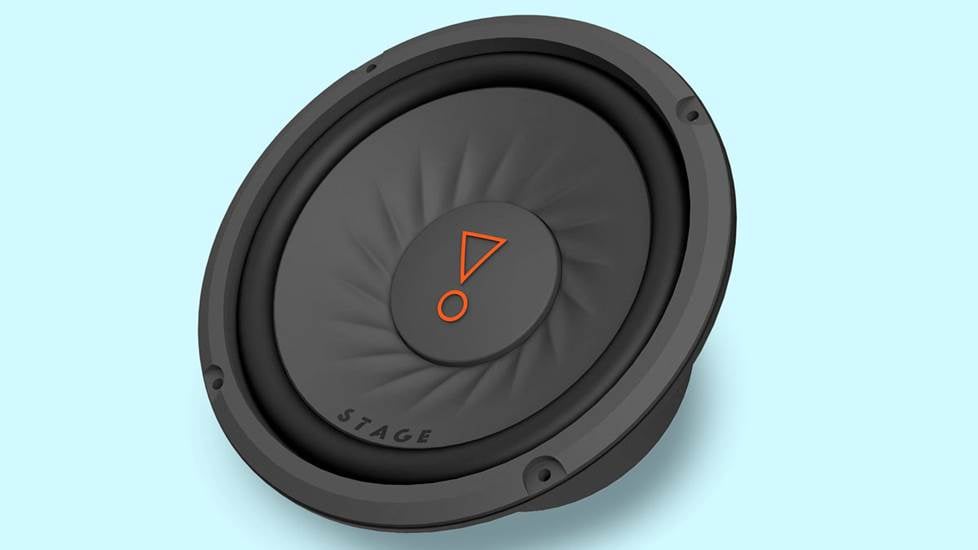 JBL Stage 82AM — Bass on a budget
When you're looking for great bass, you may not have a fat wallet. The JBL Stage 82AM is here to help, with JBL's proven quality and sound at a very attractive price. Smart engineering, rigorous testing, and a rugged design make this sub a solid choice.
200 watts RMS power handling
800 watts peak power handling
Sensitivity: 88 dB
Single 4-ohm voice coil

Infinity Kappa 83WDSSI — Versatile installation
With Selectable Smart Impedance that allows you to switch from 2 to 4 ohms, this sub makes it easier to design the system you want. With Infinity's Kappa 83WDSSI, you'll also get 400 watts RMS power handling in a sub that's equally at home in sealed or ported enclosures. Infinity's coated-glass fiber cone adds some high tech to your low end.
400 watts RMS power handling
1200 watts peak power handling
Sensitivity: 91 dB
Single 2- or 4-ohm voice coil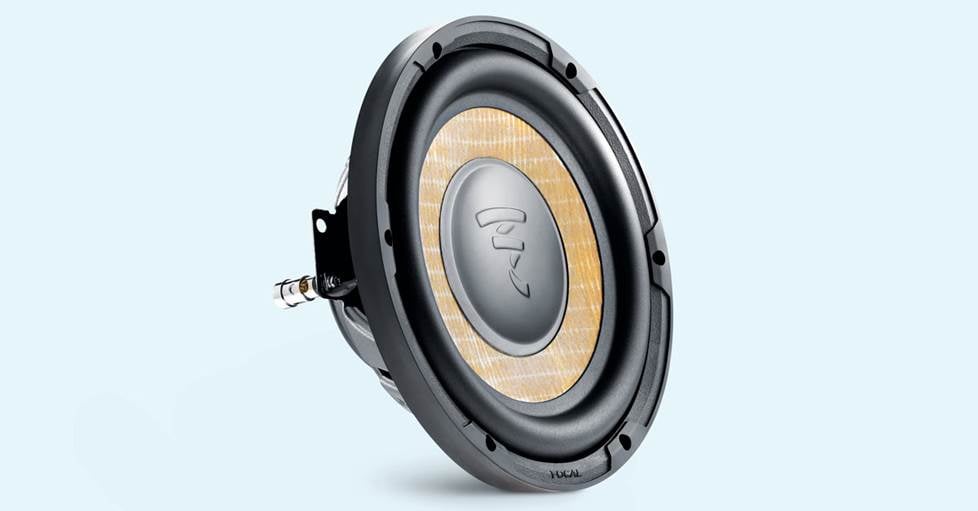 Focal P 20 FSE — Shallow-mount for tight spaces
Focal is known for high quality and innovative design. Their Focal P 20 FSE is made using their proprietary flax/glass laminate cone to combine warmth and accuracy, and this sub's shallow-mount design makes it easier to fit this premium performer into your ride and get a sound that'll toast your baguette.
200 watts RMS power handling
400 watts peak power handling
Sensitivity: 86 dB
Single 4-ohm voice coil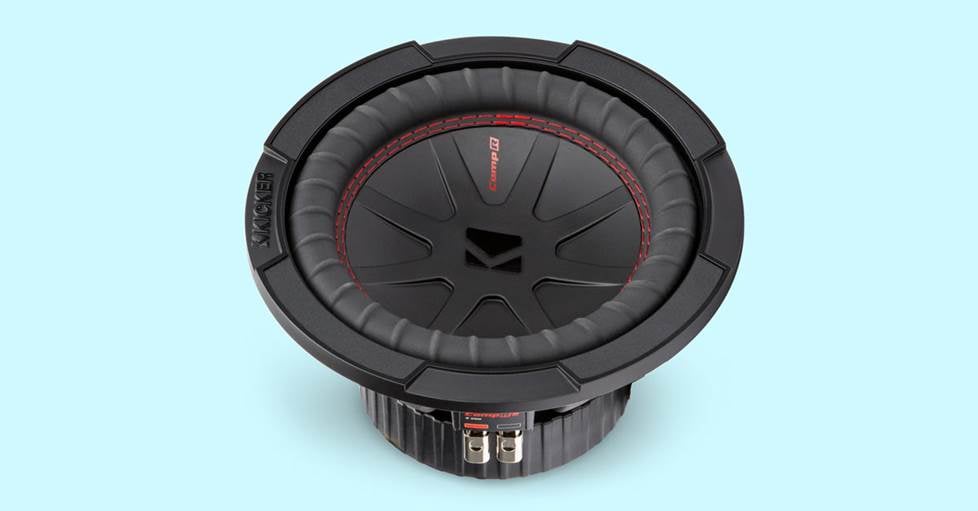 Kicker 48CWR84 — Kicker quality in a small package
With a tradition of quality that goes back to their original subs in 1986, Kicker is truly experienced in the art of bass. The 48CWR84's sturdy polypropylene cone and steel basket stand up to the stresses of daily life in your car and give you performance that lives up to its illustrious pedigree.
300 watts RMS power handling
600 watts peak power handling
Sensitivity: 82.1 dB
Dual 4-ohm voice coils
Polk Audio DB 842 DVC — Affordable versatility
The Polk Audio DB 842 DVC's dual 4-ohm voice coils allow you to wire your system to draw max power from your mono amp or to safely hook up multiple subs. Its rigid polypropylene cone and durable Santoprene™ surround punch out low end with authority. And it's so tough that it's certified for use in marine applications so you know it can handle your trunk.
250 watts RMS power handling
750 watts peak power handling
Sensitivity: 84 dB
Dual 4-ohm voice coils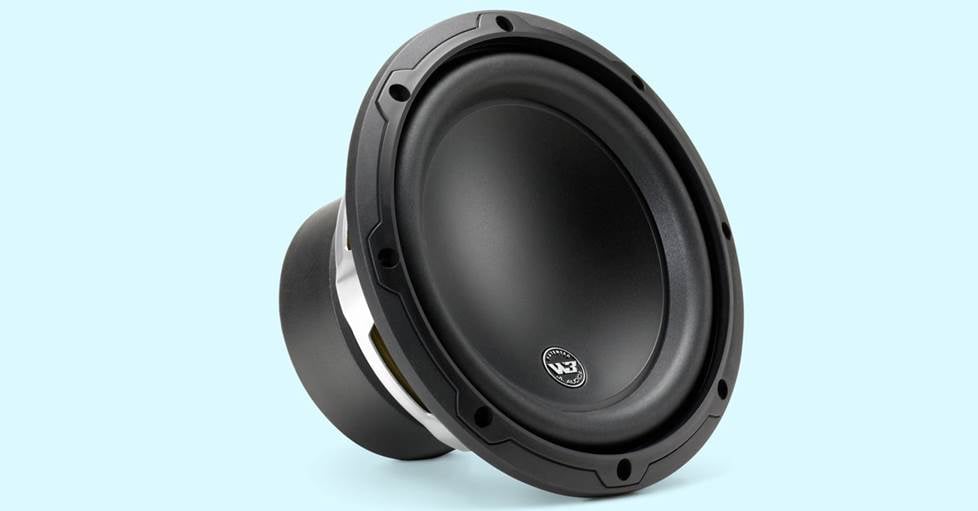 JL Audio 8W3v3-4 — Built to last
JL Audio makes some of the most popular subwoofers we carry, and the 8W3v3-4 is made to order for your medium-powered amp. It's designed to dissipate heat, so it'll keep on rocking when other subs may quit. The company is known for quality construction and smart engineering, so you'll enjoy its power and performance for years to come.
250 watts RMS power handling
500 watts peak power handling
Sensitivity: 83.24 dB
Single 4-ohm voice coil
Questions? We've got answers!
If you have any questions about choosing and installing a subwoofer to upgrade the bass on your car or truck, our expert car audio advisors will be happy to answer them. Just give us a call.
Popular questions customers ask
It's simple. A subwoofer gives you more bass, reproducing lower frequencies that your other speakers can't deal with. And subs aren't just for "bassheads." Filling out those lower frequencies will make any kind of music sound better. At Crutchfield, we love to see that look of surprise and joy on someone's face the first time they hear a sub in their vehicle!
The larger the woofer, the deeper the bass. A 12" sub will play louder and deeper than a 10" sub. A single subwoofer is all it takes to reinforce your music, but if you're looking for volume, then two subs are certainly louder than one.
A sealed enclosure will sound tighter and more accurate. A ported (or vented) enclosure makes the bass louder, with more boom, but with a slight loss of accuracy. A bandpass box is a combination of those two designs for even more output in a narrow frequency range.
First, figure out where a sub will fit. If you have limited space, consider a small powered sub. You'll be surprised how much bass you'll get. Also, what are your plans for your sound system? A small sub and amp will work great for adding some bass to a factory radio, but if you have plans to expand your system, go with the biggest sub that'll fit.
Yes, all subs need an amplifier. Some subs even come with an amp built-in (called "powered subwoofers"), so you don't have to match the sub to the amp. If you prefer to customize your system, make sure to get an amp that's powerful enough for your sub. The more bass you want, the more power you'll need.