In this article, we'll look at eight of our most popular and best-selling 12" subwoofers:
hatever music you enjoy, a good subwoofer will enhance the experience. When you're looking for maximum thump in a still-reasonable space, a 12" sub is a great solution. But with so many options to choose from, how do you find the best speaker for your space and your budget? We've put together this handy list of suggestions to help select a sub that's right for you.
Making the right choice
To choose the right sub, it's important to keep these specifications in mind:
Power and sensitivity ratings tell how well the sub does at reproducing your music
Frequency range tells you the high and low ends of the sub's response
Impedance matches the sub to the power from your amp.
You'll also need to choose the type of enclosure—sealed box, ported box, or bandpass—that gives you the type of bass you're looking for. For further information on these topics, check out these articles:
This article lists some of our most popular 12" subwoofers. They're best sellers and customer favorites, earning favorable reviews on our site. Any of these selections should give you the low end you need, but if you want additional options we carry a wide selection of subs to fit your sonic and budgetary needs. Our expert team of advisors can help you to find the right answer for your system.
Here's eight of our favorite subs.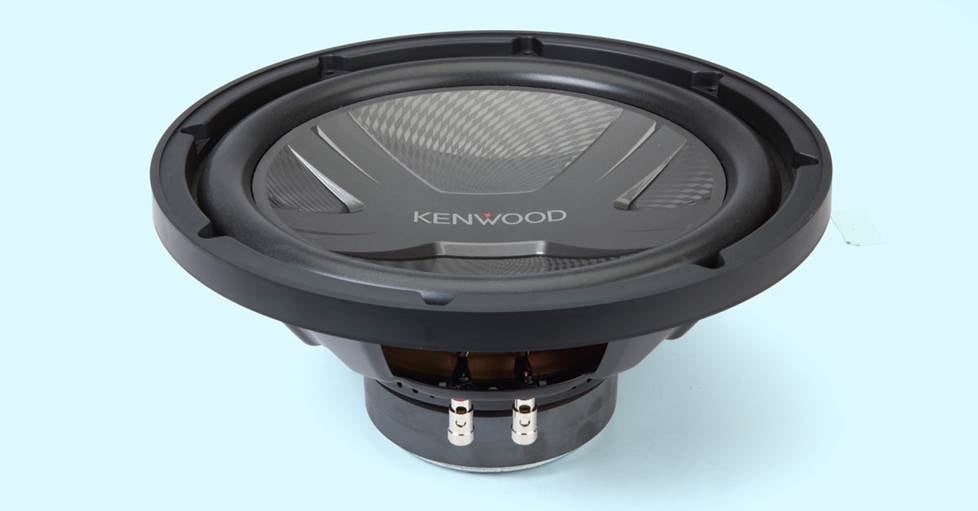 Kenwood KFC-W3041 — Great bass for a great price
When you're looking for great bass at a great price, Kenwood has you covered. The KFC-W3041 features their X-Motif 2-piece polypropylene cone for added rigidity to keep the sound tight. The cone's extra-long excursion capability moves more air for added impact. And it's designed to work with enclosures as small as 1.25 cubic feet, so you can get the punch of a 12" sub in less space.
300 watts RMS power
2000 watts peak power
Sensitivity: 85 dB
Single 4-ohm voice coil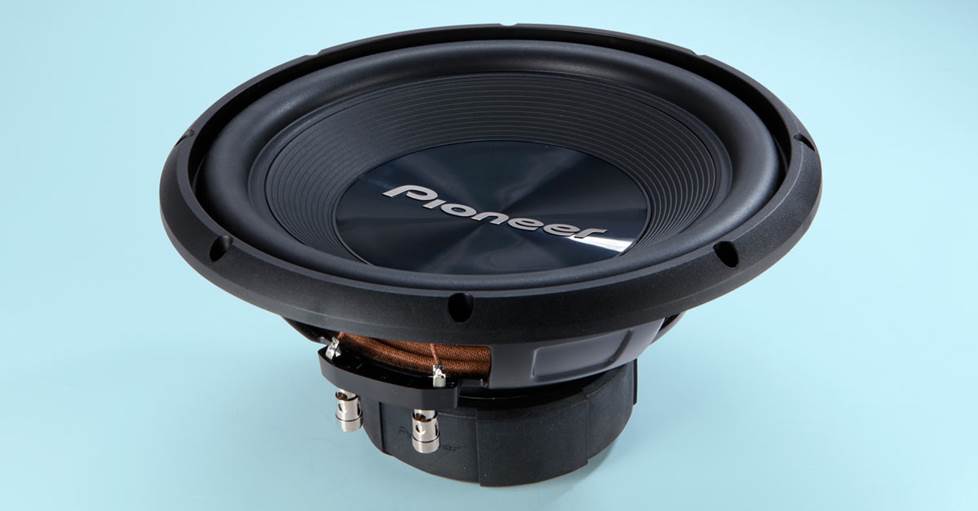 Pioneer TS-A120D4 — Plenty of punch
The Pioneer TS-A120D4 features a glass fiber and mica-impregnated polypropylene cone and butyl rubber surround to pump out loud, clean bass. With up to 500 watts RMS power handling you'll get plenty of punch. And the dual 4-ohm voice coils give you more options when designing your system.
500 watts RMS power
1500 watts peak power
Sensitivity: 77 dB
Dual 4-ohm voice coils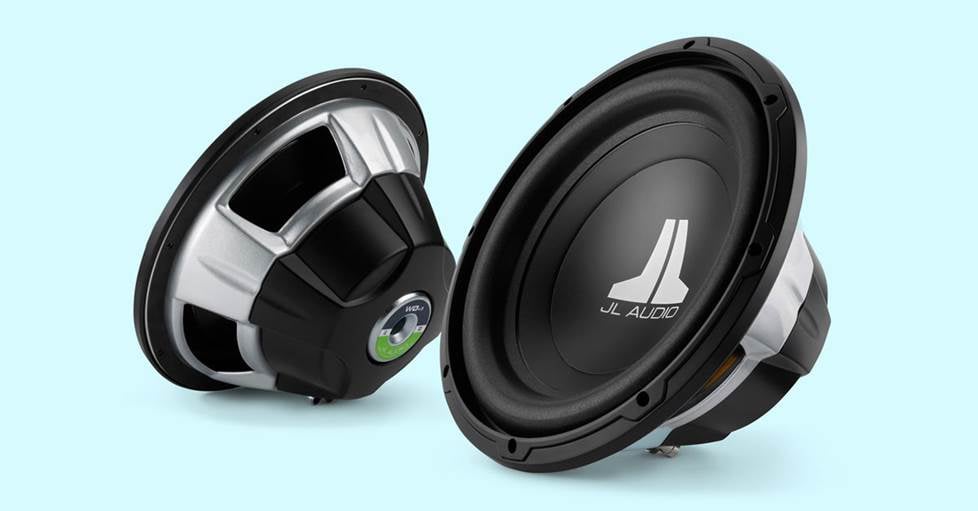 JL Audio 12W0v3-4 — Patented technology for great sound
With patented technologies such as an optimized motor system and elevated frame design, the 12W0v3-4 is made to live up to JL Audio's reputation for advanced technology and great sound. Its 300 watts of RMS power handling give you the power to fill your vehicle with rich, full bass.
300 watts RMS power
600 watts peak power
Sensitivity: 85.64 dB
Single 4-ohm voice coil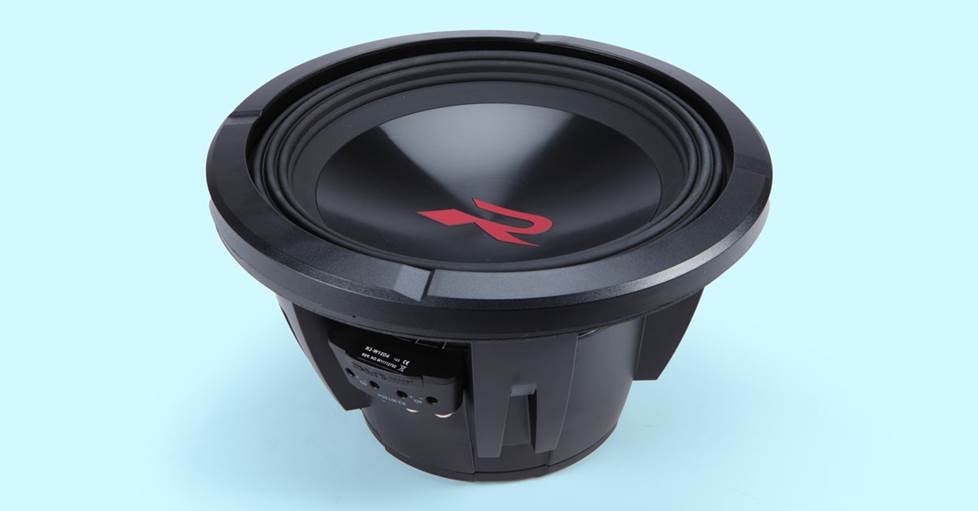 Alpine R2-W12D4 — Made for high power
With a Kevlar-reinforced cone and High-Amplitude Multiroll Rubber (HAMR) surround, Alpine's R2-W12D4 stands up to the demands of modern music. Its oversized polypropylene dust cap adds rigidity for more accurate response. The redesigned motor structure features double-stacked magnets for deeper bass and tighter sound.
750 watts RMS power
2250 watts peak power
Sensitivity: 84.6 dB
Dual 4-ohm voice coils

Infinity Kappa 123WDSSI — Versatile and dependable
The 123WDSSI features Infinity's Selectable Smart Impedance (SSI) design, making it simple to switch between 2-ohm and 4-ohm impedance for maximum flexibility when configuring your system. Its combination of rugged construction and sophisticated engineering delivers bass that'll fill your space. From its acoustically-damped glass-fiber cone to its solid steel basket, this sub is built to efficiently satisfy your low-end needs.
500 watts RMS power
1500 watts peak power
Sensitivity: 92 dB
Dual 4-ohm voice coils
This Kappa sub is a newer model in our lineup and early listens are promising. The high sensitivity, classic to Infinity car speakers, means the subwoofer will do a lot with that 500-watts of power.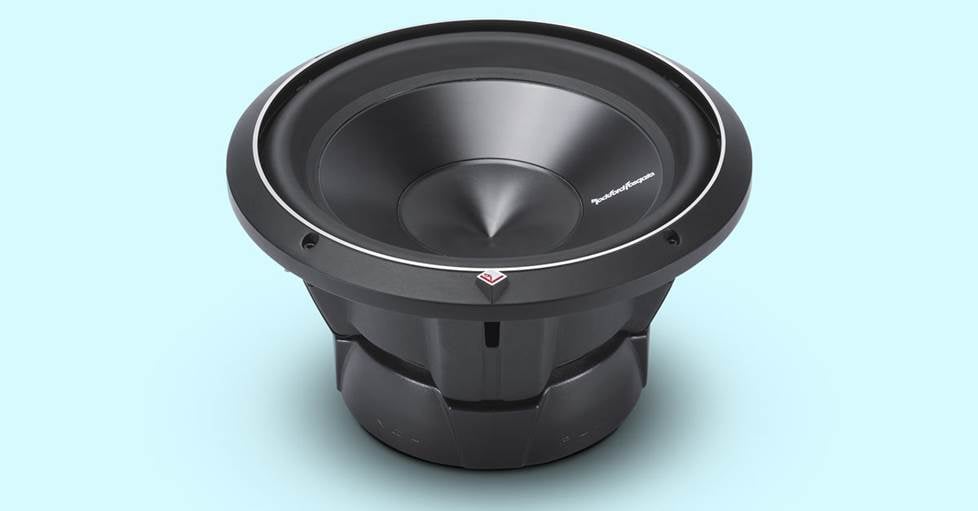 Rockford Fosgate P3D4-12 — Serious impact
When a company calls their series of components "Punch," you know they're serious about making an impact. The P3D4-12's anodized aluminum cone and oversized rubber surround are attached using their Vertical Attach Surround Technique (VAST™) which increases available cone area by up to 25% to give it massive bass response. The cone also serves as a heat sink, keeping the voice coils cool when the music runs hot.
600 watts RMS power
1200 watts peak power
Sensitivity: 85 dB
Dual 4-ohm voice coils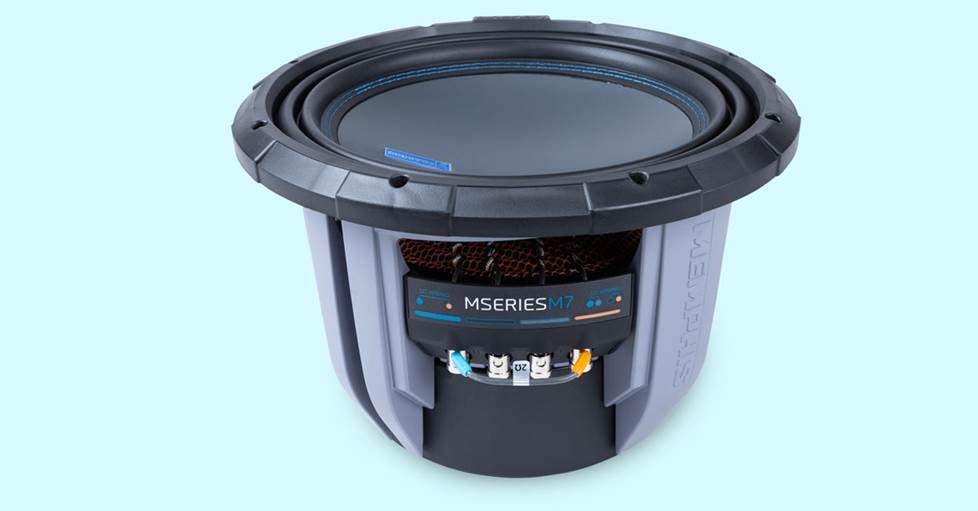 Memphis Audio M71212 — High power handling
Memphis Audio's M7 series of subwoofers are designed for great sound at high power levels. The M71212's triple 2.5-ohm voice coils let you select 2-ohm impedance or 1-ohm impedance to draw maximum power from your mono-channel amplifier. The polypropylene cone and double-stitched rubber surround keep the sound true at up to 750 watts RMS.
750 watts RMS power
1500 watts peak power
Sensitivity: 85.3 dB (2 ohms)
Triple 2.5-ohm voice coils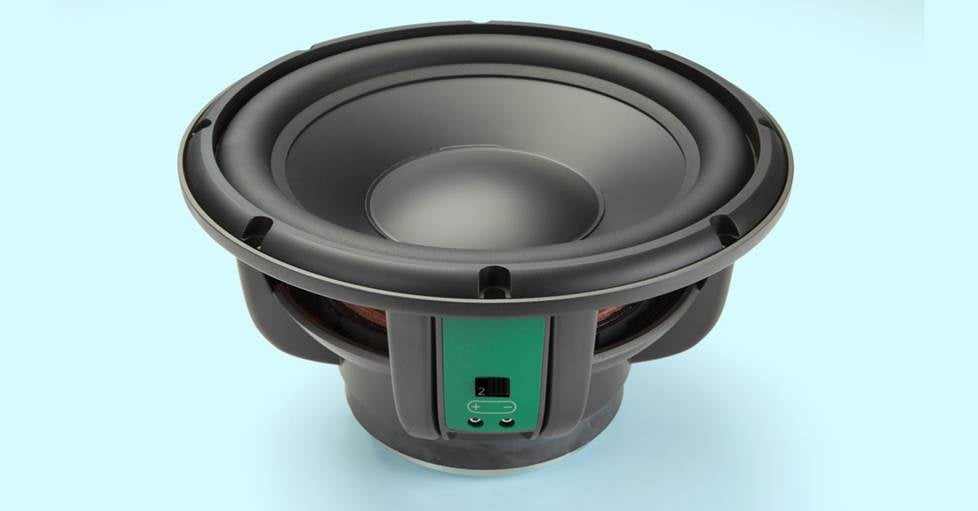 Audiofrog GB12D4 — Selectability and sensitivity
With 2- or 8-ohm impedance selectable from a simple switch, Audiofrog's GB12D4 makes it easy to fit into your system. Its high sensitivity means that your amp won't have to work as hard to pump out the low end. And it's made to fit enclosures as small as 0.75 cubic feet, bringing the big sound of a 12" sub into smaller spaces.
500 watts RMS power
1500 watts peak power
Sensitivity: 92 dB
Dual 4-ohm voice coils
Questions? We've got answers
When you're ready to upgrade your system, check out our car subwoofer buying guide and our full selection of 12" subwoofers.
Crutchfield's expert advisors can help answer your questions about choosing and installing your new sub. All you have to do is give us a call.
Popular questions customers ask
It's simple. A subwoofer gives you more bass, reproducing lower frequencies that your other speakers can't deal with. And subs aren't just for "bassheads." Filling out those lower frequencies will make any kind of music sound better. At Crutchfield, we love to see that look of surprise and joy on someone's face the first time they hear a sub in their vehicle!
The larger the woofer, the deeper the bass. A 12" sub will play louder and deeper than a 10" sub. A single subwoofer is all it takes to reinforce your music, but if you're looking for volume, then two subs are certainly louder than one.
A sealed enclosure will sound tighter and more accurate. A ported (or vented) enclosure makes the bass louder, with more boom, but with a slight loss of accuracy. A bandpass box is a combination of those two designs for even more output in a narrow frequency range.
First, figure out where a sub will fit. If you have limited space, consider a small powered sub. You'll be surprised how much bass you'll get. Also, what are your plans for your sound system? A small sub and amp will work great for adding some bass to a factory radio, but if you have plans to expand your system, go with the biggest sub that'll fit.
Yes, all subs need an amplifier. Some subs even come with an amp built-in (called "powered subwoofers"), so you don't have to match the sub to the amp. If you prefer to customize your system, make sure to get an amp that's powerful enough for your sub. The more bass you want, the more power you'll need.