What is a center channel speaker?
In a surround sound system, the center channel speaker is the one that sits above or below the TV screen. It's arguably the most important speaker in your system.
Why?
Because it reproduces dialogue and other sounds that correlate with the action taking place in front of you. More often than not, that's most of the sound you're hearing from a movie.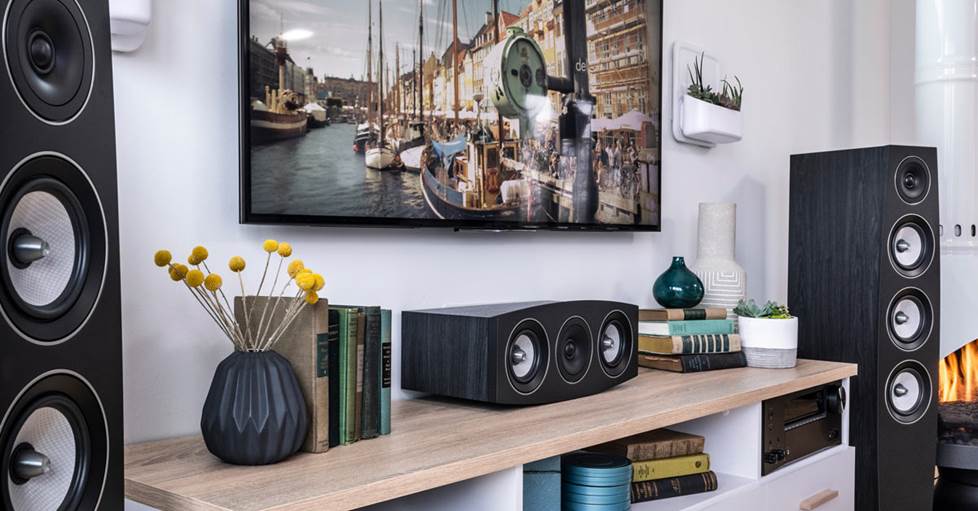 Your center channel speaker is the hardest-working speaker in your surround sound system.
Is a center channel speaker necessary?
If you don't connect a center channel speaker to your home theater receiver, the receiver will redirect the center channel sounds to the front left and right speakers.
So technically, the answer to this question is no. Search online, and you'll find passionate arguments for and against center channel speakers.
I side with the arguments in favor of the center channel speaker. A movie soundtrack has a center channel for a reason. I believe you should honor the filmmaker's intent by providing a separate speaker for the center channel.
Another good point: If you don't have a center channel speaker, you can't independently control the volume of the center channel sounds. They'll be mixed in with the left and right sounds, for better or worse.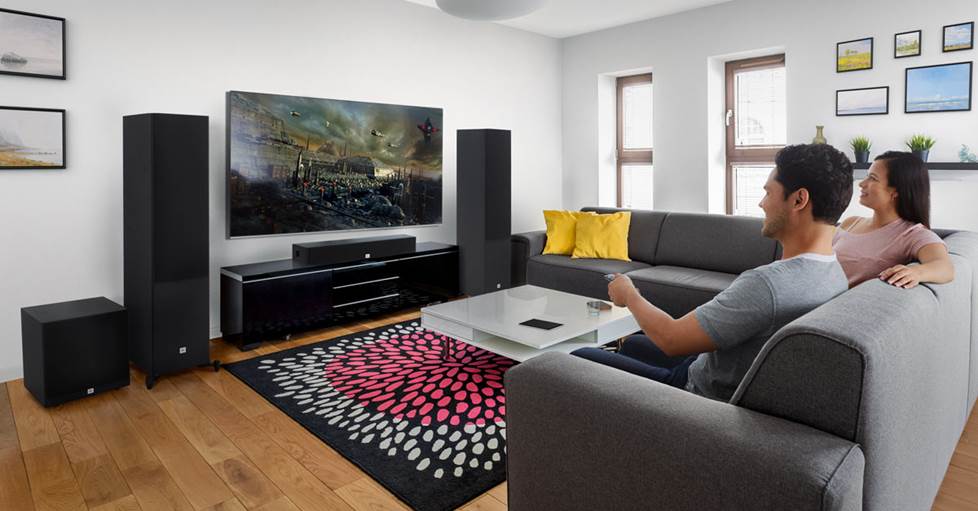 Look for a center speaker that gives you accurate reproduction of the human vocal range.
Is bigger always better?
Here's a good system-building strategy for a movie buff.
Start by choosing the best center channel speaker that your space and budget will allow. Then match the rest of your speakers to it.
Let's talk about a center speaker's woofer size. This is where bigger isn't always better. You don't need your center channel speaker to produce a lot of bass. That's because there's not much bass information in the center channel of most movie soundtracks.
The best center channel speakers are the ones that make dialogue clearly intelligible. That's not easy, given all of the other sounds that are competing for your attention.
Smaller woofers tend to respond more quickly and accurately to the sounds that inhabit the center channel. That's human voices, for the most part.
Woofer size is just one part of the formula for dialogue clarity. The type of tweeter a speaker uses and the way the tweeter is deployed can make a difference, too.
Hard-dome tweeters can help with vocal clarity. Metal tweeters tend to have a crisper sound than those made of softer materials like silk.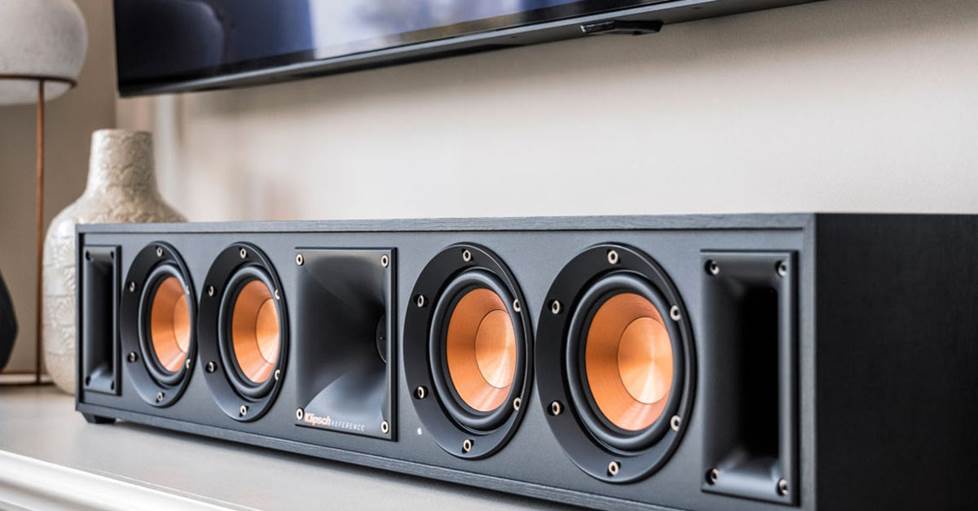 The horn in this Klipsch center channel speaker focuses the tweeter's output on your prime movie-watching seat.
Some center channel speakers have a tweeter with a waveguide or horn that controls dispersion. This can help focus the tweeter's output on the seat that's directly in front of the TV.
Are four woofers better than two?
You'll notice that a lot of center channel speakers have two woofers. Some have four or more. The extra drivers will expand your "sweet spot." Just make sure you can fit a four-woofer model into your cabinet.
Matching your center channel with your left and right speakers
Your three "front stage" speakers should be well matched.
What happens if your center channel has a markedly different sonic signature than your main left/right speakers? You'll hear jarring differences as sounds move from one side of the stage to the other.
To achieve "voice matching" buy left, center, and right speakers of the same brand and of the same series within that brand.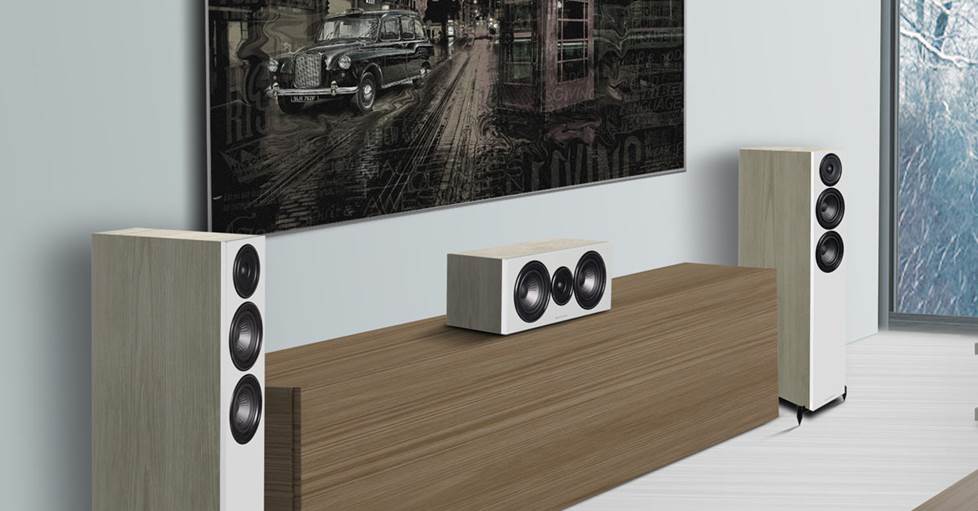 Big speakers are a good match for an extra-large TV set.
Your three front speakers should also be reasonably well-matched in terms of size. Your center channel speaker doesn't have to have the same size woofers as your left and right speakers. But the mismatch shouldn't be too extreme.
You may need a small center speaker because that's all you can fit in your TV cabinet. If you go with an ultra-compact center channel speaker, don't go with giant left and right speakers. Stay within the same brand and series, and you should be safe in this regard.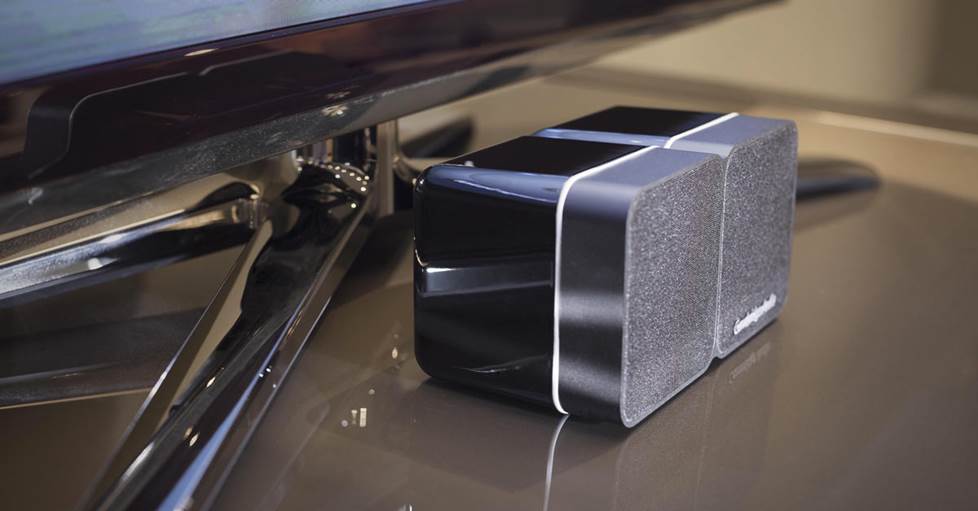 An ultra-compact speaker like the Cambridge Audio Minx Min 22 fits nicely below a pedestal-mounted TV. You can use Minx Min 22s for your left, right, and rear speakers, too.
Will you be using your home theater system to listen to a lot of music, too? Then you might want to employ a different system-building strategy. Say you prefer the mellower sound of soft-dome tweeters for music. Then that's what you should have in your left and right speakers. But then you'll want a center channel speaker of the same ilk.
Can you use your TV speakers or a sound bar as your center channel speaker?
In most cases, no.
However, a very small number of TVs, like those in Sony's A9G series, have center speaker input terminals. You can connect your receiver's center speaker output to those terminals. These particular Sony TVs feature "Acoustic Surface" technology that turns the entire screen into a speaker.
You can't use a self-powered sound bar as a center channel speaker. Passive sound bars incorporate left, center, and right speakers into a single speaker cabinet. They have speaker terminals for the three separate channels.
Can you use any speaker for the center channel?
Most center channel speakers are horizontally-oriented for a good reason. They're meant to live beneath or above a flat-panel TV set.
There's no law that says you have to use one of those, but using three vertically-oriented speakers is seldom practical in a living room. Unless you're using ultra-compact speakers, it won't work with a regular TV.
It's not a great idea to turn a regular vertically-oriented speaker on its side for the center channel. The sound will not be properly balanced across the front soundstage.
Identical in-wall speakers like these three Focal 300 IW6 LCR give you a perfectly matched front soundstage. They are designed to work well when mounted horizontally or vertically.
Some home theater purists insist that it's best to use identical speakers for the left, center, and right channels. That's a great idea for a dedicated home theater room. You'll need a projector and an acoustically transparent screen. Place all three speakers behind the screen, at ear level.
Center channel speaker placement and special receiver settings
Position your center channel below or above the TV, as close as possible to ear level. If necessary and feasible, tilt it up or down to fire directly at your ears.
If you are not completely satisfied with the dialogue clarity, your receiver may be able to help. Look for a "vocal mode" or dialogue level control. This lets you boost a narrow band of frequencies in the human vocal range. Or you could simply boost the overall volume of the center channel speaker by a couple of decibels. Some receivers have also have a setting that uses digital signal processing to lift the center channel sound to ear level.
Does your receiver have a dynamic range control? This can be useful if you want to watch an action film while others in your household are trying to sleep. Find a volume level that gives you vocal clarity for the quieter scenes. The dynamic range control keeps things from getting too loud when the chase scene starts.
To learn more about home theater setup, read our articles about speaker placement and AV receiver installation.
Features and specs
Speaker materials – The sound of a speaker is a product of many design choices, including the materials from which the drivers are made. For example, tweeters made of a fabric like silk usually have a smooth sound. Tweeters made of metal usually have a brighter sonic signature.
Sensitivity – Given the same amount of power, a speaker with a higher sensitivity rating will play louder than a speaker with a lower rating. A difference of a few dB can make a big difference. If you have a low-powered receiver, look for a center channel speaker with a sensitivity rating of 90 dB or greater.
Power range – Make sure your receiver's RMS wattage falls within the recommended power range of the speakers you plan to buy.
Impedance – This is the amount of resistance a speaker presents to an amplifier. Low-impedance speakers are those rated at 4 ohms. They should only be used with receivers that can deliver large amounts of continuous current. If you're considering 4-ohm speakers, check your receiver's specs to make sure it's compatible.
Need help choosing?
Before you buy, it might help to gain a broader perspective on shopping for home theater speakers. Please read our intro to home theater speakers and our article about in-wall speaker options for home theater.
One of Crutchfield's home theater experts can help you choose a center channel speaker that meets your needs. To get started, call 1-800-555-7088.