In this article: We'll explain the importance of good speaker wire and tell you what you need to know, including…
...and we'll offer some tips on how to connect speaker wire to your speakers and amplifier.
peaker wire is the lifeblood of your audio system. To put it in other terms, think of speaker wire as the arteries of your system, with your receiver being the heart and your speakers being the extremities. There are lots of different gauges, lengths, and connector types, and that can make choosing the right kind for your needs difficult. But it's not that bad once you learn the basics.
What gauge wire is needed for home speakers?
This is one of the most common questions I got from customers when I was a Crutchfield Sales Advisor. Getting the correct speaker wire gauge is one of the most overlooked but important things to get right.
When looking at speaker wire options, you'll notice they all have an "AWG" number. AWG refers to the American Wire Gauge standard. The way the numbers work is straightforward — the lower the number, the thicker the wire.
So, a 12-gauge wire is thicker than a 14-gauge wire, and so on. Thicker wire has less resistance to current flow, so it's best to use it with longer runs, high-power situations, and for lower-impedance speakers (think 6-ohm or 4-ohm).
For shorter runs (50 feet or less) that go to standard 8-ohm speakers, 16-gauge wire is all that's needed.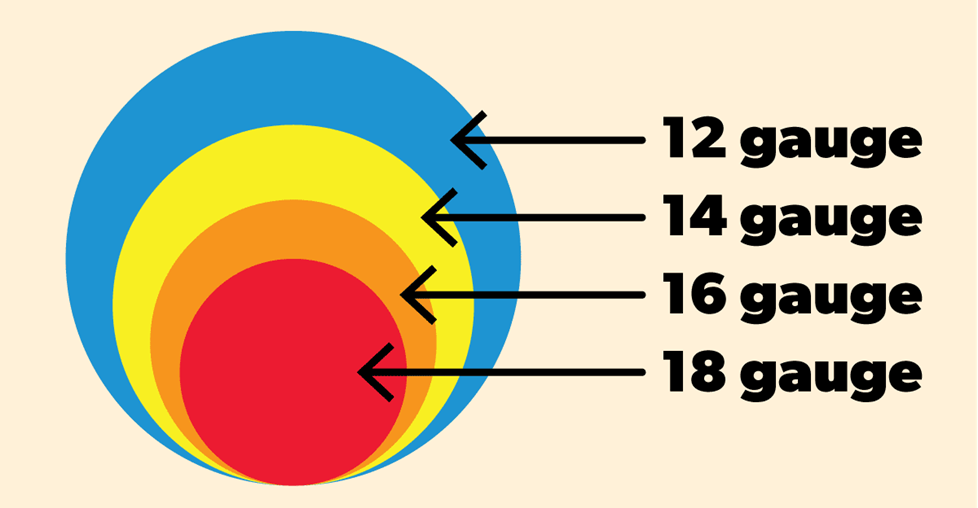 A scale diagram of wire gauge thickness. Smaller numbers correspond to thicker wire. (Not drawn to actual size.)
What gauge speaker wire do I need for home theater?
It all depends on your speakers and how far away they are from your receiver. For most home theater systems, 16-gauge wire is all you'll need. However, if your speakers are more than 50 feet away from the receiver, stepping up to 14-gauge isn't a bad idea. Also, if you're using a high-current amplifier or lower-impedance speakers, 14-gauge is best.
How much wire do you need?
Crutchfield offers speaker wire in 50- or 100-foot rolls that can be trimmed according to your needs.
Guesstimates are okay, but always over-estimate to be safe. If you want to know exactly how much wire you'll need, there's a simple way to figure it out. Run a string from your receiver or amplifier to each of the speaker locations, measuring the string once you're done. Then add a few extra feet to the total to give you some slack for easier connection to your gear.
Check out the video below for a few more helpful tips.
What type of wire do you need?
We offer speaker wire with connectors or without.
If you go the connector-less route, I recommend grabbing some banana plugs. Getting bare wire into speaker terminals can be a chore, and banana plugs help simplify the process and make connections a breeze once they're installed.
Get the right speaker wire to run inside your walls
It's important to pick up some UL-rated speaker wire labeled CL2 or CL3 if you need to run wire inside your walls. The in-wall cables we carry are available in 2-conductor or 4-conductor flavors.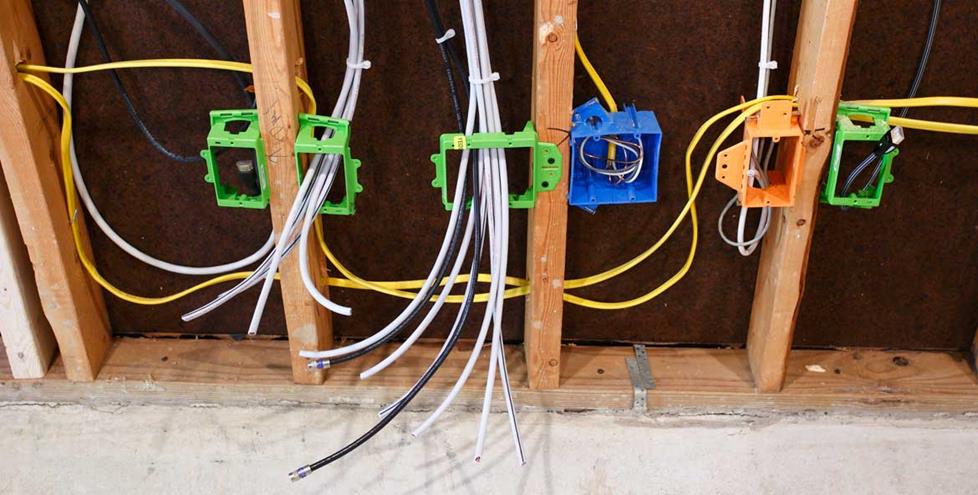 CL-rated wire is required for in-wall speaker wire runs. The speaker wire gets ran through and between the studs in your wall.
4-conductor cables are versatile and great to have on hand. They're perfect for running a single cable between your amplifier or receiver to an in-wall volume control in another room. From there, you can run 2-conductor cables out from the volume control to both speakers in that location.
4-conductor wire is also good for connecting stereo-input speakers to amplifiers. Take a look at our comprehensive in-wall wiring guide for more information.

You can run 4-conductor speaker wire to an in-wall volume control (left) or a stereo-input speaker (right).
Need to run wire outside?
If you want to install your outdoor speaker wire underground, you'll need wire rated for direct burial.
Ask a Crutchfield A/V designer to recommend the right kind wire for your installation.
Are audiophile speaker cables worth it?
Audiophile speaker wire can definitely make a difference in your sound. Audiophile speaker cables often use higher quality materials inside the cable. It's also not uncommon to find high-conductivity materials like silver in their connectors. But what kind of sonic difference does all that make? Folks tend to notice that their music is more dynamic overall than it was with more budget-friendly cables.
Audioquest's Rocket 33 cables are exceptional, audiophile-grade speaker wires with banana plugs already attached
As a personal anecdote, I was using some run-of-the-mill wire to connect my Klipsch Reference Premiere home theater system to my Yamaha Aventage receiver and felt like the speakers weren't quite performing at their peak. After taking the plunge and purchasing the Rocket Series high-performance speaker cables from Audioquest, I was floored.
Movies and music sounded much more alive, with more depth in their soundstages. The whole soundscape sounded more vibrant than ever. Your mileage may vary depending on what speakers you're using and what receiver you've got pushing them, but I was forever sold on audiophile cables after my experience.
If you're looking for some speaker wire with connectors, check out our offerings from Audioquest, McIntosh, and Tributaries and read the reviews. If you're looking for bare wire without connectors, we have some solid options from Audioquest and Austere.
How to connect speaker wire
The first step is to determine which ends of your speaker wire are positive and negative. For speaker wire with connectors, the positive is often red and the negative is black. Once that's done, connect one positive end to the positive terminal on your speaker and the other positive end to your amp or receiver. Do the same for the negative (black) end, and repeat for however many speakers you're hooking up.
If you decide to hook up your wire without connectors, use a wire stripper to take about 3/8-inch of insulation off the ends of each lead, exposing the bare wire strands. Twist each lead's bare wire strands tightly, so no stray strands are sticking out. Loose strands could make contact with the cable's other lead and cause a short circuit, potentially damaging your components.

From left to right: bare wire, pin connectors, spade connectors, single banana connectors, dual banana connector.
Speakers have one of two different types of speaker wire terminals — spring clips and binding posts (see illustrations below).
Spring clips are very easy to work with. Simply press down on the clip, insert the speaker wire, and release. The spring-loaded mechanism holds the wire in place. Spring clip terminals can accept bare wire and pin connectors, but not spade connectors, banana plugs, or dual banana plugs.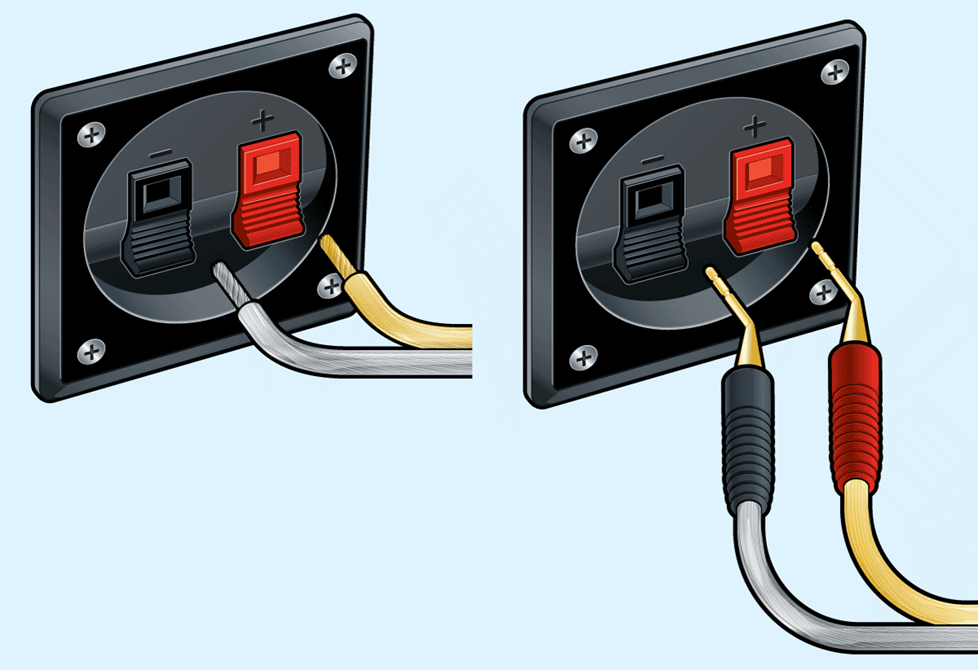 Spring clip terminals accept bare wire or pin connectors.
Binding posts provide a very solid connection for your speaker wire. All you have to do is unscrew the collar to reveal the hole and feed the bare speaker wire or pin connector in, then screw the collar back down.
You can also use banana and dual banana plugs to connect the speaker wire directly into the hole in the center of a binding post. A tip from me: If your banana plugs and speakers are brand new, it's going to take a little pressure to get the banana plugs inserted. Nothing is wrong with your speakers or the cable, the connectors are just tight. Applying some force is often necessary the first time you're connecting banana plugs to your speakers and receiver.
A spade connector slides around the binding post's collar and is secured once you screw the collar back down.

There are all sorts of ways to connect speaker wire to your speakers and receiver. From left to right: bare wire, spade connectors, single banana plugs, and double banana plugs.
We carry quite a few connectors that you can attach to bare speaker wire. Our own Crutchfield-branded banana plugs are an excellent value and make connecting your speakers a breeze.
We also have some cool right angle banana plugs from Ethereal that are grea for saving space. Speaker Snap makes some nifty quick-connect banana plugs that are easy to install. And if you're looking for a more high-end option, Audioquest has you covered with their silver-plated banana plugs.
Need further help?
If you're still stuck on which speaker wire to get, feel free to reach out to one of our Advisors for personalized one-on-one advice. Also, all Crutchfield purchases come with a generous 60-day return period and free lifetime technical support.