In a nutshell: This article takes a look at Rockford Fosgate's custom audio systems for the Polaris General:
Stage 1 – the PMX-2 digital media receiver and custom mounting kit
Stage 2 – the receiver and a pair of 6-1/2" speakers in custom enclosures
Stage 3 – adds a 4-channel Rockford Fosgate amp and a 10" subwoofer
Stage 4 – adds another pair of speakers to the rear rollbar
With four stages available, you can choose the system that's right for your General.
When it comes to versatile side-by-sides, it's hard to top the Polaris General. Need to haul a load of dirt? Not a problem. Want to go play in the mud? Also do-able. And you can do both of those things in comfort and style, which is a pretty nice way to spend time.
Custom-designed sound systems from Rockford Fosgate will fit right into your General, and they'll sound as good as they look. These receivers, speakers, amps, and subs are marine-rated, too, so they can handle whatever dust, muck, and moisture you get into.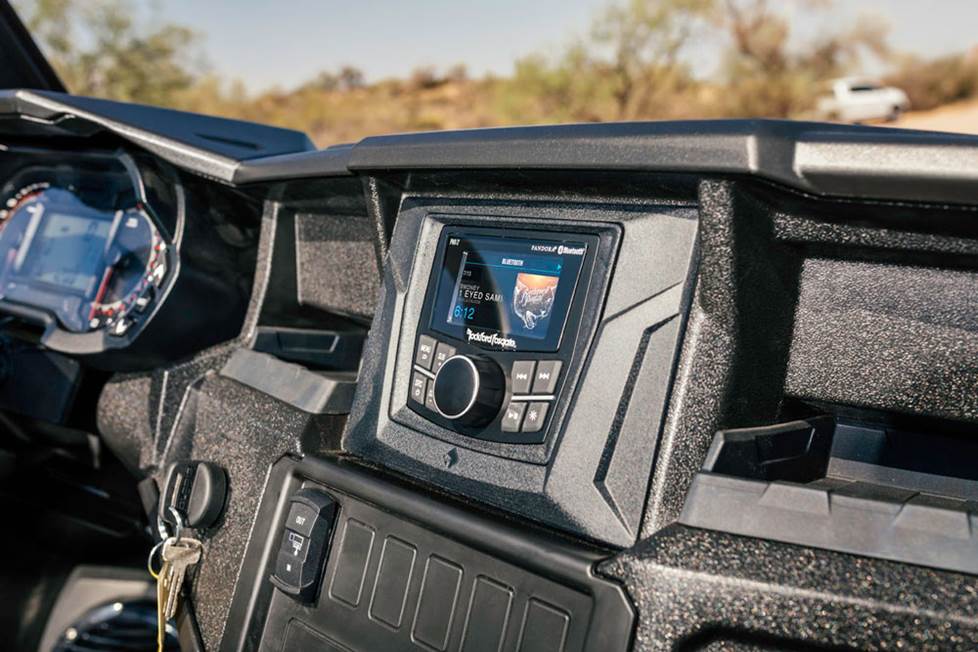 Superior sound for your Polaris General X3
With four packages to choose from, it's easy to find the right audio system for your General. Upgrade the radio you already have with the Rockford Fosgate PMX-2 receiver found in Stage 1 (and in the other three stages, too), or go all-out with the "everything bagel" Stage 4 system. And if you want to start small, there are ways to expand your system in the future. We'll get to the packages in a bit, but first, let's take a look at the individual pieces in these kits.
It all starts with the PMX-2 receiver
The Rockford Fosgate Punch PMX-2 digital media receiver (found in all four packages) packs a lot of features into a compact, water-resistant package. This trail-ready stereo has built-in Bluetooth® connectivity, so you can stream music from your phone and crank up your favorites.
If you prefer to plug in, there's an AUX input, plus a USB input that will charge your phone while you're playing your music. And speaking of charges, the PMX-2 also has a low-voltage warning alert built-in, so you won't accidentally drain your General's battery.
In addition to AM and FM radio, you can also tune into the weather band to stay up to date on current conditions — a handy feature to have when you're in the middle of nowhere.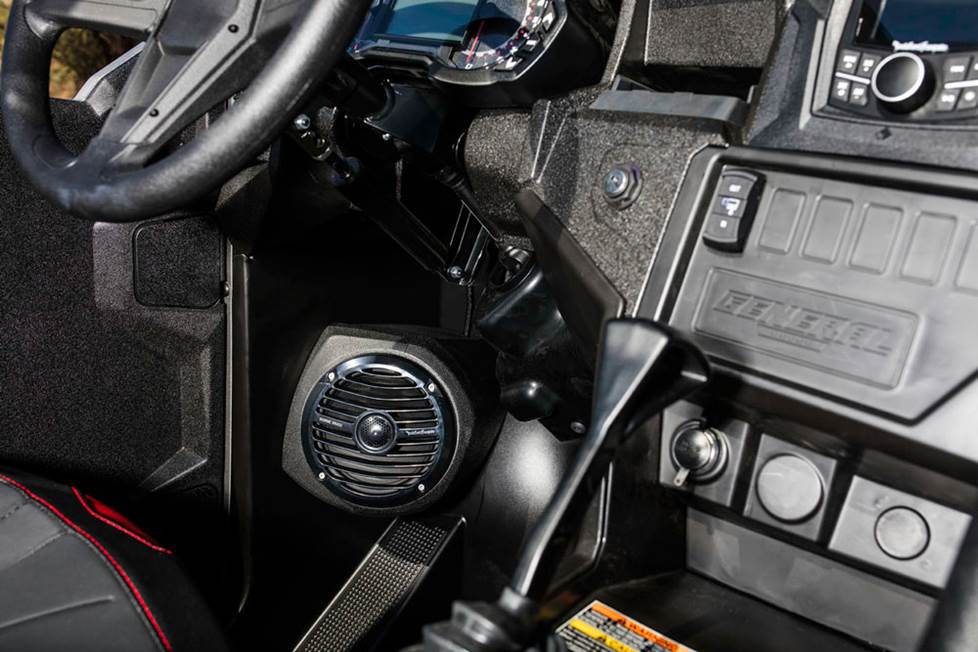 Bigger, better speakers
The Rockford Fosgate 6-1/2" speakers (Stage 2 and up) are tough enough for off-road and marine use, but they also sound terrific. The poly cone is treated to withstand moisture and sunlight, as is the 1" volcano dome tweeter in the grille. These full-range speakers give you the performance you expect in a package you won't have to worry about when the going gets rough.
They're really easy to install, too, thanks to the direct-fit speaker enclosures included in these kits. Made from a fiber-reinforced composite blend, they bolt right in using the factory mounting holes. No drilling required!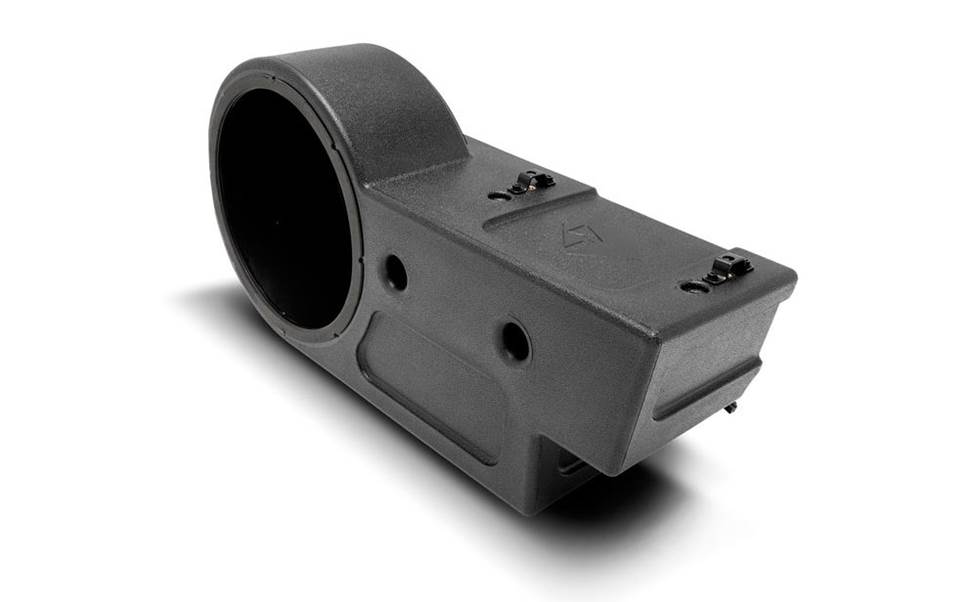 Bring on the bass
Want better bass? A Rockford Fosgate 10" subwoofer will give you all the thump you need. The RM110D2B sub (found in Stages 3 and 4) fits into your General with help from a direct-fit dash kit (above) that looks like a custom installation. The sub won't work in Generals equipped with the heater option, though, so keep that in mind when you're planning your system.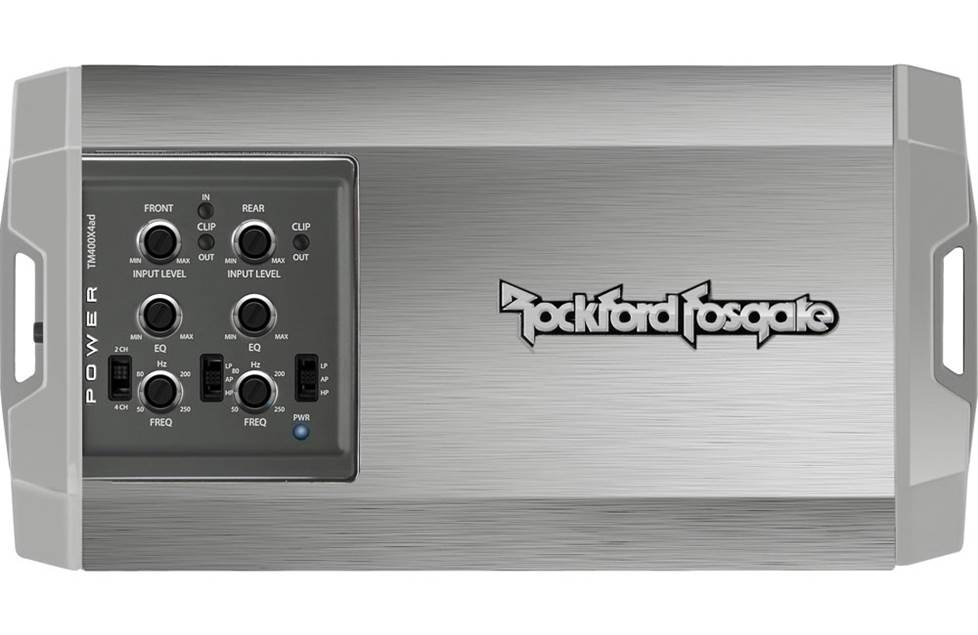 Powerful amps with plenty of juice
A system like this requires serious juice and the Rockford Fosgate TM400X4ad marine amp has plenty of it. With a 3-stage thermal lock extrusion, dual-fan forced induction system, and real-time thermal monitoring, this amp can rock hard without overheating – even when it's tucked into a tight space. The kit includes mounting plates for this tough, trail-ready amp.
Four stages of Rockford Fosgate sound
With Rockford Fosgate's high-performance off-road audio packages, you can get exactly the amount of audio awesomeness you want in your Polaris General.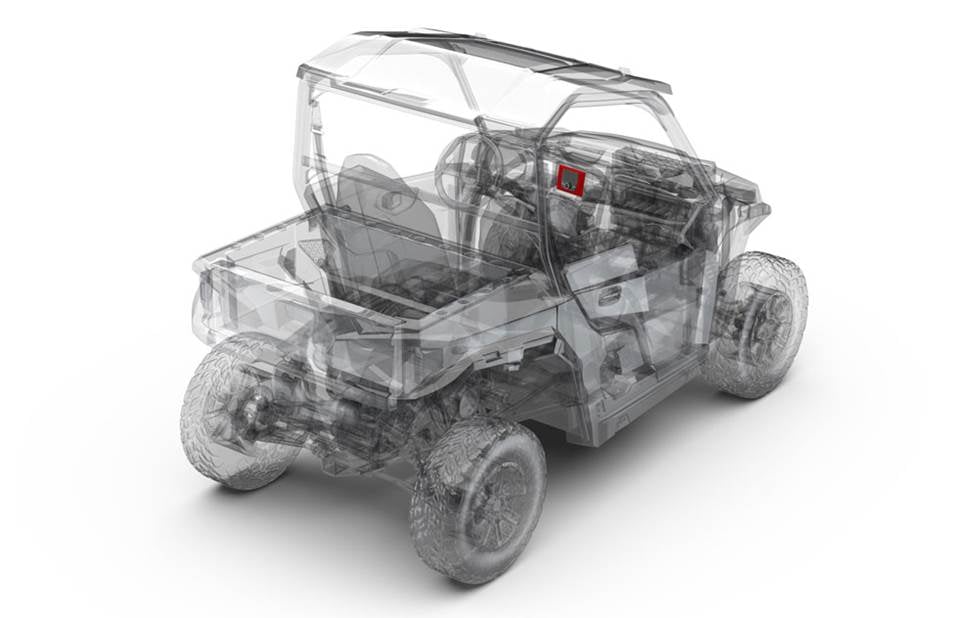 Rockford Fosgate Polaris General Stage 1 system
Already have speakers? The Stage 1 kit contains a PMX-2 digital media receiver and a custom dash kit. It mounts in place of the center dash using the existing mounting holes.
Rockford Fosgate GNRL-STAGE1 kit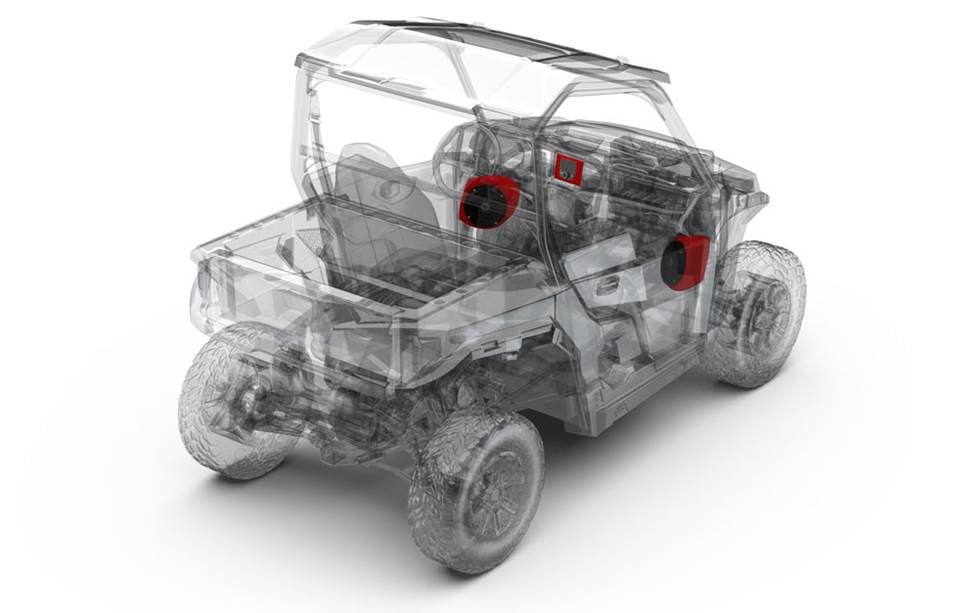 Rockford Fosgate Polaris General Stage 2 system
Step up a stage and get the digital media receiver and kit, plus a pair of powerful 6-1/2" speakers, rugged speaker enclosures, and a wiring harness.
Rockford Fosgate GNRL-STAGE2 kit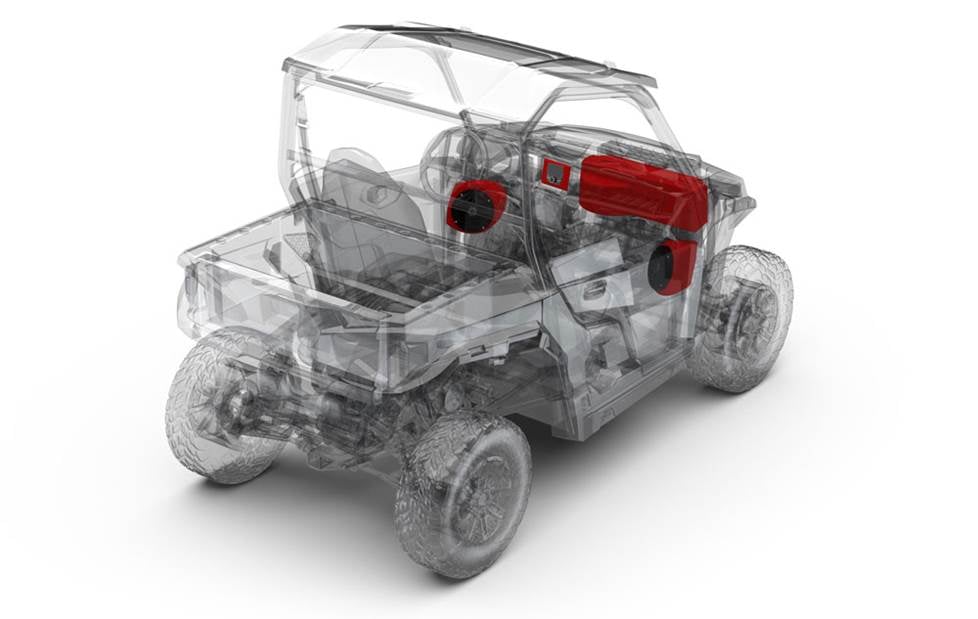 Rockford Fosgate Polaris General Stage 3 system
Now you're getting serious. Stage 3 adds a 4-channel speaker amp, a 10" sub and enclosure, plus a mounting plate for the amp.
Rockford Fosgate GNRL-STAGE3 kit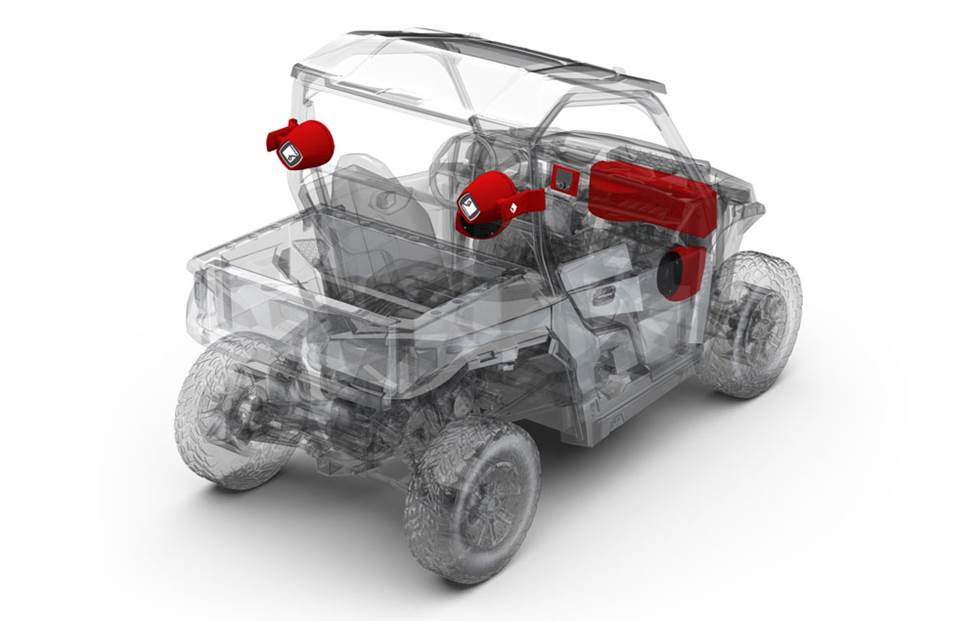 Rockford Fosgate Polaris General Stage 4 system
Adding a set of 6-1/2" rear roll bar speakers makes this system really sing. You can also buy the speakers separately if you want to upgrade your Stage 2 or Stage 3 package later.
Rockford Fosgate GNRL-STAGE4 kit
Will if fit your General?
That's the next question, and it's an important one. Use our vehicle selector to be sure the kit you want will work with your UTV. If you don't have a General, we still have a wide selection of audio and lighting gear that'll work for all UTVs. If you have any questions, contact our advisors by phone, chat, or email.