In a nutshell: This article takes a look at custom audio systems for the Can-Am Maverick X3. With these rugged, powerful packages from MB Quart and Rockford Fosgate, you can choose the system that's right for your music and your Maverick.
There is nothing subtle about the Can-Am Maverick X3. It looks wild, it goes like stink, and it tears through dirt and muck with gleeful abandon. It also costs as much as a car, a fact that will cease to matter the first time you blast over a jump and experience the joy of flight.
There's no sense in applying real-world common sense to a vehicle that combines the best features of a Mazda Miata and a Ford Raptor, anyway. This thing is made for pure off-road fun, whether you're tearing down a dirt road or racing up a sand dune. Just get in, gas it, and grin like a fool, because that's what the Maverick X3 is for.
Anything that's this much fun needs a soundtrack, so why not give your Maverick X3 a stereo system that's as wild as, well, a Maverick X3? Custom-designed sound systems from Rockford Fosgate, MTX, and MB Quart will fit right into your Maverick, and they'll sound as good as they look. These receivers, speakers, amps, and subs are marine-rated, too, so they can handle whatever dust, muck, and moisture you get into.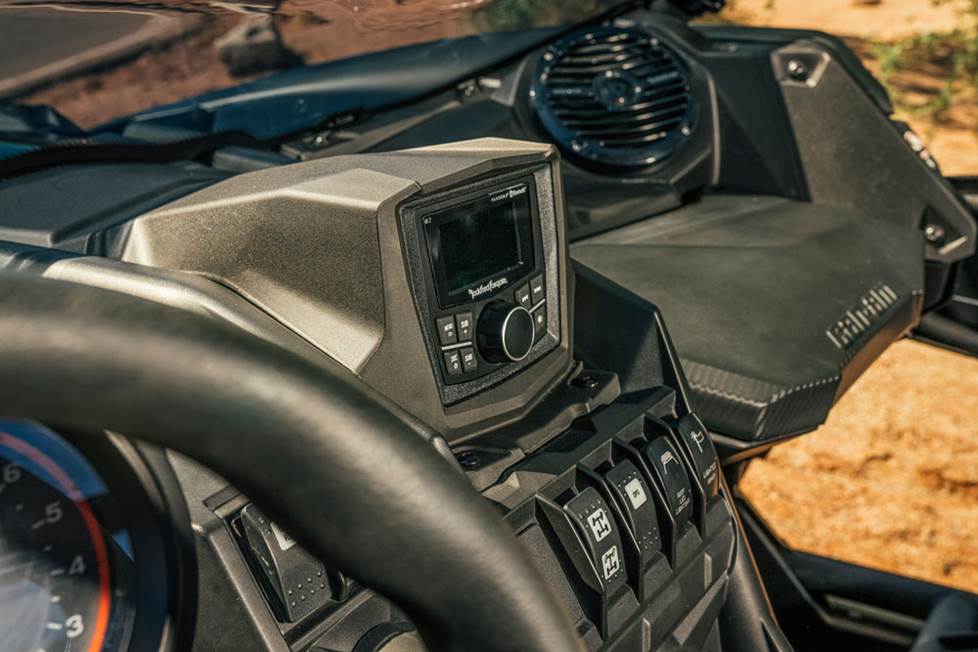 The rugged digital media receiver comes with a custom dash kit for a perfect fit
Rockford Fosgate rocks the Maverick X3
Rockford Fosgate's great-sounding Maverick X3 packages range from mild to wild. There are six different packages, each one with more awesome audio gear than the last. And if you don't want to do everything at once, you can start where you're comfortable and add more gear later. The Stage 1 kit is pretty nifty by itself, but if you want maximum sound, the range-topping Stage 6 kit is the one to choose.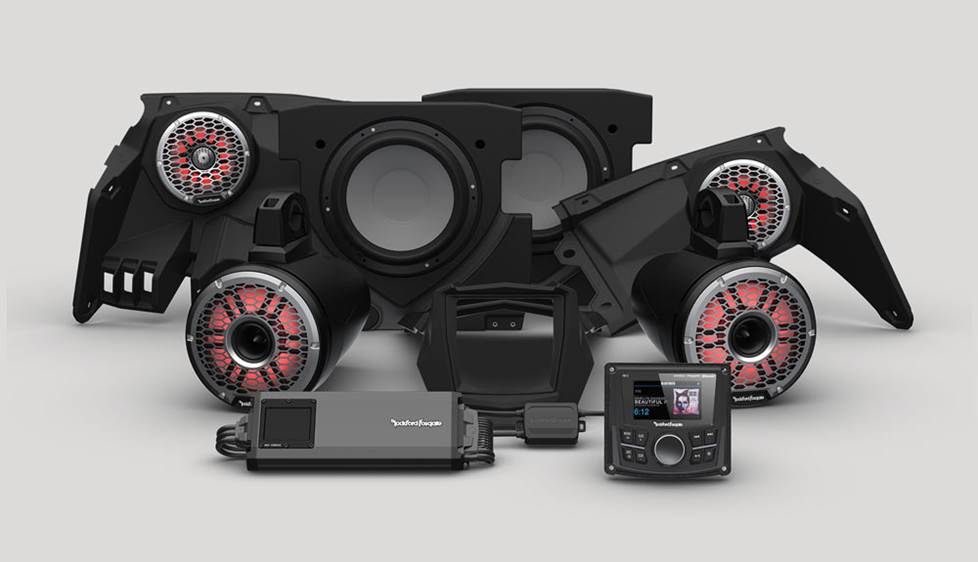 The Stage 6 package is the top-of-the-line Rockford Fosgate system for the Maverick.
Rockford Fosgate designed these packages to fit right into select Maverick X3 models. Each stage kit also comes with all the parts and pieces you'll need for a smooth, hassle-free installation. Each Element Ready™ component is built for max performance and tough enough for trail duty, so you can crank the tunes without worrying about your stereo getting swamped. To see the Rockford Fosgate systems for your Maverick X3, enter your vehicle information.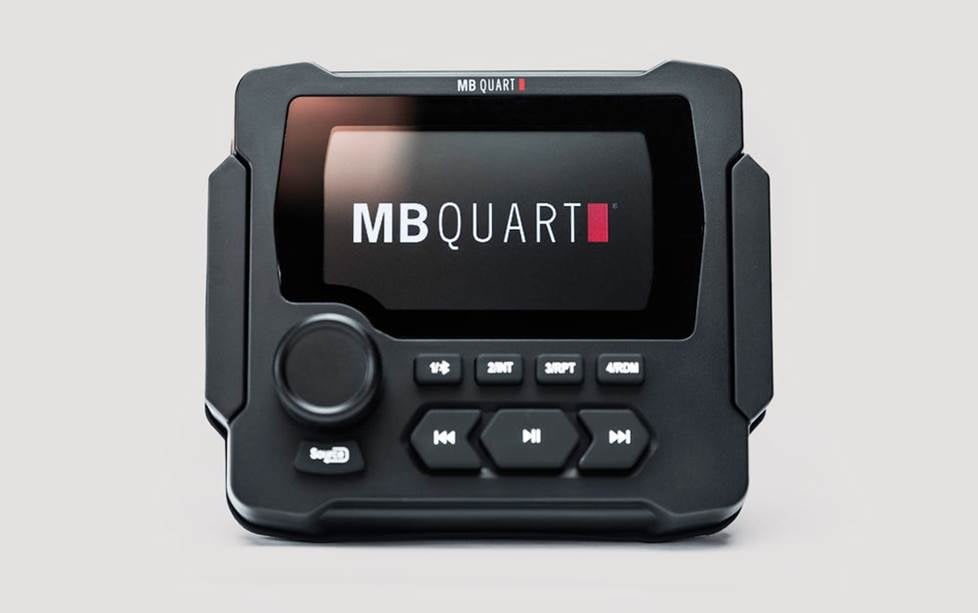 All four MB Quart kits feature the GMR-LED marine digital media receiver, plus a harness and a custom-designed dash panel
MB Quart brings the noise
MB Quart's MBQX Series is designed to fit select 2017-up Can-Am Maverick X3 models. This system is available in stages, too, so you can choose the one that's right for your tastes and your budget. No matter which one you go with, you'll get great sound and MQ Quart's legendary quality. And all the components are designed for hassle-free installation in your Maverick.
All four kits feature MB Quart's GMR-LED marine digital media receiver, plus a harness and a custom-designed dash panel that holds the receiver and blends into your Maverick's dash. This AM/FM/WB receiver features built-in Bluetooth®, so you can pair up quickly and stream music stored on your phone. If you prefer to plug in, you'll find an AUX input and a charging USB input.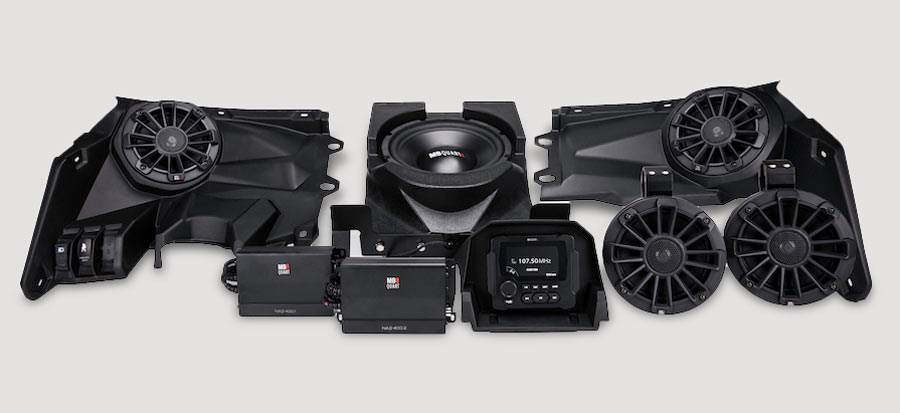 MB Quart's Stage 5 package includes a receiver, four 6-1/2" speakers, a 4-channel amp, a 10" subwoofer, and a mono amp
The Stage 1 kit is a receiver-only model, so it'll work with your choice of speakers. If you want to expand your system later, the GMR-LED features a full set of preamp outputs, along with a handy camera input.
If you don't want to wait, you can get maximum audio bang for your buck by choosing one of the other MBQX packages, which grow to include off-road-ready speakers, amplifiers, and subwoofers. The Stage 5 kit brings plenty to the part, with a receiver, four 6-1/2" speakers, a 4-channel amp, a 10" subwoofer, and a mono amp.
Three decades of marine and powersports audio expertise goes into every piece of MB Quart audio gear. Their receivers, speakers, amps, and subs provide great sound and rugged, all-weather reliability. The MB Quart "Life Shield" badge means your gear has been designed and tested to stand up to the toughest conditions on the water or off the beaten path. To see the MB Quart systems for your Maverick X3, enter your vehicle information.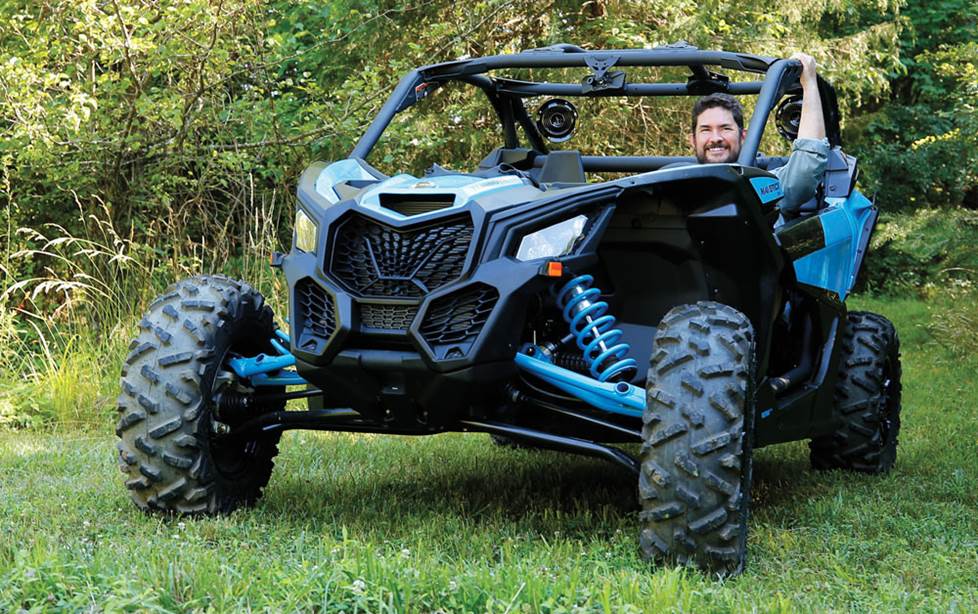 What's it like to install an MTX kit in a Maverick? We wrote a whole article about it!
Crank it up with MTX Maverick systems
Another excellent option for your Maverick is a custom-designed system from MTX. Several kits are available (enter your vehicle info to learn more), and they're all outstanding.
Since a friend of ours happened to have a Maverick X3 and we happened to have a top-shelf 8-speaker system in the house, we decided to install it ourselves. See what we learned in our Maverick installation story.
Will it work in your Maverick?
That's the next question. Use our vehicle selector to be sure these kits will work with your Can-Am Maverick X3. If you have a different side-by-side, we still have a wide selection of audio and lighting gear that'll work for all UTVs. If you have any questions, contact our advisors by phone, chat, or email.