A new sound system makes every moment in your car a magical time of music and fun. Whether you replace your factory gear all at once, or one component at a time, when you upgrade you'll get amazing clarity and more of a sense of the the musicians' three-dimensional presence.
When Jo, a Crutchfield copywriter, decided it was time for a new sound system, she got a little help from Kicker for a complete overhaul. After she had a few days to enjoy it, we asked her about her new car audio experience.
Items installed:
Sony XAV-60 DVD receiver
Kicker KS5.2 5-1/4" component speakers in the front doors
Kicker KS525 5-1/4" 2-way speakers in the rear doors
Kicker BassStation powered subwoofer in the trunk
Kicker ZX350.4 4-channel amplifier in the trunk
Kicker 8-gauge amp wiring kit
StreetWires ZeroNoise 7 6-channel patch cables
StreetWires SuperCable® speaker wire
Dynamat Xtreme door kit
Jo's Story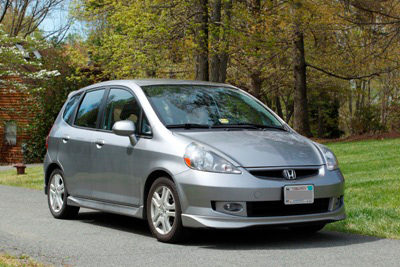 Jo's Honda Fit
What kind of music do you listen to? How loud?
I'm pretty eclectic, and I'm always down to hear something new on a friend's playlist. My favorite genres are Rock, Funk, Big Band/Swing, and Classical. A lot of the music I like is heavy on the brass, and I really like how the KS speakers keep the horns sounding bright and articulate. When I'm in the car I generally like to just chill out and drive, so I listen to my music at a medium to low volume. If a song comes on that I really like, I'll crank the volume up high and jam.
What was wrong with your factory stereo system?
I actually thought the factory system in my Fit wasn't too bad; I've had cars with worse factory systems. I didn't have any plans to upgrade my system until a friend of mine got in the car and said, "You could do better."
The bass from my factory system was pretty disappointing. When I turned the volume up, the highs and mids got louder, but the bass just got lost. A lot of factory stereos have this built-in feature that cuts out the low frequencies when you turn the volume up. It's there to save your factory speakers from bottoming out, since they're just not built to handle that kind of bass, and the factory stereo doesn't put out enough power to support heavy bass.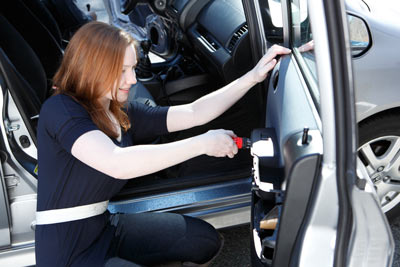 Jo starting the job by removing a door panel
Did you do any sound-deadening, like applying Dynamat? If so, how did that help?
We used Dynamat in the front and rear doors. After I finished my first door, I compared it to the others, knocking on the metal. There was a significant difference in resonance — the doors without Dynamat had a distinct metallic 'clink.'
How was the installation? Did you do it yourself?
I did the installation myself over the course of a few afternoons. The most difficult part was getting through the firewall with my amp wire. Once I found a gasket I could go through, it was smooth sailing.
Was it hard to tune the system?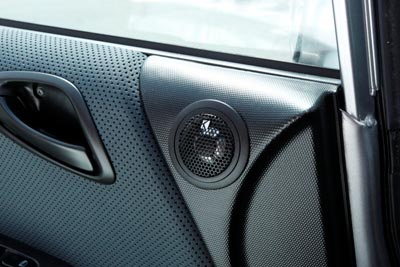 The Kicker KS5.2 tweeter flush-mounted in the door
At first, there was a sizzle in female vocals that I wasn't happy with. These components come with a really great tweeter attenuation switch built in to the crossover, so once I found the right settings, the highs sounded really nice. I enjoy the crispness of the titanium tweeters — they can hold their own even when the bass gets heavy.
Setting the amp gain was pretty straightforward, I used the directions from the Crutchfield Know Zone™.
Do you tweak it all the time, or do you leave the settings alone?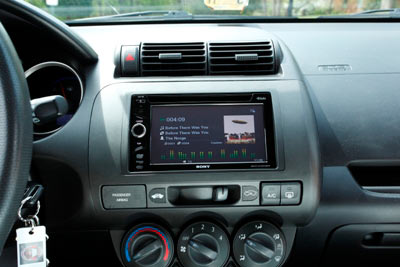 The Sony XAV-60 DVD receiver in the dash
Once the amp gain and tweeter attenuation were set, I left those alone. The stereo has a 7-band parametric equalizer, and I'll change the settings if I'm transitioning from one genre to another, like classical to funk.
What has improved?
Not only has my sound improved, but I'm able to customize it more than I ever could before, so it's perfectly suited to my listening style, and tuned to my location in the driver's seat.
I can play my music at a louder volume without distortion from the speakers or sub. That's a big deal for me, because I know my favorite songs front to back, and the last thing I want is some nasty noise sneaking in there. Plus it's cool to really feel the power coming from the amp to the speakers. My music has more oomph, more vitality.
Did you install the amplifier yourself? Where is the amp located?
I did most of the amp installation myself. When it came time to mount the amp, I got some professional advice from the installation guys at the Crutchfield retail store. I settled on mounting it onto the back of the rear seat.
| | |
| --- | --- |
| The Kicker amplifier bolted to the rear seat | The Kicker BassStation powered subwoofer |
What about your subwoofer? Where is it and how does it work for you?
My sub is in the trunk, on the passenger side, firing sideways. I'm glad I went with a powered sub — it made installation and tuning very straightforward.
Do you have any stories about your new system? Reactions of friends and family, for example?
My sister got excited the first time she got in my car and heard my new system. She put herself in charge of the playlist and stereo controls for the whole ride. When we got to our destination she beamed at me and said, "We have to hook my car up, too!"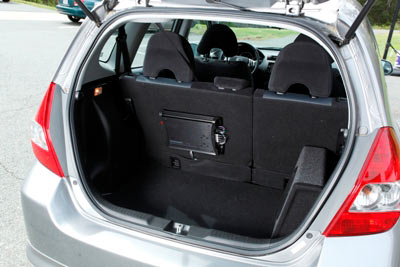 Clean installation with lots of room left over
Watch the video
For a closer look, watch our video about Jo's Awesome Kicker Car Audio Upgrade, and she'll show you what she likes about the new equipment and how she installed it.
The Crutchfield Car Showroom
Jo is loving her new system. If you'd like to read about the audio improvements other people have made to their vehicles, check out our Car Showroom. These stories are submitted by customers and fans, and edited by Crutchfield writing staff.