Charlie P's 2001 Chrysler Sebring
High-calibre Sound in the Car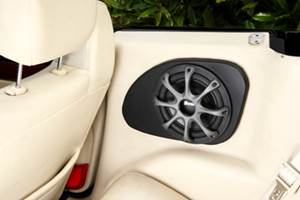 Items installed:
Eclipse CD7200 MKII CD receiver
Boston Acoustics S35 3.5" speakers
Boston Acoustics SX95 6"x9" speakers
Boston Acoustics G108 8" subwoofers
Boston Acoustics GT-50 5-channel amplifier
AudioControl DQXS 6-channel digital equalizer
Dynamat Xtreme door kit
Dynamat Xtreme bulk pack
StreetWires wiring
Charlie's Story
Charlie wanted a stereo system that could handle flying down the highway with the top down. And as a professional musician, his standards for good sound were pretty high. Since he got the car for a good price, he decided he could afford to spend a little extra money on a top-of-the-line audio system.
He chose Boston Acoustics speakers, subwoofers, and amplifier to power and deliver the music. For the stereo, he picked out a copper-plated stereo from Eclipse that was designed for good sound quality — the copper blocks out electrical noise from the car. And he added a digital equalizer from AudioControl for tuning and polishing the sound. Finally, the vibration and road noise was minimized as much as possible with Dynamat noise damping kits.
Q&A Section
I ran through our usual list of interview questions to get more details about the stereo system from Charlie.
Why did you decide to upgrade your A/V system?
I love music, and I have a long commute. Even though the factory stereo system was the upgraded Infinity system from Chrysler, it didn't come close to giving me the volume or clarity of sound that I was looking for.
What made these stereo products the right choice for you?
First and foremost, I wanted high-performance sound. When I planned this system, I decided that if I was going to put the time and money into this upgrade, I wanted to go all the way and do it all at once. So I spent a little extra to get the excellent sound quality that I was looking for, and these products fit that bill.
What's the first thing you show people about your installation?
The custom-installed subwoofers in the back seat. I couldn't put a subwoofer box in the trunk because I need all that room for guitars and music equipment, so I knew from the start that I needed another solution.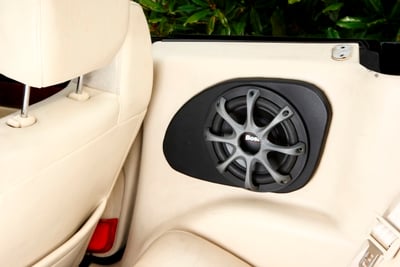 Custom-mounted 8" subwoofer where there used to be a 6"x9" speaker.
What was the most difficult part of the installation?
Of the installation? That was mounting the subs in the back seat. We had to make mounting plates to lift the subwoofers out of the car body to create the depth that was needed. And after that, we still had to use a saw to trim some metal in order for the subs to fit. We had to run a lot of wires too, but once we took out the rear seat, it was a piece of cake.
After the installation, getting it all in tune took a lot of time. I mean, when you just put in a new stereo or a new set of speakers, it's not that hard to adjust the way it sounds. But since I replaced everything at once, I had to get used to the speakers, then slowly start tuning things in. And having that digital equalizer made it more challenging because I had to learn how to use it, but it also made it possible for me fine tune to an incredible degree. That thing is amazing.
What plans, if any, do you have for future upgrades?
At this point, there's not much else I want to do. I have my dream system. The stereo even has built-in Bluetooth® so I can make calls without digging for my phone.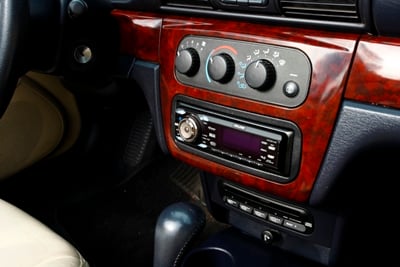 The Eclipse CD7200 MKII stereo has a lot to offer.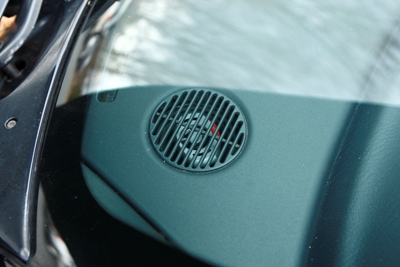 One of the 3-1/2" Boston Acoustics speakers in the dash.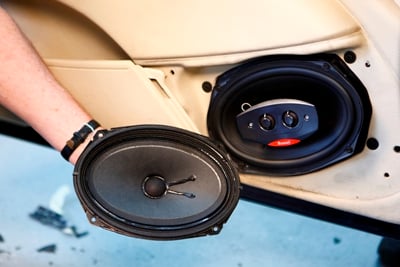 The old factory speaker and the new Boston Acoustics speaker — which one do you think sounds better?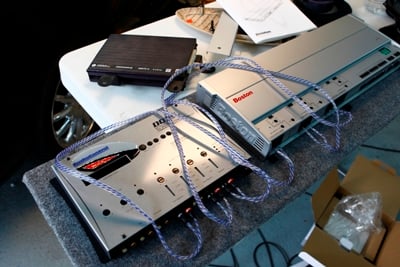 The digital equalizer (left) and new amplifier (right), and the tiny factory amp in the background.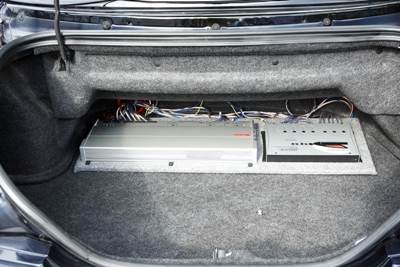 The amplifier and digital equalizer installed in the trunk.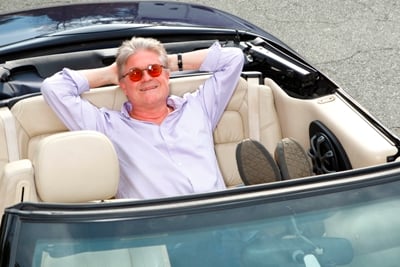 Charlie basking in the good music.