Robert T's 2005 Subaru Outback XT
Installation Description
Because the 2005 Subaru Outbacks have no "line-in" and you cannot remove the stock radio, your only realistic options for an iPod are either to use the Scosche FM modulator or plug directly into your amp (either with a CleanSweep or an amp that accepts a line-in). As a first attempt I tried the Scosche, but just wasn't satisfied with the sound. So I purchased two Blaupunkt THA-275 amplifiers, both of which have a line-in.
I installed the Polk MOMO 6.5" speakers in front doors myself - "technically" they do not fit, but if you don't mind the back of the speakers touching the metal arm of the windows (does not affect the window or speakers at all) you will be fine. I also had to modify the original tweeter housing (sanded it down, and used a glue gun to stabilize the Polk tweeters which are much heavier than stock tweeters). I disconnected the rear speakers entirely.
Built a custom subwoofer enclosure to house two Kenwood KFC-2511 10" woofers (followed Crutchfield instructions). Could not find a way through the firewall so had Crutchfield install the Blaupunkt THA-275 amplifiers under the driver's seat. Amp configuration is as follows: iPod line-in goes to amp #1, which powers my subwoofers. RCA outs to amp #2 (with the gain turned WAY down) which powers my components. This is an ideal configuration, and critical - if you reverse the amps, the front speakers will overpower the subwoofers and you won't hear your bass. For me to get good bass out of a 2 x 75W amplifier, I need the amplifier working pretty hard, much harder than amplifier #2 which powers the Polk components. Simple reason being that 1.) the Polk produce more dB at a given power input and 2.) the Polk speakers are much closer to my ears.
Q&A Section
Why did you decide to upgrade your A/V system?
Horrible stock sound - Subaru makes great cars, horrible audio components
What's the first thing you show people about your installation?
My custom subwoofer enclosure
Why did you choose these products?
Luckily I live in Charlottesville and was able to hear them in the store (Polk MOMO are unbeatable)
What was the most difficult part of the installation?
Getting through the firewall (had Crutchfield do this part of the install)
What plans, if any, do you have for future upgrades?
iPod touch mounted horizontally in the cubby hole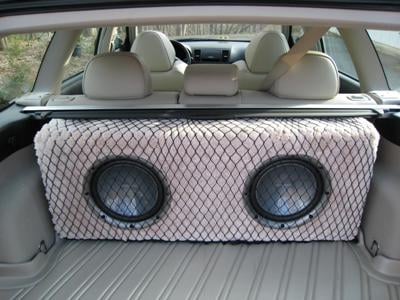 Custom enclosure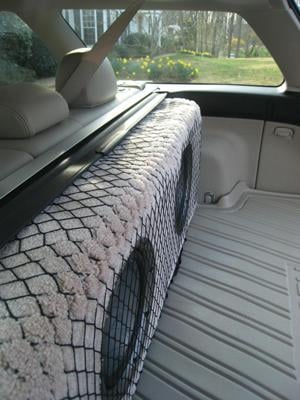 Side-shot of enclosure - when the trunk is full I can move it back another 4 inches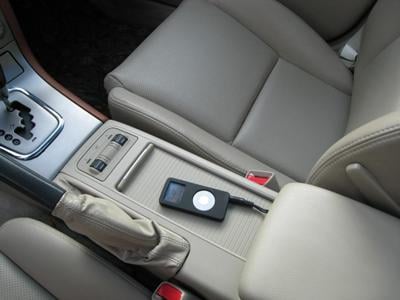 Ran the line-in through the console, 6' is long enough to reach the dash from under the seat (will dash mount an iPod touch later)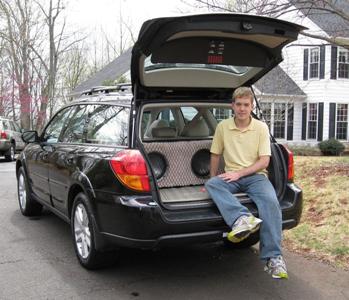 Tailgating never sounded so good!