Our guide to upgrading A/V gear in an RV
Create a family RV that's ready to rock
From the archives... A Crutchfield customer decks out his '99 Fleetwood Discovery RV with A/V gear for his next big family road trip.
While the gear we have available has changed since this article was first published, the application hasn't. This installation is still a great guide if you're inspired to upgrade your RV's audio and video system.
raig, a Crutchfield customer, came to our Charlottesville, VA, retail store with a conundrum: he loves his RV and takes it on trips with his family quite frequently, but he was less than impressed by its old tube televisions and lack of an audio system. Our retail store came to the rescue, recommending and installing a new system with all the bells and whistles Craig was looking for — and more.
Here's a quick overview of what was installed:
A multizone RV receiver up in the overhead compartment connected to the TV and a couple sets of overhead in-ceiling speakers. It also powered the 6x9 boxes for outside listening (that was the second zone).
Both old tube TVs were replaced with small flat screen home TVs.
They added a Blu-ray player to the bedroom TV.
Three external cameras with an LCD monitor in the driver's console.
The driver already had a Kenwood stereo and a pair of speakers in the cockpit area for listening on the road.
The specific items that we installed are all discontinued now, but we have plenty of great RV gear to choose from.
Check out our video of this installation to find out more about the system.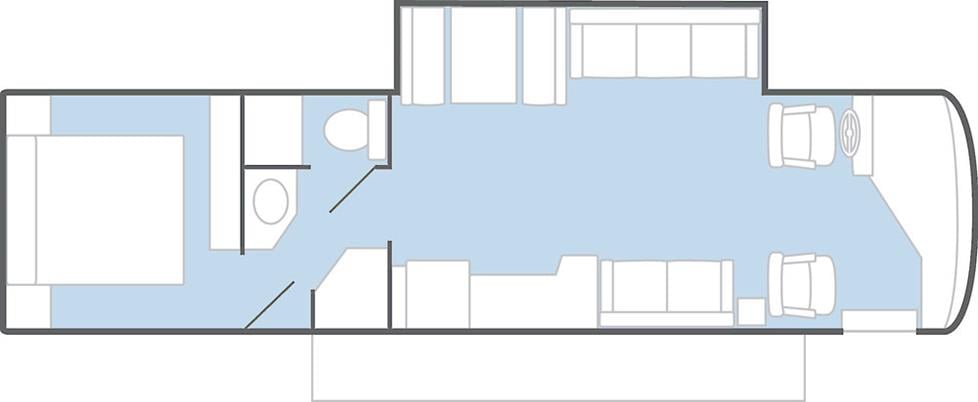 Floorplan of the RV
A zone for everyone
This installation covers four basic zones: the driver's area, the living area, outside under the retractable awning, and the bedroom. Let's dive in!
1. Rear-view cameras for safety
The RV originally came with a tube TV in the dash connected to a rear-view camera. We upgraded it to an LCD screen and camera kit so he can see the whole picture of what's going on around him while he's driving or backing up. We replaced the camera at the rear of the RV, then installed two side-view cameras as well. All three cameras come equipped with low-light capability for added safety. The screen can show a full-screen image from each camera, or images from all three at once.
A pre-existing Kenwood car stereo up front powers two speakers so whoever's driving can listen to tunes without bothering the gang in the back. The Kenwood stereo connects to the rest of the RV's system as well if everyone else wants in for a sing-a-long.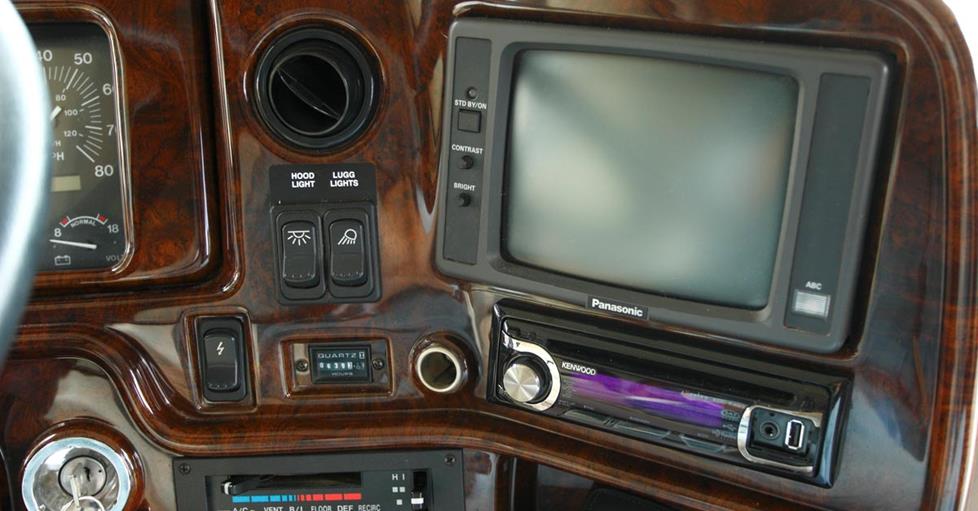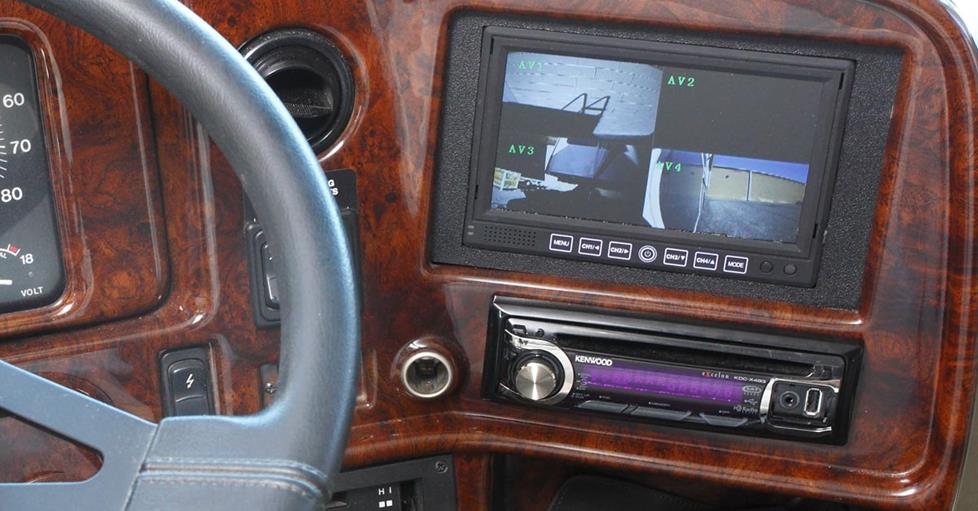 2. Home theater on the go
Craig's family uses the living room area more than any other section of the RV, so we wanted to make it the star of the show. We added an LCD TV and a multi-zone receiver, along with five speakers and two subwoofers. That's right, this RV's 5.2 home theater system is similar to what you'd find in many home living rooms.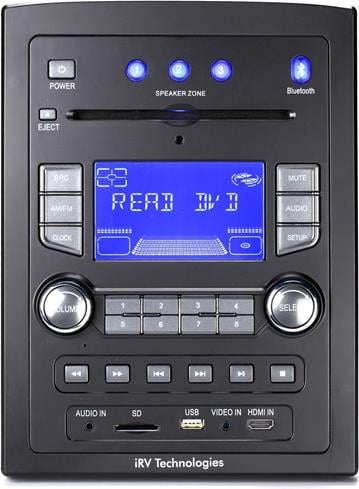 An example of an RV multi-zone DVD receiver from iRV
Multi-zone control
The receiver controls the system, with enough channels of amplification to power all five surround speakers, the two subwoofers, a pair of speakers in the bedroom, and the outside speakers.
It connects to the main TV with a single HDMI cable, which it uses to send video from its built-in DVD player or any other connected video source. This receiver even has Bluetooth® for hands-free calling and audio streaming, along with USB and SD card inputs so Craig can play music files through the system easily.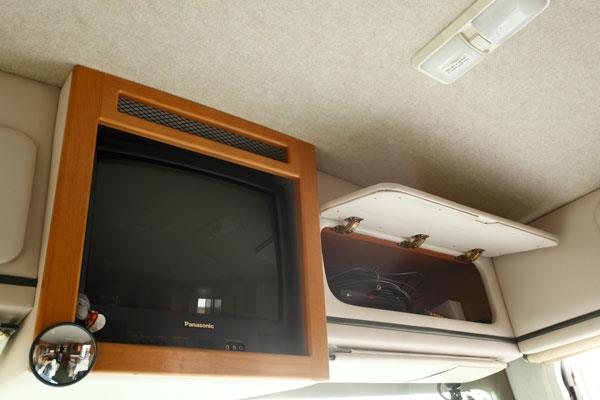 TV and storage area before installation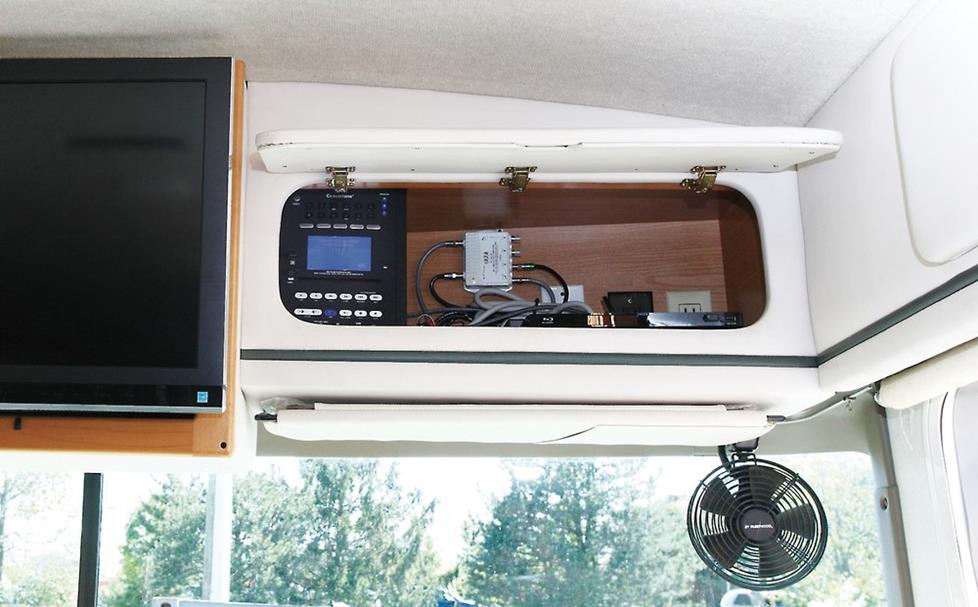 New TV and receiver installed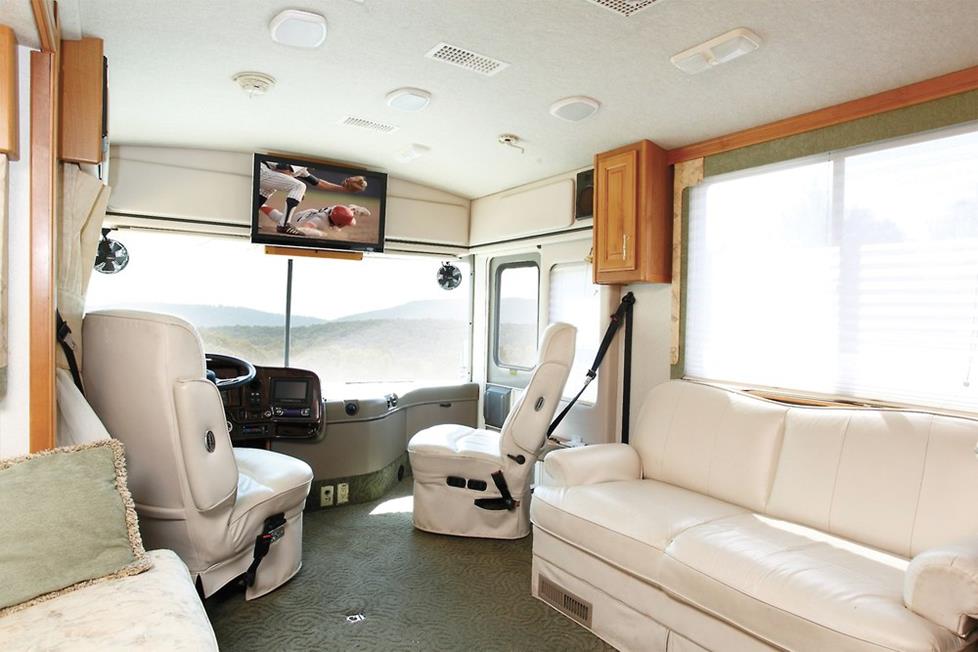 Speakers and new TV after the installation
3. Tunes in the outdoor lounge
The RV comes equipped with a nice retractable awning that lets Craig enjoy time outside with his family, so we included a pair of Sound Ordnance™ P-69 6"x9" speakers in boxes. Craig can pull them out of the cargo area and set them on tables or stands. Another option would be Fusion's MS-OS420 4" outdoor speakers.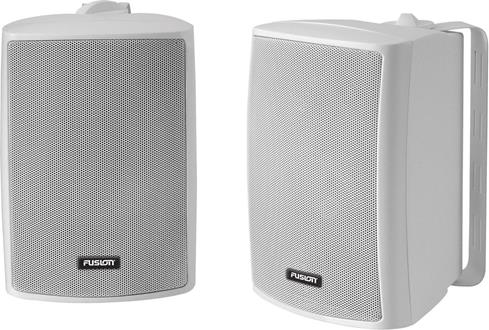 Fusion's outdoor speakers are great for a campsite-style setup
4. Movies in the bedroom area
In the bedroom we mounted an HDTV in front of the old TV's cubby hole. A set of pre-existing aftermarket car speakers are installed above the bed and powered by the multi-zone receiver, so Craig and his wife can relax and watch their own movies while the kids play another source on the TV up front.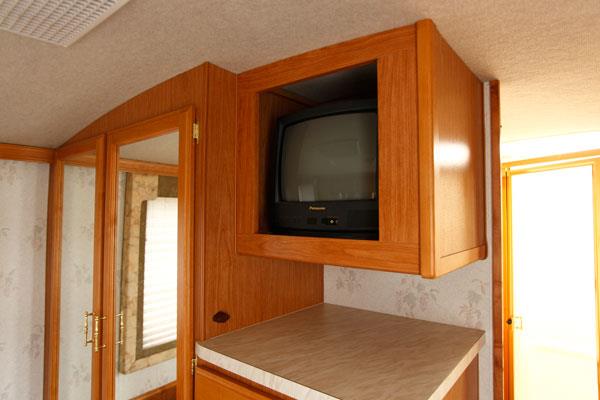 Old TV in the bedroom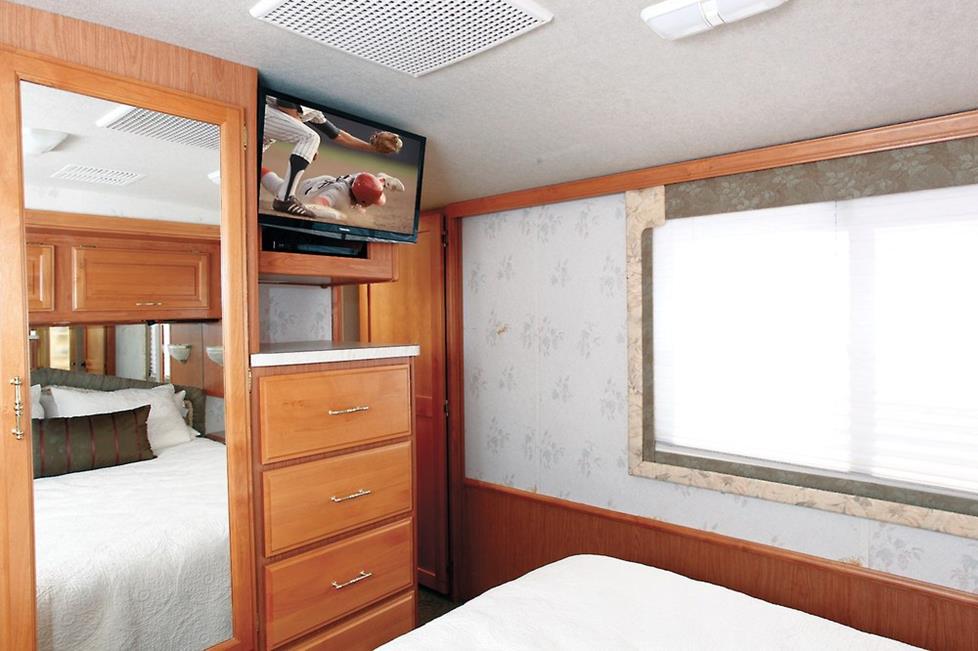 Bedroom after TV installation
Consider the possibilities
Craig's RV makeover sounds great and lets him enjoy movies and music on the road. We can help you outfit your RV too. Replace outdated gear, add new capabilities to your system, or just expand it to better suit your needs.
Shop for RV gear, mobile power options, and other car audio equipment on our site, and don't hesitate to contact us if you have any questions.