Improving the A/V gear in an RV doesn't have to take a lot of work. Simple upgrades like these can add a lot to your family's weekend enjoyment. Continue reading for some ideas.
The cool thing about owning an RV is that you can go pretty much wherever you want without giving up all the comforts of home. And if your home has a great A/V system, your RV should, too.
We've been pretty busy working on RVs lately. We've done some pretty cool work, and we've learned a ton about what it takes to improve the audio, video, and overall usability of any RV. Here's a quick look at some of our latest projects and the gear we installed.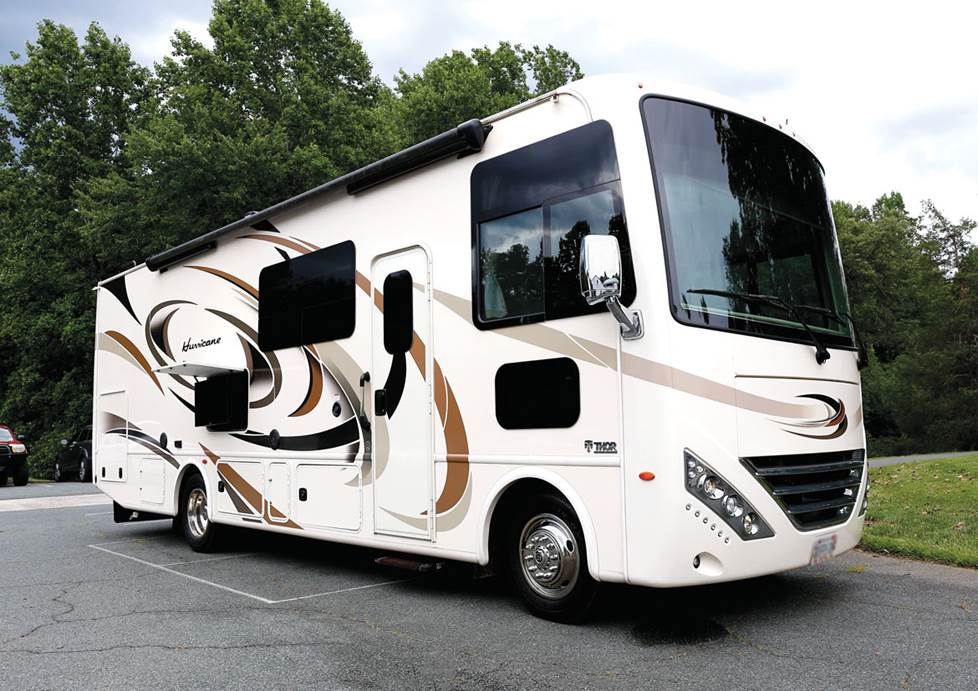 Better speakers, bigger sound
This Thor Hurricane belongs to Joe and Nickie, the uncle and aunt of one of our marketing folks. It's a comfortable, well-appointed RV, but the sound was less than terrific. We decided to upgrade the inside speakers and add amps to the outside speakers. The projects didn't take all that long and the results were impressive.
Amplifying the outdoor speakers
Among the many cool and convenient features in this Thor is an outboard television. Joe, Nickie, and their kids get a lot of use out of it when they're at the campground, but the two outdoor speakers just weren't up to the job. You could hear them better inside the RV than out, which was odd and definitely in need of improvement.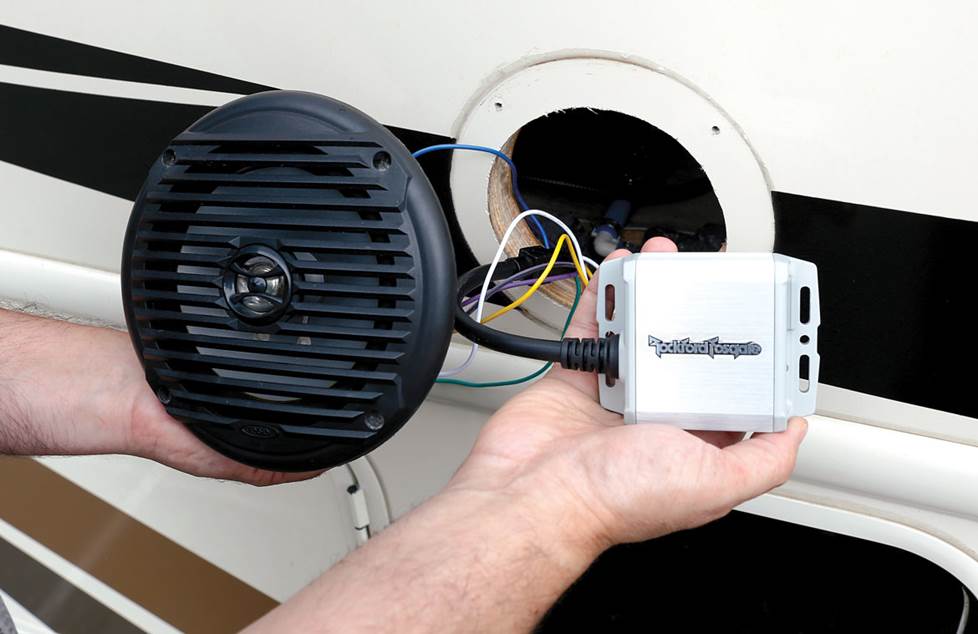 To fix it, we added a pair of Rockford Fosgate PM100X1K mono amps to the stock speakers. These compact, marine-rated amps feature Rockford's patent-pending "FreeLoad" technology, which uses the receiver's output as its power source. That means that instead of running a power wire to the battery run, we just had to use ground wires. Each IPX6-rated amp fit neatly behind a speaker and aside from some troubleshooting, the installation really didn't take long.
We paused midway to do a thoroughly unscientific A-B test that involved walking from the side with just a speaker to the side with the amp installed. The difference was remarkable, with a depth and richness that was immediately noticeable. It wasn't scientific, but the ears don't lie. These amps are an audio game-changer for this RV.
Indoor speaker replacement
The inside A/V system sported four decidedly "meh" speakers, two apiece for the TVs in the main living area and rear berth. We installed four 6-1/2" Fusion shallow-mount speakers and the "meh" went to "marvelous" in the time it took to swap them all out about 25 minutes, if memory serves. It's a job any average DIY-er can do, and considering the time-to-value ratio, it's something we'd recommend to any RV owner who wants better sound inside.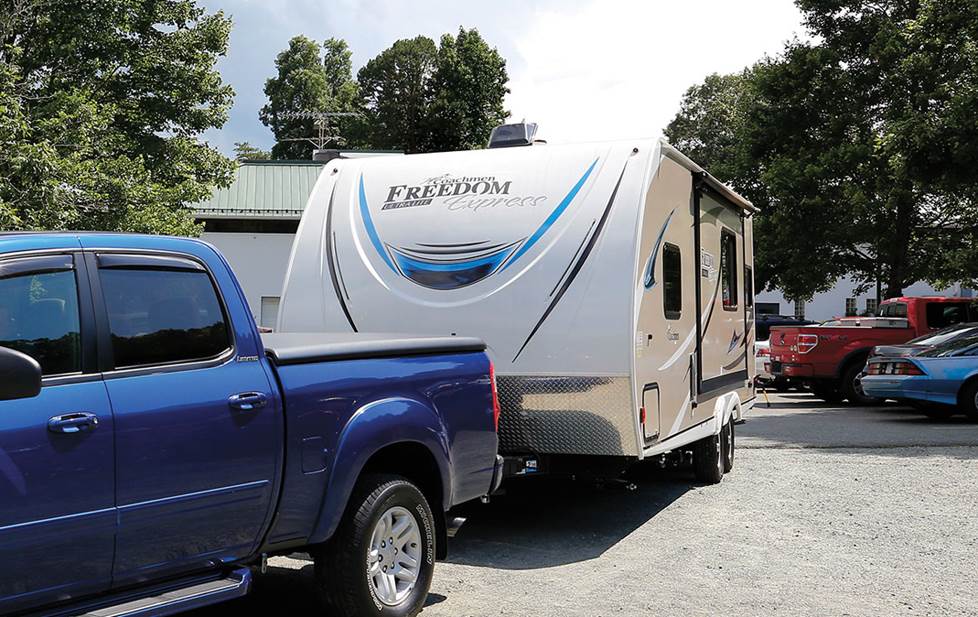 An A/V upgrade for a Coachmen trailer
For Robbie, the Director of Materials in our distribution center, his Coachmen RV is a big part of his family's summer fun. This is a serious RV-ing family, too, so they're out camping at least once a month and sometimes more.
TV for the great outdoors
This RV did not come with an outdoor TV, but Robbie had his dealer add an outside TV mount and acquired a TV from, well, us. Robbie chose a standard indoor-only model, because the screen will only be mounted when the RV is parked and the weather is nice. We also stock outdoor-friendly TVs, though, so if that's something you're interested in, take a look and give us a call.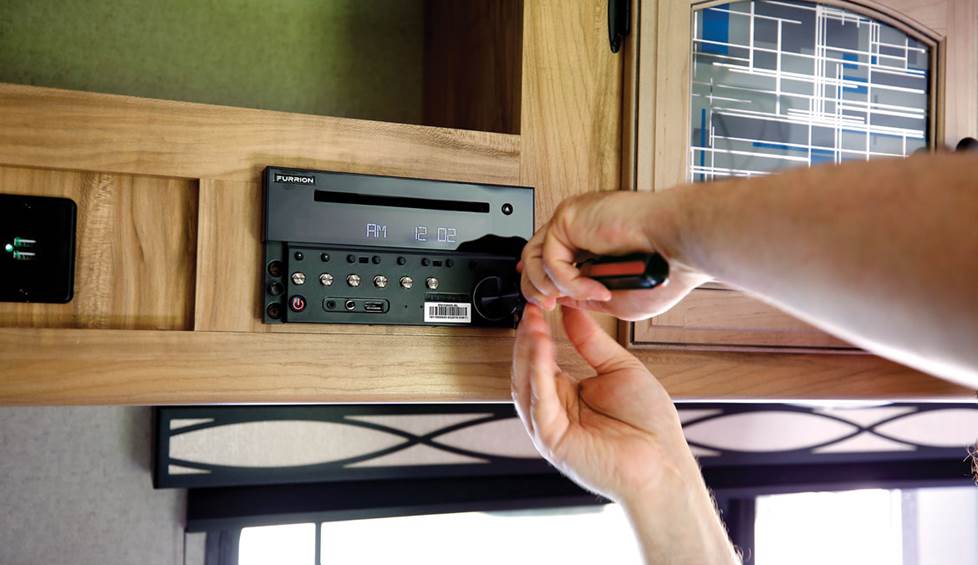 Better video from a new Furrion receiver
The stock receiver was decent, but it lacked the HDMI output necessary to send the best possible picture to the outdoor or indoor televisions. We upgraded that with a 2-zone DV3300S-BL DVD player from RV-industry leader Furrion. This receiver fit right into the stock cavity and features built-in Bluetooth® connectivity along with the HDMI output we were looking for. Installation was easy and Robbie was impressed with the crystal-clear signal it sent to both the indoor and outdoor TVs.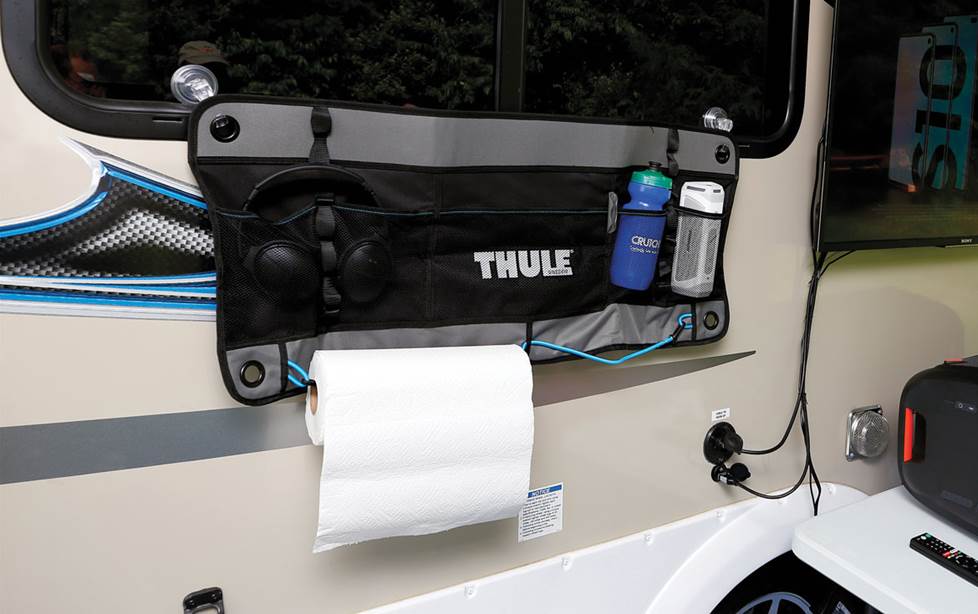 A place for everything and...
There's a lot of stuff in your RV that you want to have handy outside your RV when you're camping. The Thule Countertop Organizer gives you the storage you need for all those things and more.
This durable, weather-resistant bag sports 5 mesh pockets, 14 elastic loops, a pen holder, and even two paper towel holders, so you'll have outside access to all the things you're probably tired of going inside to get when you're trying to relax.
There are lots of options for hanging this organizer on your RV or awning, too. We tried several for our photo shoot, but we'll see what Robbie settles on as the summer goes on.
Big improvements don't have to take a lot of time
As you can see, it doesn't take a lot of work to improve the audio, video, and overall utility in an RV. Simple upgrades like these can add a lot to your family's weekend enjoyment.
Replacing the weak factory speakers indoors will make movies and music sound much better
Compact amps will really boost the performance of your RV's outdoor speakers
Upgrading to a better receiver with Bluetooth and HDMI inputs is an easy job with big benefits
An outdoor-mount television will let you and your family enjoy a movie or the big game
Adding an upgraded portable navigation unit will take some of the stress out of route-planning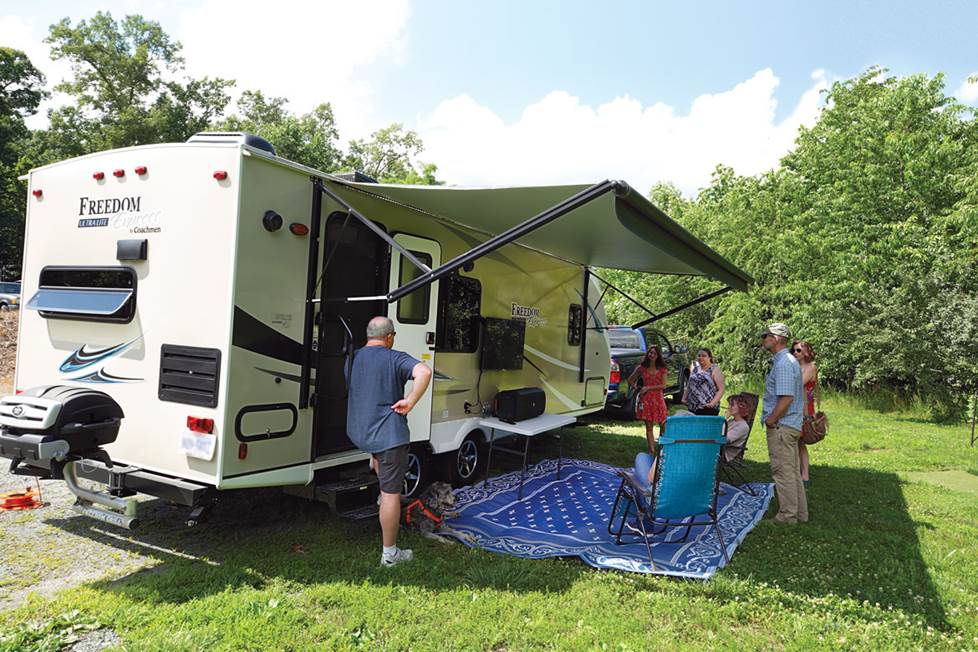 Other ideas for helpful improvements
There's a lot more you can do with an RV, of course. If you can imagine it, there's probably a way to make it happen.
Who says the passengers get to have all the fun? Upgrading the speakers up front will let the pilot and co-pilot enjoy the trip, too.
Adding an upgraded rear-view camera is almost a must with RVs. It'll take a ton of stress out of getting into your spot or any time you're maneuvering in close quarters.
You can also talk to your Crutchfield Advisor about a security system. They're not as easy to install (we usually suggest letting a professional do the job), but we can help you choose a system that'll work in your vehicle.
Upgrade your RV
If you're ready for some creative upgrades for your RV, give one of our expert advisors a call.