Many of you e-mail asking for audio equipment suggestions for specific cars and trucks, so we asked some of our car audio experts to recommend a complete system for a popular vehicle — the 2000 Honda Civic. The "ultimate system" we designed will produce powerful, high-fidelity sound in the Honda Civic, with an intense soundstage (thanks to the kick panel enclosures) that you'll hear only in high-end home systems. And even if you don't drive a Civic, we hope our Road Test will give you some good ideas for your own ride.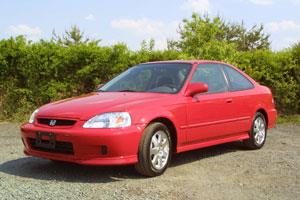 This 2000 Honda Civic looks good outside, sounds great inside.

Items installed:
Sony Xplod CDX-MP450X CD receiver with MP3 playback
Polk Audio dX3055 5-1/4" component system — front kick panels
Polk Audio dX9 6"x9" speakers — rear deck
Q-Logic QL-K6005B44 Q-Form kick panel enclosure
Sony XM-1505SX 5-channel amplifier (40 watts x 4 + 150 x 1)
StreetWires 8-gauge amp wiring kit
Rockford Fosgate Punch RFZ2410 4-ohm subwoofers
Q-Logic QLH-1.0010dx Dual 10" Hatchback box

Sony CD receiver runs the show from the dash
We chose the Sony CDX-MP450X CD receiver to go in the dash of the 2000 Civic. This versatile receiver features a fold-down detachable face, a superb AM/FM tuner, and the ability to play MP3 files that have been recorded on CD-Rs or CD-RWs. Since there's no subwoofer in this system, Sony's D-Bass is a crucial feature, offering three-step bass enhancement for maximum low-frequency impact without affecting the mids and highs.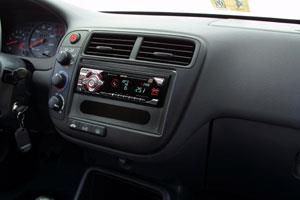 Sony's versatile XplodCD receiver makes a great system controller with a rotary control knob and wireless remote, the ability to play MP3 CDs, and the tone-shaping power of D-Bass.
Q-Logic's kick panel enclosures create a rockin' front soundstage
Q-Logic makes the QL-K6005B44 Q-Form specifically for 1996-2000 Honda Civics. This rugged plastic kick panel enclosure replaces the factory kick panel (down by the driver's and passenger's feet), has openings for a 5-1/4" woofer and tweeter, and is color-matched to the Honda interior. (For more on why kick panel enclosures are a great idea, see our article on imaging.)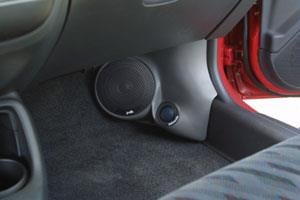 The Polk Audio 5-1/4" component system installs seamlessly in the Q-Logic kick panel enclosure, creating a powerful front soundstage in the Civic.
Polk Audio speakers bring the tunes to life
We chose Polk Audio's dX3055 5-1/4" component system with its polymer composite woofers and 1" silk dome tweeters to provide the front soundstage in the Civic. We installed Polk Audio's dX9 6"x9" speakers on the rear deck — their 3-way design provides plenty of musical detail for back seat listeners. In the Civic's quiet interior, the powerful imaging of the Polk dX components won't be lost to road noise, and the bass from the dX 6"x9"s should be more then enough for most listeners.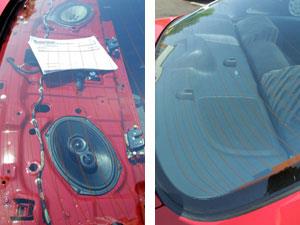 Left: The Civic's naked rear deck, the Polk Audio 6"x9" speakers, and Crutchfield's MasterSheet™ installation instructions. Right: The Polks are ready to rock in the reinstalled rear deck.
Sony XM-1505SX amp works multi-channel magic in the trunk
We mounted Sony's Xplod XM-1505SX multi-channel amp in the Civic's trunk, with four channels of 40 watts RMS to power the front and rear speakers — and a 150-watt subwoofer channel for future system expansion. The StreetWires 8-gauge amp wiring kit provided power and signal connections.

This combination of components produces a clean, full-range sound with strong imaging and plenty of low-end punch for the Civic's quiet interior. And the extra channel on the Sony amp makes it a breeze to add a subwoofer at a later date.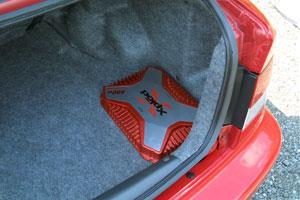 The Sony Xplod 5-channel amplifier pushes 40 watts RMS to each of the front and rear speakers — with a spare 150 watts ready for subwoofer action.
All at once, or one step at a time
Keep in mind that you don't have to purchase and install a system like this all at once. The beauty of creating a car stereo system is that you can do it one step at a time. In fact, we plan to beef up the bass in our Civic with a pair of Rockford Fosgate 10" subs in a Q-logic hatchback box. With the subs wired in parallel to the amp's subwoofer channels, we should have enough bass to get the mirror's shaking.

If you have no installation experience, try replacing your speakers first — it will give you a taste of dismantling and reassembling your vehicle. Have fun out there!
---
Vehicles in the Custom Car Showroom are submitted by customers and fans, and edited by Crutchfield writing staff. You can find more of these articles on the Showroom main page.