dbx speaker management systems
DriveRack® processors take care of your PA speakers
Heads up!
Welcome to this article from the Crutchfield archives. Have fun reading it, but be aware that the information may be outdated and links may be broken.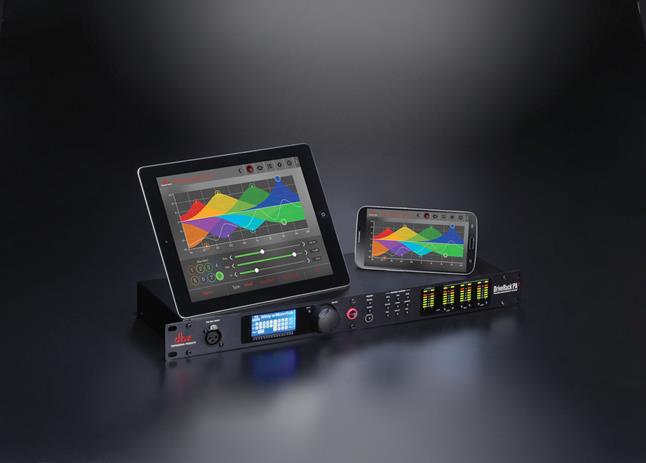 DriveRack PA2 with iPad® and smartphone displaying 8-band parametric equalizer controls
Not too long ago, getting good sound at a live show required a lot of know-how and racks full of expensive gear, all connected by a rat's nest of cables. You needed graphic equalizers to fine-tune the sound for a venue's space, and peak limiters to protect the speakers when things got too loud. To properly set the equalizers, you needed a real time analyzer or a very well-trained ear.
Now you can get one small signal processing box that does the work of several, and it will do most of the work automatically. Learning how to use these devices is straightforward, thanks to "wizards" that lead you through the processes.
This article will help you understand dbx speaker management systems. It will also explore the features of the three models Crutchfield offers and help you choose the right one for your needs.
What's a speaker management system?
A speaker or PA management system is a multi-function signal processor, connected between the mixer and the amplifiers of a PA. Once it has been properly set, it automatically keeps the final mix sounding good and the speakers safe from damage.
Features include limiting and equalization to match the equipment and music to a venue's space. A PA management device may also provide crossover and signal-routing functions for a large multi-speaker system.
Features to look for
All DriveRack systems include:
Advanced Feedback Suppression, which senses whenever a particular frequency starts to "ring out" and then reduces the volume at that frequency to stop the noise
Auto-EQ that automatically adjusts your system's frequency response to attain the best-sound possible
Setup wizard, which balances the levels of the system's amps and speakers and sets a peak limiter to protect the speakers from being overdriven
LCD arrays that indicate input and output levels, and a large selector knob to scroll through menus and enter data.
If your venue is large and you use a lot of speakers, you may want to get a model that includes time alignment, or delay, so speakers in the rear can be coordinated with the front speakers and sound clear, with no echoes.
Setup wizard
The setup wizard matches the levels of your left and right speakers, and sets the limiter for your amplifiers and speakers so no amount of raising the volume of the mixer will ever damage your speakers.
You'll need the optional dbx RTA-M reference microphone ($100) to run the Setup and Auto-EQ Wizards.
You select your powered speakers or amplifiers from a list, and the Setup Wizard recommends a level setting, and then uses the built-in RTA and noise generator to set the limiter levels automatically.
Auto-EQ wizard
To use the auto-EQ wizard you first choose a target response curve from a list of thirteen suggested equalization curves. Then, using the built-in RTA, noise generator, and the reference microphone, the Auto-EQ sets the DriveRack's equalizers to match that curve as closely as possible. It only takes a few seconds, but since it's done at performance volume, you'll probably want to do it while wearing ear plugs, and when nobody else is in the room.
Advanced Feedback Suppression (AFS) wizard
The feedback suppression wizard further tweaks the equalization to prevent the howling noise that happens when sound from the speakers is picked up a microphone and then re-amplified.
The wizard walks you through several steps:
After all your microphones have been set up and activated on stage, you start by turning the mixer's master volume down.
Then the AFS Wizard will ask you how many of the 12 available notch filters you want to be fixed and how many you want to be live. The fixed filters stay put after being set, the live filters will change and move to a new frequency if needed, which comes in handy if mics get moved during a show.
Next you choose how narrow you want the notch filters to be. You can choose a wide 1/5 of an octave band, for a speech-only application, or narrow it all the way down to an incredible 1/80 of an octave for precise feedback control that won't adversely affect the music.
Then you turn your mixer's master volume beyond normal to try and induce feedback. The AFS will instantly set the filters to prevent any ringing or howling, and you're set to return to normal levels and go for the show.

DriveRack PA2, for touring PA systems where remote control is needed
The dbx DriveRack PA2 Complete Loudspeaker Management System does all that the PA+ can do plus it features:
An Ethernet connection so you can connect your wireless router and use your portable device (Android, IOS, Mac, and Windows) to control the PA2 from anywhere in the room. The larger graphics and touchscreen control of your portable device make it easier to operate, too.
An input delay so you can align the front PA speakers with the amps and instrument speakers from the back of the stage, for total band clarity.
The Auto-EQ uses an 8-band parametric equalizer and plays short frequency sweeps for its setup, which is a lot less annoying than using pink noise, like the other DriveRack models do.
There's a dual 31-band graphic equalizer on the input section that includes Quick Curve options so you can instantly dial in an EQ curve that'll work for you.
The PA2 has 75 factory presets and 75 user presets.

DriveRack 260, for large permanent PA installations
The dbx DriveRack 260 is for fixed installation in a large multi-room theater or house of worship. Graphical user interface is accomplished by way of your Windows-based PC. Wired zone controls lets you remotely control some features of the DriveRack 260 from up to 1,000 feet away.
Other unique features include a noise gate, that keeps sounds isolated from one another, polarity and phase adjustments, and up to a 2.7 second delay for those far-away zone applications.
Conclusion
The DriveRack series contains a diverse group of sound processors that provide control of equalization, limiting, and loudspeaker management that can be used and appreciated in every kind of venue, for small bands on the go, nightclubs, all sizes of churches, and on to the big-time. Replacing a stack of expensive equipment with one single-space box shows just how far musical electronics and technology has advanced in the last few years.