In this article: We'll break down the different things you'll want to consider when you're choosing PA speakers, including...
...and we'll share some tips from few seasoned musicians here at Crutchfield for getting the most out of your PA system.
Great sound elevates a great performance, and PA (public address) speakers are the voice of your PA system. For musicians and public speakers, it's a huge confidence-builder to get up on stage and hear articulate, clear sound surrounding you and filling the room you're performing in.
"Main" PA speakers face your audience. Monitor speakers face the performers so they can hear themselves. Main and monitor speakers come in a few different form factors.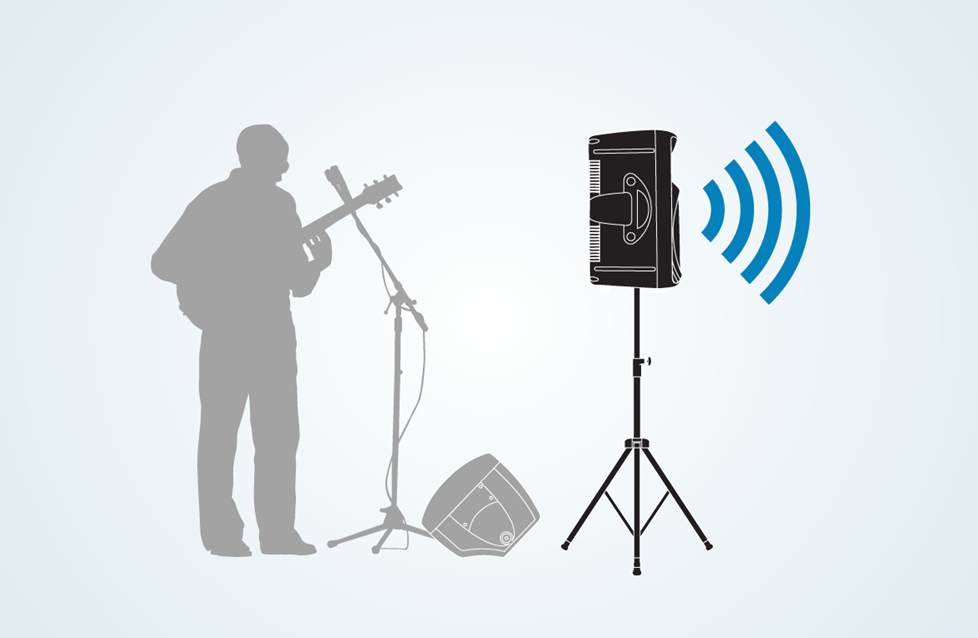 Your "main" PA speakers are usually positioned on either side of the stage, in front of the performers.
What kind of events will you use your speakers for? Will you be moving them from one venue to the next, or do you plan to install them permanently? Your answers to these questions (and a few more we'll discuss below) will help you choose the PA speakers that will match your needs best.
First, let's take a look at the most important differentiator: powered vs unpowered PA speakers. Here's the spoiler: both types can deliver high-performance sound reinforcement.
Powered PA speakers
Powered PA speakers have built-in amplification. That means there's less gear to cart around. It also means that the amp inside each speaker is perfectly suited to its drivers (the speakers themselves) and enclosure (or cabinet). That simplifies your shopping, too. You don't have to worry about whether the speakers and amps are a good match.
Each powered PA speaker needs to be plugged in to an electrical outlet. And many of them have microphone and line inputs plus basic mixing control right on the enclosure. That's all you need if you're just using it for something small, like toasts at a birthday or wedding party.
Plug in an acoustic guitar with a pickup and a vocal microphone and you can get great sound for a small gig. Some models even have rechargeable batteries, so you can open your guitar case and busk in the street without actually plugging in to a power outlet.
For bigger events, like live music under a tent or in a fraternity basement, you can also connect powered PA speakers directly to a mixing console. A lot of PA speakers have built-in DSP (digital signal processing) for tailoring the speaker's output based on whether you're using it for music or voices, or as a main speaker or an on-stage monitor.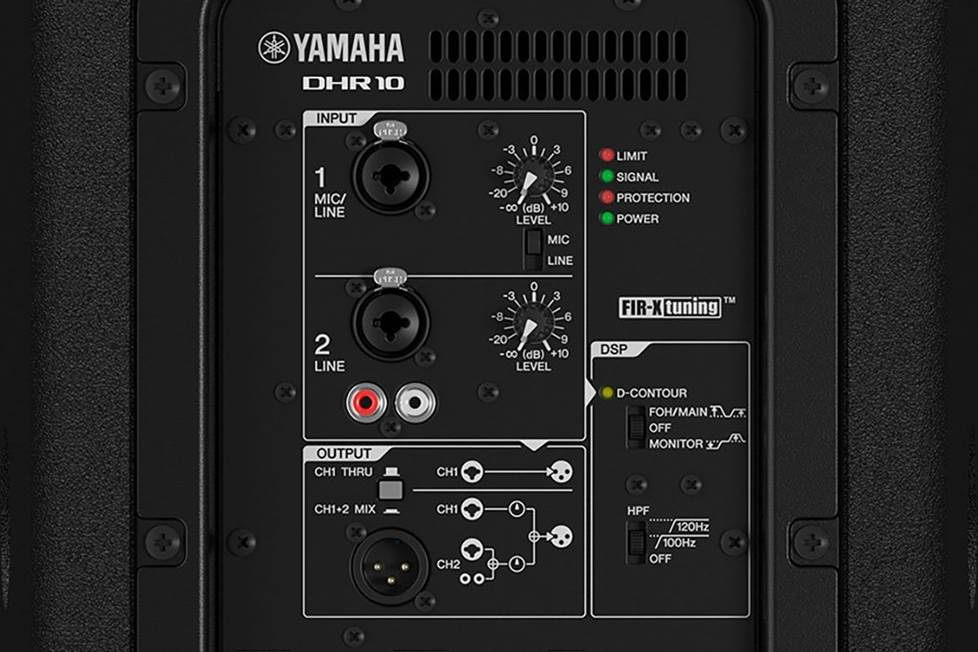 Powered speakers have inputs that connect to mixing boards or directly to microphones or line level sound sources.
A pair of powered speakers and a mixer could be the basis of a nice PA in a smaller club or coffee shop where you're just running vocal mics and not miking drums and guitar amps. Add two more if you want monitors — many models have EQ presets that tailor their sound for use as mains or monitors.
Powered PA speakers are great for quick, small setups, but if you're installing speakers more or less permanently in a theater, house of worship, or medium-to-large club with a different band every night, passive PA speakers usually work better.
Non-powered PA speakers
If you're building a large system, non-powered passive PA speakers will give you both versatility and room to grow. They require outboard amplification from a pro amplifier or powered mixer.
Passive PA speakers are usually lighter than powered models with the same dimensions and drivers because they don't have built-in amplifiers. For that same reason, there's also less that can go wrong with a passive PA speaker.
They're often used in more permanent installations — like a church, school, or live music venue — and larger travelling rigs. It's easier to use passive speakers in a hanging or wall-mounted array because all they need to connect to is speaker cable. And you won't need to climb up a ladder to change a setting like you might with a powered model.
For a PA with a dozen or more speakers, passive models are also generally easier to set up, break down, and transport.
How much power do you need?
You'll typically see three PA speaker power ratings that you should understand: "continuous" (or "noise"), "peak," and "program."
The continuous/noise rating shows you the minimum power needed to power a speaker. Peak power is the maximum the speaker can handle in short bursts — like the crashing final chord of a song.
Program power (twice the continuous/noise rating) gives you the most useful number to reference when you're choosing an amp to match speakers. If you don't have enough power on tap for your speakers, you'll have to crank up the amp's volume, which can cause unpleasant distortion.
Look in your speakers' manual to find their peak and program power ratings, and most likely even a recommended amplifier power range.
Check out our pro audio amplifiers buying guide for more details.
Stage monitors
Stage monitors help performers hear themselves, which is an essential part of staying in time and in tune. Without monitors, you'd only hear the sound from your main speakers bouncing off distant walls, which can be really disorienting.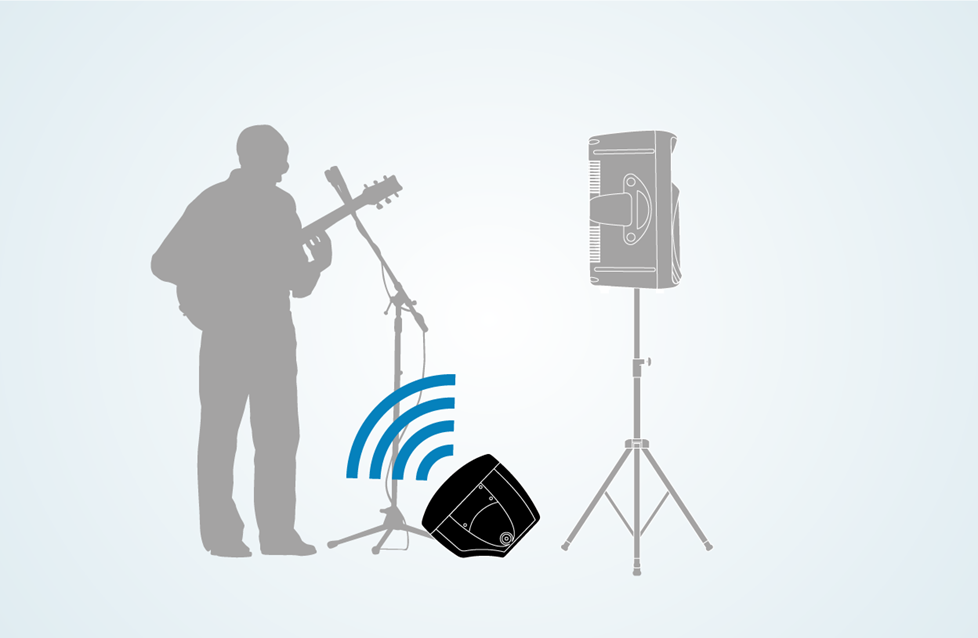 Monitor speakers play toward the performers, so they can hear themselves.
Powered vs passive monitors
Monitor speakers are available in powered or unpowered form.
For solo acts, small groups, or intimate venues, a powered stage monitor can be a smart investment. Some powered speakers, like the QSC K10.2, can be used as a floor-wedge monitor or turned upright to face an audience as a main. It has a pole socket for a stand and suspension inserts for versatile mounting options.
Bigger bands or bigger halls will probably want to run larger, unpowered monitor wedges into a bank of amplifiers. A lot of unpowered monitors can also work as mains, with pole-mount sockets and suspension inserts. Whether you're using powered or unpowered speakers, one wedge per front-of-the-stage performer is a good rule of thumb.
"Sidefill" monitors, which stand on the side of the stage facing the musicians at larger shows — think outdoor music festival main stages — provide another way to help the band members hear themselves and each other.
What size should you get?
The most popular PA speakers have 10", 12", or 15" woofers. If you'll be moving them around a lot, you'll want to make sure they'll fit in your vehicle — check the specs to learn the size and weight of the cabinet.
PA speakers with smaller drivers have a wider angle of dispersion, which can be great for shallower rooms with the audience spread out left to right. Bigger speakers have more narrow dispersion and longer throw for rooms that are deeper than they are wide.
And while PA speakers with larger drivers can generally get louder, the amount of bass frequencies doesn't change as dramatically as you move up in size. To really enhance the low end of your live sound, consider a subwoofer.
Do you need a subwoofer?
When it comes to low tones like bass guitar and kick drums, live sound subwoofers are essential. Bass takes a lot of power, so having a sub to handle that responsibility allows your full-range speakers to focus on the mid and high frequencies. That makes them sound louder and cleaner.
The right sub for you depends on the music you're playing and the venue in which it's being played. If you're looking for portable gear for an acoustic guitar duo, you probably don't need a subwoofer to emphasize the very low frequencies — ditto for a chamber music quartet in an echo-y church. Funk band in a club? Consider a sub. Detuned metal power trio? Maybe consider two!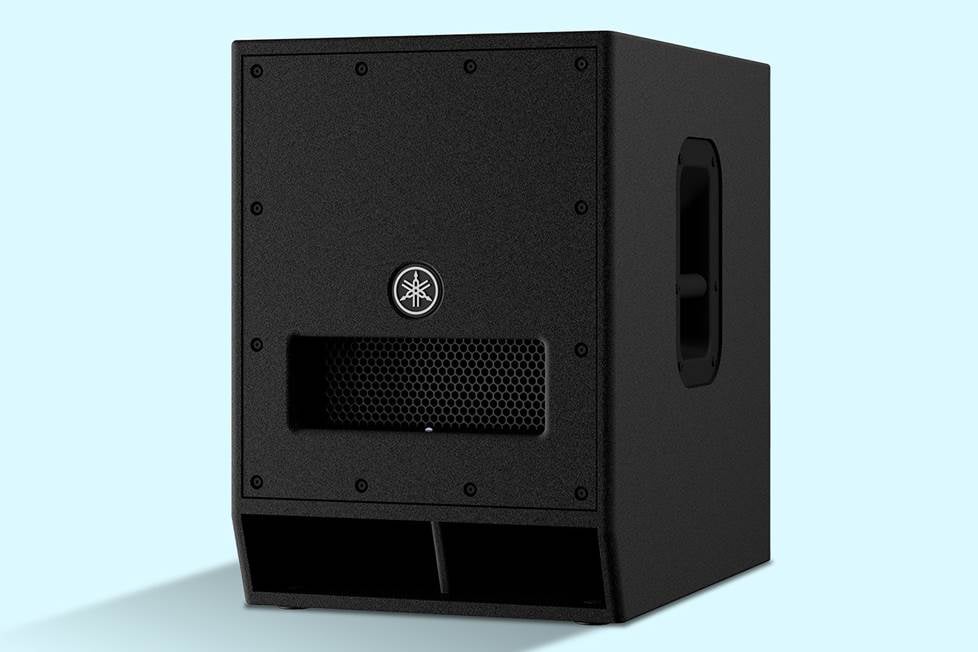 A good subwoofer, like this Yamaha DXS12 mkII, takes the bass-strain off of your main speakers.
Powered vs passive PA subwoofers
PA subwoofers can either be powered or unpowered. Which way to go depends on your system. Powered subs are easier to add to existing systems because you don't have to re-configure your amps. On the other hand, if you have an unused channel or two on your amplifier, an unpowered sub will be less expensive — and easier to transport.
One extra bonus: subwoofers are generally sized so that main speakers can be placed on top of them. Some, like the Yamaha pictured above, even have pole sockets for mounting a speaker.
Portable PA systems
If you need a compact, versatile sound solution, an all-in-one PA system is an excellent choice. With a built-in mixer and plenty of connection options, an all-in-one system is ideal for touring acoustic acts looking for a system that fits into a small SUV or even a car.
A line array portable PA like the JBL PRX ONE can sound fantastic, especially for quieter solo or small group performances. It can fill a small- to medium-sized venue with rich, vibrant sound.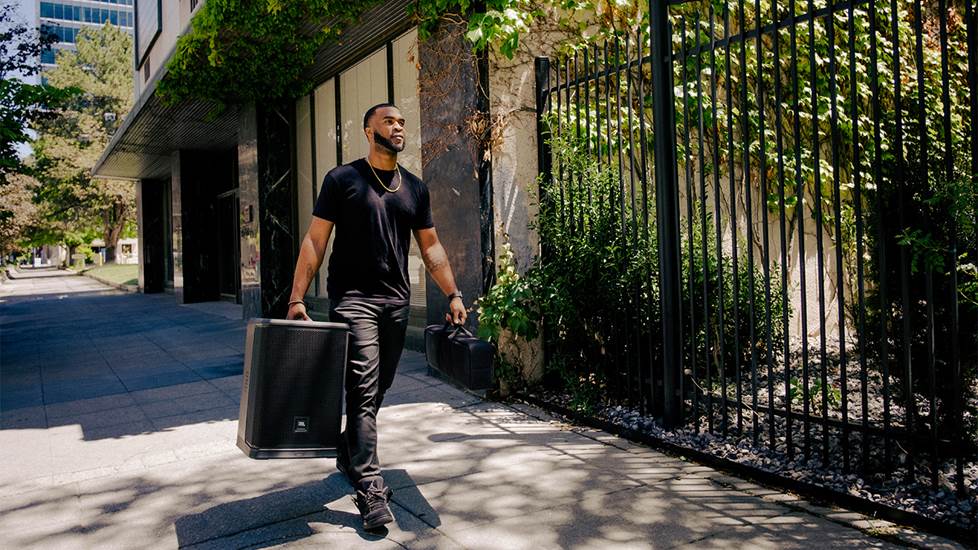 The JBL PRX ONE 7-channel powered portable PA system gives you great sound and a one-trip load in.
For a personal PA system with the simplest setup, you could also get something like the Samson Expedition XP106w. It comes with a wireless microphone, has a rechargeable battery, and weighs in at just over 16 pounds.
Bluetooth PA speakers
Looking for an easy way to play music from a phone or laptop? Lots of PA speakers come with built-in Bluetooth. A Bluetooth PA system is great when you want an easy way to keep the music going between live sets.
A Bluetooth PA speaker is also perfect for backyard parties. Let friends play DJ or connect a microphone and fire up the Karaoke app on your phone or tablet. Or both!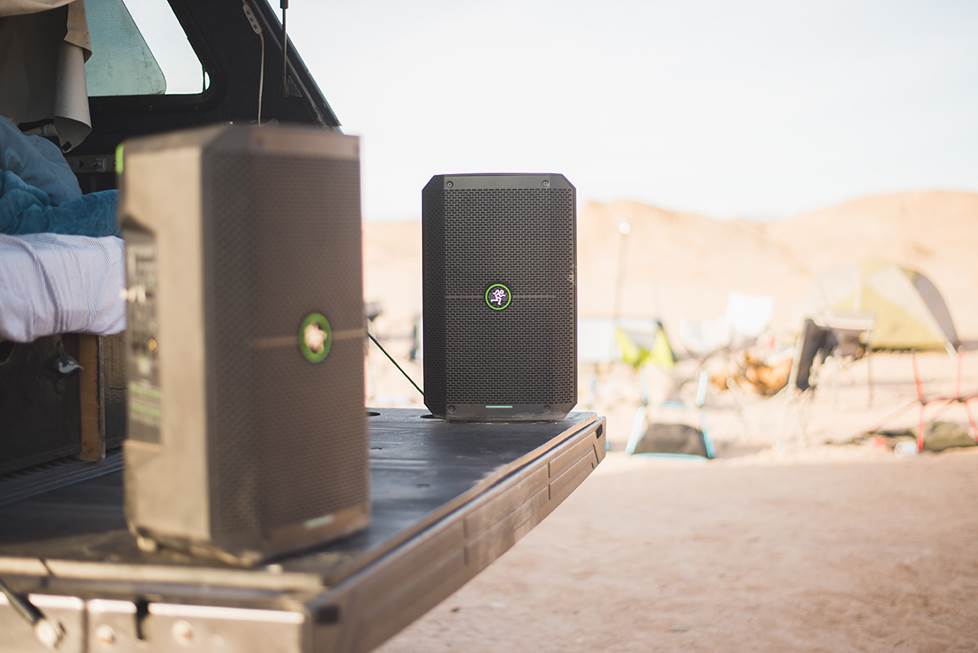 Mackie's Thump Go 8" portable battery-powered loudspeaker can go anywhere and has Bluetooth built in for convenient wireless streaming.
What else will you need?
As we said before, PA speakers are the voice of your PA. But a PA needs more than just speakers. If you're using passive models, then you'll need one or more pro amplifiers or a powered mixer.
You'll also need microphones and stands for placing them where you need them, plus mic cables to connect them to your PA. You'll also need speaker cables and, depending on your venue, you may need speaker stands for your mains.
Check out our article on how to set up a PA system to learn how the different parts of a PA work together.
Tips from the road
Our Crutchfield team includes a number of current or former touring musicians with years of experience hitting the road in vans loaded with instruments and gear.
Among the many nuggets of wisdom they've shared is that, whenever possible, you should buy a monitor that can be repurposed as a main speaker. That way, if one of the mains goes down, you can make a quick switch and keep delivering sound to your audience.
Also: to avoid the scowls of your audience and colleagues — and potentially damaging your ears — learn how to avoid feedback. That's the howling sound you get when a mic picks up the sound it itself is amplifying and playing through the PA speakers.
To avoid feedback, make sure to situate your speakers so that none of them are pointed at any of your microphones' pickup patterns. Most mics have directional patterns — the mic picks up what it's aimed at. But some have wider or even omni-directional pickup patterns.
Many powered PA speakers have voicing controls that when used properly can help reduce feedback. These include switches that let you select whether an input is a microphone or instrument, and whether your speaker is being used as a main or monitor.
We're here to help
At Crutchfield, you'll find a wide range of speakers, subs, and monitors that deliver true concert-quality sound for any size group or room. Whether you're a touring musician who doesn't want to buy a van, or a venue owner trying to re-vamp your performance space, you're in luck.
Contact one of our Advisors if you have any questions or want some smart help in choosing your speakers or designing a complete system. Free lifetime tech support is included with your Crutchfield purchase.