A live sound system can be super simple. A single powered speaker and a microphone work well for a solo performer addressing a small crowd. A packaged system is a great choice for a small ensemble.
For bigger shows, you may need an a la carte system that includes a mixer, a couple of amps, microphones, and speakers. To connect and support them, you'll need cables, stands, and other accessories.
Sound complicated? Relax. We can help you sort it all out.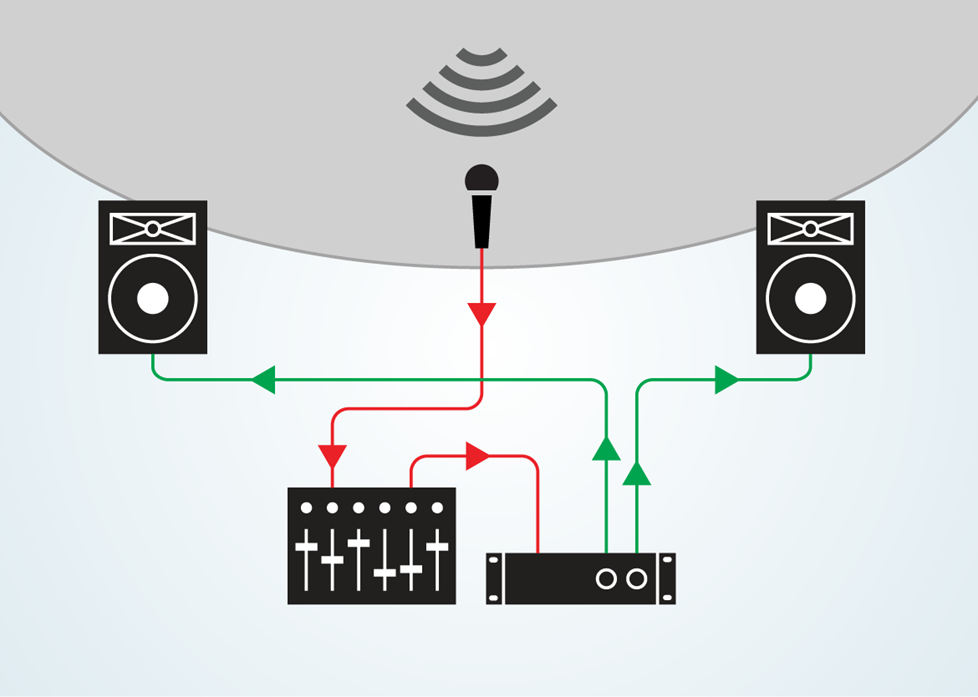 The signal in a typcial PA system flows from a microphone to a mixer, then on to an amplifier before arriving at its final destination, the speakers.
What's a PA system, and how does it work?
Sounds picked up by microphones travel through mic cables to a mixer, where tone and volume levels can be adjusted. The mixed sound goes to an amplifier, which sends it on to speakers. The speakers, in turn, project the sound to the audience.
Live sound is that simple in theory. But choosing the right gear isn't always so easy. There's a wide selection of gear to suit different venues and applications. And there's a lot of jargon to wade through. Here, in plain language, is the basic information you need to consider before you start shopping.
Speakers
Speakers are the voice of your system. What type and how many do you need?
Main speakers
Your "main" speakers are the ones you point at the audience. Most systems have two.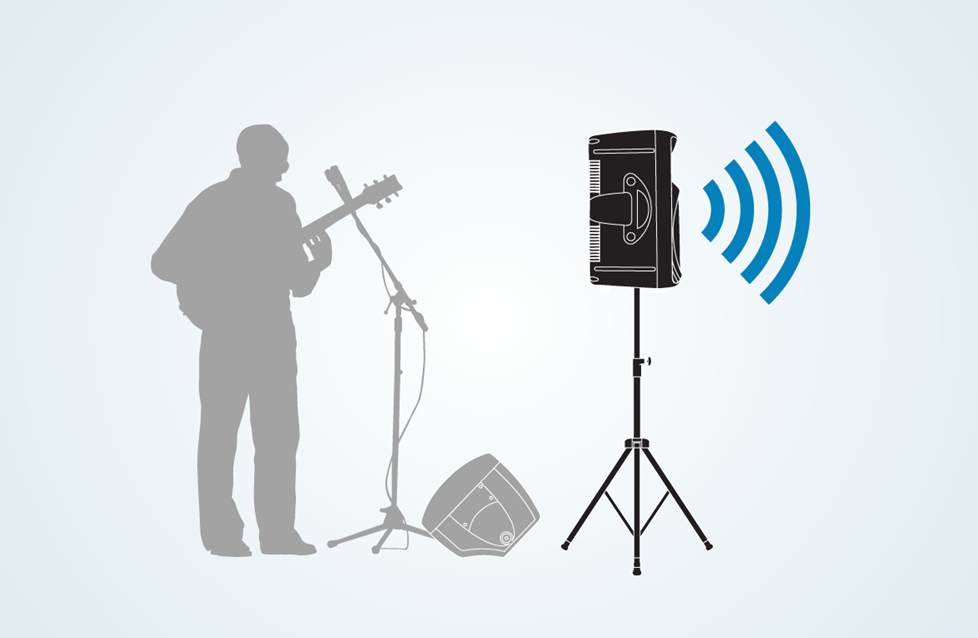 Your "main" speakers are usually positioned on either side of the stage, in front of the performers.
There are two basic types of speakers:
Powered speakers, which have built-in amplification
Passive models, which require an external amplifier.
With powered speakers, you don't have to worry about which amp to choose. Nor do you have to carry separate amps around.
Passive models are great for permanent installations, especially if you'll be hanging them from your ceiling.
Monitors
Monitors are speakers you point at the performers, so they can hear themselves play, sing, or speak. Most powered speakers can be used as mains or as monitors (as can some non-powered speakers).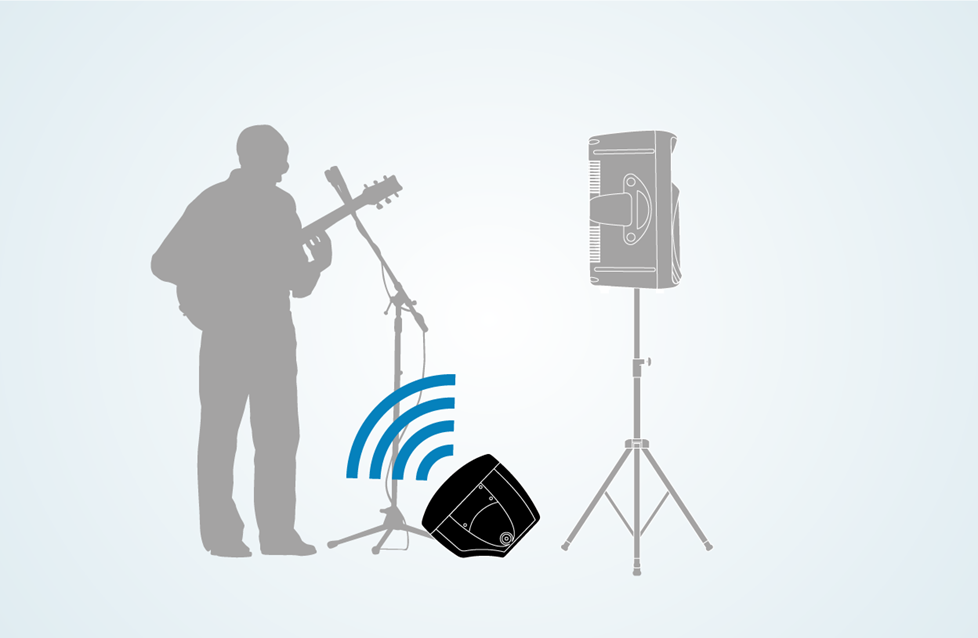 Monitor speakers sit on the floor and play toward the performers, so they can hear what they're doing.
Subwoofers
Subwoofers are large speakers that reinforce the deep bass sounds of kick drums, bass guitars, and synthesizers. Most models are powered.
To learn more, read our live sound speakers buying guide.
Mixers and amps
The mixer is the device into which you plug your microphones, instruments, and other sound sources. Each mixer "channel" has volume and tone controls, allowing you to create a pleasing mix of sounds for your audience. With some mixers, you can also create a separate "monitor mix" for your performers.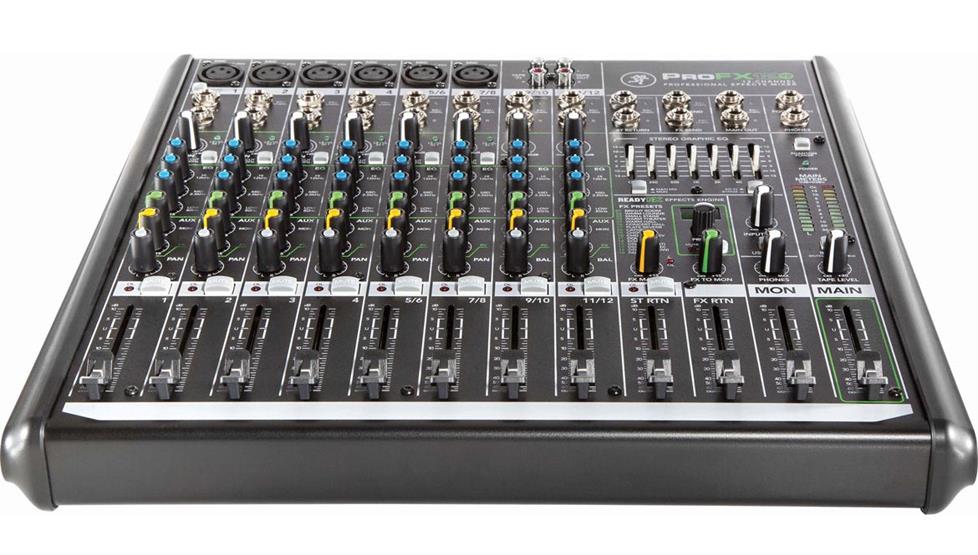 The left side of this analog mixer includes 8 input channel "strips." The right side contains the output connections and controls.
Powered mixers have built-in amps and connect directly to passive speakers. But most mixers provide unamplified output signals that go to amps or powered speakers.
Analog or digital?
One big decision is whether to get an old-school analog mixer or a digital mixer. Digital mixers typically give you a lot more capabilities, but the learning curve can be steeper. They're great if you want to mix from the audience. All the "knobs" are in a remote control app on your tablet or smartphone.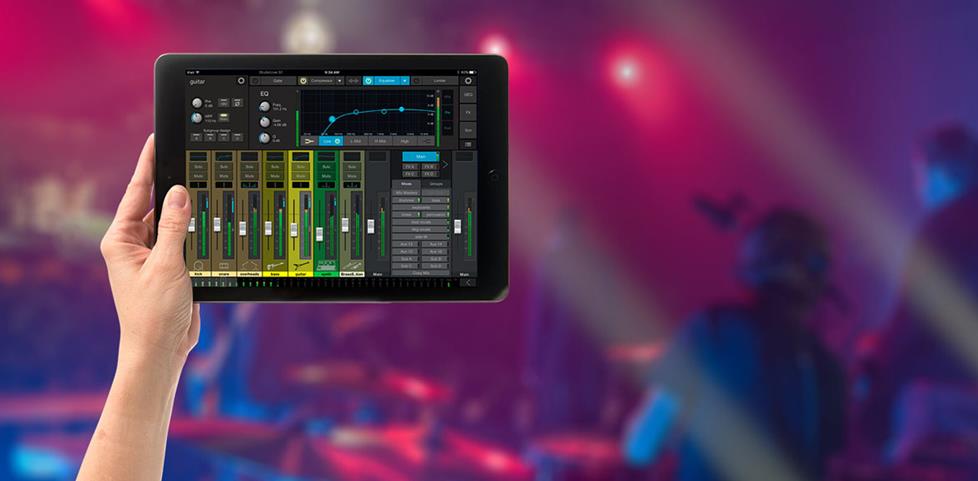 With a digital mixer, you can easily adjust your mix from the audience.
Analog or digital, you'll need enough channels to accommodate all of your mics and instruments. But when you start shopping, you'll see that there are a lot of other options to consider.
Learn more about mixers and how to choose the right one by reading our mixers buying guide. Or call a Crutchfield advisor and have a talk about what you hope to accomplish. Your advisor will recommend a mixer that meets your needs.
Many mixers feature acoustic effects like reverb and echo, which can be used to color the sound. If your mixer's onboard effects aren't enough for your needs, you can add outboard signal processors. Learn about them by reading our buying guide for signal processors.
Amplifiers
Pro audio amps are built with reliability in mind. The last thing you want is to have an amp fail in the middle of a show. But you do need to understand what sort of speaker "load" your amp can stand and how much power your speakers require.
Each amp should have at least as much output power as the total wattage ratings of the speakers it's driving. Having extra wattage available (headroom) ensures clean, distortion-free sound, especially during sudden musical peaks.
See our pro audio amplifiers buying guide for more details and advice.
Microphones
Rugged dynamic microphones are the most popular option for live sound. Read the product descriptions to see which ones are best for your intended uses. Some, such as Shure's popular SM58, are primarily designed for vocals, while others are better for capturing instrument sounds. There are also specialized models for capturing the loud sounds of drums and guitar amps.
Wireless mics are great for performers who like to move around on stage. Clip-on lavalier models are perfect for public speakers who need to keep their hands free.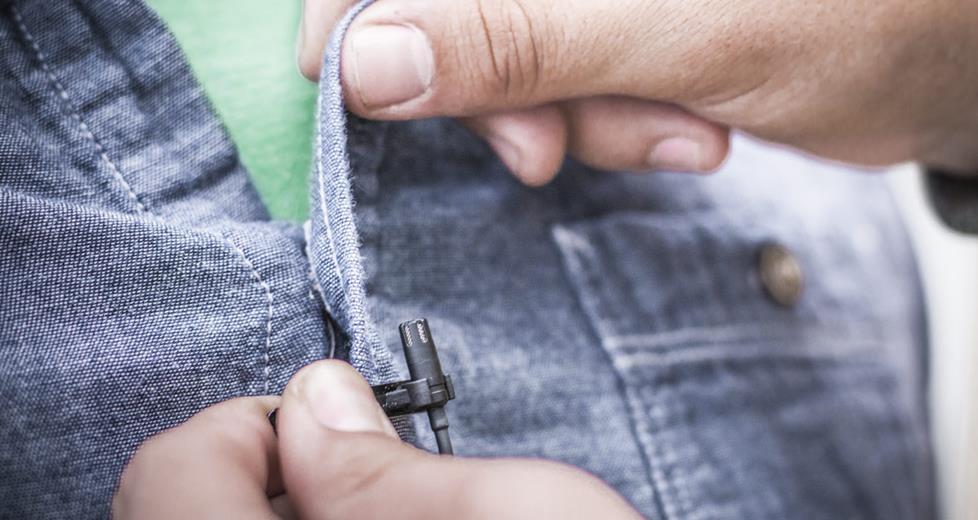 A wireless, clip-on lavalier microphone is perfect for a public speaker or stage actor who needs to move around and use his hands while performing.
Learn more about microphones in our microphones buying guide.
Accessories
There are some essential accessories to get, in order for your PA system to function.
Cables
You'll find a variety of different cable connections on pro audio gear. That's one reason most gear doesn't come with cables.
It's up to you to determine what type of cable you'll need to connect one piece of gear to the next and how long that cable should be. For help, check out our pro audio cable guide or ask your Crutchfield advisor.
If you are planning to buy an analog mixer, ask yourself where it will be stationed. If it's not going to be on or very close to the stage, you'll need a cable snake. A snake is basically a multi-stranded extension cord for your microphone and speaker connections. It can add a lot to the cost of a system, so factor that in when you're deciding whether to get an analog mixer or a digital model.
Mic and speaker stands
Mic stands come in many different configurations and shapes.
Most PA speakers have a socket for a speaker stand. Just make sure the stand you pick is rated to hold at least as much as the speaker weighs.
AC power conditioning
If possible, all of your PA equipment should be plugged into the same power outlet. This helps to prevents shock and eliminates noisy "ground loops."
You'll need a multi-outlet power conditioner. Get a good one. You don't want your show to depend on the cheap household power strip with the frayed cord.
Tools of the trade that you shouldn't forget
Finally, here are a handful of items that belong in every sound guy's gear bag:
Heavy-duty extension cords — make sure you accommodate every piece of gear that needs to be plugged in.
Duct or gaffer's tape.
Flashlight.
Spare batteries and fuses.
Pocket knife or multi-tool.
Spare mic clips (holds the mic to the stand)
Direct box, or DI (direct input) box — a device used for sending an instrument signal to a mixer's mic or line-level input.
What type of system is best for you?
Portable
Building a system for a band that travels to a lot of different venues? Then you'll probably want to look at gear that's relatively compact and lightweight.
Powered speakers are popular with traveling acts because you don't have to carry separate amps. If you're playing in nightclubs or portable churches, powered speakers will supply plenty of volume.
Not so portable
Need a system for a large auditorium, a big church, or an outdoor stage? A compact portable rig probably isn't the best solution. You'll need help from a system designer to choose the right mixer, amps and speakers.
We're here to help
Want friendly, one-on-one help choosing the best gear for your PA system? Our expert Advisors can help. Call or chat with us today for free, personalized advice. Free lifetime tech support is included with every Crutchfield purchase.