Wireless microphones give you freedom of movement and let you connect to your PA system without getting tangled up in a mic cable. They're great for musicians and other performers, worship leaders, fitness instructors, teachers, and karaoke heroes.
Two of our key wireless microphone brands pioneered the field. Shure's Vagabond, with a range of only about 15 feet, appeared in 1953. And Sennheiser developed the ground-breaking Mikroport, which hit the market in 1957 and boasted a 300-foot range.
Like those early models, today's wireless microphone systems use a variety of radio frequencies to transmit the audio signal from your mic to a PA system.
And there is competition for that airspace. In 2017, the FCC auctioned off about two-thirds of wirleless mic systems' available frequency bands to free up space for wireless broadband and cell phone signals. That's impacted the function of some older systems, and set new parameters for the development of modern systems.
Wireless microphone systems come in a lot of different styles, from simple, compact units to high-performance, road-worthy kits with rack-mountable receivers.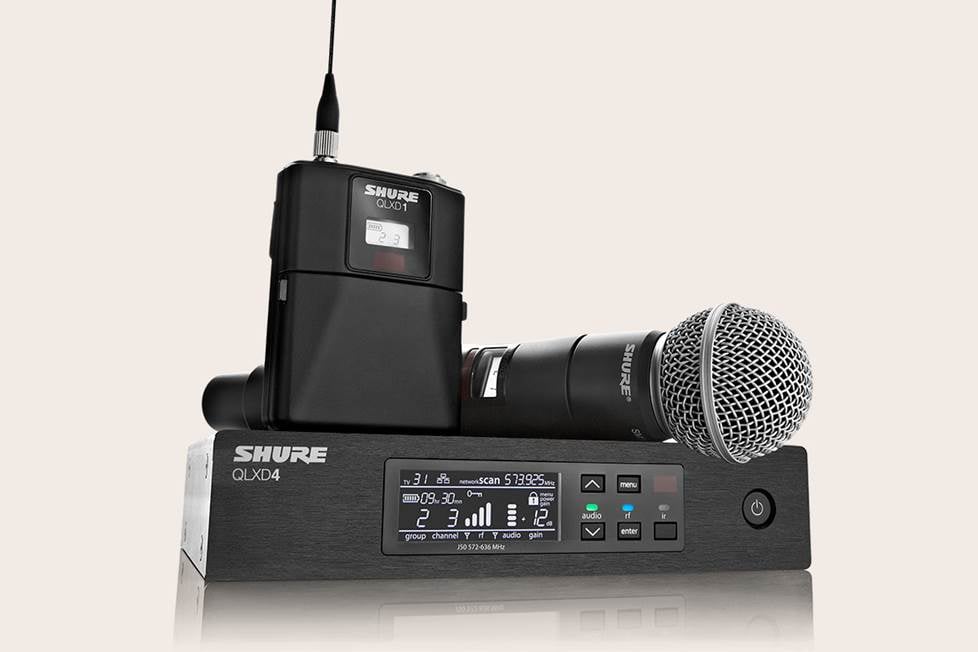 Shure debuted the first wireless microphone system in 1953 and makes some of today's best systems.
Wired vs wireless microphones
Wireless mics are widely used for live and video sound. Wired microphones perform better for studio recording. Check out our microphones buying guide to learn more.
Freedom of movement is the main benefit of wireless microphones. On the other hand, if you're going to sit or stand in one place while you perform, then you might want to go with wired microphones.
You'll spend less. You won't have to bother with batteries. And you won't have to learn how to avoid radio interference and signal dropouts.
Check out our video introduction to wireless microphone systems:
What are the components of a wireless microphone system?
A wireless microphone system includes three parts: a microphone, a transmitter, and a receiver.
Your microphone will be on your person, whether you're holding it or wearing it.
Your transmitter will either be built into your mic or worn as a body-pack that connects to your mic with a short wire.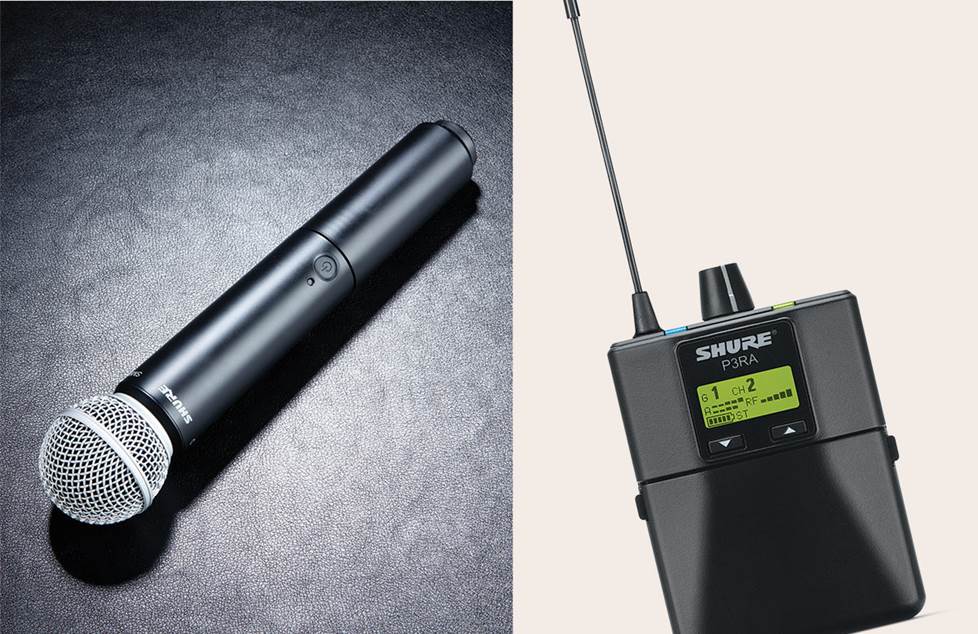 There are two styles of mic transmitters. They can be built into a handheld mic (left). Or they can be housed in a wearable bodypack (right).
The receiver will be near and connected to the PA system. That could be as modest as a simple powered speaker or as magnificent as a large professional mixing console.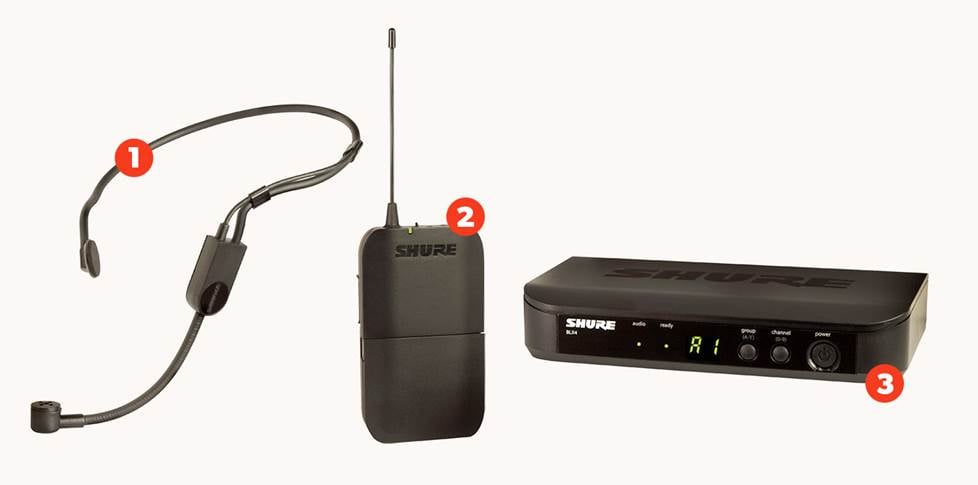 Every wireless mic system contains three things: 1) Microphone. 2) Transmitter. 3) Receiver.
Each transmitter can be used with exactly one receiver, and vice versa. That means if you need three wireless mics on the same stage, you need three transmitters and three receivers, too.
Need to operate two mics at the same time? Consider a dual-channel system like the Shure BLX188. The receiver in a dual-channel system is essentially two of the tabletop receivers in a single housing.
You can't mix and match different brands of receivers and transmitters. You'll be choosing all three parts from the same brand and the same series within that brand.
Receivers come in a few different form factors. Compact and convenient docking modules and USB dongles are designed for specific models of powered speakers, so you can't use them with anything else.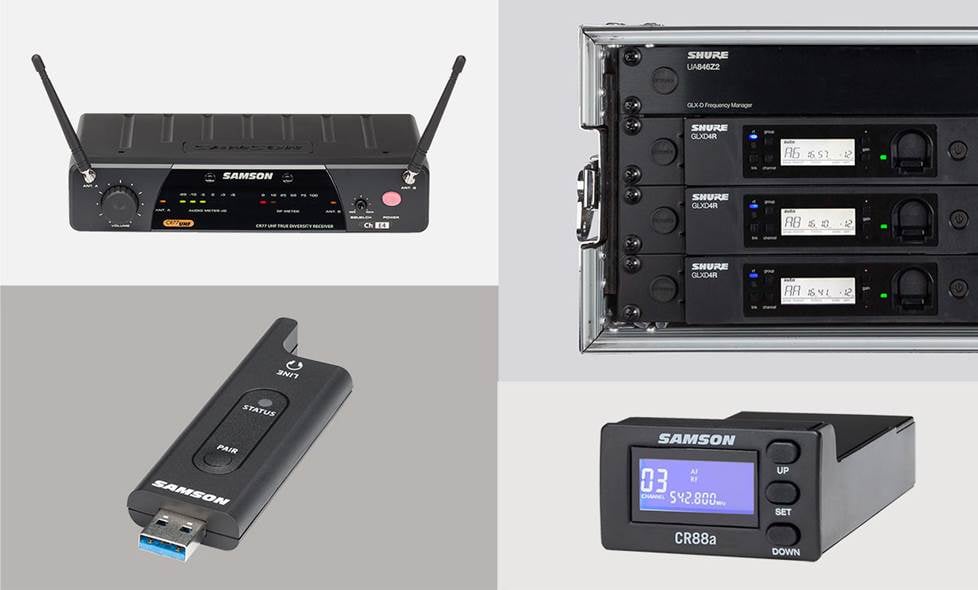 Receiver styles (clockwise from top left): Tabletop, rack-mount, docking module for a powered speaker, USB dongle.
Tabletop and rack-mount receivers take up more space but tend to have a better operating range. They're also more versatile — you can connect them to virtually any PA system.
What radio frequencies do wireless microphone systems use?
Sometimes it's mind-boggling to think about how much is happening in the invisible, wireless world of radio frequencies. Radios, TVs, satellites, Wi-Fi, Bluetooth — amazing amounts of information are constantly moving through the air all around us.
Different wireless microphone systems operate on different ranges of radio frequencies, called frequency bands. Most use the same VHF and UHF bands as television broadcasting. You can almost always find a wireless system's operating frequency bands printed right on its transmitter and receiver, and in the specs in its manual and online literature.
Figuring out which frequency bands will work best in your location might involve looking at how "crowded" the TV broadcasting range is in your area. Wireless microphone manufacturers provide online "frequency finder" tools on their websites. And if you need a little extra guidance, one of our Advisors can help you figure out what's best for your situation.
Analog vs digital wireless microphone systems
You can get great results from both types of wireless mic systems. Digital systems can send a clearer signal, but also have some latency or delay. Analog signal transmission has negligible latency, versus as much as a 15-millisecond delay in digital systems — not something that matters for a public speaker or fitness instructor, but crucial for musicians.
That's a big reason why Shure's analog BLX systems remain popular. But a digital system like Shure's GLX-D+ can acheive below 5 milliseconds of delay — that's close enough to work for most live performers even if they're using sensitive in-ear monitors.
And if security is a concern, only digital wireless mic systems have encryption protocols that let you keep your signal private.
Microphone types
Different microphone form factors work better for different situations. A hands-free headset mic works great for a fitness instructor or a singer who's also dancing.
A handheld mic is perfect for times when you're passing the mic around, like karaoke, a panel discussion, or toasting grandma on her 80th birthday.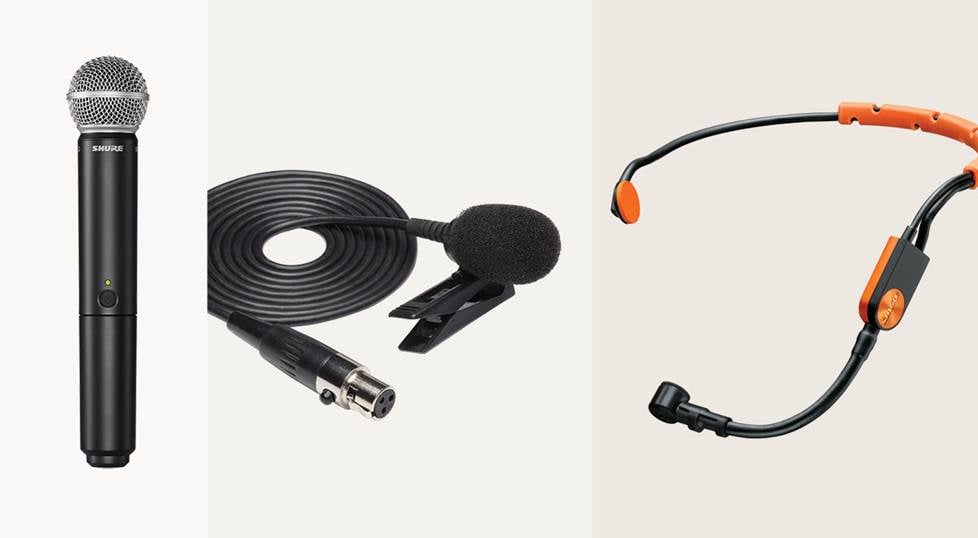 Wireless mic form factors: handheld, clip-on (lavalier), and headset.
Lavalier (clip-on) mics are the most discrete. They're great for videographers who want to close-mic interview subjects.
Since they clip onto clothing, like a collar or breast pocket, lavalier microphones are generally further from the user's mouth than a headset mic. That means you need to turn them up louder to get a good signal, which can lead to extraneous noise and feedback. Audio levels can also vary with movements of the speaker's head.
Headset mics maintain a closer, fixed position to a singer's or speaker's mouth. That means the audio level and sound quality are consistent.
And while some of the more rugged headset models can be a bit bulky, others are very light and hardly noticeable to your audience.
Portable PA systems with wireless mics
Looking for a simple, highly portable rig for weddings, family reunions, company picnics, and karaoke? Consider a powered PA speaker/wireless mic combo.
Samson's XP310w or XP312w powered speakers can run on rechargeable batteries and come with one of their handheld mic Concert 88a systems. And both powered speaker models feature two receiver docks. That means you can add a second wireless mic by getting another Concert 88a.
They come in different form factors — headset, clip-on (lavalier), or handheld — and include a docking receiver.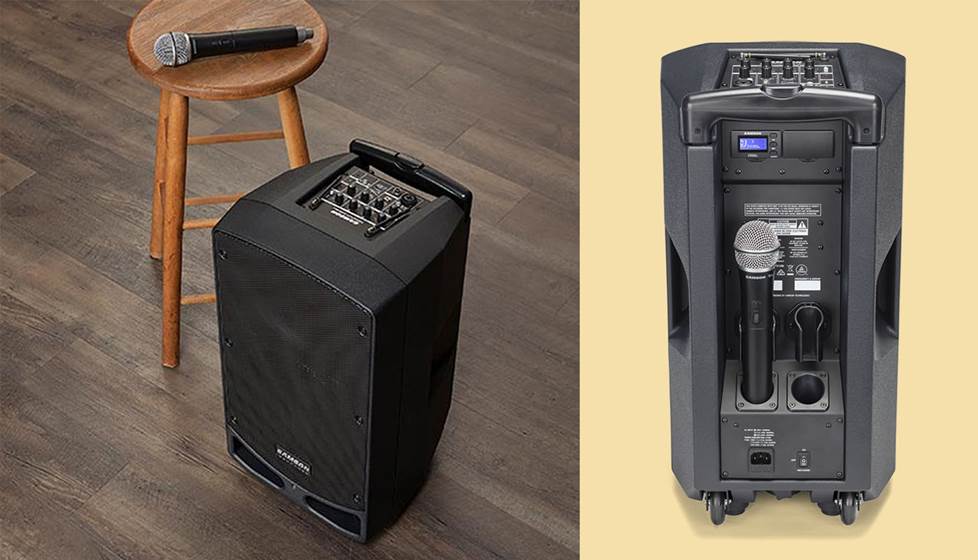 Samson's Expedition XP310w rechargeable portable PA comes with a Concert 88a wireless microphone system that conveniently docks on its backside.
How to avoid dropouts, interference, and other problems
If you set it up right, you'll maximize your wireless mic system's range (and reduce the chances of dropouts). Place the receiver in a spot that will help you maintain a "line of sight" between the transmitter and receiver.
You don't want metal objects, walls, or a lot of people between your receiver's antenna and your transmitter. If possible, elevate your antennas above any obstructions. Your receiver doesn't have to sit right next to your mixing board. Put the transmitter in the best spot — you can use a long cable to connect it to your mixer.
Make sure you and your mic users know the limits of the system's range. Wander around during your sound check to see how far you can go without experiencing problems.
Let's talk about wireless range
The range specs provided by the manufacturers of wireless mics are best-case figures. A system that claims a range of 300 feet may keep that promise under ideal conditions. In worst-case situations, it may only give you 75-100 feet.
When you approach or exceed your system's effective operating range, you'll get noise or signal dropouts. It's a lot like listening to a radio station on your way out of town. The further you get from town, the worse your reception.
Crowded radio frequency bands can also interfere with your wireless microphone to receiver signal. That can also include other wireless mic systems in use near yours — possibly on the same stage.
Digital systems that operate on the 2.4Ghz band can even run into interference from things like microwave ovens, wireless routers, and Bluetooth transmitters.
Avoiding interference from other wireless systems
Many systems will help you dodge interference by automatically picking a clear channel when you set things up. But what worked during sound check might not work at showtime. Why? Because another nearby wireless system might not have been turned on when you did your sound check. Check again just before your show starts. You might have to change your group and channel settings.
Here's a way to find and solve your interference problem — as long as your receiver has an RF (radio frequency) level meter. Turn off your transmitter and check to see if the receiver is still picking up a signal. If it is, change channels until you find one that's free of competing signals.
Battery tips
Use high-quality batteries. Keep an eye on your battery life indicators and replace or recharge weak ones. Distortion and signal dropouts can occur when your batteries are near death.
Questions?
Need help choosing the right wireless mics for your PA system? Our expert Advisors can help. Call or chat with us today.
Free lifetime tech support comes with every Crutchfield purchase.