evialet has a tradition of creating speakers that deliver phenomenal sound. And I should know. When Crutchfield started carrying Devialet speakers in 2018, I auditioned the original Phantom (now called the Phantom I). In 2021, Devialet released the Phantom II, and I got to check it out as well.
So when Devialet introduced its own portable Bluetooth speakers, I was both a little skeptical and excited. Skeptical, because this was a much smaller speaker than their Phantom II. Could Devialet maintain its high audio standards in a compact speaker?
But I was also excited because I was sure Devialet would come up with an innovative way to do so. And I wanted to see (and hear) how they did it.
Pros
Detailed 360-degree sound — the speaker array ensures you hear balanced stereo sound however the Mania is situated in the room
176 watts total amplification — this speaker can easily fill a good-sized room with sound
Voice control when connected to Wi-Fi — built-in Amazon Alexa, plus Siri when used with Apple AirPlay® 2
Cons
Price — quality materials and construction are expensive
Ideal for indoor rather than outdoor use — the Mania is IPX4 rated, so it's splash-resistant. But it's not designed to be a rugged outdoor speaker for beach weekends and camping trips
Weight — the Mania tips the scales at five pounds
Devialet speakers look like no others. And that's true of the Devialet Mania as well. It has a streamlined spherical appearance, with an integrated strap running vertically around it. This serves as the speaker's handle. Control buttons are integrated into this strap, which also provides a stylish decoration for the speaker.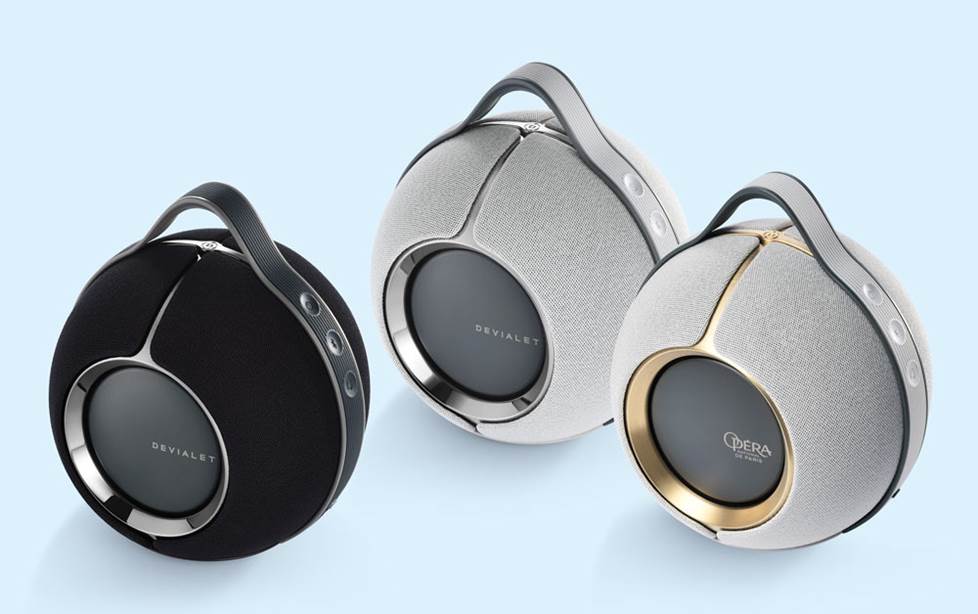 The Mania comes in three colors and shares the same sophisticated look as Devialet's signature speakers.
Wireless options
The Mania is primarily a Bluetooth speaker. But through the Devialet app, you can connect the Mania to your home Wi-Fi network. This lets you use Amazon Alexa through the speaker. The Mania has a built-in microphone for voice commands. And it also lets you use the Mania as a speakerphone for hands-free calls.
Included with the Mania is a USB-C charging cable and power adapter. This allows for fast charging. It only takes up to three hours to fully charge the built-in battery (less if it's not totally drained).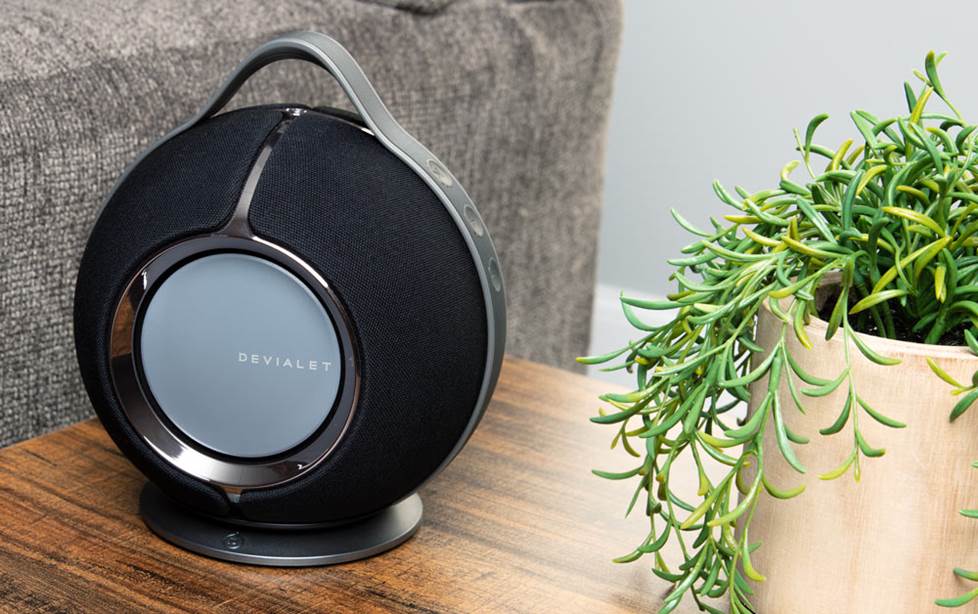 The Devialet Mania Station charging base (sold separately) lets you charge the Mania speaker's built-in battery by simply placing the speaker on top of the charging station.
My hands-on experience with the Devialet Mania
When I opened up the box, I was a little surprised. "Oh," I thought, "that's a pretty small speaker." Then I lifted it out of the box. "Oof," I thought, "that's a heavy little speaker." But that heft felt good. It confirmed for me that the Mania was made of quality materials.
Simple setup
The first order of business was to download the free Devialet app to my smartphone. (The app is available both for Apple and Android devices.) Pairing the Mania with my iPhone was a simple process.
But be sure to read the quick start guide. It tells you which buttons to hold down and for how long to get things going. And it provides the color key for the Mania's status light.
The only challenging part for me was connecting the Mania to my home network. You're prompted to provide the password for your network. Best to have it with you before you start.
Mine was written down — somewhere. Once I had tracked it down, I completed the setup process easily.
The Devialet app works with all their speakers. You can easily add additional Devialet speakers to the app. And you can name your speakers — handy if you have a Phantom II in the den and another in the living room!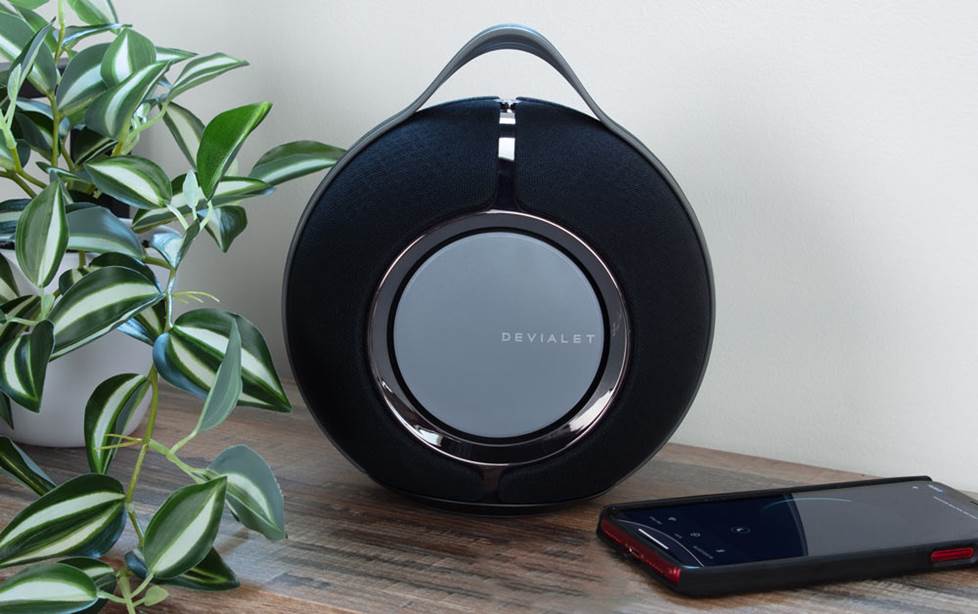 The Devialet control app turns your smartphone into the Mania's remote. And it lets you control all your Devialet speakers from one source.
Simple operation
As with any Bluetooth speaker, once I paired the Mania with my smartphone, I was ready to go. I could play any music from any service, as well as tunes stored on my phone. That also included podcasts and internet radio stations from services such as iHeart Radio and TuneIn.
True high-fidelity reproduction
What I most appreciated about the Mania was the accuracy of the sound. Even at maximum volume, it stayed clean and undistorted. And it sounded excellent at super-low volumes, too.
That pinpoint accuracy did have one liability, though. The louder the volume, the more the limitations of my low-res audio files became apparent.
Great for quality recordings of any genre
Devialet's unique woofer configuration is perfect for bass-heavy music, such as rap or metal. But the entire system is great for other types of music. I played several classical selections through the system, ranging from acoustic guitar to full orchestras. All were reproduced with truly satisfying accuracy.
Clean 360-degree sound
The Mania has four aluminum full-range drivers located in the upper half of the spherical speaker. They are alternately left- and right-channel speakers. So however I was oriented in relation to the Mania, I always heard detailed, balanced stereo sound.
Devialet included their patented cross-stereo technology in the Mania. This enables the speaker to automatically adjust its soundstage to the shape of the space it's in.
When I placed it in a corner, the sound was clean and balanced. And when I moved it to an end table in our open family room, it sounded just as good.
Elegant portability
The Mania is indeed portable. The handle provided enough room for me to wrap my fingers around it comfortably. And the speaker's weight proved to be an advantage. When I placed the Mania on a table or shelf, I knew it was going to stay put. That's not something I can always say about my inexpensive little Bluetooth mono speaker!
Serious about sound
Devialet has always been serious about sound reproduction and sound quality. That's apparent in the Mania. And that's really who this speaker is for. It isn't for everyone. But if you're serious about the sound of your music, then the Devialet Mania might be for you.
The Mania can deliver music from high-res streaming services with true sonic fidelity. So if you subscribe to Qobuz, TIDAL, Amazon Music Unlimited, or Apple Music, you should hear your investment in sound clearly through the Mania.
Product highlights:
built-in Wi-Fi® for wireless music streaming when connected to a home network
built-in Bluetooth® 5.0
Apple AirPlay® 2 lets you stream directly from an iPhone® or iPad® and ask Siri to play Apple Music®
4 aluminum full-range drivers and 2 side-firing bass drivers
176 watts total amplification (38W x 2 woofers, 25W x 4 full-range speakers)
frequency response: 30-20,000 Hz
maximum volume: 95 dB SPL
IPX4-rated splash-resistant design
compatible with Mania Station charging base (sold separately)
Need more help? Contact us!
Have questions about how the Devialet Mania compares to other portable speakers? Contact us today.
Our expert Advisors know portable Bluetooth speakers inside and out. Your Advisor can send specific Crutchfield pages to your screen, saving you a lot of browsing time. You'll get a shopping cart loaded up with everything you need.
Free lifetime tech support is included with your Crutchfield purchase.