10 tips for taking your dog to work
How to preserve peace and productivity when your office has gone to the dogs
In this article:
3 must-haves for a dog-friendly workplace:
7 tips for coworking with canines:
The internet is full of articles about why dog-friendly offices are amazing. And it's not just the high adorability factor — there's actual science behind it. Studies show that having dogs around the office can lower stress and boost morale.
Plus, being able to take our pups to work is conducive to a better work/life balance. As a longtime animal shelter volunteer, my favorite aspect of this is that it can break down potential barriers to adoption.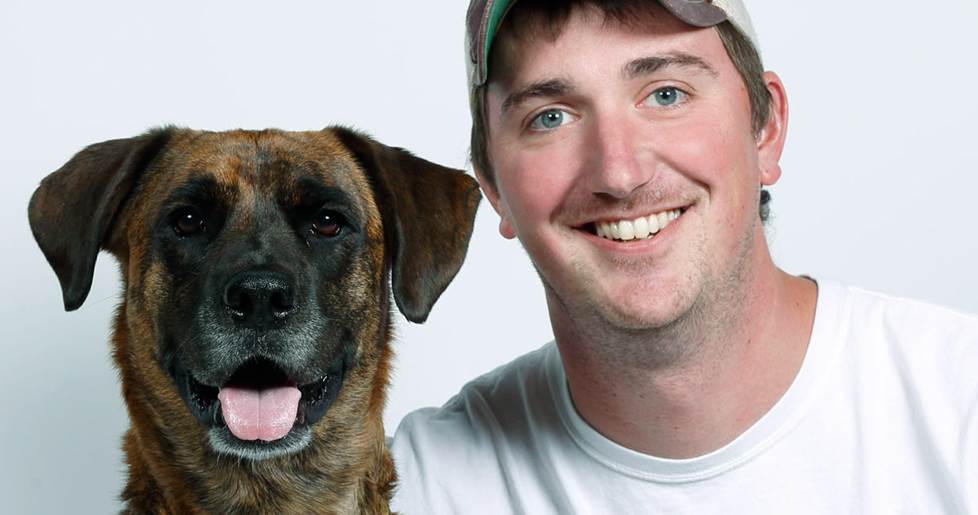 Making your company dog-friendly is a great way to attract and retain potential employees, but it needs to be done right. It's important to consider staff productivity and the well-being of our coworkers and dogs. Here are some tips for tackling all that, straight from dog-friendly Crutchfield HQ.
Company concessions
I'll start with a few things the company can do to keep coworkers and canines happy and healthy.
1. Establish some fur-free zones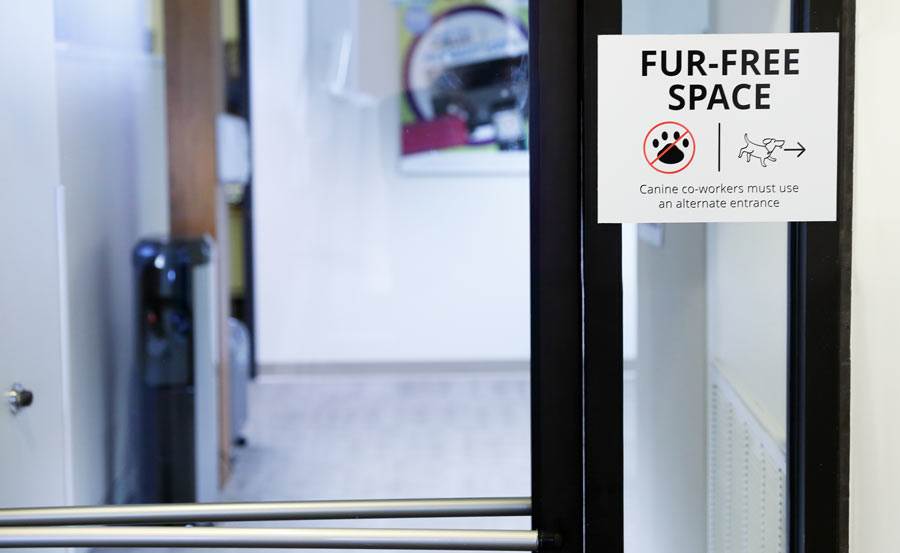 It's important to make room for employees who are allergic, afraid, or just plain don't like dogs.
Most people here are pretty into dogs, even if they don't have one of their own, but we keep separate no-go zones for folks who don't want to be around dogs for whatever reason.
2. Make exercise an easy option
Our dachshund intern Lincoln could wear out all our typing arms playing fetch, so we outsourced the job to the iFetch ball launcher. We are lucky to have a dog park here at Crutchfield HQ for this kind off-leash fun. Of course, it's not always feasible to have an on-site dog park, but it's important to have somewhere for pups to get a bit of exercise and do their business.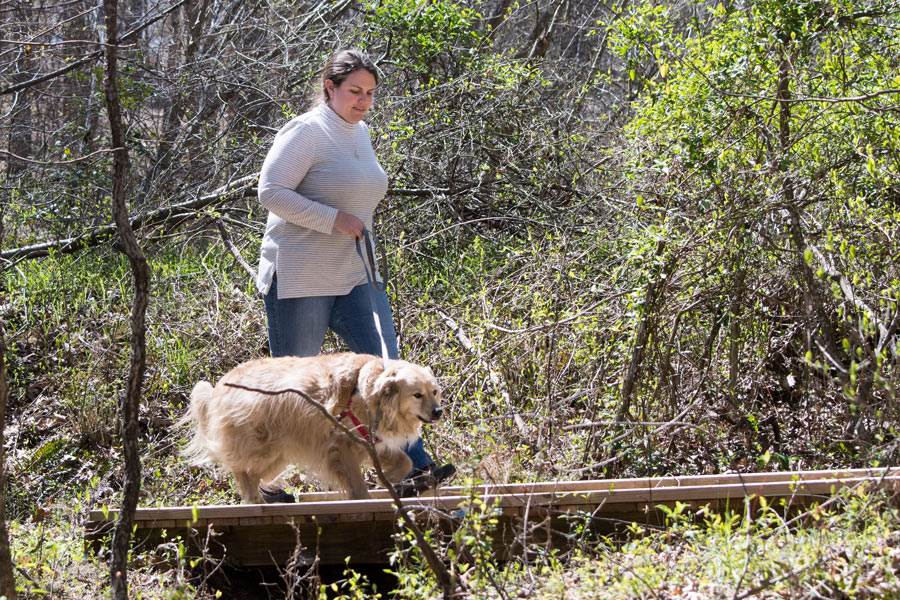 Our senior content manager Tara and her dog Moose enjoy midday walkies in the woods.
Crutchfield also has a few miles of walking trails that offer a great way to take a break from our desks, whether we've got a dog with us or not.
3. Provide plenty of water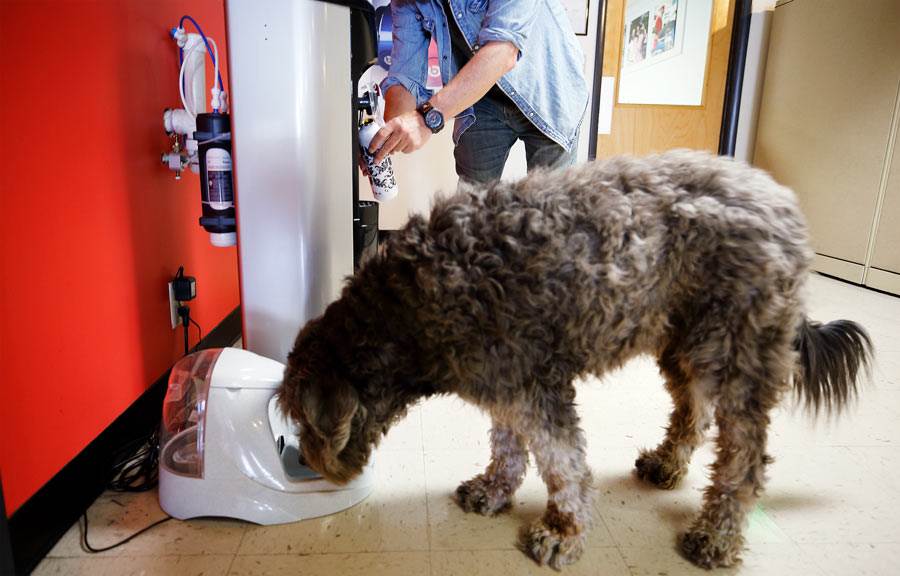 Photo studio assistants Nina and Martyn grab some water from their respective fountains.
Dogs need to drink about an ounce of water per pound of body weight per day. They need even more after a lot of activity (or if they are warm or stressed). In short, it's absolutely vital to make sure they have access to plenty of fresh water.
Most of our canine coworkers have bowls of water in their offices or cubicles, but the company also provides a PetSafe Drinkwell Platinum Fountain so they can grab a big gulp on their way in from their walk or play park fun.
Chris, our Chief HR Officer, explains a bit about how and why Crutchfield HQ became dog-friendly.
Set yourself up for success
Here are a few ways you can make this easier on yourself, your coworkers, and your dog.
1. Think like a dog — specifically your dog
Do her age and disposition lend themselves to being an office dog? If she likes being around other dogs and people, that's a great start. If she doesn't, it might be something to work on with a trainer or at home before she comes to work with you.
I have one pretty simple reason for never bringing my hound Abby in with me — she gets carsick. Easily. And I have a very curvy commute so it wouldn't be much fun for either of us.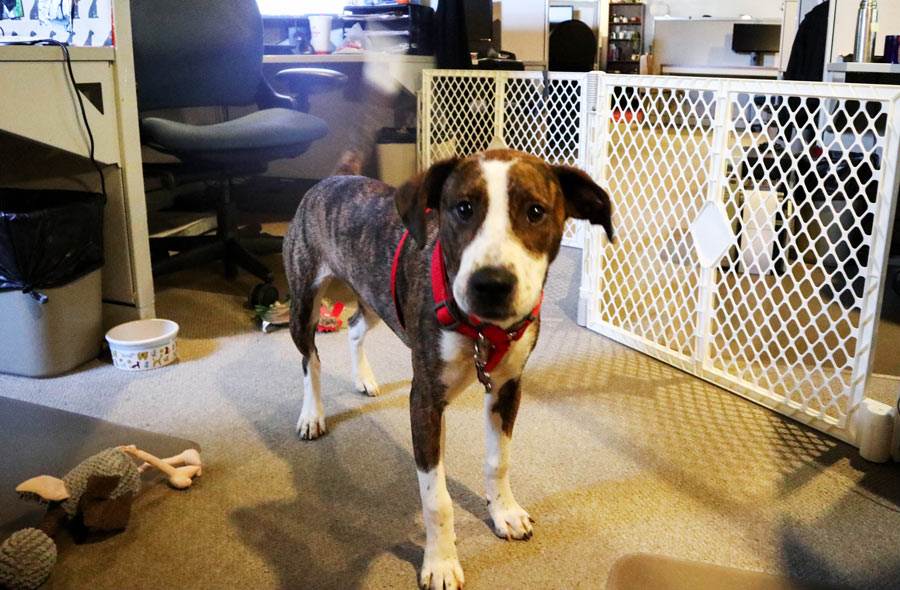 Senior IT anyalyst Nicole gives her growing puppy Roxy plenty of room to play.
Puppies will likely require more attention and more frequent breaks than adult dogs. That doesn't mean it's not doable, only that it might be more of an undertaking. Bringing your puppy to work does have its advantages. It makes house-training and socialization much easier.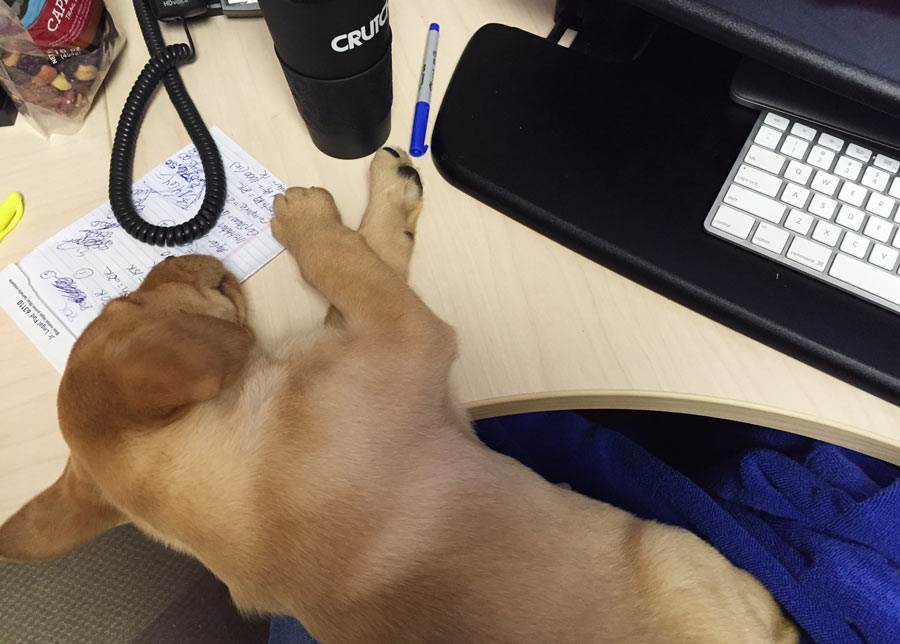 Okay, so maybe it's worth a little extra effort in order to have a sleeping puppy on your lap while you work.
Some older dogs might be reluctant to change their routines, while some may totally roll with the punches. Matt, one of our editors, adopted an older dog named Porter last year and he's an ideal office dog. He's happy with a few walks a day and the rest of the time you'll find him napping.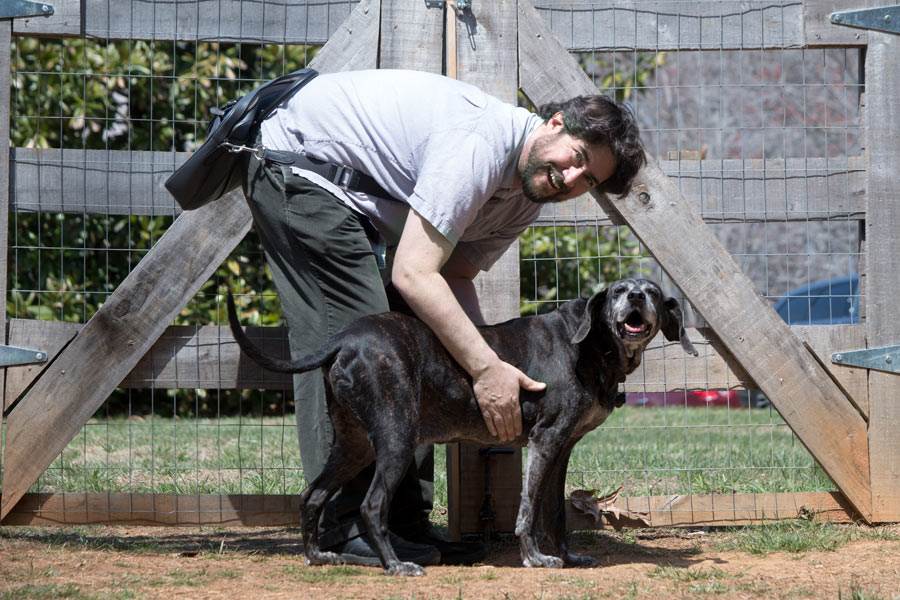 Distinguished senior pup Porter loves coming to work every day with his dad Matt.
2. Take it slow
An office is a new and potentially overwhelming environment for a lot of dogs, so be patient with your pup. Consider starting with a half day. And when you first meet other office dogs, try doing it via parallel walks outside where you get gradually closer instead of rushing up for an indoor, leashed greeting.
3. Dog-proof your workspace (and people-proof your dogspace)
We know to keep things like chocolate and grapes away from dogs, but remember that — to a dog — trash cans can be a source of plenty of other harmful, yet appetizing things. Electrical cords, plants, and paper shredders are also best kept out of reach of curious pups.
Cubicle signs can be a really helpful way to let coworkers know what to do (or not do) around your dog. This can be especially important if your dog is shy, in training, or on a special diet.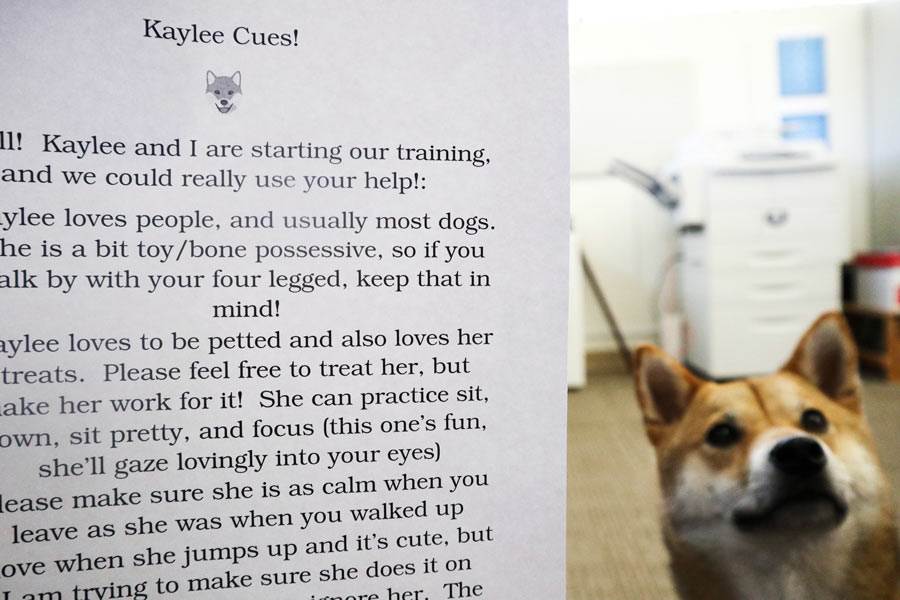 Sales Advisor Kat has posted some Dos and Don'ts for interacting with her dog Kaylee.
4. Find your dog a buddy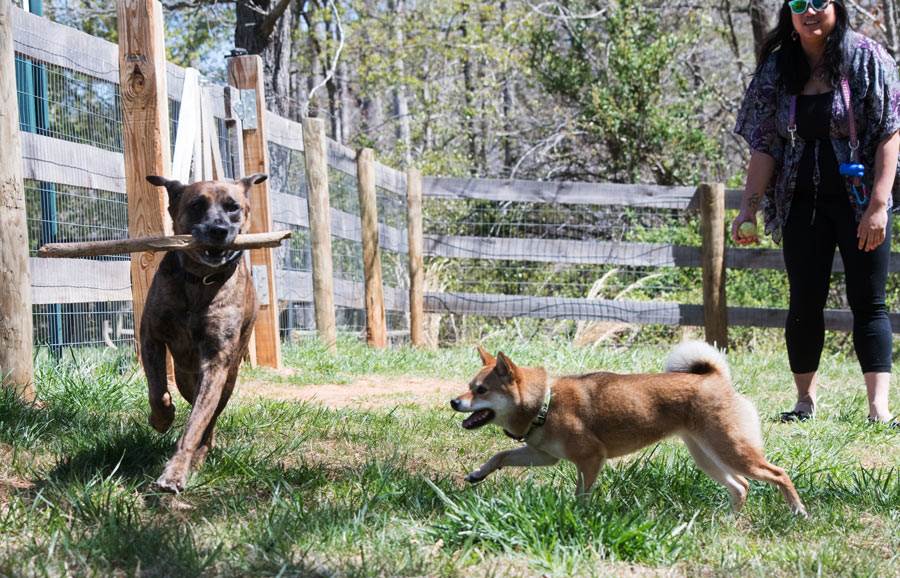 When Kat takes Kaylee out, she also grabs Grizzly so they can play together.
This is another great tip from Kat, one of our awesome Advisors. Whenever Kat gets a break, she takes her dog Kaylee AND Kaylee's work-bestie Grizzly out to the dog park. The two completely wear each other out running and fetching together.
We all know a tired dog is generally a good dog, so Kat's ten-minute play date benefits pretty much everyone on the sales floor. So find your pup a playmate and sit back and relax (or, you know, get some work done).
It's also important that your pup have a human buddy or two. That way you have a designated dogsitter in place in case you need to step away for a moment (people need potty-breaks, too, after all!).
5. Stock up on toys, treats, and more toys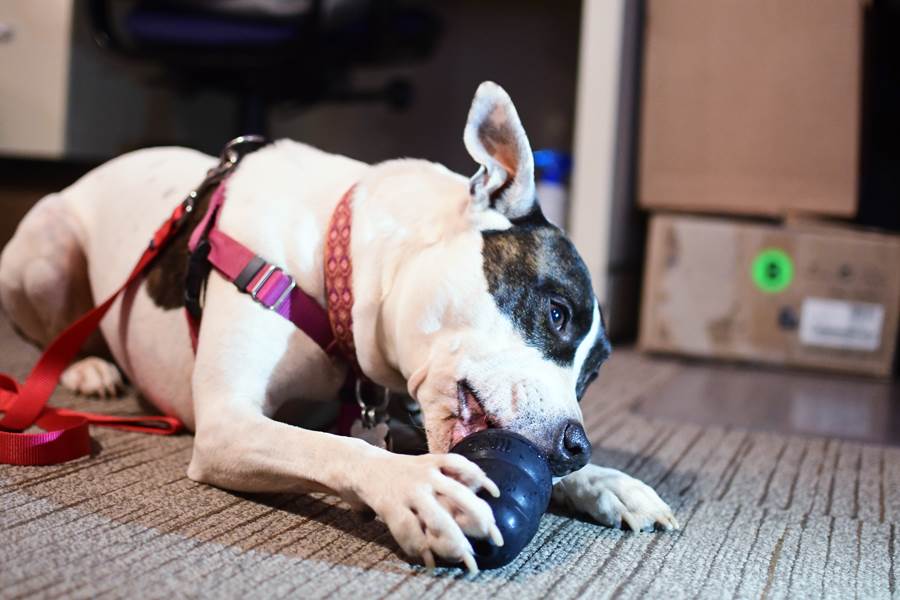 My Veronica doesn't care about anything else in the world when she's working on her frozen treat toy.
We can't always get outside to play as often as our dogs would like, so be sure to have plenty of toys on hand to keep their interest. Try to minimize work disruptions with quiet toys, like non-squeaky balls, chew toys, or an interactive brain game like the iFetch Frenzy.
Treat puzzles or treat-filled hollow chew toys are another great way to keep a dog entertained for ages. A quick web search will yield loads of treat stuffin' recipe ideas. My favorite is mashed up banana mixed with peanut butter. I fill the toy and then freeze it for a few hours, which makes it last a lot longer. Just make sure you are only using toys specifically designed for this purpose.
6. Include your dog, whenever you can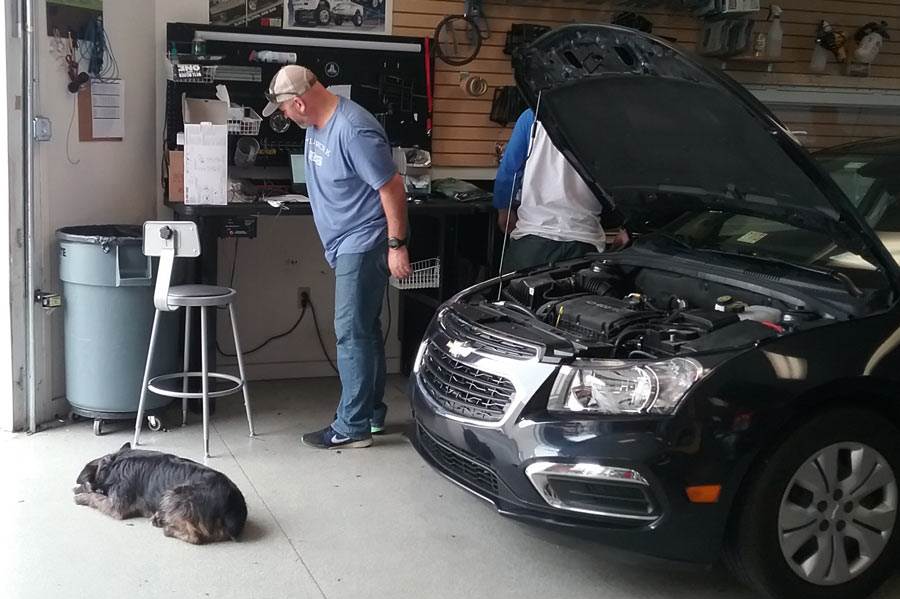 Wherever our training manager JR goes, so goes his dog Scherzer.
Your dog probably doesn't want to be stuck in a cubicle or office while you are out and about. Boredom and loneliness might lead to barking or worse. So make sure to include him in your workday activities whenever possible. It's a natural fit here at Crutchfield where we're always putting pups to work as models and Smart Pet product testers.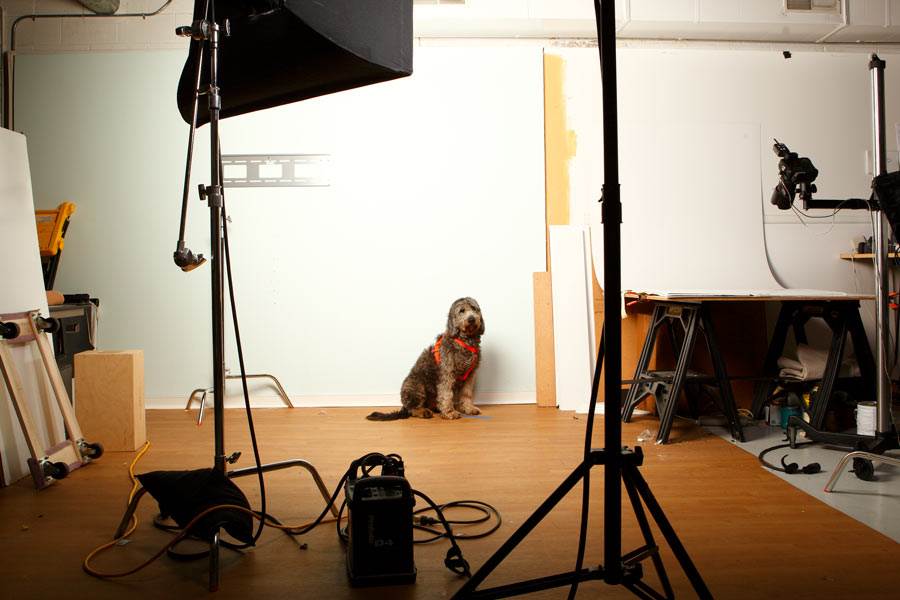 If you've ever browsed our catalog or website, you've probably seen Nina—she's always helping her dad J. in the photo studio.
7. Know your dog's limits
You can probably recognize when your dog isn't herself, but if you aren't sure, here are some fairly common indications that she might be feeling anxious:
Excessive salivation, panting, yawning, or lip licking
Scratching or shaking off (as if she's wet)
Ears pinned back
Tail tucked
Watch for these signs of discomfort and be willing to listen to them. If your dog seems uncomfortable, here are some things to try.
A walk. Seriously. One of my canine coworkers who shall not be named was recently shivering and panting excessively. It was pretty worrying. His dad took him out for a walk and it turned out he just really, really needed to relieve himself. Repeatedly. He was perfectly fine when he came back inside.
A physical barrier
Out of sight, out of mind. Some dogs will relax if you take away the visual trigger of their excitement.
My dog Veronica gets really animated whenever people walk by my cubicle row. She gets even more excited if they have a dog. I put up a couple of panels to block her view — now she is much more at ease, and I can get some work done.
Create a safe space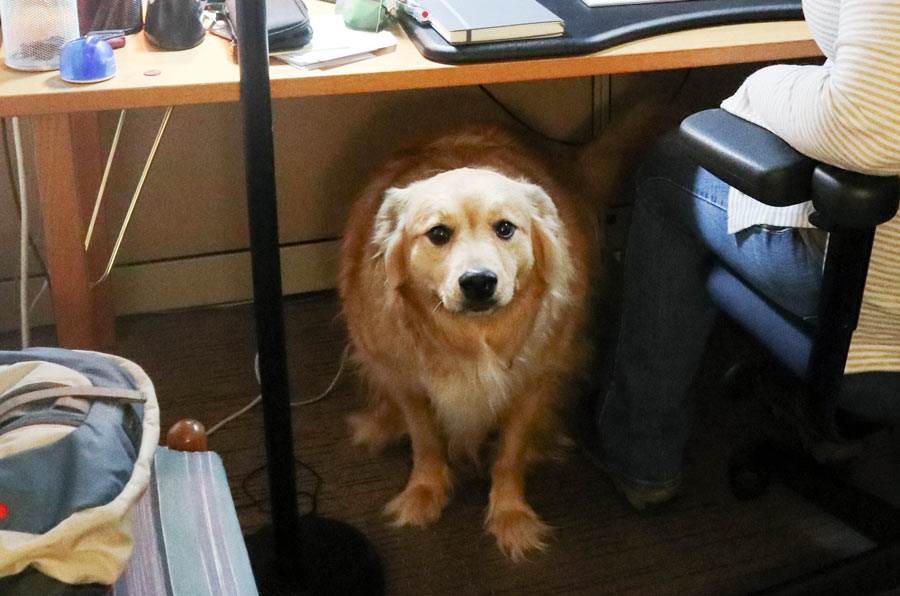 Moose enjoys being tucked in next to his favorite person. And PS — those tufty paws of his are almost more than I can bear.
Many dogs need a place to retreat — like a crate — especially if they are shy. Make sure it's got a nice comfy bed inside. Some dogs also feel more secure if you cover the crate itself with a blanket.
If worrisome behavior continues at home, check in with your vet. If your dog seems uncomfortable only at work, consider leaving her at home or trying it part-time. There are plenty of cool ways to stay connected to your pets, even when you have to be at work without them. Personally, I use the Circle 2 camera from Logitech to keep an eye on my dogs when I'm away. I can even chat with them using the mobile app's two-way talk feature.
Would your office be better with dogs in it?
If you think your company culture might make for a dog-friendly workplace, talk to your HR rep about creating a dog policy. And if you already have a pet-friendly office, we'd love to hear your favorite tips for sharing space with canine coworkers.
For more ways to make sure your pet is living his or her best life, check out our smart pet offerings.