True confession: Our marine audio installation team, of which I am a proud member, does not particularly enjoy soldering. In my case, it's because I'm truly awful at it. My colleagues Matt and Peter, however, are actually pretty good at it, but it's still not something they enjoy. Well, unless the only other option is me doing the job, in which case they enthusiastically jump in. Smart lads, those two.
Needless to say, all three of us were delighted when Wet Sounds came up with these remarkably handy water-resistant LED connectors. If you're planning to install LED speakers on your boat, you should be happy, too.
LED speaker installations made easier
These rugged connectors make it soooo much easier to connect your new LED speakers to your boat's wiring system. Instead of soldering, which is not a whole lot of fun on a boat, these connectors let you assemble a convenient plug, make the connection, and get on with the rest of the installation. Just attach the male connector to the speaker's LED wires, then attach the female connector to the wire that runs to your power source or light controller. It's remarkably quick and easy. No muss, no fuss — and no soldering.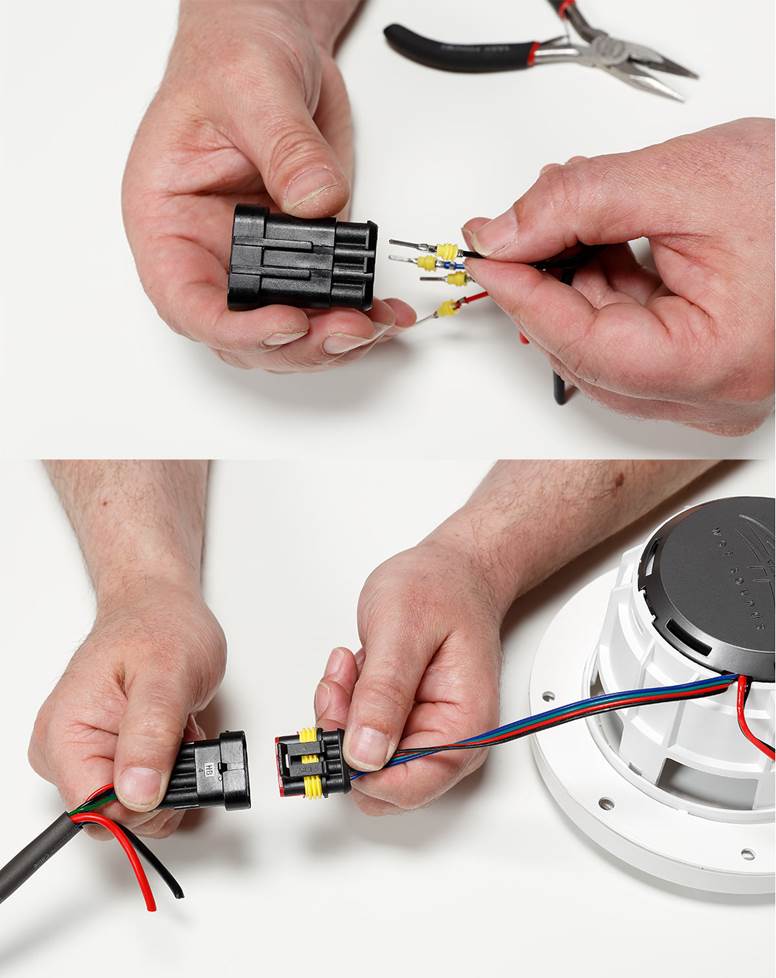 Connect the wires, then connect the connectors. It's a much easier way to install LED speakers on your boat.
These connectors will work with any LED speakers, so if you have marine speakers from Kicker, Fusion, JL Audio, or any other brand, you can still use these connectors. But if you choose Wet Sounds' highly-regarded REVO speakers for your boat, the installation process is even easier. REVO LED speakers come with a female connector already attached, so all you need is a male connector kit, and you're well on your way to bringing cool lights and hot sounds to your boat.
A better connection for your speakers, too
The impetus behind these new connectors came mostly from boat manufacturers, but there's more to this brilliant idea than simple manufacturing efficiency. These connectors make LED speaker installation easier for DIY-ers and boatyard staff, too, plus they also provide a more secure, reliable connection than soldering, splicing, or taping. When you're cranking the tunes while slamming through choppy water, that's a good thing.
So, if you're looking forward to adding lighted speakers to your boat, but dreading the thought of soldering LED wires, you're in luck. And so are we.
Learn more about marine LED speakers
To learn more about marine speakers, check out our marine speaker buying guide. There's also a great article that focuses exclusively on LED lighting for boats. When you're ready to shop, give us a call!