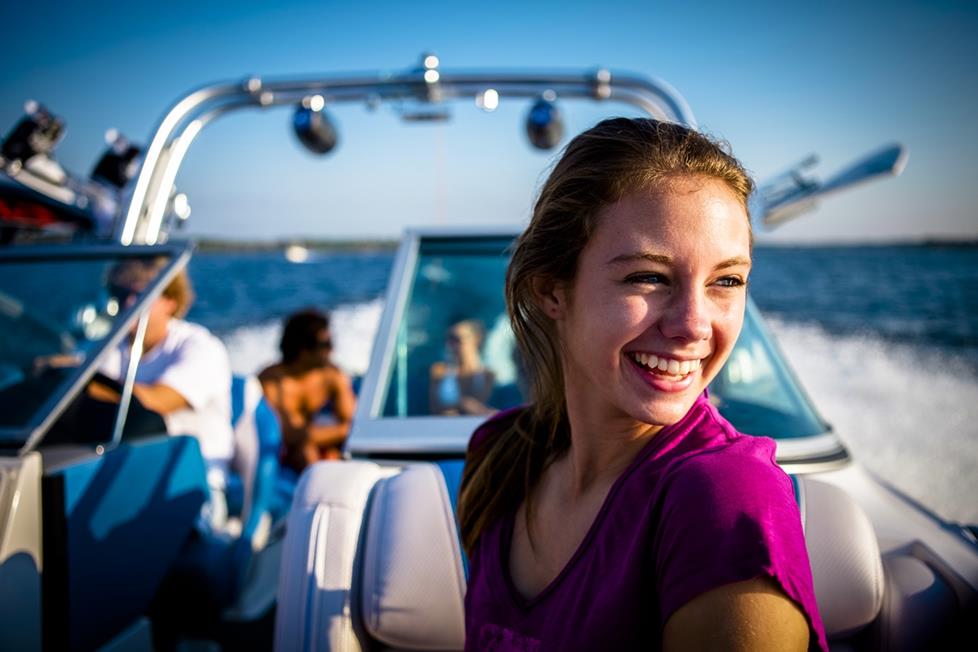 In brief: There are a lot of things to think about when you own a boat, and we know that speakers aren't necessarily at the top of the list. But they should be on your list somewhere, because great-sounding marine speakers can really add to your boating enjoyment.
1. Good marine speakers make a difference
It's a beautiful day, the sun is shining, the wind is calm, and you're out on the water with a group of friends and coworkers. It's late summer, and while your guests are thoroughly enjoying themselves, Big State University is playing Lower Upstate College in a key early-season tune-up and everyone wants to listen to the game. Well, maybe not the guy who went to Lower Upstate so much, but that's understandable.
You turn on the radio, tune into the right station, and pffffhhhhttttttt-pop-pfhhhhhhhh -FUMB-zzzzzzzz ALL TH -pfhtttttttpop. All you hear is static and maybe every tenth word. Uh-oh, looks like those speakers aren't going to last another season after all.
Of course, you have a backup AM/FM radio down below, so everyone gets to hear the game, mostly, and the day is saved. Well, for everyone except the Lower Upstate alum, who runs out of self-deprecating humor when the score reaches 67-0 midway through the third quarter, but that's understandable.
It's also understandable that you didn't think about your speakers until you realized you had to. But you're thinking about them now, and that's the important thing, right?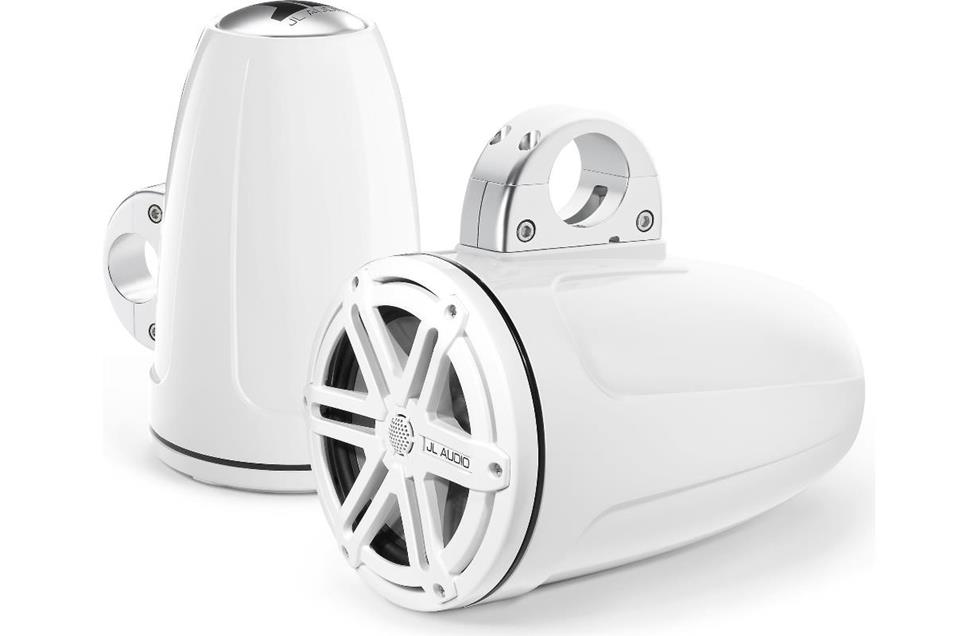 These JL Audio wakeboard tower speakers pump out serious sound
2. Durability — it's not easy being marine
Your boat's speakers take a lot of abuse from water and weather. Deck speakers have it especially rough, since they're directly in the line of fire when you're hosing down after a cruise and right there to absorb the impact when something heavy decides to go for a slide. Tower speakers get all the weather, plus the occasional whack from a ski, fishing pole, crab net, or exceedingly tall guest. As a result of all this, a cheap set of boat speakers will age faster than an Internet meme.
If you bought your boat new, it probably came with a decent-enough set of speakers. They probably don't sound fantastic, but they're not nearly as bad as the re-purposed car speakers you might find behind the grilles on a boat that's "new to you." Either way, if you're serious about sound, you need a set of quality, marine-rated speakers.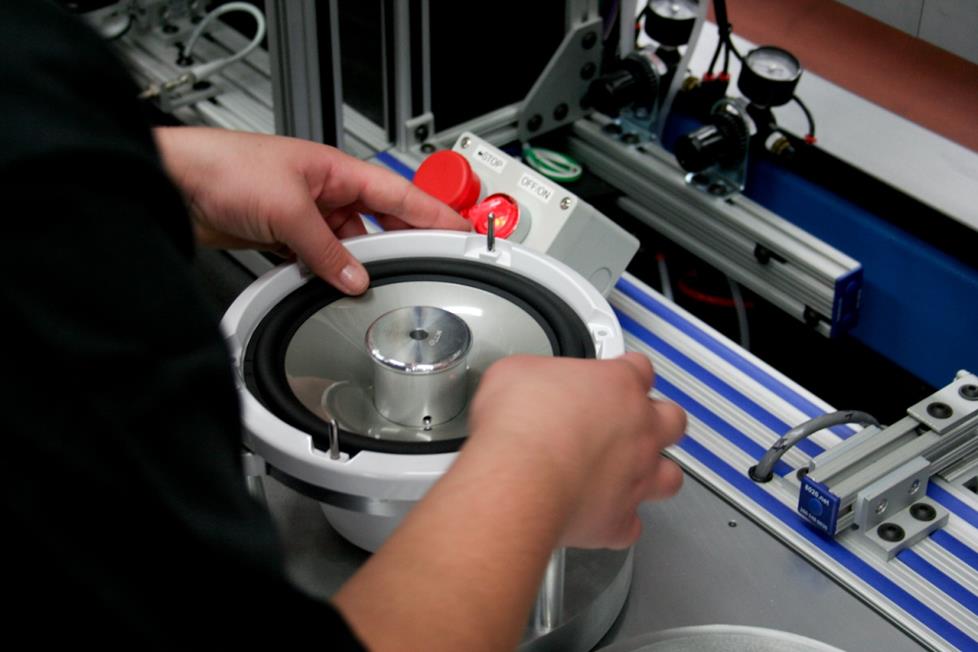 Marine speakers are designed and built for life on a boat. Rigorous testing ensures that they'll stand up to the elements.
3. What's the difference? Build quality
Marine-rated speakers aren't just regular speakers painted white to match your hull. Well, not anymore, anyway. Today's marine speakers are designed specifically to pump out serious sound while also standing up to the salt, spray, and temperature extremes of life on the water.
Manufacturers build their marine speakers using only heavy-duty parts that are tough enough to survive in this environment. Instead of the paper cones that are totally fine for car speakers, a set of marine speakers will have plastic (polypropylene, for example) cones that can withstand moisture. Rubber surrounds are used to protect the speaker's all-important internal components. And the grilles are built tougher, too, because a sliding cooler full of beverages can do a lot of damage to a weaker speaker.
Each manufacturer puts their marine speaker designs through rigorous testing before putting them out on the market. During the testing phase, those marine speakers are subjected to conditions far worse than they'll probably ever see on your boat. If they can survive that, they'll give you the performance you want for seasons to come.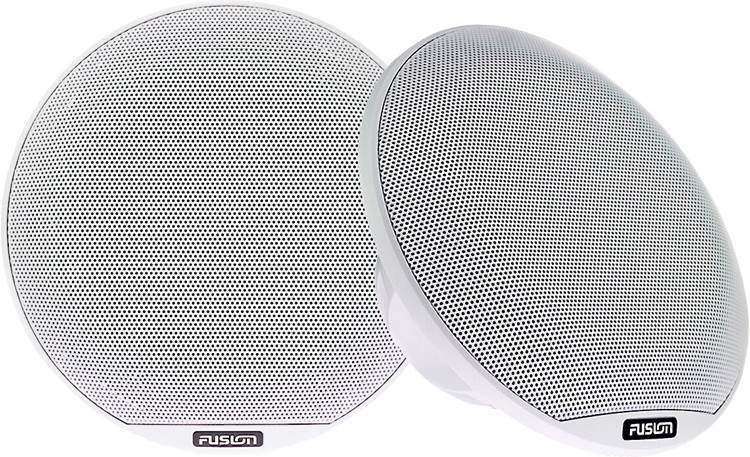 These 6-1/2" Fusion speakers pack a lot of performance into a water-resistant design
4. Speakers that rock your boat — clarity on the water
And speaking of performance, these speakers are built to do a whole lot more than just hang around not corroding. They're built to rock pretty hard, actually, and that's a very good thing.
The speakers in your car or truck simply need to be heard over varying amounts of engine and road noise, and there's usually not much of either in newer vehicles. Marine speakers have a lot more to overcome. With engine noise, wind, waves, seagulls, and other boats to contend with, marine speakers have to be powerful to cut through all that outside interference with volume and, most importantly, clarity. Instead of a distorted mush, you'll hear sparking highs, thumping lows, plus all the detail and clarity you're used to in the car.
There are speakers available to match almost any system. If your existing stereo sounds muddy and muffled, a new set of bulkhead or wakeboard tower speakers will provide that extra crispness and detail you're looking for.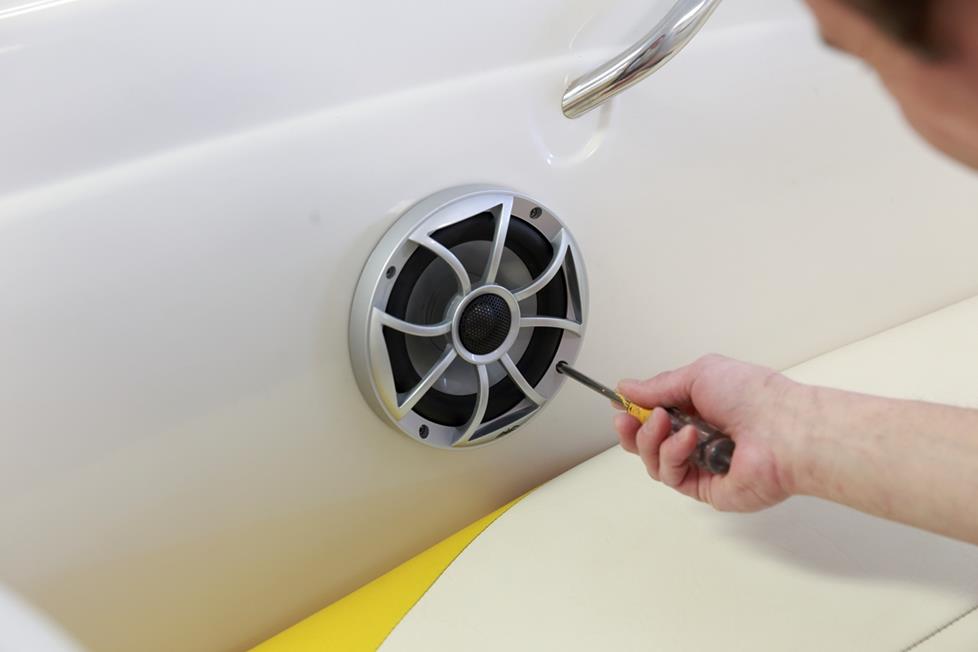 The toughest part of this installation was cutting out the speaker opening. If you're not up for that job, your boatyard can help.
5. Marine speakers are an affordable upgrade
There are a lot of ways to upgrade you boat's audio system, but new speakers are a great starting point. Even if you're totally happy with your current marine receiver, you'll be surprised at how much better things can sound when you upgrade your boat's speakers. If you want to take your system to the next level, you can add more marine-rated gear, like subwoofers and amplifiers. Building your system piece-by-piece is a lot of fun, because it lets you enjoy each improvement as you go. And if you want to get the most out of your new speakers, be sure to read our marine amplifier buying guide.
Want to learn more about adding audio gear to your boat?
Browse our entire selection of marine speakers. If you have questions, give our Advisors a call at 1-888-955-6000. They have the knowledge and experience to help you find speakers that will make your boat's audio system rock.